Your upcoming movie Orville in Orbit: Sorority Space Massacre - in a few woeds, what's it going to be about?
Orville In Orbit picks up 25 years later with Orville Ketchum frozen in space. He's been preserved in the event Hockstatter should return. Sure enough after a group of young, beautiful exotic dancers show up at the old Hockstatter place to clean it up, his ghost is resurrected once again and it's up to his original foes Dawn (Gail Thackray), Jackie (Deborah Dutch [Deborah Dutch interview - click here]), Tess (Melissa Moore) and Orville Ketchum (Peter Spellos) to defeat him once and for all.
How did the project come into being in the first place?
Orville In Orbit started as a joke at the end of Hard To Die. After the end credits it promised Orville's return in Orville In Orbit. For years fans have asked Jim Wynorski [Jim Wynorski interview - click here] about it, and being that I'm a huge fan of the flicks myself I approached him about "teaming up" to make it happen. He was open to the idea and after a few phone calls we worked out the details and are on schedule now to begin filming in late July!
Do talk about the character Orville Ketchum for a bit, including his past movie appearances, and what inspired you to make a movie about him?
Orville Ketchum is a vastly underrated "hero" of horror. The entire series has been about him being mistaken for the killer so he endures all sorts of gun blasts and bloodshed when he's really trying to save the girls the whole time from the REAL killer. In the early 90s, that was a terrific concept. The slasher boom was ending and Jim Wynorski came up with a hilarious take on the subgenre, poking fun at the clichés presented in all the classic slashers to come out the decade prior. Orville is designed to look like the stereotypical menacing killer, but he proves you shouldn't judge a book by it's cover because he's actually a good guy. He's a fun character that deserves one final send-off in the long promised follow-up. After Jim had made several Facebook posts about the original Sorority House still standing, I left a comment that "we" should make a follow-up. The rest is history.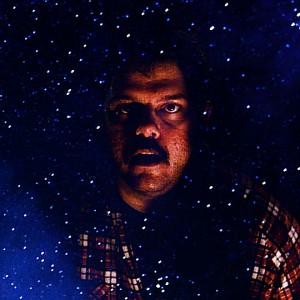 (Other) sources of inspiration when writing Orville in Orbit? And what can you tell us about your co-writer Mike Reeb and about working with him?
It's the right time to make the final film now because the original films have had time to "sink in" and gain cult status amoung fans. It was important that if we were going to do this, it really would be "for the fans" and in the conceptualizing stages I made sure to incorporate everything into the story I felt made it a "true" follow-up, in the tradition of the previous films. We've got boobs, extended shower scenes, montages, half-naked girls with guns, the 3 scream queens returning and of course Orville on his never-ending pursuit to stop Hockstatter. Given the title, the movie begins in space but eventually we end up back at the old sorority house for that classic old skool style slasher setting. Jim pitched me some ideas, which I sort of meshed with my own, then I handed the "outline" over to my writer friend Mike Reeb. I've known Mike as the "movie poster dealer" that supplies my video store Old Skool Video with movie posters. He's also written several horror film scripts in the past and has many brillant ideas. He's a big fan of the Orville films as well so it felt natural to let him sort of "expand" our story in the feature-length script.
You're co-directing Orville in Orbit with legendary Jim Wynorski [Jim Wynorski interview - click here] - so what's your collaboration like?
I'm lucky in that Jim is giving me a lot of creative freedom with the film. We've talked several times and he understands how I feel about the other movies, and my "vision" for bringing it back. I've had an odd connection to 80's/90's Slasher films sort of my whole career. Editing the 'unfinished' Sleepaway Camp 4 from 1992 jump started everything, later I would film a "lost" deleted scene for the Sleepaway Camp 2 Blu-ray from Scream Factory which led to me editing the uncut composite of Slumber Party Massacre II for their eventual special edition of that. I also once directed a faux trailer for Slumber Party Massacre 4 which went viral online back in 2009 (?) and the first thing I ever directed was a fan sequel called Scalps 2: The Return of D.J. which eventually wound up on RetroMedia's special Blu-ray release of Scalps. Needless to say I understand the era of those films and Jim can see that, so other than making sure he has creative input throughout the entire production, he's pretty much leaving the big stuff to me. Which ofcourse, is a huge honor. He'll be flying to Nebraska with Deborah, Peter, Melissa and Gail and will be on-set for the filming of their scenes. I'll be handling everything else on my own, before and after we film those scenes.
A few words about the movie's intended look and feel?
The idea is to make it the same in "tone" and "feel" as Hard To Die and Sorority House Massacre 2. Too often modern movies just don't get it right, but I want you to believe 1992 never ended when you watch this movie. It's simple, bloody and fun. We've got homages to both films throughout and are using the same exterior for the Hockstatter place and Chuck Cirino is even returning with his wonderful score.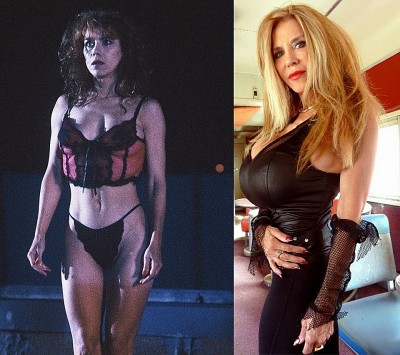 Deborah Dutch as Jackie - then and now
Do talk about Orville in Orbit's key cast and crew for a bit, and why exactly these people?
As mentioned before, several of the cast from the other two films are returning. Jim and I both felt it was really important to include them for the fans, and keep the story true to its origins. This movie is expected to be an eventual cult classic, and I need to do my best to make sure that happens by having all the right elements to make it a "true" follow-up, and of course, make Jim really proud! As for the rest of the cast/crew, nothing has been finalized yet, but you can watch the official Facebook page for updates when we announce them!
As far as I know, Orville in Orbit is still in pre-production - so what's the schedule, and even if it's quite probably waaay to early to ask, any idea when and where the movie might be released yet?
We plan to start actual filming in late July and wrap around the 7th of August. I usually don't take too long to get my films edited, so I anticipate it being available in one form or another by the end of the year... fingers crossed!
Any future projects beyond Orville in Orbit you'd like to share?
After the movie wraps I basically have a month off before jumping into Nemesis 5. Details on that are under wraps at this time, but once Orville In Orbit is finished, everything should be public on that J It'll be my last film for the year, and my most elaborate production to date.
Your/your movie's website, facebook, whatever else?
Facebook: https://www.facebook.com/Orville-In-Orbit-1867935273446647/
Anything else you're dying to mention and I have merely forgotten to ask?

Feeling lucky ?
Want to
search
any of my partnershops yourself
for more, better results ?

The links below
will take you
just there!!!


I recently filmed and edited a couple live videos and a bunch of tour commercials for the band Orgy you can check out on their official sites and I also recently finished production on Amityville: Evil Never Dies, the follow-up to last year's The Amityville Legacy. The film starred genre vets Mark Patton (A Nightmare On Elm Street 2) and Helene Udy from My Bloody Valentine [Helene Udy interview - click here]. You can follow the movie's Facebook page below to keep up to date on the release. And finally, I recently signed an agreement with Troma to handle the digital distribution of 7 of my catalog titles, including both Meathook Massacre films and my documentary Penny Pinchers. The first of those to release this June!
Amityville: Evil Never Dies Facebook: https://www.facebook.com/Amityville-Evil-Never-Dies-115694102279862/
Thanks for the interview!