Your upcoming movie The Hollywood Warrioress - in a few words, what's it about, and what can you tell us about your character in it?
The Hollywood Warrioress is my dream movie project! I conceived it as an inspiration that came to me... It began when I was asked to pose for Cinema magazine in Germany as 1 of the Top "B" movie queens in America in the late 90's. They asked me,"What personna do you see yourself as in your hit films?" I thought and said,"It ALWAYS seems like I'm either being killed or I'm killing a monster, and usually with a sword, so I guess I'm a warrior!" I created a wardrobe/costume, complete with sword, crown, boots and boustier, went to the set under he Hollywood sign, and the Hollywood Warrioress was born! Then the concept "snowballed"! I was asked to appear in the Hollywood Xmas parade as the Hollywood Warrioress, and the crowd cheered! I then made her rock'n'roll. Then I decided to see if I could drum up interest at the AFM and get some financing. I got a script and a movie package together, the journey began. A comic book was created and an action figure modeled!!!! The story's just begun!!!
The titular Hollywood Warrioress is your own creation, right? So how much of Deborah Dutch can we find in her, and what do you draw upon to bring her to life?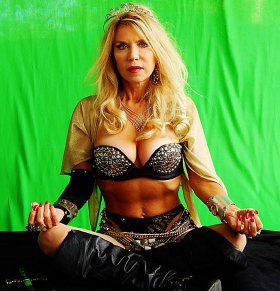 photo by Coley Presswood
The Hollywood Warrioress is fictional, but SO REAL to me that I'm actually 1 and the same. She's a "B" movie star, Deborah Dutch, living in West Hollywood and has a beautiful niece that comes to live with her and make her dreams come true in the entertainment world. But the spin occurs when I attain my "Super Powers"! Everything in the movie is a part of my life! As for the storyline of the movie: I'm a successful actress in Hollywood when my sister gets killed in a car accident, and her daughter Anna,16 years, my niece, comes to live with me in Hollywood. However, there's an evil entity from Planet X, who takes on the form of a movie/political mogul (a Donald Trump/Vincent Price character) who is kidnapping the teens in Hollywood who have come to make it in show business and turning them into teen-age zombies to be his army of evil to take over the world in the future! That's when I receive my super powers from the Gods! When Anna gets kidnapped I battle to the death against the evil entity, Girard Devereau. My mission is to save the youth and the earth...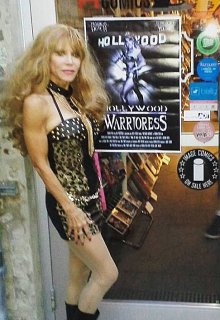 at the Chicago premiere
photo by Brian Kirst
How did the project fall together in the first place?
The project went through several phases, and different offers and propositions, but finally I decided to finance it and do it MY WAY! I met Bob Statzer (writer) and Rusty Pietzak (director) while working with my friend Debbie D [Debbie D interview - click here] on her Destiny the Vampire Mermaid (episodes Crimson Currents and Death in the Dark). When I saw how great the DVD came out, the quality of the film, the writing and special effects, I asked Debbie D if she thought Bob and Rusty would be interested in making the The Hollywood Warrioress? She said ask them. When I asked Rusty and Bob, they were very excited about coming in on my project! I also have to mention James Panetta here, who has not only co-directed with Rusty but has also been in charge of editing and special effects. I could have never finished The Hollywood Warrioress without him.
These guys are all FANTASTIC!!!
Any idea when and where the film will be released onto the general public yet?
Hollywood Warrioress will be released on October 31st WORLD-WIDE!!! Check amazon.com!
The Hollywood Warrioress wasn't the first appearance of the character though - so what can you tell us about her earlier appearances?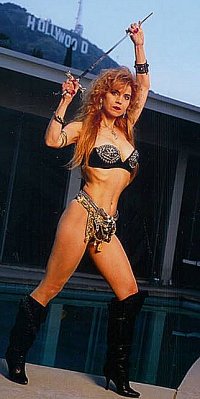 The Hollywood Warrioress in the original 1997 Cinema shoot
As mentioned, the character was created in the late 1990s for a magazine shoot, and from there on just wouldn't stay down. She actually made her first on-screen appearance in Alexander Lehr's movie The Dream of Alvareen from 2009 - it was really a story of being in the right place at the right time: We were introduced at the AFM where I was promoting my projectg looking for financing. Alex loved the script but had his own film to finish, The Dream of Alvareen. He asked me if I'd be interested in playing the Hollywood Warrioress in his film ... and needless to say I was thrilled about this great opportunity to debut her on screen. The scene, in which I play along Ron Jeremy, turned out memorable and gave me new enthusiasm for my own project.
Another very recent movie of yours was Blood Mercury - so do talk about that one for a bit, and your character in it!
I play Nurse Amanda, a woman involved with sinister experiments - and the role's pure evil, and it's quite rare I play role that evil. Mostly, my scenes are with Luc Bernier [Luc Bernier interview - click here], and we play the evil duo that tortures poor Donna Hamblin [Donna Hamblin interview - click here].
How did you even prepare for your role, what did you draw upon to bring her to life?
Oh, I did research about being a nurse, and also about the attitude regarding being involved in sinister experimentation. Then it was just to find the evil place from whence she came - and the technique I used was fairly simple, I modeled myself after Bette Davis in Hush Hush, Sweet Charlotte, and I incorporated my sexuality and attractiveness into my character's sinister dealings.
How did you get involved with the project in the first place?
It really just fell into place, Luc Bernier, my co-star, requested me for the role, and the movie's director Len Kabasinski [Len Kabasinski interview - click here], being familiar with my work, quickly agreed. It seems it was just meant to be. I'm also in Len's next movie Angel of Reckoning.
You were recently also featured in the movie Natural Born Filmmakers - so what can you tell us about that one and your involvement in it?
I was asked by Steve Oakley, who I've worked with on their films, and Dawna Lee Heising [Dawna Lee Heising interview - click here] cameo appearance!!! It was AWESOME!!!! We filmed a cool Halloween scene at an awesome night club in LA!!! It was a blast!!!
Other current/future projects you'd like to talk about?
As mentioned, I'm in Len Kabasinski's [Len Kabasinski interview - click here] Angel of Reckoning - Len is an awesome, very talented producer, director and actor from Erie, Pa. I have the role of "Bobbi" in Angel of Reckoning, and it was a challenging dramatic experience. I played a sexy, "coked-out" stripper with a heart!!! I LOVED the role. I got to dance, my first artistic love, and really do a nice stretch for my "emotional recall technique". We filmed at a theatrical landmark in Erie at 8:00 am!!!!
Also She Wolves, written and produced by the iconic Don Glut and directed by Dan Golden (a Roger Corman famous director [Roger Corman bio - click here])! I play a sexy biker chick, "Pearl"!!! I know all these flicks are going to be a HIT!!!
What got you into acting in the first place, and did you receive any formal training on the subject?
I began acting and dancing at the age of 4. I would pretend to be a movie star and be in front of the camera as I adventured in the woods of our magical country estate. God was my director and my German shepard/collie puppies that I raised were my audience. My beautiful mother saw that I was a dancer and sent me to ballet school where I became a soloist dancer. From there I performed in front of audiences all the way to the Broadway stage!!! I studied with many acting and dance masters, Milton Katsales, James Kiernan and Nikos Psarchoropoulus to name a few.
As far as I know, you started your career on Broadway - so what can you tell us about your Broadway days, and what caused your transformation into a movie actress?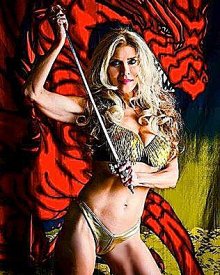 photo by Christine Dupree
I began my professional acting career in New York City when I was very young - I was a Jersey girl and I wanted to act, so the New York stages was where I'd go, right? I had gone to watch Broadway shows all the time and was struck by their magic and beauty, so I soon had the dream to become a successful artist and actress. I did audition against hundreds of other aspiring actresses from all over the country and won a coveted position in the Circle-in-the-Square's junior Broadway Company. I loved EVERYTHING about it, from rehearsals to performances to after parties to the whole Bohemian lifestyle.
My fate changed when I fell in love with a rock star with a record contract in Hollywood, so I followed him there - literally jumped into a cab that took me to the airport with my packed bags after having done my last Broadway show. Now of course there was no way of giving up my acting career in Hollywood of all places, and fortunately I found me a well-connected manager who before long set up an audition of a kung fu movie ...
I'm taking a not-at-all-that-wild guess that you're talking about America Bangmungaeg/Bruce Lee Fights Back from the Grave - so do talk about that one for a bit!
Back in the day, kung fu was all the rage. It was not long after Bruce Lee had passed away, so everybody was looking for the "next" Bruce Lee.
I was actually trained in kung fu for the movie by a professional expert black belt and consequently did all my own stunts and fights - that hasn't changed, I still do ALL my own combat. The film became a hit, too, made me an action star in South Korea, and put me on a billboard on Times Square. I thought I had arrived - and yet I turned down a 5 picture deal with the production company ...
Let's talk about some more films of yours for a bit:
Protocol?
Oh, it was a great shoot, my first "A"-movie - a major film by a major studio with a major star, it was so exciting. I got the full star treatment, had my own trailer, hair and makeup artist. And the director, Herbert Ross, he was one of the toughest, but he liked me - put me through bootcamp though: If you don't do it the way Mr Ross doesn't want you to, you're not on camera. And Goldie Hawn - she's even more beautiful on the inside and out than you can imagine.
Death Dancers?
I think it's one of my most memorable starring roles: I play a dual character here, and I love these multi-faceted personas. They also give me the opportunity to take risks, creatively. I play a young innocent woman in love who's betrayed and abused by her lover's father, who eventually kills her abuser, has a miscarriage, and all the pain turns her into an erotic serial killer of abusive men. I made this role my own as it was close to me: I was abandoned by my father at an early age and channeled my pain through dancing - I was originally a ballerina. So the role in Death Dancers was also a great outlet for my dancing abilities.
Over the years, you have frequently worked with genre veterans Fred Olen Ray and Jim Wynorski [Jim Wynorski interview - click here]. So what can you tell us about your movies with them, and what's working with them like?
Without Jim Wynorski I would NEVER have become a scream queen!!! Jim started me out with giving me a very cool role in Haunting of Morella!!! It was my first "topless" role, but very dramatic!!! From there Jim liked me and my work, and used me whenever he could in his hot flicks!!! He hand-picked me to play the role of Jackie Webster in Hard to Die!!! What a blast!!! I LOVE JIM, and he's so talented!!! He knows how to produce and direct successful fun awesome flicks! Through Jim I met his sometimes film partner (Dinosaur Island) and good friend the amazing Fred Olen Ray!!! I interviewd with Fred for Mind Twister, a SAG thriller with gig stars (Telly Savalas and Richard Roundtree), and he asked me if I could crash through a sugar glass window on 1 take? I said yes and got the job!!! Since Jim worked with me then Fred Hired me too!!! I loved how vool Fred was on the set, both Jim and Fred are masters and I LOVE them!!!
Any other films of yours you'd like to talk about?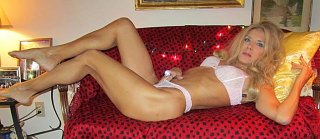 photo by Mike Marx
Over the years, I've been sooo blessed to have been in sooo many fabulous films with countless fantastic actors, directors and producers!!! There wasn't one film that I was in that I didn't have a transforming experience both as an actress and in my life. Some of the films that stand out to me at this moment are: Protocol with Goldie Hawn, Miami Vice, Sorority Girls and the Creature from Hell, Haunting of Morella, Hard to Die, Death Dancers, Vampiress: Lady of the Night, Absolute Horror, She Wolves and Angel of Reckoning!
Actresses (and indeed actors) who inspire you?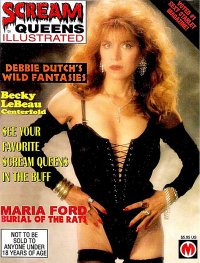 Feeling lucky ?
Want to
search
any of my partnershops yourself
for more, better results ?

The links below
will take you
just there!!!

Find Deborah Dutch
at the amazons ...

amazon.com

amazon.co.uk

amazon.de
Looking for imports ?
Find Deborah Dutch here ...
Something naughty ?
(Must be over 18 to go there !)

The actresses that inspired me most are Goldie Hawn, Marilyn Monroe and Greta Garbo. Actors - Charlie Chaplin and Boris Karloff [Boris Karloff bio - click here].
Your favourite movies?
My favorite movies are Star Wars, Casablanca, Gone with the Wind, Lord of the Rings, The Wizard of Oz and Forrest Gump.
... and of course, films you really deplore?
I don't go to bad movies! Haha, except there was that awful movie in which everyone was comitting suicide for stupid reasons, blocked out the name. Filmed in Pa.
Your/your movie's website, Facebook, whatever else?
https://www.facebook.com/hollywoodwarrioress - big THANK YOU here to Brian Kirst, who created, produced and manages the site. He also made our Chicago premiere happen and turned in a great performance in Hollywood Warrioress playing a reporter.
Anything else you are dying to mention and I have merely forgotten to ask?
I'd be amiss if I didn't mention the countless magazine covers I've been on!
Also I've been working with the wonderful Debbie D [Debbie D interview - click here] as one half of The Double D's!
Finally, there's a "Warrioress Goddess" model kit out on the market, plus many trading cards. And a Hollywood Warrioress comic book is ready to hit the stands after the worldwide release of the movie - how cool is that!?!
Thanks for the interview!
And thank you, Michael, from the bottom of my heart for this interview!
And to all, NEVER GIVE UP YOUR DREAMS!!! It was my love, faith and perseverance that made mine come true!!!
Love, blessings, and Nam-myoho-renge-kyo
xoxo Debbie