Your movie Silent Night, Bloody Night 2: Revival - in a few words, what is it about?
It's a direct sequel to the original film, that picks up 40 years after the original events.
Basic question: Why make a sequel to the forty year old Silent Night, Bloody Night, what fascinates you about that movie? And how direct a sequel will Silent Night, Bloody Night 2: Revival be of the earlier film?
Because of the storyline in the original film it wouldn't have been as possible to make a sequel back then because that story was pretty much over; the Butler home was destroyed, pretty much everyone died and it ended with Mary Woronov's character walking away. Now that so much time has passed we thought it might be interesting to see a modern film surrounding the "anniversary" of the crimes with a more updated approach. It's a full-on sequel in that we pick up 40 years later, we reference a LOT from the original throughout the film whether it be a clip, characters talking about it, or the locations (it's set in the same town). I love the original movie for a lot of reasons... I mean Mary fucking Woronov for starters, it's a creepy pot-boiler (those are my favorite), it's a Christmas slasher, it's oozing with atmosphere and it's intelligently done.
What can you tell us about your movie's writer John Klyza, and what was your collaboration like?
John Klyza is a talented writer and I had worked with him on several other projects in the past (Sleepaway Camp 4, Cheerleader Camp To The Death). This film was really his baby and it was important to him to have it shot pretty much word-for-word how it was scripted, so that's how we did it. I wasn't allowed much creative input, and I had a good lesson in restraint (as a lot of my films are usually more over-the-top), but wish him all the best on his future projects!
How would you describe your movie's approach to horror (as in suspense vs sudden shock, atmosphere vs all-out gore and the like)?
Well, it's got a bit of it all. We aimed for the more serious approach, like the original. I feel there is quite a bit of suspense and mystery but since it's a modern slasher sequel, it's also got a lot more gore and a couple "jump scares" too.
What can you tell us about the overall look and feel of Silent Night, Bloody Night 2: Revival? And again, will it in any way or form be influenced by the original Silent Night, Bloody Night?
We made sure to film it the week after Christmas so that we still had snow on the ground, which I felt was really important in trying to capture that same look and atmosphere of Part 1. However, with that said, it was SO MOTHER EFFING COLD during most of the shoot! A buddy of mine, Mike Moshman, has some pretty rad parents who let us spend several days filming in their huge, lavishly decorated home... so it certainly got that sense of elegance that was present in the original as well. The pacing of the movie is pretty close to the original and we have a lot of similar character development too.
Do talk about your cast, and why exactly these people?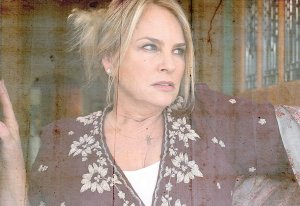 Jennifer Runyon Corman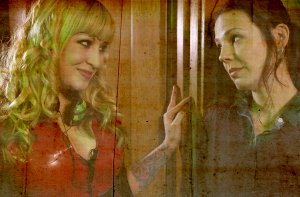 Jenii Caroline, Julia Farrell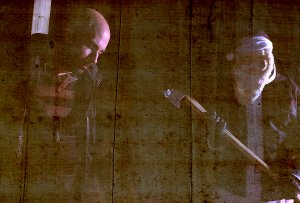 Luc Bernier, Jarad Allen
We had a lot of talent on board with this one! First and foremost we scored Jennifer Runyon Corman. Not only is she the niece of the infamous Roger Corman [Roger Corman bio - click here], but her first film was the rare Christmas slasher To All a Goodnight, directed by David (Last House on The Left) Hess. She was also in cult favorites Ghostbusters and Carnosaur just to name a few. She was a total sweetheart and I felt honored to work with her. Luc Bernier [Luc Bernier interview - click here] traveled down from Canada to play one of the leads. He's been in a slew of recent indie horror and he's also very talented. Julia Farrell was the main star. Just prior to that she starred in my remake of Todd Jason Cook's Demon Dolls (coming soon from Screamtime Films!) as well as starring in Cheerleader Camp To The Death (now on Amazon VOD!). The film also had bit parts from a couple of the 42ND street film scream queens Jennii Caroline (Die Sister, Die!, Gloved Murderess) and Breana Mitchell (Doll Killer, Invitation To Die). Jeanne Kern (Blood Rites) played a resident at the Bed & Breakfast in the movie and her real-life husband Rich Kern played the Killer, Black Peter. (Yes, he got to "kill" his own wife in a scene!). Although my boyfriend Jarad Allen had to do all the dirty work since he played Black Peter in the mask, which is most of the movie (he's much younger than Rich so more able to perform a lot of the physical aspects required of the role). Pete Lipins played Jennifer's husband in the film, he's appeared in some of my music videos in the past and he's also a talented director too. Lastly, genre vet Jeff Dylan Graham (Seed 2) made an appearance as the estranged brother of Julia and Luc's characters. All of these people involved I either consider a good friend or have worked with in the past. This was a pretty big project for me, and I needed people I knew and could trust, and most importantly, those I felt talented enough to really engage the audience in the story.
What can you tell us about the shoot as such, and the on-set atmosphere?
Like I mentioned before, because of the time of year we filmed, and since a lot of it was at night it was super freezing during most of the shoot. But everyone was a real professional and we all got through it together. There was no drama on set, everyone was laughing and having fun with it pretty much the whole time. It was a smaller cast and crew, and most of us already knew each other already so it was pretty easy to work together. It was an intense shoot however because a lot of the special f/x were elaborate and we were on a major time crunch with Jennifer's scenes. Also we were pretty limited on how long we could use the Moshman house (let's face it, no one really wants a whole film cast and crew taking over there house for a weekend, let alone any longer than that) so in typical Dustin Ferguson fashion it was "go, go, go!", but it was a total blast and we all had a great time.
A few words about audience and critical reception of your movie?
The film has yet to be officially released, but I did send out a couple screeners and it had a theatrical premiere. The response was really good, everyone seemed to follow the story and enjoy the pay off at the end. There will probably be a handful of horror fans that will hate it no matter what, but all I can do is make the film I set out to make and keep moving forward. After all, I got to direct a sequel to a 70s cult classic Christmas slasher film... like how often does that opportunity arise for someone these days?
Any chances for a Silent Night, Bloody Night 3? And any (other) future projects you'd like to share?
If a Part 3 happens, I won't be involved. That's all really up to Klyza. I remember he mentioned he wrote it a certain way to leave it open for a Part 3 but I have other opportunities I want to explore. I made my contribution, and I enjoyed doing it. Recently, I wrapped a Faces of Death style shockumentary called Faces of Dying as well as the gritty shot-on-SVHS slasher film Meathook Massacre, both for Manor Video. Next, I'm directing Hauntedween 2 in August for Screamtime Films and then I have two more films later this year: Blood Claws and Shockumentary, both for Nemesis Video.
What got you into filmmaking to begin with, and did you receive any formal training on the subject?
No film school, no training, just a passion for horror films and wanting to make my own. I grew up an obsessive fan, and then I started doing film editing (I edited Sleepaway Camp 4, and some soft core stuff for pay-per-view), which eventually led to me directing my first short film, a fan sequel to Fred Olen Ray's Scalps called Scalps 2: The Return of D.J. It was only like 20 minutes long and a total piece of crap, but I had to start somewhere and it was a fun first experience. And as I understand it, Fred will be including my short on the upcoming Blu-ray of Scalps. After that I did a couple more shorts then finally dived into features with Terror at Black Tree Forest in 2010.
What can you tell us about your filmwork prior to Silent Night, Bloody Night 2: Revival?
Silent Night, Bloody Night 2 was my 19th feature film. Prior to that one I directed the remake of Die Sister, Die! and a remake of Demon Dolls, a giallo featuring Velvet Acid Christ music called Gloved Murderess, the Cheerleader Camp spin-off Cheerleader Camp To The Death, the viral marketing hit faux SOV 80s slasher Doll Killer, a follow-up to The Legend of Boggy Creek called The Legacy of Boggy Creek and a handful of other shockumentaries and low budget slashers. I've also directed over 60 music videos for such artists as Lords of Acid, KMFDM, Egyptian Lover, Katalina, Dragonsclaw, Plack Blague, E-Rocker, Velvet Acid Christ and many more!
Going through your filmography, one can't help but notice you never stray all that far from the horror genre - mere coincidence, or is horror a genre especially dear to you, and why (not)?
To elaborate on what I briefly mentioned before, I grew up a huge fan of horror movies. I have a collection of 5000+ of them. I really enjoy the rare and obscure stuff, I watch a lot of bootlegs and unreleased material. I originally started making my own horror films just to have more "obscure" horror movies I haven't watched to death yet. I never really meant for my work to be seen by the masses. I used to just have a local screening with friends and family then sold copies out of the trunk of my car. Now, I won't even make a film unless distribution is already set up. Otherwise it's just a waste of my time. You won't find me directing local commercials or filming weddings. I direct to make horror movies, plain and simple. I've also always had a fascination with offensive and controversial music videos growing up (The Prodigy's "Smack My Bitch Up" being the Holy Grail from my childhood) so I only dabble in the music videos as a means of artistically expressing what I can't as well in the features. Which usually happens to be an offensive or risque subject matter. I also love how non-linear and crazy you can be with music videos. To me it's about visually interpreting the emotion of the song. Making those projects are a nice "break" from the features.
How would you describe yourself as a director?
I'm about the most gentle, easy-going director on the face of the planet. Because of the amount of projects I always have going on I often work with a lot of friends and amateurs. This has taught me to be patient and understanding of certain pitfalls. I'm never angry on set and things never get heated. I don't think you need to yell at your actors to get what you want out of them. You just need to treat them right and make them feel at ease. They are a lot more likely to work with you again in the future if the experience was positive and fun. I'm also very (what some people call "fast", what I call "efficient") with what I do. I usually bang out a feature film in 3-5 days. Careful planning and organization plus reliable people can take you a long way. I usually edit together a rough version of the footage we shoot each day so I can stay on top of the project and once we wrap filming on the final day I just have to slap the final pieces together then touch it all up. Before I know it the movie is done and it's onto the next one.
Filmmakers who inspire you?
William Girdler was my biggest inspiration. He directed Three on a Meathook, Asylum of Satan and Grizzly, to name a few. He made his movies on a super tiny budget, with all locals. Because he likes to utilize montages and various other forms of "padding", his movies have a certain charm about them I really enjoy. His work has taught me a lot about how to make something feature length and achieving an effective story while staying within your own means. I am also a big fan of Charles B. Pierce for similar reasons. He made some real classics on like no money. Both The Legend of Boggy Creek and The Town That Dreaded Sundown remain in my top 20 list. I also love Dario Argento and his use of vivid colors, outrageous cinematography and gruesome murders. His films are top notch... at least they were in the 70s and 80s. Old skool John Carpenter, Lucio Fulci [Lucio Fulci bio - click here] and David Cronenberg as well. In my 20s I was introduced to what I call the "Corman Clique": Fred Olen Ray, David DeCoteau, Jim Wynorski [Jim Wynorski interview - click here] and Richard Gabai. Those guys and their early work is what really made me decide I could do this too.
Your favourite movies?
Too many to list! But here's a few, in no particular order: Halloween III, The Texas Chain Saw Massacre, The Town That Dreaded Sundown, The Legend of Boggy Creek, Slumber Party Massacre, Videodrome, Phenomena, Scalps, Unhinged, Tourist Trap, Dolly Dearest, Demonic Toys, Creepshow 1 & 2, Halloween, House of 1,000 Corpses, Cabin Fever, Day of The Dead, The Gates of Hell, Faces of Death, Scanners, Maximum Overdrive, Haute Tension, Sleepaway Camp 2 & 3, Murder-Set-Pieces, Intruder, Children of The Corn 2, Silent Night, Deadly Night and so many more!
... and of course, films you really deplore?
This is a tough one because I actually like "bad" movies. The ones I deplore the most or the real idiotic or utterly geeky mainstream stuff that has obnoxious actors, frenzied editing, CGI overkill, product placement and wholesome (unrealistic) values. They just annoy me. Movies like the Lord of The Rings series, Star Wars (those new ones, the original trilogy is ok), superhero movies, musicals, and that dumb movie with Smash Mouth... Rat Race.
Your/your movie's website, Facebook, whatever else?

Feeling lucky ?
Want to
search
any of my partnershops yourself
for more, better results ?

The links below
will take you
just there!!!

Find Dustin Ferguson
at the amazons ...

amazon.com

amazon.co.uk

amazon.de
Looking for imports ?
Find Dustin Ferguson here ...
Something naughty ?
(Must be over 18 to go there !)

42ND street films: https://www.facebook.com/pages/42ND-street-films/451815011576883
Silent Night, Bloody Night 2: https://www.facebook.com/pages/Silent-Night-Bloody-Night-2-Revival/1512970562312359
Anything else you are dying to mention and I have merely forgotten to ask?
I also do music! My project is called E-Rocker featuring Dirty D and the EP is called "Welcome To My Bass", coming soon to iTunes, CD and (hopefully) Vinyl! You can watch the music video for my first single here: https://www.youtube.com/watch?v=Xtf55lV2QL4
Thanks for the interview!