Your upcoming movie Zombie A-Hole - in a few words, what is it about?
I have a really hard time explaining it to people. The best way I can describe it is that it's an old fashioned blood and boobs kinda flick. The gist is that three people are hunting down an undead serial killer who preys on twin girls... who are usually nude.
In story and approach, Zombie A-Hole almost immediately reminded me of low budget genre films from roughly 20 to 30 years ago, like vintage Full Moon and Italian grindhouse shockers. Have I at all hit the mark with that, and if so, would you at all like to elaborate? And some of your favourites from that era?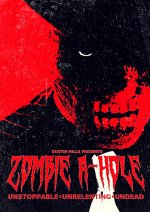 Yes! That's exactly what we were going for. There was an age in low budget (specifically straight-to-video) filmmaking when the emphasis was more on having fun and telling a weird story than trying to create a wholly realistic experience. Zombie A-Hole is a weird story with pulpy characters. There are plot twists and turns, but zero pretense as far as I am concerened. We just wanted to make a fun, bloody, action-packed movie with some beautiful buck-naked ladies to boot. Some big influences for me are of course the Evil Dead Trilogy. I also adore Dellamorte Dellamore (aka Cemetery Man), Demons, Suspiria, and many more on the Italian front. I am also a huge Full Moon fan. The little creature in the box from Zombie A-Hole (who I've named Selwyn) is evidence of Charles Band's influence. Full Moon introduced magic into the world of horror. I miss that.
Other sources of inspiration for Zombie A-Hole?
My fellow no-budget filmmaker, friend, and mentor Bill Zebub was a huge influence. Bill is amazing. I adore his films. His influence inspired me to not only include some pretty ladies in the buff, but to also not shy away from full frontal or from being a tad gratuitous.
How would you describe your directorial approach to the subject at hand?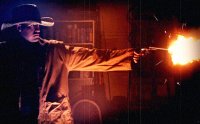 Josh Eal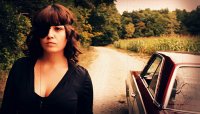 Jessica Cook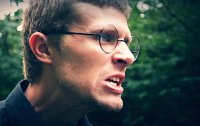 Brandon Salkil
Zombie A-Hole was interesting, because contrary to what I have done before and since there was no plan. None whatsoever. We showed up, we rehearsed, and then we'd shoot. It was very spontaneous. It felt good after doing The Puppet Monster Massacre, which was a lot of planning and exacting execution. Zombie A-Hole was like "WHOO LETS MAKE A MOVIE!!!". This actually proved to be a very efficient way to make a movie as long as your cast is professional and awesome... which mine obviously was.
A few words about your lead actors?
They fucking rock. The main three (Josh Eal, Jessica Cook, and Brandon Salkil) are very good friends of mine. I wrote the parts with them in mind and they helped me shape the characters from the ground up. When I watch the film now, I can just see how much they became their characters. Its amazing. There is a scene that I won't spoil, but it makes me fucking cry when I watch it. Their performances were so perfect. They elevated the material to a point where it almost doesn't belong in a titty filled zombie flick. They were A-Level performances in a B-Level movie as far as I am concerned.
One can't help but notice that your film features quite a number of girls who get naked before being violently killed (most of the time twice because they play twins). So how easy or difficult was it to cast these roles, and what was it like shooting those scenes?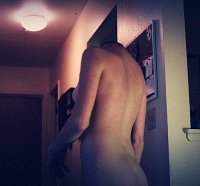 All of the girls in the film are friends of mine. I asked them specifically because I knew they would be comfortable. The only difficulty we had is that there were a few actresses that agreed to be in the film, but then backed out because of jealous boyfriends. Shooting nude scenes isn't really that difficult if you aren't a sleazeball. I do my best to make sure they are comfortable, and just treat it like any other scene. I also kick any non essential member of cast or crew out of the room before we begin. I also try to be as straightforward as possible about what is going to be visible on screen and for how long. Other than creativity, and ingenuity, I believe that this is one of the things that seperates indie filmmakers from the studios. Nudity and pushing the boundaries of what can be shown onscreen used to be a big part of horror. It has sort of dwindled now that everything is watered down and tailored to be inoffensive. I think a few mainstream directors like Patrick Lussier and Alexandre Aja understand its place in horror history, but they are the lonely few. It seems silly, but putting sexy naked gals in horror flicks seems to be a dying art. Some would argue that it's degrading to women, or that it's exploitative. I disagree, though. In a movie that features graphic violence and grotesque imagery, I feel it's nice to take a break and look at something beautiful for a few moments.
In terms of violence and gore, was there ever a line you refused to cross (for other than budgetary/technical reasons)?
Yes, and I think we crossed it in a couple scenes. Zombie A-Hole was never meant to be mean. It is gory, but in such a ridiculous way that I don't think it will offend many people. There are three scenes though (the eye rip, the beating, and the drowning) that I think cross the line from fun to mean. It wasn't my intention, but that's just how they turned out.
You have also had your hands in the creation of the special effects of Zombie A-Hole - would you at all like to talk about your film's effects and methods of achieving them for a bit?
Oh wow... thats a tough one, because we used so many different methods. I'll highlight a few that I think are interesting:
The Zombie's makeup was actually a silicone mask. It was sculpted by hand at my kitchen table directly in silicone. We didn't do a mold. We just built it up in layers. First was a red blood layer, followed by a black vein layer, then the white skin layer, and finally the details (teeth and cheekbones and eye sockets). It was also about 2 sizes smaller than Brandon's head so it really moved with his expressions and didn't have that cheap halloween mask look.
An effect that people really seem to enjoy is our creature in the box. We accomplished this effect via a marriage between practical and digital. There was a real puppet on set, but his facial movements were augmented digitally. This is most notable in his eyes.
A lot of our kills were augmented with a special effect technique I learned about from John Carl Beauchler. We basically created this red stringy mess of latex called nernies. Anytime someone gets ripped up or we just need that extra look of veiny tendony nastiness we would grab a handful of that shit and stretch it all of the place. You can see this especially when Pollux punches through a girls head.
What can you tell us about your movie's musical score?
Most of the music in the film was provided by a local band called Slug. They are absolutely amazing. Their music lent a real identity to the film. You can check them out at http://www.facebook.com/Sludge.Ugly - I highly suggest you order their albums. The Zombie theme was provided my Jared Kaelber. He's an incredibly talented musician and he provided the theme song for The Puppet Monster Massacre as well.
Before Zombie A-Hole, you made The Puppet Monster Massacre, which (no surprise here) was an all-puppet feature. How did shooting with real actors differ from doing a puppet film?
It was actually much much easier. In The Puppet Monster Massacre we had no puppeteers so I had to do every single performance. In Zombie A-Hole I could concentrate on the camera work and cinematography.
The $64-quetsion: When and where will Zombie A-Hole be released?
Good question. We are just selling copies at conventions right now. That's really the only way you can get it. Distribution will be sorted out soon, but for right now... I don't have a good answer.
The ending of Zombie A-Hole leaves the door wide open for a sequel. Was this intentional, and is there anything planned to that effect?

Feeling lucky ?
Want to
search
any of my partnershops yourself
for more, better results ?

The links below
will take you
just there!!!

Find Dustin Mills
at the amazons ...

amazon.com

amazon.co.uk

amazon.de
Looking for imports ?
Find Dustin Mills here ...
Something naughty ?
(Must be over 18 to go there !)

I definitely want to make a film about Frank and Mercy. Its already outlined in fact. It would be fun to have a male/female action duo where there is no sexual tension. It would be a new dynamic I think that hasn't been explored that much. As for a straight up sequel... that sort of depends. I have a couple ideas, but it really depends on whether or not people like the first one.
(Other) Future projects you'd like to talk about?
Yes! My psycho-sexual tentacle exploitation film Night of the Tentacles is in the editing phase right now and will come out later this year. This summer we start shooting a very exciting project called Kill That Bitch. After that... it just depends on the money, but we have tons of ideas.
Your website, Facebook, whatever else?
facebook.com/nightofthetentacles
facebook.com/puppetmonstermassacre
Anything else you are dying to mention and I have merely forgotten to ask?
Only one thing. When you watch the film, check out the length of Brandon's hair. It fluctuates more than my weight. He got appendicitis partway through filming and we shut down for about 45 days. When he came back we forgot to get his hair cut.
Thanks for the interview!