You seem to have quite a few projects on your plate for 2013 - so why don't you walk us through them one by one, starting with ... Kill that Bitch. In a few words, what is it about?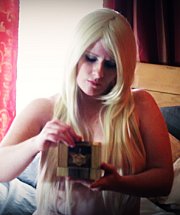 Kill That Bitch
Kill That Bitch is something I have been working on since last summer. Its kind of a slasher, but in an unconventional way. I don't want to spoil anything. All I will say is that the women of Kill That Bitch fight back. They really give the killer a run for his money. Its a little darker than what I usually do. It will be a mailing list exclusive DVD and Blu-ray upon its release. So my mailing list is going to get it long before anyone else does.
If I'm not mistaken, Kill that Bitch is your first straight slasher. What drew you to the genre, and considering the genre's very narrow confines, how hard/easy is it to put your own brand onto the movie?
Again the movie isn't strictly a slasher. You'll just have to watch and see. Though it is a bit less bug-fuck insane than my other films it has plenty of my trademarks. Chief among them is the inclusions of beautiful women who appear in little to no clothing.
The Ballad of Skinless Pete - now what is that one about?
This one is really weird. It's a monster/mad scientist tale with a dark dark dark sense of humor. Its about obsession, friendship, love, and rape, but its also a monster movie with The Three Bs (blood, boobs, beast). I think my fans are really going to dig it. When I tell people I describe it as The Fly meets Re-Animator. It's gonna be icky.
You have made quite a few monster movies before The Ballad of Skinless Pete with quite an eclectic mix of monsters. So what can you tell us about your monster creation for The Ballad of Skinless Pete?
Pete is an interesting monster because he is a man at war with himself. He doesn't want to hurt anyone, but the chemicals in his brain force him to do it. He doesn't enjoy killing, but he is driven to do it. People will empathize with Pete. His relationship with our female lead and the constant inner struggle with the thing inside of him make him a very deep character.
What can you tell us about Country Dark?
Country Dark is going to divide my audience. I know that for sure. It is complex, non-exploitative, and nearly bloodless. It's a supernatural horror tale. I feel the need to challenge myself. Not to get pretentious, but if I make titty-filled monster flicks forever I will never grow as an artist. I love making those movies, but every once in a while I need to try something new. The movie starts as a simple "trapped in the middle of nowhere" tale and grows from there into something strange and horrifying. My desire is to utterly terrify my audience and get them talking about what they think was happening in the film.
Country Dark sounds like a very ambitious project to handle on a low budget. So how are you planning to go about this?
I actually think the technical side of things will be relatively simple. It mostly takes place in once location with one actor. I think this will allow me to concentrate on the execution. Brandon Salkil will be our main character and its really mostly him in a car out on a country road dealing with terrifying situations and creatures. We basically have no money for this one, but we don't need money. What we need is creativity and a good plan of attack. I want people to be creeped out by this movie.
Also, Country Dark sounds more serious than your usual output. Am I at all right in that assumption, and/or will there still be plenty of the typical Dustin Mills-humour?
I wouldn't say that there is no humor, but it's not a comedy. It's not like my other films at all. It isn't dirty, it isn't cheeky, its oppressively and pervasively scary.
You're also preparing Puppet Monster Massacre II: MonsterGeddon, right? So what's that one going to be about?
As the title implies it will be an end of the world scenario featuring a ludicrous amount of monsters.
As far as I know, Puppet Monster Massacre II will completely ignore the continuity of the first Puppet Monster Massacre - why, and in what manner will the movie differ from the first one?
This is try. I had basically given up on the thought of doing a sequel. My fans kept asking for it, but the first one didn't do well financially and the thought of tackling that much work scared the shit out of me. One night I had a conversation with Mac Brewer from Horror Society, and it led to me figuring out a new direction for the franchise. I think ignoring continuity is a grand tradition in horror and genre filmmaking, and without the restraint of following the original I was able to craft a new story that was better than any sequel I could have come up with. That being said there are some interesting twists that may tie it to the first film. It will be interesting to see how people feel about it. I believe this is the best way to follow up the original film though.
Any future projects beyond all those above you'd like to talk about?
Yes, but none that I want to talk about yet.
With that many projects in the pipeline: What keeps you going, and what keeps you inspired?
There are two things that keep me going. One is my stupid maniacal ambition and passion. I just love making this shit. Its better than any job I have ever had. Two is my fans. I still find it strange that I have fans, but I am so thankful for them. I would start naming them but I don't want to leave anyone out. I am almost 3 years into my filmmaking career and I estimate I have about 200 active fans. They support me, they adore my crazy shit, and they make me believe that I'm not a fool to pursue this line of work.
As far as I know, both Puppet Monster Massacre and Night of the Tentacles are soon to be re-released. So what makes this re-releases special?
Puppet Monster Massacre has seen several releases, but what's coming July 26 is a Blu-ray. Available for pre-order here http://www.dmpstudios.com/store.html - in addition to being in full HD it will also contain several new special features including the first episode of DMP Zone which is my take on Full Moon's Video Zone. It will take you behind the scenes and provide exclusive news and interviews. There will also be an extensive sneak peek at Puppet Monster Massacre II.
Night of the Tentacles is being release under its original title Heart Attack. It will feature new artwork, cast commentary, pop-up trivia, dirty deleted scenes, and more. It should come out on DVD and Blu-Ray simultaneously soon. It will be a DMP mailing list exclusive.

Feeling lucky ?
Want to
search
any of my partnershops yourself
for more, better results ?

The links below
will take you
just there!!!

Find Dustin Mills
at the amazons ...

amazon.com

amazon.co.uk

amazon.de
Looking for imports ?
Find Dustin Mills here ...
Something naughty ?
(Must be over 18 to go there !)

Your website, Facebook, whatever else?
Website: dmpstudios.com
Facebook: facebook.com/dustin.w.mills
Email: puppetmonstermassacre@
gmail.com
Twitter: @puppetmassacre
Anything else you are dying to mention and I have merely forgotten to ask?
I think we pretty much covered it!
Thanks for the interview!
Thank you, my friend!