First of all, why don't you introduce yourself to those of us who don't already know you?
Hey guys! This is Eliza Swenson. I'm an actor among other things… I love writing music, late nights, Doctor Who, French movies and still haven't figured out Tevo.
First up, I'd like to talk about a few of your upcoming projects: What can you tell us about The Witches of Oz?
Witches of Oz was special to work on. It is a fantastic story with characters that you cheer for and we were lucky to be able to get the amazingly perfect actors that we did. Christopher Lloyd, Billy Boyd, Lance Henricksen, Sean Astin, Mia Sara, Ethan Embry, and Jeffrey Combs just to name a few. Since I am the producer as well as one of the actors in the show, I have seen the movie and I will say that this is one to watch for. I play Billie Westbrook, a New York literary agent that shows Dorothy the ropes of the big city. It was great to see the story come to life with some of the best actors in the industry.
Could you talk about Legend of the Red Reaper for a bit?
I got involved in Legend of the Red Reaper because Tara Cardinal [Tara Cardinal interview - click here], the lead actress and also the producer, knew my work and called me up. We hit it off immediately. She was great to work with and there was a lot of chemistry between us. I play her magical sorceress mother; a very sad character full of regret. It was a wonderful team of people full of passion for the project. I didn't get to do any cool stunts like Tara, but I got this fun scar on my face.
What about Drop Dead Gorgeous?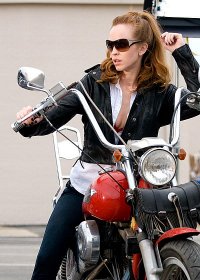 Chrome Angels
In Drop Dead Gorgeous I play an aggressive model who will do anything to be the next big thing. I have to admit that when I auditioned I was in the casting room surrounded by models and I thought, what am I doing here? But you know, you always just do the scene, try to get some laughs and talent conquers all (hopefully).
Your last released film was Chrome Angels I believe. A few words about that one?
Chrome Angels… ya, it is technically released, but I think only in Thailand for now. We'll see about here, I don't have any info on that. Fond memories. We filmed in Louisiana in a hot, muggy summer. It did wonders for my hair! The coolest thing about the experience were all of the guns and I learned to ride motorcycles! When the stunt guys took me to learn, we went to an abandoned mall parking lot. I was like, "Ok, I'm ready to do it on my own." So he told me to go 40 feet or so, but instead I rode all the way around, I thought he was going to have a heart-attack. It was awesome!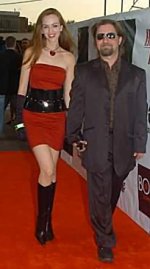 Eliza with Leigh Scott
Chrome Angels and The Witches of Oz were both directed by Leigh Scott, who has actually directed quite a few of your past films. What can you tell us about the man?
Lol! Leigh and I are creative partners so, as you can imagine, it is intense. We both are so critical of our work but it always helps to have someone there with an opinion that you trust and respect. Leigh is smart, talented, intense, and creative. I get an idea in my head, and I work at it for as long as it takes to get it off the ground. With Leigh, he's always working on thousands of problems all at once. I love his directing style and his imagination.
Let's talk about a few of the films you did with Leigh Scott individually: What can you tell us about Frankenstein Reborn, which I think was also your debut feature?
Frankenstein Reborn was my first film with distribution. Leigh really wanted me for the part of Elizabeth, but he was worried that I wouldn't be comfortable with the material because he could see my religious upbringing. So, I chatted with him a bit and I think I did a pretty good job of convincing him otherwise. I am quite fearless. Maybe it is a redhead thing.
A few words about King of the Lost World?
Wow. This movie is always playing on TV. It is funny how you never know where things are going to end up. I was filming Satanic when Leigh was shooting King of the Lost World and he asked me if I would come by for a couple of days for this little scene. Little did I know that I was going to be eaten by an 80 ft. gorilla. One of the reviewers wrote a story about what happened to Gloria, my character. Well, actually, he wrote more of a poem about what happened to me. He just couldn't face up to the reality; that was one nasty gorilla.
What about Dracula's Curse?
One of my favorite projects. I love vampires and action so I was excited to play Gracie. She kicks a lot of ass! I just can't wait to do the sequel. One of the fun things about being an actor is getting to learn new skills. For this movie, it was swordfighting. And once again, me with machine guns!
The 9/11 Commission Report actually sounds like a bit of a breakaway from the classic horror themes you had done with Leigh Scott so far. A few words about that one?
Ya, it was much different. It was actually more like performing in a play. We would work the scenes over and over as actors and then, because it was documentary style, we would fly through the shooting. Much different than an action film.
Dragon is a film you have even written together with Leigh Scott. What can you tell us about that movie and your experiences as a writer?
Writing has always been intriguing, but just like film scoring, it is way more work than should be legal. You are never finished. Rewrites every day of filming. It is rewarding; creating your own world.
And then there's of course Transmorphers. A few words about that one?
Transmorphers… well, you know, a military four star general, robots running the world, all in a day's work. It got so much hype because of the title, but it was really a marketing thing from the production company. The movie has nothing to do with Transformers. What's in a name?
Especially Leigh Scott's earlier films were produced by The Asylum, a company that is for some reason ridiculed by many. Your thoughts on The Asylum?
I don't have anything bad to say about those guys. They make movies, they make money, and they give people a start. Nothing wrong with that. There was always a love/hate thing going on with the internet trolls and The Asylum. It was a great group of people to work with and I learned a lot.
Moving away from Leigh Scott and The Asylum, what can you tell us about Pineapple, in which you play a rather provocative role as I understand?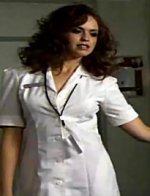 Candy Stripers
Pineapple was intense. Drugs, sex, and Rock'n'Roll. All of the extras in the strip joint were real strippers so they showed me the ways. We were filming in Austin Texas; beautiful city. All of the actors were local except for me, so I was a bit of a fish out of water, but that's where I pull out the charm! Playing the character taught me how to just go with it; not think too hard. The opposite of my neurotic writing self.
A few words about the wonderfully titled Candy Stripers?
You like the title? I liked the outfits. All the sexy nurses running around and I played the nerdy nurse. I've got some funny little scenes. There is a whole movie in there for crazy Sally the nerdy, sadistic nurse. Too bad I get turned into an alien.
And speaking of wonderful titles: Pocahauntus sounds even better - what can you tell us about that one?
Oh, this one was just a bit of fun with some friends. The perfect drinking movie. I play a lesbian; of course. Always seem to be playing lesbians. I wish there was a movie about the behind the scenes. I had two death threats. Guess you had to have been there.
Any future projects you just have to mention?
Not sure what the future holds, but I would love to do a period piece. That is a secret dream of mine. And making Witches of Oz into a TV series wouldn't hurt either.
How did you get into acting and into the movie business in the first place, and did you have any formal training as an actress?
I've been acting and singing since childhood. After I went to college, first thing that I did was move to Hollywood. And my adventure began. My family thought that I had gone insane. Actually, they still think I'm insane, but in a good way.
One can't help but noticing that most of your films are of the horror variety. Is horror a genre especially dear to you?
Horror as an actor is fantastic; it is so intense. It is the perfect genre to start with because it trains you to go with your instances. I wouldn't say that I'm the biggest fan of slasher films, but suspense, ghosts, monsters, fantasy, superheros, aliens… the list goes on. Anything with an imagination.
Women in horror are almost automatically labelled scream queens. Does this label at all bother you?
It is a fantastic label. There is a lot of screaming and we are royalty; it is only fitting.
People might not know that you are also a musician, having written quite a few movie scores and fronting the Goth band The Divine Madness. What can you tell us about that aspect of your career?
Music is my life. It is hard to explain where it comes from or what it is. You just write and write into the air and it finds you. I trained since I was seven and four years of classical training and the answer still eludes me. I think that is why it is so intoxicating; the mystery. The band is beautiful; I write music that I want to write. Not worrying about commercializing it. If people like it great; it is just a bonus.
Your website, MySpace, Facebook, whatever else?

Feeling lucky ?
Want to
search
any of my partnershops yourself
for more, better results ?

The links below
will take you
just there!!!

Find Eliza Swenson
at the amazons ...

amazon.com

amazon.co.uk

amazon.de
Looking for imports ?
Find Eliza Swenson here ...
Something naughty ?
(Must be over 18 to go there !)

Well, if you want to say hello, you can find me on Facebook and MySpace. I don't always answer but I try to. I have met some awesome fans through the Internet; feedback is always nice.
Actresses (or indeed actors) who have inspired you?
Actresses mostly. There is only one actor that does it for me; Nicholas Cage. He is quirky and cool. Of actresses, my favorites would be the classics like Katherine Hepburn, Marilyn Monroe and of current Nicole Kidman, Angelina Jolie, Kate Winslet and Samantha Morton. I like risktakers.
Your favourite films?
Wow. There are so many. Moulin Rouge, Kick Ass, The Libertine, Stardust, Beauty and the Beast (1946), Breakfast at Tiffany's, Pan's Labyrinth, Indiana Jones, Witches of Oz (of course)… the list goes on.
... and of course, some movies you have really deplored?
The Departed is the only one that really comes to mind. You know, I usually don't see films I think I'm going to hate; violence without a point.
Anything else you are dying to mention and I have merely forgotten to ask?
My favorite color: Black
Favorite soda: Diet Coke
Favorite drink: Scotch
Favorite place: Recording Studio
Thanks for the interview!