First of all, why don't you introduce yourself to those of us who don't already know you?
Iím Tara (Tah-rah, not Terra) Cardinal. I do primarily horror films with action work Ė stunts, swords, knives, martial arts Ė and the occasional wrestling. And from time to time I model J
A few words about your upcoming Legend of the Red Reaper?
Legend of the Red Reaper is my baby. Itís about a female sword fighter who sacrifices true love to save the world from Demons.
As far as I know, Legend of the Red Reaper was a bit of a dream project of yours, and it's based on your own concept. Could you elaborate on that concept and its evolution?
Sure J! It all started when I was working at the Renaissance Festivals as a performer. I had this idea for a female swordfighter that was only part human. In Renaissance times the character was over a thousand years old, and served as a protector of good, and a scourge to evil. The movie, Legend of the Red Reaper, is the backstory of the character and how she went from being Aella to The Red Reaper.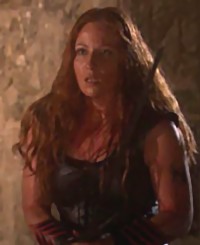 Legend of the Red Reaper
You also have your hands in production of Legend of the Red Reaper. Could you talk about your role a producer for a bit?
As a producer, as well creator, I became responsible for the overall look of the film. I either brought in, or approved every piece of wardrobe that shows up on camera, as well as the weaponry. Because the film takes place in a fantasy time period I wanted to stay away from both wardrobe and weapons that were indicative of a specific time, like Elizabethean collars or Italian swept hilt rapiers. My swords in particular were designed by me, and hand crafted by my amazing sword master. Instead of a cross hilt, which is what everyone else in the story has, mine has three prongs, and (chain)maile interwoven between the prongs. Itís heavy, but completely original. In the story the swords are given to Aella by her father Adonis, the leader of the Reapers, and swords have their own little story line.
I also did a fair amount of casting. I looked through literally tens of thousands of headshots and resumes to narrow it down to hundreds of people to read for 2 dozen roles. And then there were casting locations to book, scheduling, sides to prepare Ė and I read with hundreds of people when the casting assistants forgot to bring actors in pairs J.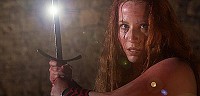 Legend of the Red Reaper
Iíve also re-written the script. Iím currently on the 5th draft of the 16th version of the new outline. For reasons it would be impolite to get into publically, the original version of the script became impractical to execute. But the fat has been trimmed, so to speak, and the people left on board for round two are exactly the people I wanted to work with in the beginning. The cream has definitely risen to the top and Iím SOOO excited about going back into additional shooting. As Adonis says in the trailer ďItís been a long road, and there are many who are not with us today.Ē
(Trailer is on youtube if you havenít seen it yet!).
As far as I know, you've also produced the film Haunted. A few words about that one?
I wouldnít use the word ďproducedĒ as a past tense! Iím still very much in the process of producing it. Haunted is based on the true story of a young girl who was abused by her grandmother. Grandma is dead, and things get worse.
Weíre still in the early stages of development. The script is in re-writes. We do have some interest from what they call A list celebrities to play the Grandmother. A lot of women are interested in shedding light on the aftermath of childhood sexual abuse. The film explores the differences between Post Traumatic Stress Disorder, and being genuinely haunted. Youíll have to stand by to see which it is. And because itís a true story... I canít tell you how it ends! J
Some of your other upcoming films just seem to have wonderful titles, so I just have to ask you to talk about them. Please say a few words about Ding Dong Dead?
A girl gang of Ding Dong Ditchers harass the WRONG guy. I play one of the girls in the group. Iím the one in the black catsuit wrestling. We shot it in two days, and it was written, produced, and directed by the one and only Creep Creepersin [Creep Creepersin interview - click here].
And then there's of course Bloody 27 ...
I have a fun cameo in Bloody 27. My character has a cool twist to it J. But.. since weíre still shooting, and I signed a non disclosure... I canít say too much about it. Sorry!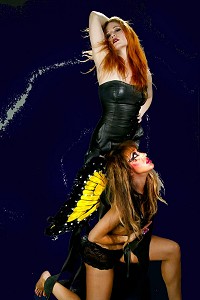 Tara Cardinal and Devanny Pinn
Any other upcoming films or future projects you'd like to talk about?
Iím working on a Talk show called Scream Queens Uncut. Itís The View hosted by Scream Queens (me and the beautiful Devanny Pinn [Devanny Pinn interview - click here], whom I met on Ding Dong Dead). Thus far weíve interviewed dozens of celebs. You can catch some teasers on youtube.com/screamqueensuncut.
Itís self produced (and by self I mean me AND Devanny, who now spend so much time together weíre actually the same person. I think Iím even beginning to look like her). Sometimes we just grab the camera and shoot, and other times we actually schedule things with a real crew. We have the in studio segments, and the on location segments. Most recently we reviewed New Moon from the movie theaterís bathroom, and interviewed fans after they flushed.
Your last released film was Terminal Descent/Scarlet Samurai: Incarnation, right? A few words about that one?
Not released yet my friends. Iím told itís going to be a double feature. Look for it 2010.
Terminal Descent is one of my favorite films. Red Scream Films flew me up to NY, we shot it in 3 days, and I got to go on with my life. (As a producer youíre married to a film for upwards of 10 years Ė 3 days is a vacation!). I got to do some knife fighting, worked with the amazing Sean Michael Argo as stunt coordinator, and I was in top condition for the film. I was 11% body fat when we shot that. I kick mutant ass. And there were plenty of mutant ass to kick. David Williams [David R. Williams interview - click here] directed, and heís a blood hound in human form. He had make up dump a full pint of blood on me for one of my more spectacular kill shots (with a hammer).
Leaving the present behind for the moment: How did you get started in acting?
I was discovered in a mall.
You also did quite a bit of stagework. How does acting on stage compare to acting in front of the camera?
Iím going to get flack for this, but Iíll lay it all out there. Stage work is 1,000 times easier than film work. Stage is like the crack cocaine of acting. You prep to death, you show up, youíre on stage for 2 hours, you get instant and immediate gratification. You never have to talk to a stand in, your scenes are never cut in mid sentence because the idiot DP doesnít understand that sound can be edited in post you actually have time and are encouraged to become familiar with the set AND your co-stars. Itís like playing dress up with friends and all the kids come to watch and think youíre brilliant. I LOVE LOVE LOVE doing stage work, and would do it all the time if I could. The only down side is the 2-3 months of rehearsal that usually goes into it. My last play (Strip) was rehearsed 3 nights a week for 3 months.
Film on the other hand takes a LOT more work as an actor. I donít care who you are, you have to be responsible for your own continuity in terms of both the physicality and the arc of the character. I have performed scenes by myself (other actor was on break) and I had to create the relationship in my head. Iíve been given some of the worst direction of all time and had to try to make it look natural. But I love it. And I wouldnít trade it for anything.
Is it true you have written some of the plays you were in yourself?
Oh My God where are you getting this from??? How do you even know that?
Yes, itís true. I have written a few plays here and there. Between 12-16 I wrote prolifically. Poems, plays, I even wrote a novel. I moved out on my own when I was 16. I worked 3 jobs to make ends meet and help out with some family stuff back home in Canada. I told everyone that I was taking an early retirement and I went through a period where I refused to write at all. Even when we were working on Legend of the Red Reaper the first time around. My partner and I fleshed out the outline, and gave it to a real writer (who turned it into a comedy Ė which was hysterical, but ultimately not the kind of film that Legend of the Red Reaper needed to be). So it was given to another writer who wrote lesbian romance novels (and thus it became a romance novel in script format), which was beautiful, but ultimately not the right genre for my story. And then my partner took over and rewrote the script so it would star some actor that no oneís ever heard of Ė which was somehow even funnier, and more romantic than the first two versions! And thus I was forced to come out of writing retirement and hammer out something that passes for a script.
So there you have it. Iím actually going BACK into re-writes today, because one of my lead characters became unavailable. Wish me luck on that!
What can you tell us about your transition from stage to screen?
Donít believe the hype. Thatís what I can tell you. Actor/Author after Actor/Author will bombard you with all this malarkey about how itís a different medium. Well, yes, itís a different medium, but itís the same performance. Ultimately a theatre performance has to be natural and organically motivated or it comes off as false. Thatís true for film acting as well. If you look at an actor like Jim Carrey who does film like heís doing theater in the round Ė it still works. Because itís Jim playing Jim.
So thatís my rant about the silliness of differentiating acting style for theatre vs film.
I will continue to do both as long as my schedule allows it. Although filming out of town makes doing theatre impossible.
Would you like to talk about a few films from your past (I have rather randomly picked I have to admit)? What about Delivery?
What??? Delivery is one of my finest films! Written, shot, directed (and who knows what else) by the amazingly talented Jose Cassella. It stars Matt Nelson, who was obviously channeling Meryl Streep. I was lucky enough to play opposite Matt as the love interest and catalyst for mass slaughtering.
We shot in Orlando over the summer of 2006 on weekends. I was told (but I donít believe it), that they read over 1,000 girls for the role of Bibi. I think I was 1001. Evidently they were so sick of casting that they settled on me. And the rest is movie history.
The film was picked up by Warner Brothers Home Video and has world wide distribution via Cinema Vault.
Could you talk about Genius for a bit?
WowÖ you are something! Genius isnít even on IMDb!
Ok... Genius was one of those films that re-affirmed my will to be an actor. The title role was between me and a famous Playboy model, and somehow it went to me (Iíll bet he regrets that now!).
I play a world famous opera singer, who travels the world searching for meaning. The film takes place during a 3 day stint where my character returns home and revels in her insanity, and sings Opera from time to time. I had to learn German, Italian and French for the role, and did my final aria in one take.
Having said that Ė it is an INDIE film and it looks like one. So if youíre adventurous enough to watch it, youíll have to forgive some sound issues, some lighting discrepancies, the occasional actor looking at the cameraÖ sighÖ for the love of the art.
A few words about Divas of Novella?
Divas was FUN! Itís a pilot directed by Tim Russ (Star Trek Voyagerís Tuvok) and stars Crystal Allen (Anaconda 3, 4) and Gary Graham (Alien Nation Ė Det Matt Sykes!) and Sophie Norman and Caroline Attwood. Oh yeah, and me. I play Garyís girlfriend/partner.
Itís about female space pirates escaping from the prison colony Novella, teaming up and taking over the world(s). Sigh. If only we had a showrunner.
Any other past films of yours you would like to talk about?
I think Iíve reached my limit on how much I can babble about myself and my work! Canít we talk about you for a moment? How did you become such an awesome interviewer? How many languages do you speak? How long does it take you to research people like me to come up with these great and fun questions?
So far, a good portion of your film roles have been in the horror genre. Is this just a coincidence or is horror a genre dear to you?
Yes it is! No other genre can you go ALL out. I think what some people donít realize is that horror encompasses many genres, discreetly. You can have a love story in a horror, because shared trauma brings people closer. You can have tons of action in horror Ė because good horror is a call to action for the hero(s). You can have comedy in horror Ė in fact you should. Because humans need the roller coaster of release of laughing, crying, terror. Itís all part of the package. As a horror actress not only can I be the lead and people will still watch, I can dabble in every genre, if only for a moment, and flex my range.
Women in horror films are almost automatically labelled as scream queens. Does this label at all bother you?
No, I love it. I happen to be re-defining it, but I love it just the same. In the past Scream Queen meant the girl that screamed and died, or sometimes screamed and lived. I tend to play characters that make you scream J
Besides acting, you do also a bit of stunting, right? Could you talk about that aspect of your career?
Oh you know, a sword fight here, a knife fight there. Really itís all part of the job. I got to do my first stunts on Delivery, and never wanted to stop. I started training, brushed up on martial arts which Iíve always been interested in, and of course studied sword fighting under a real sword master. Recently I just did a 15 foot high fall out of a tree for Red Reaper (and bounced off the matt Ė and the actor, Cal Simmons, playing Kreios, caught me JUST before I hit the ground). In the real world of stunts, itís nothing, but I am terrified of heights. Less so now, I suppose. Combat is really my forte. Iím not much for being set on fire or falling.
Plus, you are a wrestler. What can you tell us about your wrestling career?
I do live shows from time to time. My mud wrestling team, the American Knockers spent part of the summer doing live shows in Hawaii. I canít wait to go back!
Itís hard work, and takes a lot of athleticism. Especially when youíre doing 2-3 shows a day. I train often and itís fun J
On top of all that, you are a humanitarian, campaigning first and foremost against child abuse I believe. Please elaborate on this?
Child abuse is wrong. I think we can all agree on that. People in general turn a blind eye to what we consider minor abuses. Yelling, slapping children (in public no less), inappropriate touching. These kids not only suffer these abuses, but grow up thinking that itís ok, that they deserve it and that itís normal. These intellectual fallacies discolor their romantic relationships, friendships, their overall ability to relate to other people in a healthy way. Itís a scary, and vicious cycle that perpetuates generation after generation. Children are wired to accept their situations. As adults itís too much for the ďaverageĒ person to question. This is the real horror of our society, and the state of the world.
I think itís redundant to get into the more dramatic child abuses. Incest, rape, physical abuse Ė the psychological effects are devastating. I cofounded a peer counseling group when I was 12 that only dealt with these issues, and I can tell you that most of children I had the opportunity of working with are either dead, in jail, unable to function in regular society, or on drugs. The cream of the crop are workaholics who put enormous pressure on themselves and their families to be ultra successful Ė as if current success can erase past trauma.
And there I go being redundant.
But hereís my point. The world is going to hell in a handbasket for REAL if we donít do something. It IS your business. Step in. That little kid that you just ignored while his undereducated mother slapped him? That little kid is going to mug you in 10 years. That little girl next door being abused by daddy and you thought it was none of your business? That little girl will be the catalyst for the end of your marriage. All children need to be protected. By everyone.

Feeling lucky ?
Want to
search
any of my partnershops yourself
for more, better results ?

The links below
will take you
just there!!!

Find Tara Cardinal
at the amazons ...

amazon.com

amazon.co.uk

amazon.de
Looking for imports ?
Find Tara Cardinal here ...
Something naughty ?
(Must be over 18 to go there !)

Your website, MySpace, whatever else?
www.youtube.com/screamqueensuncut
Actresses (or even actors) who have inspired you?
Of course Meryl Streep in her performances, if not her choice of roles and Angelina Jolie for her humanitarian work.
Your favourite movies?
On a lighter note, The Princess Bride, DOA, Planet of the Apes, Star Wars, Ben Hur, On the Waterfront, Lord of the Rings, and now Avatar.
... and of course, some movies you have really deplored?
I HATED District 9. It was certainly well made, and a well told story, but very depressing.
Anything else I have forgotten to ask and you are just dying to mention?
Drink responsibly! Tip your servers. Donít litter!
And donít forget to live!
Thanks for the interview!
Thanks for chatting with me!!!