Give us the basics about the FANtastic Horror Film Festival first: When and where will it be held?
The FANtastic Horror Film Festival will be a four-day party, held on Halloween Weekend, 2014, starting on "Mischief Night". The films will be screened at the Reading Gaslamp Theater, the premiere festival here in San Diego, California. The social events will be held at a hotel nearby.
So what can you tell us about the FANtastic Horror Film Festival, and the philosophy behind it? And what do you think makes your festival special?
The stock answer for the FANtastic Horror Film Festival can be found on our website, http://www.FHFFSD.org, but the real reason is that we really love indie horror, and JoAnn and I were getting sick of schlepping up to Los Angeles to watch a good horror movie. We decided to bring the horror to us!
What gave you the idea to launch the festival in the first place, and your backgrounds that got you into a position to do so?
We answered that in part above; the rest of the story is that JoAnn and I have done theatre collectively for over half a century, and when we moved to California, we needed a break, but now we want to get back in the game. We also have many years experience in meeting planning that helps us a lot. Combining these experiences gives us the edge of understanding the needs of our audience--the fans, and the filmmakers.
It's called the "FANtastic Horror Film Festival" - so is horror a genre at all dear to you, and why (not)?
Michael: I've been dying to tell The Tingler story! When I was a wee lad, my mother had connections at the local movie theater. So, for our first movie outing, in her "infinite wisdom," decided that our first movies would be a double feature, Jason and the Argonauts and William Castle's The Tingler. Now if you know William Castle, he was infamous for setting up gimmicks to make the moviegoing experience more organic. For The Tingler, thumpers were set up under seats in the theater, so when the creature would appear on screen, you would feel a "tingling" sensation. Now, as a five year old, long before the MPAA rating system, this child, having never been to the movies, never even seen a color program, was so terrified, that he could not even walk into a theater for over a decade. After my self-imposed exile, I ventured into a theater to watch Stephen King's The Shining, arguably the scariest movie of the time. My reaction was, "This is it? This has kept me out of the movies for ten years? THIS IS GREAT!" Since then, I would go to horror movies, marvelling at the special effects and the story, knowing that somewhere, some director or make-up artist is standing in the back of the theater, smiling every time the audience screams, saying to himself, "Got'cha."
That being said, "Big Box" horror (your homogenized, water-down horror franchises) really don't give you the "buzz" of indie horror, where the writers, actors, and directors call the shots, not some board of directors worried about their bottom line. So, indie horror is where the real entertainment can be found!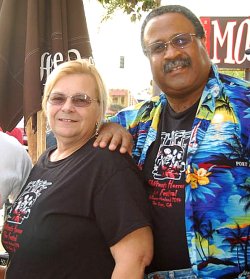 JoAnn and Michael Thomas
JoAnn: My story is a little different than Mike's. First of all I did not have a particular interest in horror until a little over a year ago, when one day Mike said "You want to go on a date?" I said "Yes." I had no idea that the date was going to a horror film festival in LA. We went to see Children of Sorrow starring Bill Oberst, Jr [Bill Oberst jr interview - click here]. I was awestruck by how much more interesting indie horror was than the stuff I have seen over the years. I am an avid reader and a big fan of Stephen King, so I have created many movies in my head over the years. Combine that with the fact that I enjoy television shows like Criminal Minds, it was a short jump to indie horror.
Now I do guess it's no coincidence that your festival takes place over Halloween - so outside of showing horror movies, do you plan any other activities to mark the occasion?
The decision to hold the Festival on Halloween weekend was a deliberate choice! The Gaslamp area, when the Festival is being held, will be hosting an area-wide festival of its own, with restaurants and attractions to draw San Diegans into that area. Being a part of that multiblock celebration will only help our exposure.
You still accept submissions to your festival, right? So where and how to submit, and what are some general guidelines regarding quality and the like when submitting? Oh, and how rigorous are you in your definition of horror?
Instructions on how to submit a film are on our website http://www.FHFFSD.org. They are pretty specific, and too long to explain in an interview. My best advice is visit the website. As for specifics, no Will Ferrell movies! Seriously though, horror actually transcends genres. There are standard horror films, psychological, slasher, vampire, zombie, animation, comedy; we even have a puppet horror film! We're even in talks to screen an entry from the Mini-Shorts Festival in England, where all the films are sixteen seconds long! So our range is very broad, but seriously, no Will Ferrell movies!
As far as I know you've got a handful of films already lined up - so what can you tell us about them, and why exactly those?
As mentioned earlier, our selection is as varied as the genre itself. We have fantasy (Phoenix Song), zombie (Zombie Casserole), seasonal (Krampus: The Christmas Devil), traditional (The Truck), and more coming is even as we speak (metaphorically speaking). We wanted a wide range of films to appeal to a wide audience--from the hard core horror fans to the closet horror fans and everyone in between.
Do talk about your panel of judges of a bit ... whose names might ring a bell to the indie horror community, actually!
Our judges were selected from the most recognized name in indie horror social media:
Gruesome Hertzogg a.k.a. Scott Geiter - podcast host, producer, actor
Chris Mackey - blogger and interviewer for Guestars
Geno McGhee - host, Scared Stiff Reviews, producer and director
Char Hardin - host of Charred Remains
Joe Flynn - host of The Joe Flynn Show on CreaTV-San Jose
You'll also hand out awards which will be voted upon by the fans, right? Care to elaborate?
As soon as all our films are selected, we will begin online voting. The categories will be Academy Award-like (Best Picture, Best Director, etc.) for the feature films and shorts, as well as some genre-specific categories (Most Gory, Scream Queen, etc.).
So where can one buy tickets for the event?
Our Big Ticket items (VIP Passes, 3-Day Passes) are available for purchase on our website, http://www.FHFFSD.org now. Naturally, both our One-Day Passes and our Single Screening tickets won't be available until we have our full screening schedule, something around August
Will there be future FANtastic Horror Film Festivals, and/or do you plan other events along these lines/totally different lines?
This is our first Festival, but is certainly not our last! Already, we are planning for next year, and we are in negotiations with charities and other horror-specific activities in the area. Because we are so new, these activities are still in the pre-production stage.
Your all-time favourite horror movies?
Michael: You got The Tingler story. That pretty much says it all. Your first love is always your best, even if it scares the living bejesus out of you.
Epilogue: I not only have the DVD of the film now, but hunted and tracked down a life-sized resin figurine of the creature!
JoAnn: My all time favorite has to be Children of Sorrow it changed my perspective in so many ways.
Your/your festival's website, Facebook, whatever else?
Okay, our "digits":
Website: http://www.FHFFSD.org
Facebook: https://www.facebook.com/FHFFSD
Twitter: https://twitter.com/fantastichorr
Google+: https://plus.google.com/u/0/b/106721166627441950291/+FhffsdOrg/posts
Plus we're the Number One hit on Google if you type in "Fantastic Horror Film Festival." You can find us on the spotlight side!
Anything else you are dying to mention and I have merely forgotten to ask?
We're the film festival with a mission. With attention to screening times, access to the actors, filmmakers, and celebrities, parties, and an Awards Banquet like none you've ever seen. The Festival is also to promote the films to distributors, and film warehouses, but for the FANS - its gonna be a party!
Thanks for the interview!