Your upcoming film Redlight Kate - in a few words, what's it going to be about?
Girl struggles to find herself in a world of violence, sex, and drugs.
I'm sure I'm not the first to ask this: Why strippers? And in relation to this, and since I know my site has the occasional male visitor (and I hope you'll forgive this dirty-old-man-question) how far do you plan to go in terms of nudity and the like?
Haha yes, my mom asked me the same thing. Well, the film is, in many ways, an exaggeration of my own life. I chose stripper because it's an exaggeration of my career as a dancer.
For all the dirty old men out there, I donít want to say how far weíll go because I donít want to sway viewers away from the film if I say we have too much or not enough. I like that the film is mysterious in that way. I think everyone will be satisfied though!
What were your actual sources of inspiration when writing Redlight Kate? And what got you into writing to begin with?
I fell into writing. I was talking with the lead singer of Maudlin Strangers one day, and we came up with this crazy story that we decided to turn into a song. It was random really since I had never written a song before, but I thought, ďthis is just for fun.Ē The song - which hasnít been released yet - turned out way better than I thought it would. So we decided to become a songwriting team. This decision led to us writing our next song, the song in the teaser, called ďSuffer, KateĒ. We only had a title to start with, and then we came up with a story.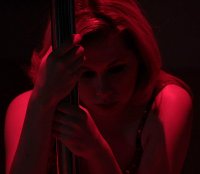 When I came up with my portion of the lyrics, I wrote about the feelings I had in regards to a project I was involved with at the time. I consider myself to be a very intelligent person, but the person in charge of the project took advantage of me. When I parted ways with the project, I felt very used, confused, and angry. I took those feelings and put them into the song. After we completed the song, I was still feeling the repercussions from the project, so I turned my feelings from the song into a movie, Redlight Kate. This is my first script.
You have to talk about your character in Redlight Kate for a bit, and what do you draw upon to bring her to life? And how much of yourself can we find in Kate, actually?
Iíve found that the entertainment industry is full of people whose sole purpose in life is to use others to get ahead. These people treat you like a piece of meat. Itís tragic. Over time, you become desensitized to the issues that you once thought were absolutely unjust, and you turn a blind eye in hopes that things will change on their own. Iíve had some awful experiences, but I move forward with my life and hope to learn from them. This is Kateís world too. Many of the awful things people say to Kate in the film are things that have been said to me. Most of the characters are based on real people. Although I donít have a dark past, and Iím not a stripper, I am Kate.
Melanie Robel, Frances Manzo
on the set of Girl Scout Cookies
What can you tell us about the rest of your cast, and what made them perfect for their roles?
I feel very lucky that I haven't had to look far and wide for the people that have been cast so far. Itís been a struggle to make this film, but I feel that the universe has decided to help me out by putting people in front of me who deserve to be a part of this movie. I met Melanie Robel [Melanie Robel interview - click here] and Monique Dupree on the set of Girl Scout Cookies. I watched these two actresses work hard, and I was more than impressed. It's no coincidence that they're so successful. They have talent. It also helps that they're both gorgeous.
As for Marty Dew, I've known him for 11 years now, and I can say that this is one talented guy that everyone needs to see (actually, everyone has probably seen him in movies and commercials, but just didnít know it).
The other cast members heard about the project, emailed me, and sent me taped auditions. Michael Emery, for example, contacted me and then sent me an amazing audition where he didnít leave any room for doubt. Every one of my cast members has talent pouring out of every orifice, and I have no doubt that they will make this a successful film. You'll be able to feel every emotion. This isnít a multi-million dollar project where we can distract you with lots of special effects and the like. Itís completely character driven. The actors are the ones who will carry this film.
Your director Sean Williams - why him, and what will he bring to the project?
People are vicious when it comes to money and potentially successful projects, and theyíll do anything for the sake of greed. So, it was really important to me that whoever was going to direct this project be someone I can completely trust with my vision. I've known Sean Williams for some time now, and I've had the pleasure of being in a few of his projects. Sean is a hard worker, extremely resourceful, and thereís a touch of genius in him, which will be evident in this film. Heís serious and understands the depth of this project, and thatís the most important thing.
How do you as a writer envision the look and feel of the film as such?
Aesthetically, this film will be dark, gritty, seductive, and beautiful. We're going to film this from a very personal point of view so that the viewers will feel everything that's being given out on screen.
As far as I know, Redlight Kate is still in its fundraising stages as we speak - so what can you tell us about your fundraising efforts?
Yes, it is. I've worked very hard to get this film funded with little success thus far. Iíve had a lot of leads that seemed promising, but they ended up being dead ends for numerous reasons. It's my first time working behind the camera, and I readily admit that it's tougher than I thought it would be. I ran a campaign a year ago, and we were able to raise $1100, which is enough to pay for a couple of days on set, but we're aiming for 14 days. So, I decided to run another campaign to see if we could do any better now that we have a teaser. I've been actively pursuing all avenues from seeking sponsorship from small businesses, corporations, friends, and the like. It's tough, but I have faith that we'll get everything we need.
Once your campaign has succeeded - how do you plan to proceed, and any idea when the film will be out, tentatively (even though I realize it's waaay to early to ask)?
Whether or not the campaign succeeds, we will begin filming in January or February. If we donít raise the money we need, then Iíll run another campaign while we film. Sean and I will make it work no matter what because we believe in the success of the project.
I would love to think that the film could be out by next fall. That's my goal.
Let's go back to the beginnings of your career - what got you into acting in the first place, and did you receive any formal training on the subject?
I've always had a pretty big personality, always been a showman. I was in a lot of the school plays when I was younger. Then, when I moved to LA I studied with Brian Reise, Alan Feinstein, and Paul Tuerpe for the first few years. I got accepted into The Lee Strasberg Theater and Film Institute, where I studied for about 2 and a half years. No matter where you study though, you gain the most knowledge from putting what you learn into practice. I see a lot of kids that become good at taking class, but lose their cool once they get on set. With that in mind, I started acting in student films right off the bat when I got to LA. From there, I worked my way up into indie films.
You're also a quite skilled dancer with quite a few appearances in music videos, TV-shows and films, right? What can you tell us about that aspect of your career, and how much has your dancing experience helped you in your acting - and vice versa?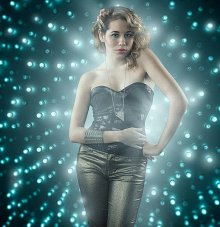 Thanks, I'd like to think so! Dancing is definitely a passion of mine, and it's what I've spent the most time doing. Probably more than anything else, dancing gives me an edge that most people/actors don't have... I follow directions easily and have no problem hitting my mark! Working on set or in theater is like learning choreography. The director tells you, "Okay, I want you to sit on the table when you say this line, then pick up the coffee 2 lines later. After that, you'll stand up and walk out of the door, but take your time doing it. Not too fast, not too slow. Then give yourself 3 beats before you come back in to get your keys. When you grab your keys, run out the door. Got it?" Acting has definitely helped me become a better dancer/performer. Iíve done some Vaudeville style dance shows, where my acting was just as important as my dancing. For example, I got the lead role in The LXD: The Legion of Extraordinary Dancers presents Matched, produced by world-renowned director John Chu, because it required a lot of acting, and I was qualified.
Can you still remember your first time in front of a movie or TV camera, and what can you tell us about that experience?
I think my first time watching a movie was watching Nightmare on Elm Street at home with my family. I was so captivated by it but not scared. In fact, I remember dreaming that Freddy Krueger was reading bedtime stories to me. I don't know what psychologists would say about that, but I think I've always been drawn to dark films. I remember my first time in front of a camera. It was a student film, and I didn't really know what I was doing, but I acted like I did. I was so nervous. Thank God I wore black that day otherwise everyone would've seen the massive sweat stains I had.
Some movies/TV-shows/music videos of yours you'd like to talk about?
I think I lived out my dream as a dancer when I was chosen to be in Womanizer by Britney Spears. I remember meeting a Britney Spears dancer when I was 16, and I thought I had died and gone to heaven. That dancer made a huge difference in my life. I knew that one day, I would be a Britney Spears dancer and do the same thing for someone else.
I'm so glad I was a part of the indie film Dirty Magazines. It's incredibly hilarious, and the film sends out a great message too. I think that was the first film where I WAS the character. By that I mean that the director worked so extensively with me that I became the character. I hadnít really done that before. I'm very proud of that film.
You have also quite a bit of experience in stage acting (or so I'm told) - so what can you tell us about your acting in theatre, and how does acting on stage compare to performing on film?
Yes, I've done a lot. One of my first roles in the LA area was in the play Huckleberry Finn, and guess who I played... Huck Finn! I changed my voice, the way I walked, and even how I conveyed my emotions. I couldnít act like a girl anymore. It definitely helped that I was a tomboy... still am! I also got to play the lead in the Canadian play Halo. The part was originally written for Ellen Page, so it was cool that I was chosen to play a role that was meant for someone with her capabilities.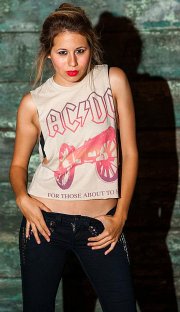 I've always been drawn to films more so than theater, but I enjoy theater quite a bit. If you mess up a line, it could potentially cause a ripple effect, and there goes the play! In film, if you mess up a line, you get to start over. Not to say that film is easier, because it's not, it's just different. In theater, you can change little things here and there each night to make it different for yourself. A major difference between theater and film is that you don't necessarily get to do your scenes in order. In film, you have to be so incredibly in tune with your character and your script that you can shoot a scene towards the end of the movie then shoot a scene earlier in the script where you're in a totally different mindset.
Last but definitely not least, you are also a gifted singer/songwriter - you just have to talk about your music for a bit?
Thanks! To be honest, I was afraid to hear the sound of my own voice for years. I never sang, but I desperately wanted to. I don't know why, but I just couldn't bring myself to sing in front of anyone. Yet, when I moved to LA I kept getting these offers to be in girl groups or sing in plays. I turned down most offers, but there were a few that I decided to take in order to help me get over that fear. I was in a girl group a couple of years ago, and we were gaining a lot of popularity. During that time, I also co-wrote and co-produced several songs for Maudlin Strangers. After I left the group, I decided that I had wasted too much time being afraid, and I decided that I didnít need to be anyone's backup. So, I took an offer from producer Michael Binikos to work on a solo album, and we came up with my first single MJ's Coursing."I wrote it and he produced it. I'm incredibly proud of it.
Actors, writers, musicians, dancers, filmmakers, whatever else who inspire you?
Michael Jackson (of course), Robert Plant, Rob Zombie (musician and filmmaker), Takashi Miike (Japanese director), Steven Boyd (one of the first dance teachers who had faith in me), Anne Hathaway (she's come so far!), Anne Rice, Bram Stoker, Meryl Streep, and of course my family who inspires me every day...to name a few!
Your favourite movies?

Feeling lucky ?
Want to
search
any of my partnershops yourself
for more, better results ?

The links below
will take you
just there!!!

Find Frances Manzo
at the amazons ...

amazon.com

amazon.co.uk

amazon.de
Looking for imports ?
Find Frances Manzo here ...
Something naughty ?
(Must be over 18 to go there !)

Interview with the Vampire, Audition (Japanese), Ichi the Killer (Japanese), Martyrs (French), Whatever Happened to Baby Jane?, Valley of the Dolls, The Exorcist, Anchorman: The Legend of Ron Burgundy, and Wedding Crashers.
... and of course, films you really deplore?
Anything formulaic (i.e. most Rom Com's within the past 5 years) and anything that tries to be complicated without meaning for the sake of being artistic. I think I've only ever turned off or walked out of 2 movies in my entire life: Cosmopolis and The Informers. Not that they were bad movies, I just got nothing out of them and found myself looking at the walls instead. Other than that, I find enjoyment in almost any film, even if it's a "bad" film because I know how hard it is to make a film. I truly try to appreciate every aspect of a film.
Your/your movie's website, Facebook, IndieGoGo, whatever else?
www.indiegogo.com/redlightkate
Thanks for the interview!