First of all, why don't you introduce yourself to those of our readers who don't already know who you are?
Hey everyone, my name is Melanie Robel. I have only been acting for three years now, so I am somewhat new to acting in front of the camera, however I have been in entertainment since I was 12 years old, music, classical ballet and theatre. Let's see... I love medical documentaries, especially when its pro bono work to help kids. My favorite shows on TV are Nip/Tuck and American Horror Story. In my spare time I take care of my two cats, Kitten and Luci. Kitten is 17 pounds and is in her terrible threes and needs to get into the fabulous fours. Luci is 8 month old and a ball of energy. She picked me when I went to the ASPCA while looking for a pet for Kitten. When I'm known, I want to help kids who can't afford hearing aids, because everyone has the right to hear. I don't like long walks on the beach, or food cooked over a open fire. I am a woman who stands up for herself and I have standards. I am thankful for all the amazing actors who have given me support and advice. You know who you are.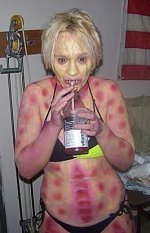 What got you into acting in the first place, and did you receive any formal education on the subject?
I got into acting as a punishment in high school. I had beaten up a red haired boy and made my band director cry. Being suspended would not have been a punishment. Yes, I am a big believer in acting training. There are those who relay on instincts and they are very lucky. My high school teacher Kevin Buck started my training. Then my managers and I have had two acting coaches that are fantastic. I have been very lucky. The one I have now is a working actor and super amazing. I was watching one of his films, with friends and I pointed to the screen and said, "That, my friends, is a true actor and if I ever get back into acting, I want him as a coach." It happened!!!! I will be forever thankful for him. I can tell a major improvement. Thank you coach and thank you for the book you gave me. It really does work.
Is it true that before becoming an actress, you tried yourself in music and ballet? What can you tell us about your "early days"?
It's true. I was performing with music since I was 12. I was a classically trained bassoonist. Due to being attacked and getting a hand injury, I couldn't play anymore. I was so depressed and felt I was having a crisis. I was all about music. I would practice until my lips went numb and couldn't move my fingers. I wanted to be the best and I was pretty high ranking in the Alabama band system. How many kids can say they had a judge stop what he was doing, grab me by my hand, found my mum and gave her a card and said your daughter has a scholarship waiting? Since I couldn't play anymore I went into Ballet. To tell you the truth I really miss dance. I really loved how you could act by using your body and your face. I took pointe classs and did pas du duex, partnering class and I loved it. Then on opening night of Dracula, where I was making my debut as a soloist. I was accidentally dropped by my dance partner. Fractured rids, spine compression, physical therapy and lots of pain while in class. Thanks to duct-tape, I finished the run of performances, but my doctor and dance teachers encouraged me to quit. I had a growth spurt to 5'8", so that was that. My one teacher said to try acting again, or even to do drag shows. Anyway, that's how I got to where I am today. My focused, stand up for myself, intense work ethic comes from my dance training. Also, to show up on time, be prepared and I don't do "politics" very well. That's just the way I am.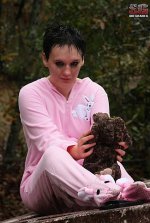 Most of the films you are in are of the horror variety. Coincidence, or is that a genre dear to you? And does it bother you at all that women in horror are almost automatically labelled scream queens?
Funny thing about that is, Horror wasn't my first choice. I am trying to branch out into other genres. I love sci-fi and period pieces, like Aliens and Excalibur. I do have a healthy respect for Horror though, it's where I got my start, how I got attention and where I got my interviews. It has helped get my name out there. I haven't officially been labeled a Scream Queen yet and don't consider myself as one. There are real ones out there, that have put the time and effort into it. For example Linnea Quigley, Brinke Stevens and even Jamie Lee Curtis. Then there are those who put on, or take off their underwear, take pictures and call themselves Scream Queens. I think they don't deserve the title and it's being turned into a joke. It falls back into that line, If you tell a lie often enough, it becomes a truth.
Let's talk about some of your movies for a bit now:
You have recently starred in the upcoming Girl Scout Cookies. What can you tell us about the film and your character in it?
I love the character I play, Melanie Rhodes. Here's a funny fact about Girl Scout Cookies. I was originally what Bobby Jones, the director, had in mind for the part, but the first time I was approached about the project, I wasn't as experienced as I am now. So, Mark Cray said no and Deneen Melody [Deneen Melody interview - click here] got the part, then it was Allison Kyler. Then I was asked to do the role again - crazy huh?
I am happy I did it and I learned a lot. I proved that I do have experience, that acting classes do help, I can do the job that the director asks me to do, and it looks good on film. This production was a great learning experience, in that it proves you can have all the right contracts and things can still go the wrong. I met some really talented actors and crew. For example, Frances (Franky) Manzo, amazing person and great actor. She brings a physical presences and creeped me out when we were eye to eye in a scene. I also met Reno Ministrelli, a talented actor whose instincts are right on. I really have to thank Bobby Jones, who had faith in me, when others on this project didn't. About the future of this film, I can't say. I really hope everything can come together, so that it can get shot. Its a great film, a great script and a totally different idea from what is out there. My character, Melanie Rhodes is a crazy mixture of Jeffery Dhamer and a Sesame Street Muppet, you know please be my friend, so I can mess you up. There were so many talented actors on this set, that it would take the whole interview to talk about them.
You are currently filming Joe Hollow's Disciples [Joe Hollow interview - click here], right? Anything you can tell us about that film yet? And with the film's cast being so chock-full of genre legends ... it that at all intimidating?
Yes, it's very exciting, but I don't think it's intimidating. I think it's awesome. Part of it has already been shot in Florida in November and the California shoot has been pushed back to February. We will see what happens, as any actor knows, things change. Like Heidi Klum says, one day you're in and the next day you're out. I am really looking forward to working on this project and working with the amazing cast of this film
You are also involved in the latest two instalments of cult director Ted V.Mikels' Astro Zombies-series. What can you tell us about these movies, and about your role in them? And how did you get involved with these films in the first place? And what can you tell us about Mr. Mikels?
Well, a friend told me about the project and to email the Lesters about it, so I did and that's how I got involved. In Astro Zombies M:3, I was a member of the Doll Squad Unit and was able to do hand to hand combat and I had lines too. Besides, who wouldn't want to kill Aliens. The Lesters liked working with me, so I was asked back to do the second installment. I was quite happy because The Doll Squad is one of my favorite movies of Ted V Mikels. In Astro Zombies M:4 I didn't have lines, but I still got to kill more Astro Zombies. Sadly I didn't get to work with Mr. Mikels, because I was in the Florida second unit, but I think he is an amazing man. The Astro Zombies-movies show how you can have a loyal fan base that can help you to keep making films.
Another film of yours has the wonderful title Bikini Monsters. You just have to talk about that one for a bit!
Ok, here is the story-line, "In a secluded laboratory just off the Florida coast, a scientist works feverishly on his grizzly experiment. Known by local transients only as the beach bum, He has dedicated his life to creating the ultimate expression of beauty, a mermaid. In the wake of his dark obsession is a trail of test subjects left horrifically twisted and mutated abominations the likes of which mankind has never seen.... until now." This was a physically hard project to do. As Bikini Monsters, we were covered in sprayed on make up. We couldn't sit down at all, because the make up would crack and peel off. The shoot itself was all day, because once the paint was on, we had to shoot all the scenes that day. We were supposed to go into the water, but couldn't because they closed the beach, because of health warnings.
Here is the IMDb: http://www.imdb.com/title/tt1711447/
A few words about Alien Vengeance?
Honestly, I watch it when I need a laugh. It is one of my earlier films. A sci-fi, rape, revenge, drive in theatre, Ed Wood kind of a film [Ed Wood bio - click here]. Bring a soda and a bag of popcorn. One of the reviewers said that the alien rape scene, with me, was better than Bruce Campbell's tree rape scene in the Evil Dead. I am not too sure about that though, because Bruce Campbell is amazing. It has a lot of over-the-top acting and a very typical B-movie vibe. I play Jan, who was molested by her farther and got sick of it and fought back. An alien comes to earth and one of the forms he takes is the dad. It's fun, cheesy and not to be taken seriously.
Here is the IMDb: http://www.imdb.com/title/tt1587666/
On Post Mortem, America 2021, you did not only play one of the leads, you also acted as executive producer. What can you tell us about that movie, your involvement both in front of and behind the camera, and what drew you to the project in the first place?
I was an executive producer on this film, but Cameron Scott was nice enough to give me this title because I gifted him an editing system and paid for one of the actors' tickets who Cameron felt should be in there and who I wanted to work with. If I were an executive producer again, I would want to be able to have more of a say on casting and production. He gave me the title as a courtesy. This was supposed to be my first full length film, but he broke it up into shorts/ chapters, ch 1, ch 2, ... I am not sure how many there are. I am in Chapter Two. My character, Rattlesnake Sally is an amazing person. She is a murderer who is also very religous. I kept thinking to myself, that every time she kills someone, a part of her soul dies. She also has a very interesting past, which you will find out when you watch it. This was such an amazing film, in that I got to work with Linnea Quigley and Larry Laverty, both are such great actors. With Larry, I had such a strong connection and it really shows up on camera. I adored working with both Linnea and Larry and hope to work with them again soon. Cameron Scott is a talented writer and director. He listened to his actors, told us what we needed to do and if it didn't work, we kept trying until it did. I have a good feeling we are going to hear more about him in the future.
Here is the IMDb: http://www.imdb.com/title/tt1283935/
A few words about the webseries La Fleur de Mai?
This is about three young men and how they each deal with HIV/Aids. Adrien, headstrong and dreams of becoming a fashion designer, to open a fashion house, The House of Fleur de Mai. Then his whole life and career come to a screeching halt upon realizing that he may be infected with HIV.
Elliott, has made peace with everything, everyone in his life and has accepted the fact that he is dying of AIDS and plans to spend his remaining time with his family and friends.
Trey is a free spirited, down to Earth individual, who never thought about testing for HIV. He is happy go lucky and lives for the moment, which can be very dangerous.
I am Tiffany Geary, a high school student and little sister to Adrien. I am part of the leading family and a spoiled brat with too much money and too much freedom. My character, like my hair, is always changing. I love this web show. It's a soap opera and a different type of role for me.
Here is the website: http://www.presageentertainment.com/countdown/
The Fanpage: http://www.facebook.com/#!/Lafleurdemai?sk=info
Your first film was a short called Grieve I believe. What can you tell us about that one, and what was it like to stand in front of a movie camera for the first time?
Thank you to Brian Troxell, who is now Caisson Films, who paid me and put me in my first film. It was my first audition, I booked it and it was a learning experience. I played a victim of rape, murder and was avenged by my dad. It was fun to do at the time, but it's one of those films, where you look back at and go, "thank God I am taking acting classes."
The IMDb link: http://www.imdb.com/title/tt1910108/
You are also attached to a project called Redlight Kate. Anything you can tell us about that one yet?
This is a project that I am very excited about, because it's so different. It's honest, gritty and touchy all at the same time. Kate is a young and beautiful runaway, who has made a meager living as a stripper in Los Angeles. She has an innocent appearance, but she carries a dark secret. With the help of friends, Kate tries to better her life and overcome her past, but first she has to overcome being lost in a world of sex, drugs and violence.
Written by Frances Manzo [Frances Manzo interview - click here]. Produced by Megan Sacco, Reno Ministrelli, and executive Producer Philip Hanson.
The cast is Frances Manzo, Monique Dupree, Michael Emery, Marty Dew, Reno Ministrelli, Sam Qualiana, Shawn C. Phillips [Shawn C. Phillips interview - click here] and myself. I am Penny, one of the jealous strippers that works with Kate. It's going to be an extremely fun project! The project is still looking for investors so you can contact either Megan Sacco, Reno Ministrelli, or Frances Manzo.
Here is the fanpage: http://www.facebook.com/#!/RedlightKate?sk=wall
Any other films of yours you'd like to talk about, any future projects?
I am judging my first submissions of horror films, at the Stiletto Film Festival and this is its second year. The awesome thing is that a female must be involved in the direct production of the films. It's run by Megan Sacco and the other judges are Rick Dumont, Sudan Adriensen, Marv Blauvelt, Jared Degato,and Monique Dupree. I will be going to Boston in February for this. I can't wait and will definitely be bring warm clothes.
The website: http://www.stilettofilmfest.com/
The Fanpage: http://www.facebook.com/?ref=tn_tnmn#!/StilettoFilmFest?sk=info

I am cast in a film called Steele Hearts, directed by Megan Sacco and written by Curtis McManus. It's starring Monique Dupree, Marv Blauvelt, Parrish Randall and Me. It is about some women who are tired of hearing on the news and from their friends, about men who are getting away with doing horrible things. The wife-beater, the adulterer, the pedophile - and the police can't do anything to help the victims. Well, someone has to do something to help... right?
Here is the fanpage: http://www.facebook.com/?ref=tn_tnmn#!/pages/Steele-Hearts/290991664250788?sk=info
I am on another web show, Technopolis. I am Agent Blush and a part of a division called The Others. We are the good guys, in black suits. It is a sci-fi web series that takes place in the future. The story begins after a second American Civil War. All 50 states are self governing entities and the show focuses on one of those cities. Technopolis is home to normal civilians, degenerates, vagrants, assassins, bounty hunters, terrorist, soldiers, all survivors. Each episode will tie together a story line from the characters that live in Technopolis and their roles in its society. We anticipate it growing into a full first season, gaining a fan following and becoming one of the best-looking low-budget web series out there.
Here is the indiegogo: http://www.indiegogo.com/TECHNOPOLIS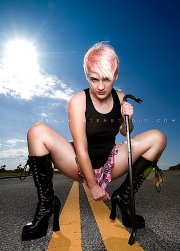 copyright: Headhunterstudio
Besides acting, you also do quite a bit of modelling, right? What can you tell us about Melanie Robel, the model, and in which way does posing for photographs differ from acting in front of a moviecamera (which might be a stupid question)?
I used to model, but decided that I couldn't do both modeling and acting well. So I chose acting. I will still model once in a while, if the project is different and something new. I have been very lucky in my photographers and have been given some great training. As in how to place your body, to look natural and interesting. Did you know that you should have a "S" and "C" curves in your body placement to look good on film?
The difference between the two. No, it isn't a stupid question at all. When I am in front of the photographer's camera it's different, because, I know what to do, how to place my body, how to look and the photographers love it. They tell me what they think, but I go up there and have fun. I am "myself", not a character. In a film, I am a character, portraying what the writer has written, I have to deliver what I think he wants. For example, I worked with a man who was a photographer. He was amazing, the pictures were amazing and he was like an Uncle to me. We did about four sessions. Then I did a movie with him and he was the writer/director and it was like working with Mr Hyde. He yelled, screamed, was very critical and we couldn't do anything that he was satisfied with. Like I said, I feel you can't be good at both, he should just be a photographer.
In general, how do you approach your roles, and what does it take for you in terms of preparation to get your characters right?
At times, I have had less than a week to learn everything. Sometimes it's the day before the shoot. I do have my own way of doing things, my acting coach helps me and I do research. In other words... I have my tricks.
Roles you'd really love to play (no matter how improbable)?
Well, when it comes to my career I want to be a constant booking actor. To stay busy, to grow and learn. When it comes to roles, I would like to be in a historically accurate World War II movie, a romantic comedy, a Victorian period piece. I have never done any of those. Even a very gritty role like, Girl with the Dragon Tattoo. I also want to go to Europe to shoot a film. I love foreign films and even have Scandinavian films that I watch with sub-titles. Maybe someday ... oh by the way, I have a current passport.
Actresses (or indeed actors) who inspire you?
I have a variety of them, Robert LaSardo, Tom Waits, Jessica Lange, Katherine Moenning, Keli Giddish, Mariska Hargitay and my acting coach. They are amazing and I would love to work with any one of them.
Your favourite movies?

Feeling lucky ?
Want to
search
any of my partnershops yourself
for more, better results ?

The links below
will take you
just there!!!

Find Melanie Robel
at the amazons ...

amazon.com

amazon.co.uk

amazon.de
Looking for imports ?
Find Melanie Robel here ...
Something naughty ?
(Must be over 18 to go there !)

Again, I have a weird variety of them. Lady and the Tramp, Wait Until Dark, The Imaginarium of Dr Parnassus, Dancer in the Dark, The Fisher King, Mr Hollands Opus, See What I Am Saying: Deaf Entertainers Story, Children of the Lesser God, the Girl with the Dragon Tattoo-series, The Help, Willy Wonka and Choclate Factory with Gene Wilder and Watership Down.
... and of course, films you really deplore?
Any film that doesn't have a beginning, a middle and an end. I don't mind open endings either, but if I can't watch a film and say this is what it's about then I have an issue with it. Also I don't like those films that don't have captions.
Your website, Facebook, whatever else?
My IMDb: http://www.imdb.com/name/nm3093027/
My Facebook: http://www.facebook.com/#!/profile.php?id=100000891355569
Anything else you are dying to mention and I have merely forgotten to ask?
I only have one dimple, on the right side of my face. No, seriously, you have some very good and thorough questions. You pretty much touched on everything. I do want to again thank everyone for their support, I love what I do and hope to continue for a very long time.
Thanks for the interview!
You're welcome,
Melanie