Your new movie Get Up Eight - in a few words, what is it about?
Get Up Eight is a film about not giving up on yourself, even when everyone else has. When a girl (Joy) with a haunted past is faced with the decision to relapse or continue working on her sobriety, she must decide if she will end up like her father (David) or break the cycle of addiction once and for all.
Is Get Up Eight in any way based on personal experiences? And to what degree do you identify with either of your movie's protagonists?
Get Up Eight is a semi-autobiographical story. While I lived many of the experiences depicted in the film, there is a fantasy/supernatural element. And so, without giving too much away, I'll simply say that the storytelling devices I used are based on the principle that some people need to die in order for others to live.
(Other) sources of inspiration when writing Get Up Eight?
Get Up Eight was written for and about David Lariviere and my father, Arthur Tittel, who both overdosed and died in 2015 and 1988, respectively. Both of these men were beautiful people—they didn't deserve what happened to them. They were just unlucky. And that's the truth about addiction—every time you pick up heroin you're playing Russian roulette with your life and the lives of those you love. I think sometimes people forget that addiction is unbiased; it doesn't care who you are, who loves you, or what big plans or dreams you have. So it's really important to tell these types of stories and to show people the aftermath of addiction and of loss like this.
What's rather novel about Get Up Eight is that you simultaneously spin two narrative threads happening at different times, with one complementing the other - so do talk about that narrative approach for a bit, and how easy or hard was it to not lose your plot? And did you intend to tell your story this way from the get-go, or did this only happen during writing (or even editing)?
I always intended to tell this story this way. I knew the topic of addiction and recovery had been done a million times, so I wanted it to stand out and not be just another "don't do drugs" after-school special. Maybe because I believe in the supernatural and because I believe so deeply that I am alive today because of the painful lesson my father's death taught me, it seemed like the only way to tell the story. But yes, it was difficult. And I doubted myself a lot while writing and editing it. I'm still afraid every time someone watches it that they won't "get it." So far, people really seem to appreciate it, and that was what I had hoped for.
What can you tell us about your overall directorial approach to your story at hand?
Get Up Eight was the first film I ever directed. I wouldn't say I had an approach, so much as I just wanted to get the images in my mind onto the screen. I had these very specific shots and ways I wanted to introduce David's character to the story, and I found that there was a ton of work and collaboration involved with doing that. Sometimes what works in your mind's eye really doesn't work in reality—the mind's eye is very dreamlike while what we can capture on film is two dimensional. So I had to learn to work with that, and I have so much more respect for directors now. Probably the smartest thing I did as a new director was I surrounded myself with incredibly talented people like Manxer Magyar (DP), Isabelle Caplan (AD), Max Goldberg (gaffer), and Jay Sheehan (sound). Each of them are experts at what they do and so it made the whole process easier because I could tell them what I wanted and they could tell me if it was possible or show me the best way to get it.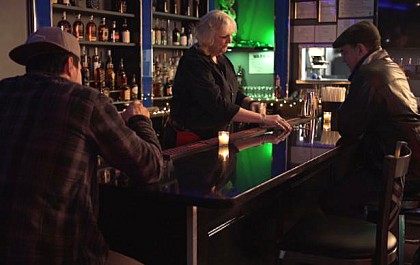 Do talk about Get Up Eight's key cast, and why exactly these people?
Kimmi Monteiro is an actress I have known for many years. I knew first-hand how talented she was and I actually cast her in my mind before I had even finished writing Get Up Eight or had asked her to star in it! Kimmi has certain mannerisms and physical features that just really embody the character Joy. She's also a mother and she knows the parts of the story that are based on real life events, so I knew she would bring a lot of heart and realism to the performance. And she did, she blew me away. The same thing actually happened with my other lead actor, Paul Noonan. I had sat in on one of his auditions and couldn't get his face out of my mind as I was writing. I hunted him down on Facebook and literally cold called him for the part—no audition, just "do you want the part" sorta thing. I think he was surprised by that, until he read the script. Then we talked and agreed that it was a divine appointment. His performance comes from a beautiful place and I am forever grateful to him. It wasn't an easy role and a lot of other actors could have played it wrong. He brought dignity to the part. The rest of the cast was also amazing. We had a lot of veteran actors and a lot who were acting in film for the first time. Paul Kandarian nearly stole the scene with his portrayal of Sedrik; Brina (Bartender), Philip Santangelo (Crow), and Jamilyn Rothwell (Girlfriend/Drug Dealer) brought the bar scene to life; Samantha McMahon brought needed complexity to the part of Missy, Joy's sister; Tamora Isreal played the hotel manager and also wrote the film's end credit song, Mark Lauzon (and his dog Henry) made their film debut, as did Jayde Kozar (Lia), Kimmi's real-life daughter; and local actors Sam Kassow (Roommate) and Jamieson Allen Horton (Employer) rounded out the cast. I am truly grateful to each of the actors for their performances in Get Up Eight—we could not have made the movie we did without them.
A few words about the shoot as such, and the on-set atmosphere?
We shot Get Up Eight over a long four-day weekend in February. These were really long 10-14 hour days. But it went by really quick and when it was done I just wanted to do it all over again! We had incredible camaraderie on set and I think the story had something to do with that—we all felt it was important and that it could help people—so we wanted to do our best, and I think it shows.
The $64-question of course, where can Get Up Eight be seen?
Get Up Eight is in the festival circuit and will be for a while. It just played at the 2019 Shawna Shea Film Festival in Southbridge, MA. And it got into a couple of online film festivals as well, namely the First-Time Filmmaker Sessions and the Indy Visions FF. It won two honorable mention awards from the Independent Shorts Awards in LA and we have been invited to stream it as part of their online streaming channel xerb.tv. We are waiting to hear back from a lot of other festivals now, so the best way to find out when it can be seen is to follow us on social media!
Any future projects you'd like to share?
I am currently editing a short film I directed called Salvation that I co-wrote with Kris Salvi [Kris Salvi interview - click here], who also stars in it, along with Justin Thibault. Salvation is a 1950s period piece about friendship, betrayal, and reaping what you sow. It's dark and twisted in a beautifully haunting way—love it or hate it, it'll make you think. I hope to have it finished for a January 2020 release.
What got you into filmmaking in the first place, and did you receive any formal training on the subject?
My first addiction was film, haha. I spent most of my childhood glued to the television set and when I got older I would watch just about every movie that came out, often by myself during the middle of the day. I guess I just loved the escapism of it all. In college (at BSU) I started taking more and more writing and film related classes. As a senior, I took a class with Professor and New England Film's online magazine founder Michele Meek. She helped me bridge the gap between having a dream and making it a reality. Once I learned the fundamentals of screenwriting, I was off to the races as they say!
Films and filmmakers that inspire you?
My influences are varied. I love sci-fi, romance, fantasy, and vintage film—ya know, the classics. My favorite film to this day is Blade Runner and I have too many favorite directors to list…but I guess I'll shout out the amazing Sofie Coppola for the simple fact that I have never seen a film of hers I didn't like and I love the way she uses color and music in her pictures. It's genius.
Your/your movie's website, Facebook, whatever else?

Feeling lucky ?
Want to
search
any of my partnershops yourself
for more, better results ?

The links below
will take you
just there!!!


You can find Get Up Eight on Facebook at @getupeightimes and on Instagram at @get_up_eight.
You can also follow me on Vimeo to watch trailers for Get Up Eight and Salvation! https://vimeo.com/gabriellerosson
Anything else you're dying to mention and I have merely forgotten to ask?
I just want to thank you, Mike, for creating Search My Trash, and for giving me the opportunity to talk about Get Up Eight! You rock and I hope everyone checks out your stuff! Stay cool <3
Thanks for the interview!