Your new movie I am a Rain Dog - in a few words, what is it about?
I am a Rain Dog is about a man, Valentine Biltmore, a bit of shady character who finds himself physically lost while traveling, and calls upon a specialist, Vernon Weiss, after finding his business card pinned to the bulletin board in the lobby of the motel Valentine stops at. It is basically a lost and found type of story.
What were your sources of inspiration when writing I am a Rain Dog?
Tom Waits' album Rain Dogs was a huge influence and source of inspiration to me when writing the script. Waits has always been an influence on me in just about everything I do, right down to the type of clothes I wear. Music is always an influence and a motivator when I write anything. A rain dog according to urban slang and Waits himself, is a dog who cannot find his way home after it has rained. The rain washes the smell of the scent away from the sidewalks and roads. Valentine Biltmore is a bit like that dog, he has lost his "way" his "scent" on how to get home. I was influenced by at least three core songs on the album Rain Dogs. One other song, besides Rain Dogs obviously, was Cemetery Polka. That is the song where the names Vernon Weiss and Biltmore come from. "Uncle Vernon, independent as a hog on Ice, he's a big shot down there at the slaughterhouse, plays according for Mr Weiss." "Uncle Biltmore, Uncle William, made a million during World War Two, But they're tightwads and they're cheap skates and they'll never give a dime to you." It's sort of a haunting song like most of Waits' songs. I tried very much to capture that haunting atmosphere in the script. Also another source of inspiration I guess is one story I heard from a few friends of mine about a drifter who came into one of the neighboring towns and then just completely disappeared. Some say he's still there, "some say that he was never there at all", to quote Waits again. I'm obsessed with the unsolved aspect of life, who are we?, where are we going?, do we even know? I feel like this story is my sort of made up answer to those questions. On the run stories also fascinate me, someone trying to get away from something they did or even themselves. I tried to make a story or write a film that was basically a Tom Waits song, which is very hard to do. This story is my love letter to Tom Waits and his music.
To what can you actually identify with I am a Rain Dog's lead character lead character Valentine Biltmore, and the situation he's in?
Valentine Biltmore is what I like to call, a perpetual "Getaway Man", always on the run from something. Someone who's just jumping from either one town or the other or one bad situation to the other. Like most people and like myself. He's a bit lost, mentally. I feel like I'm like that a lot of the times. I'm always a bit lost. Never sure of myself or what to do, Biltmore is a bit like that but to a more extreme. He's a bit of a low level criminal whose just trying to find answers on where he is going, though he might not even know where he is going. I feel like that, not only as an actor and writer but as a person. Never sure of what I want, never sure if I'm going to get it. I don't even know if what I want is the "right" thing. I'm always traveling in my mind, so to speak, trying to get to a mental destination that I'm not sure is there. Valentine Biltmore is a lot like that, trying to find his place in the world and his place in the situation that he's in. I like to think of him as a victim of circumstance in a psychological noir story. Most great noir stories deal with characters who are victims of circumstances or victims to themselves.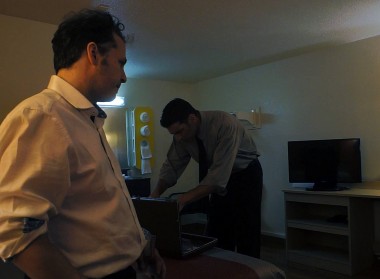 What can you tell us about I am a Rain Dog's director Christopher Di Nunzio [Christopher Di Nunzio interview - click here], and what was your collaboration like? And as writer/producer/lead, how hands-on or hands-off were you when it came to creative decisions regarding your movie?
Chris is great, he's a fantastic director. I've always been a fan of his work. He's one of the top best filmmakers in the area. Not even geographically, he's just a great director in general. I always said, "You say yes to Di Nunzio every time he wants you for a project." He's a filmmaker that knows how to have fun on set and make his sets lively and you always learn something new. He's open with you about his process of shooting, he's never closed off. He always lets you, as an actor, experiment and play around with the dialog. If he doesn't think something will work, he'll tell you and he'll discuss it with you and be open with your ideas. Script is very important to Chris, even if we decide to completely rewrite something or change bits of dialog. We worked very closely with this script, exchanging emails with ideas on what could be changed and what could go into the script and what could be taken out. The first draft I sent him was different from the movie you see now. Not vastly different but lines of dialog were different and even one other character played by the great Justin Thibault was originally a woman character. Chris does his thing on set and knows exactly what he's doing, he's great at improvising with the camera and with the shots. I feel Chris made the story better with his ideas. Having worked with Chris as an actor before on a few of his projects such as A Life Not To Follow and Delusion, I'm familiar with him as a director and he's the only one who could tell a story like this and make it great. As a producer, I handled mostly behind the scenes set ups, booking the motel room, telling the people outside the motel to "shut up" when we were shooting, getting the food, trying to make the whiskey for Valentine's character with Chris's knowledge. He's great when it comes to props. I let Chris handle everything that he needed to handle for the directing and telling the story, that was all him. If he felt like a line didn't work or a scene wasn't flowing, I trusted him. I backed off completely. Chris knows what he is doing, he knows everything from filmmaking to air conditioners and everything in between. Chris is not just someone you can talk to about films and he knows a lot about filmmakers and films, especially foreign films but also anything, just every day stuff. He's a great filmmaker and a great friend and close collaborator. Chris always likes to work with people he knows and can trust and I'd like to think that he trusted me as an actor and I trusted him as a filmmaker to bring this story to life. I encourage every actor or filmmaker to work with him at least once, just so they can learn from him. He made this film his own.
You also play the lead in I am a Rain Dog - so what did you draw upon to bring him to life, and have you written Valentine Biltmore with yourself in mind from the get-go?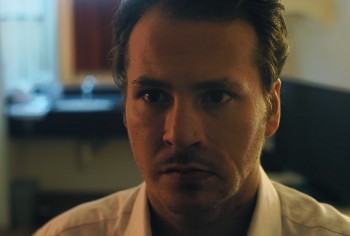 Valentine was someone I felt like, was always there with me as a person. Like I said before, I'm a bit of lost person. Not ever sure where I'm going. Valentine is someone, who maybe in the past was sure of himself and was capable but now he's losing his edge as a low level criminal. I drew upon that feeling of uneasiness when playing the character. I sometimes feel like that, as an actor and a person, that I'm slowly losing my edge and my craft and I'm just unsure of everything in my life. The whole arc of the character for Valentine is about finding control, being in control of himself. I feel like Valentine has found his "way" by the end of the film. I also, for research decided to go on long drives out of the city where I live and just keep driving till I didn't know where I was at some points. I had a powerline 45 mm pistol sitting in my car with me the whole time I was driving, so I can enhance that feeling of uneasiness and paranoia that Valentine often feels throughout the movie. I'm a paranoid person at heart and sometimes wish I had my own Vernon Weiss to help me "get back on track" as that character tries to do with Valentine, but that's what friends are for. Vernon Weiss is what I like to call a therapist for the underworld. When I wrote the script years back, I had myself in mind to play Vernon Weiss, it was a different character but Chris saw me more as Valentine Biltmore and he was right, he could see it before I ever could. Like I said, he's a smart guy. He knows stuff before you do and like I said, I trust him.
Do talk about the rest of your cast, and why exactly these people?
Well, Fiore Leo, who plays Vernon Weiss, was a perfect casting decision on Chris's part. Fiore has been a long time collaborator with Chris, they've made plenty of films together and he was right actor to play Vernon Weiss. Fiore is just a powerhouse of an actor, I like to think of myself as a method actor but I'm nothing compared to Fiore. He was in character the whole time on set, constantly talking with the voice he had created for Vernon, that deep spaced out baritone voice. He was such a thrill to work with, I was a little nervous working with him. I know how professional he is and how deep he dives into character, I remember just seeing him looking through that little book that Vernon carries around with him. Just reading from it and delving deep into the character. I never met Fiore, I met Vernon Weiss. Like I've said before, Vernon is a sort of therapist for the underworld, a cleaner, a mover and a shaker. Someone you can call upon when you're really fucked. It wasn't until I actually watched the film again that I thought to myself, "Maybe Vernon is not even real". Maybe he's someone that Valentine thought of, who knows. Justin Thibault is another long time actor who's worked with Chris and myself, and also a great friend of ours. He plays the character of James Krumpt, Valentine's "weight" that he carries around with him. Justin is always a fantastic actor, a true professional. Someone you can count on. James Krumpt is sort of a criminal like business man, cutthroat and powerful. Someone who has political ambitions. Krumpt is sort of based on a certain politician that we all know. Justin plays the character to a T. Chris loves working with people you can trust. Justin Thibault is an actor and a good friend that you can trust. Both these actors take their work and their craft seriously and that's all you can ask for.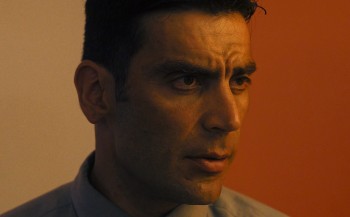 Fiore Leo
A few words about the shoot as such, and the on-set atmosphere?
Oh the set was great, the atmosphere is always a thrill. You're in for something special when you are on a Di Nunzio set. The magic of filmmaking is in the air, it's thick, you can feel it. The atmosphere was fun but you could feel the heaviness of the story in the air ya know. It's a very quiet story but loud at the same time. Chris knows how to utilize that. It was a great time, I learned more about myself as an actor and the thrill of working with Fiore and Chris, I could barely contain myself like a giddy school girl. You also know when it's time to be serious about the work and just do the scene. We had a little read through first and just hit the ground running.
The $64-question of course, where can your movie be seen?
I am a Rain Dog has been sent to a few festivals and hopefully gets into a few places. It played at the International New York Film Festival in June I believe, but we've submitted to a few places. It's in the oven now and we're just hoping the festivals like it and serve it up for dinner, so to speak.
Anything you can tell us about audience and critical reception of I am a Rain Dog yet?
The reviews have been good to us, so far the film has been well received by critics and a few audiences alike. So far critics are digging it and understanding the content of the film. It's given me a bit of inspiration to start writing a sort of "spin off" story centering on just Vernon Weiss, called 16 Shells To Chicago. The story centers on Vernon helping out a call girl who works for the Chicago mob. I haven't finished writing it or know if Chris would even be interested in revisiting that world but we'll see. I feel there's more to say about the character of Vernon and it would be a thrill to work with Fiore again. The reviewers have given me hope that they would be open to seeing this character again.
Any future projects you'd like to share?
I have a few projects lined up. Some still in post production, others that are getting out into the festival circuit. Chris and I just finished another short film recently, I don't want to say too much about it but the story centers on a retired assassin for the New England mob. I have another project making the festival rounds called You're On The Air directed by Mark Maille, where I play a radio DJ named Max Tanner in 1999 who is confronted by a psychotic listener. It was a great role for me. Mark also helped out on I am a Rain Dog. He's a fabulous director and someone you should be on the look-out for. Mark definitely knows his shit, just like Chris does. It's a great film that I believe will be playing locally in Massachusetts soon. Also currently starring in a web series called Hearts Of New England where I play a crime boss. That's available on YouTube, we just finished the tail end of the second season. I have one other film in post called The Reaper directed by Teddy Pryor. That's sure to make waves when it's finished. I don't want to say too much else about that project, and also finished directing a short film called The Loner starring Marc Powers that I'm really excited for when it debuts online in August.

Feeling lucky ?
Want to
search
any of my partnershops yourself
for more, better results ?

The links below
will take you
just there!!!


Your/your movie's website, Facebook, whatever else?
We have a Facebook page for I am a Rain Dog, you can go to this link: https://www.facebook.com/Iamaraindog19/ - we are always posting reviews and pictures and updates regarding the film.
Anything else you're dying to mention and I have merely forgotten to ask?
Just a huge shout out to the cast and crew of the film, Without Chris and the crew that helped out and the cast such as Justin, Fiore, Mark, John, none of this would be possible at all. Huge thank you to them!
Thanks for the interview!