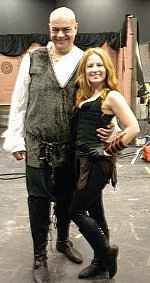 with Tara Cardinal on the set of
To most, you are known first and foremost as a comicbook artist, but you have recently made your acting debut in the forthcoming Legend of the Red Reaper. What can you tell us about the film and especially the character you're playing?
Well, I was given the script only after multiple rewrites, I was probably not part of the cast at the time, the part was specifically written by Tara Cardinal [Tara Cardinal interview - click here] just to feature me in there, including the fact that the character almost bears my name - the character's name is Pere, Pérez without the z at the end.
It was just a nice little cameo bit. I think it impressed Tara the most, obviously she watches over everything. I think she knew I had done some stage-acting before although this was the first screen-acting I had ever done, so it was nice to see the impressed look on her face - "My God, he can act!" It was kind of fun, I did two or three scenes with the lead male character, and it will be interesting to see how it looks all put together ... and if my scenes are actually there or land on the cutting room floor - it's always showbiz, you never know.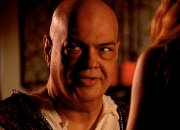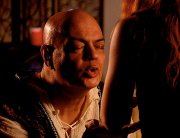 Legend of the Red Reaper
How would you describe yourself as an actor?
What I lack in experience I make up in bombast. Most of the roles I get allow me to do a bit of hamming. The challenge of Legend of the Red Reaper of course was the fact that it's a film - I really had to backtrack a bit, because when the camera is staring right in your face and you're putting it right there in the front... I tend to be, when I act, a person whose emotions are very easily seen, and even in one of the two scenes that I filmed, the fact that I had to extract a notion and still show certain reserve out of respect for the character I was playing against. I think I'm able to express what I'm feeling even with my eyes. I've had the compliment when I performed in one show, I was almost totally covered up in a big wig and a beard - essentially all you could see were my eyes - and the actor performing with me said I was expressing so much with my eyes it made it easy for him to make the connection between his character and mine, which was very flattering. I get to be a very emotive actor and use my eyes and my posture as much as I can to express the feelings and the nuance of a character even without saying very much. And I do that in the comics that I do - you can tell by the expression of my characters faces and the way that they stand, their body language, what they're thinking. Part of that is either a carry-over or a reflection of the stuff I like to do in acting, and watching so many films I see, so many actors I admire.
Any actors who have inspired you in your performance?
Oh gosh, so many. I'm a big film buff, so ... the classics, golden age actors, I like the naturalism of James Stewart ... another great influence: Spencer Tracy. But I like the bigger-than-life style, I like Laurence Olivier, I love Marlon Brando, and of course more modern actors who came in after that, I mean the earthy type of actors who want to keep realism. There are so many, way, way too many to narrow down to just who my favourite actor is, it depends on my mood and it depends on the film.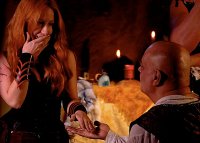 with Tara Cardinal in
Legend of the Red Reaper
Are you planning on doing more acting or was that experience pretty much it?
If I'm asked ... one of the things I don't envy actors for - I have plenty of friends working as actors or are aspiring actors - is rejection. The auditioning process can be brutal, I was flattered that Tara asked me to be in her film. They required me to audition for the part, but as long as it looked good on camera she was happy - and thankfully she was happy. I did do one audition for a film that she's currently involved in, but I didn't get the part, and it was kind of fun. It is just a sideline for me, which makes it easier since I don't have to worry to get a part, it's just a fun experience, and it's a very nice creative output, that's why I enjoy so much doing community theatre shows - it's just something different from drawing, and because my livelyhood is not riding on it, I just enjoy myself. It's playing, you know, and I get a thrill out of doing that.
Interestingly, before appearing on the screen in real flesh, an animated version of yourself has made it into the (animated) TV-series Teen Titans ...
Well, I co-created the Teen Titans, and then I appeared as a cartoon character because the people who made the cartoons were big fans. I ended jup being a background character there ... I've been in a few different places, not necessarily as a character but as a reference. City of Heroes, the video game, they had a Pérez Park dedicated to me, and I know other people who are working on film projects who are using me as a character - a nice little shoutout to me ... which is again very very flattering. It's me acting without even having to be on the screen - amazing!
How would you describe the Teen Titans - to somebody who has never read them?
Well, the Teen Titans were originally the collected sidekicks of major characters. You know, Robin, Batman's sidekick, was the leader of the group, and another character was Kid Flash, the sidekick of Flash, Wonder Girl, who was a variation on Wonder Woman, and what we, the writer, Marv Wolfman, and I ended up doing when we created the Teen Titans was trying to create DC Comics' teenage hero title in some way to rival the X-Men over at Marvel, which were initially, though you can't tell now, a group of teenagers. So one thing that's happened with the Teen Titans, because we were stuck with the word "Teen" in the title -since we were actually doing a re-boot of a series that had been around since 1960 - it kind of forced us to deal with the more specific problems and adventures of a teenager. And we seemed to attract a large large following for quite a while when Marv Wolfman and I were on the book. It was DC Comics' topseller and rivalled for quite a while for first place with Marvel's X-Men, which is of course Marvel's and the industry's topseller - but the Teen Titans were giving it a really good go as far as competition goes, it was a very successful series, which by all accounts helped to bring DC Comics back into the competitive limelight, it started to flounder as a company according to the stories I have been told. Historically, The Teen Titans was the book that saved DC Comics - so all the success it has had is thanks to the success of the one title even I didn't expect to succeed. Quite honestly, when they asked me to do the Teen Titans, I didn't expect it to last 6 issues. The fact that it became a monster hit was quite a surprise and a personal achievement. Of course, it was a series that I and others did not predict would be successful, but it was successful because I was involved in it, because Marv Wolfman was involved in it. It was a personal success, it had low expectations but an upbeat ending.
So what can you tell us about Marv Wolfman and your collaborations with him over the years?
When I started, Marv was my first editor and one of my harshest critics. Marv used to be an art teacher, so even though he himself doesn't draw, he knows what he likes, he knows what works in comic panels, and what he said, even when my artwork excelled, was it was very very lacking - but that I had a natural ability to tell a story visually, the equivalent of doing a storyboard for a movie ... but that was a natural thing, you can even learn how to draw better, that is someone noone can really teach you how to tell a story dramatically and visually. And that's what got me going. And with Marv, I had only worked on one book and one tiny chapter of another book during my entire time at Marvel. When he moved over to DC Comics, he asked if I would do the Teen Titans book - and what I like about Marv is also that he's a very generous writer, so he likes a lot of input. So after the first few issues where he of course had a very very specific plan of what he wanted to do, we then just started talking the plot out - at the time, we only lived less than a mile away from each other - and we would discuss the story, I would go and draw it, and then send it back to him so he would then dialogue it. So the finished script was sometimes steered by what I drew, sometimes I threw Marv a curveball and he was surprised like "that was something I haven't originally thought of", but obviously it worked for the story, and then he wrote something to be appropriate to the art, and it was a great symbiotic relationship that I still hold as the gold standard in collaborations. Working with Marv Wolfman has always been a highlight of my career. And I give him due credit also for helping to make my career.
And it was Marv, who in watching me contributing as much as I did to the story encouraged me to start writing comics as well, so I went on and rebooted Wonder Woman back in the mid-1980's, which was also very successful, and a personal success was that Wonder Woman was a book that was not doing that well for a while, and it finally got its first case of real modern day respect as a character when I started writing the series. And now she continues to be one of DC's top drawer characters as opposed to just being a contractual obligation. And I'm very proud of that, and Marv was my chief cheerleader in pursuing a writing career, even though I don't enjoy writing just as much as I enjoy drawing, and I'm actually backing away from it again. Drawing is what I'm most comfortable with and writing - it's like acting, your ideas can be rejected just because somebody just doesn't like that particular idea or has heard that idea 100 times before ... and I don't like rejection. My drawings are usually okayed because they know what to expect from George Pérez I have almost never had a situation where someone said "oh my God, can we just change that?!" - they might make me tweak it because a costume has been changed or company policy has been altered, but not because the drawing itself was bad, and that's what I'm comfortable with. When I act, I don't worry about being paid, because the second they have to pay you, oh, they can be really critical of you.
When I started my career as a comicbook artist, my first real criticism was a harsh slap in the face, reality coming at me like a freight train. But I got better, because that was exactly what I wanted to do with my life, I wanted to draw. Acting I enjoy immensely but it isn't the driving force of my life. So of course I don't ever have to deal with going in and auditioning, competing with a lot of people for the role, and then coming home devastated because now I don't only not have an acting role, I also don't have a paying gig. I don't have to worry about that.
What can you tell us about your first comic ever published, and if you look at it today, how does it make you feel?
Because I do comic conventions, I get to sign a lot of comics that people have collected over the years, including my very first, when I was still developing as an artist - so I'm always haunted by the ghosts of comics past. And when I look at it now, I tell everybody "if I still drew like I did 37, 38 years ago ..." Well, I cringe, but that was where I started, this is where I am, so right next to a book from 38 years ago, there is a book from one month ago - so yes, I have developed, this is my learning process. It's like with an actor, I've got so many acting friends who cringe at the thought of looking at themselves on screen. I imagine if an actor looks at his very early work and then look through what they are doing now, they may be nostalgic - or over-critical, "oh my God, my performance there was terrible, why did I still get work after that?"
Even I look at my early work and think, wow, I'm really happy that I was so tenacious that I kept getting work, with the advantage, as Marv Wolfman pointed out, that I was a natural storyteller, and at that time being quite hungry to become a comic artist. I worked very fast and I did the books that noone else wanted to do. I did the team books because I enjoy doing team books, very few people enjoyed it at the time because during these years you didn't yet get royalties for sales of the books, so you got the same page rate for a single character series as for a team series - which just happened to be what I enjoyed. Interestingly, when people ask why I prefer to do them - it has to do with my love of actors and acting, and that I enjoy the characters interacting with each other, and actually directing or playing out the characters on paper, as if they were performing on stage or on film.
You have been in the comicbook business since the 1970's. How has the business changed over the decades?
Well, just like all the media has changed. Our readership has dwindled because there is a lot more competition, and more of it is run corporately - just like actors have to work with moneyman at a studio, we also have to work with moneymen who own the publishing companies. And sometimes you are putting the cart before the horse, as you've got to tell them how good a film this would be as opposed to "let's just make a good comic!" Another reason why I don't like this: A lot of people get caught in that quagmire and that corporate thinking. Now there's a lot more writing in comics because again of the ancillary and outside-media things that occur. But one of the things I am grateful for and I honestly don't understand why I'm grateful for it, is that I see so many artists in my generation - because it's a young business - who are having a hard time finding regular work, and I turn down more work than I can accept. For some reason, I'm still a commercially very successful artist in the industry. Part of it is because a) I'm not afraid of putting a lot of stuff into my artwork, and b) I enjoy it! I've been offered other types of work including animation, advertising, but I genuinely love drawing comics - and it's infectuous I think. And despite all the technical improvements and despite all the corporate control of the characters as opposed to individuals being able to create a story on their own that doesn't have to add to a big picture, it's still the industry I want to be in, still the thing I want to do. And I get to work with a lot of very young writers and artists who ... some of them weren't even born when I started in the industry and/or grew up with my work. So that's a very very nice feeling. Now I look at the industry from an elder statesman point of view. I can see how the industry has changed. But the fact that the industry is still here and the fact that there are so many young people out there who ... when I look at their work, I feel like the gunfighter in the old movies, the old master gunfighter who always has to worry about the young buck who's coming in to show he's more master than he is - and I always have to keep my edge if I want to compete with the young people who're coming into this industry. But hopefully I'll still be here when I'm old enough to be a great grandfather of these upcoming artists.
I'm still working with a pencil and a paper, but now I'm working on a motion comic. For me it's still drawing a comicbook, but somebody else takes that and makes some animation, some movement graphics ... wow, it's a totally different type of thing, but you still start with the pencil and the paper.
Over the years, you have been involved in creating many a classic comicbook - but maybe none more so than the miniseries Crisis on Infinite Earths. You simply have to talk about this one for a bit?
Well, that was a book that had my fingerprints on it before I ever touched it. I forget who the artist was who was originally supposed to do it, but then I don't think they thought I was going to be interested because I was flooded with other work, but the idea of a series where I get to draw every character of DC Comics at that time in a big brand-wide adventure was ... tempting, I mean how big an apple do they have to show me before I say I have to buy this, all teeth gnashing.
In Crisis I got to draw everybody, and the plan for Crisis was of course that the DC-universe is not going to be the same, and so many characters will not be coming back - I figured that was a once-in-a-lifetime achievement - and of course yet another major success, that even though I figure Crisis would have been successful even if I had not been involved in it, my involvement maybe took it one step further because people saw that I loved it ... and sometimes I was drawing in characters that were not in the original plot by Marv Wolfman, like when there were characters fighting in one big cityscape, I would decide what other characters I would put in there and while he did say those characters have to be in there I could sneak in the other characters as well ... I had a tenacity and a desire to draw all these characters, which another artist might not have, and that became a template for all the other major company-wide crossover events since then. All the newer Crisis-titles spinning off from the Crisis on Infinite Earths - they always wanted me involved because they want the original artist somehow involved to give it a certain sense of continuity - or endorsement. But one writer, when he was writing a full script, as to opposed to only a plot and then dialogue it, what I was used to working with Marv ... because he was working with different artists including myself at the time, this writer full-scripted every page of his Crisis-book, and I was reading it and said "Oh my God, look at all the stuff that is written in here, and how does he expect me to fit all this, how does he expect to put dialogue in there, this just looks so incredibly crowded!" - until I realized that what actually happened was that if I would take one of my pages that I worked on with Marv Wolfman of the original Crisis and break it down into a full script, describe everything that was in there and all the dialogue that's written there, that's exactly what it would have looked like. That's when I realized ok, now they're trying to write a George Pérez script based on what they saw what George Pérez did - but unfortunately, when you're giving that back to George Pérez, you're just telling George Pérez to be George Pérez ... but that's what the George Pérez-style is today, that's it broken down into its seperate compartments - and boy, that's intimidating!
What can you tell us about your self-created, self-published, as of now unfinished comicbook Crimson Plague?
Unfortunately, while I enjoyed doing it, and I had cast one of the greatest girls I have ever cast - because I cast my comics with real persons, just like movies -, I realized because of the amount of details that I put into a page, and having to pay for it myself, it wasn't possible enough for me to do it. Even though it sold well by industry standards at the time, I earned much more working under contract for a major company just pencilling, as opposed to doing everything on Crimson Plague.
But it taught me a lot about handling faces and real characters, since all the people were real people - and it was great making them into stars, they love the idea of, gosh, they are stars in a comicbook. And I'm doing that to this very day. I'm sure I'm going to use Tara as something eventually [Tara Cardinal interview - click here].
You are currently the writer of the latest incarnation of Superman, right?
Oh, I've just finished my last issue. Superman I was writing, and I did the first six issues, and after doing a fill-in issue on Supergirl and a fill-in issue on Birds of Prey, I'm going to be doing a new series that's written by Paul Levitz called World's Finest. The original World's Finest-comic of course featured Superman and Batman as the team-up characters, but this one's going to have Power Girl and the Huntress ... and what I've noticed in my recent assignments, after doing Supergirl and Birds of Prey and now World's Finest, from being recognized as one of the most influential team book-artists, now I'm getting a lot more books with female leads, so I'm basically drawing babes. I don't mind that, as I'm getting older, I definitely don't mind being recognized for drawing pretty women. And what I'm now doing with the books, because I've worked with so many beautiful women, and have met a lot of them doing cosplays, you know, costumed, on conventions, and have become friends with them, I do what I did on Crimson Plague and use real models. For Supergirl, I have a young lady called Melissa who I've met at conventions, and who does dress as Supergirl at conventions, my niece Camille is the Black Canary, and a young model named JC Marie is Power Girl and a young woman named Margie Cox is the Huntress. So it's kind of fun, and the reaction that they get when I draw them or use them as my models makes everyone so happy, and I think that rekindles my joy in drawing, which I have been doing for so long, that making other people happy, helping my friends become "stars", and watching their reaction on Facebook, that's gratifying, that's the fun part of drawing. I've gotten awards, I've gotten accolades for doing comics, but that's the extra little thing, to keep the fun alive, getting the fans involved, and showing how much I appreciate them.
Any comicbook(s) you haven't yet worked on but would love to (no matter how improbable)?
Interestingly enough, I've never woked on Judge Dredd. Also a lot of European characters, I've never touched them. But it would be cool doing a story with Judge Dredd, or maybe some characters I may not be familiar with. And there are all these newer characters at Marvel and DC I'm sure I'm going to get a crack at. DC have now totally rebooted their entire line, so almost everyone feels new. And I look forward to the next series like Crisis, where I can draw all those characters at one time.
But I've been pretty much pretty lucky, all those wishes that I've had have been fulfilled in the industry. I mean I did JLA/Avengers, I had to deal with a lot of the characters I grew up with. And now I leave it to a new comic writer to give me something that is his dream to be fulfilled. There is no surprise left to me because I've done pretty much everything I set out to do in this industry, and as much as I enjoy drawing, I like to conspire with a new writer who comes in here and surprises me with an idea where I say "oh my God, I never knew that that was something I wanted to do, I never even knew it existed before. But let me do it now!" And thankfully there are a lot of writers out there, established as well as up-and-coming, who want to work with me. I just wish I was fast enough to work with so many of them. Unfortunately, I'm turning 58 this year, and while that's not really a senior citizen, I'm quite aware that of all the writers out there, there are a lot of writers that I'll never get the chance to work with. That's probably the one regret: So many of them, so little of me. But I'll work with as many as I can.
Comicbook artists who have influenced you?

Feeling lucky ?
Want to search for books by
George Pérez
yourself ?
The links below
will take you
just there !!!


Waaay too many to list. One of the first artists who have influenced me, who I became aware of, is Curt Swan, the artist on Superman during the 1950's and 60's, and pretty much all the way to his death. Jack Kirby, and Neal Adams, and Barry Windsor Smith, John Buscema. Pretty much everyone, even if you wouldn't think they are my influences. Because I'm reading so much, I'm just picking up without constantly thinking about copying anybody. In terms of stroytelling there's of course Jack Kirby, his dynamic storytelling, and I still love the quiet moments that Curt Swan could bring in ... and somehow, you throw that all into this big pot, stir it together, and George Pérez emerges out of it.
Anything else you are dying to mention I simply forgot to ask?
We've pretty much covered it, my biggest curiosity now is to see Tara's finished film Legend of the Red Reaper [Tara Cardinal interview - click here]. Oh, one more thing, there is a book The Art of George Pérez, and in there are my preliminary pencils for the poster of Legend of the Red Reaper.
Thanks for the interview!