Your new movie Christmaz - in a few words, what is it about?
On Christmas Eve zombies arrive like unlikely gifts and a young boy shoots them by mobile phone! For shooting, we have used the stuff that makes ourselves perfect zombies: Smartphones and webcams!
Giovanni: It's my first co-directed full length movie, and in this way it's a little different from my "solo" projects! It's a healthy dip in collaboration with a friend, Bruno di Marcello, a beautiful experiment of relativization of the ego, in sight of a mutual working!
Bruno: Darkness Surrounds Roberta was the first movie in which me and Giovanni worked together, but only on the screenplay. We have directed an episode of P.O.E. Poetry of Eerie together: Gordon Pym. That time we decided to direct together again.
Key question of course, what made you choose Christmas as the date of your zombie outbreak?
Because it's funny! It's the best period of the year, especially in Italy, to imagine the destruction of a family, of the families!
Why a zombie movie to begin with? Is that a genre you're at all fond of, and some of your genre favourites?
Giovanni: I graduated from University, in 1990, with a thesis about The Trilogy of the Dead by George Romero, 800 pages, the best work I have written in my life! I adore zombie movies. I like "political" zombie movies like the many of Romero, but also the athmospheric and sadistic movies by Italian directors like Fulci [Lucio Fulci bio - click here], Andrea Bianchi or Frank Martin. My taste in horror movies and cinema as such stops in the 80s. I hate digital effects and fast editing! I have never made a zombie movie before for the simple reason that it's expensive to create all the walking dead!
Bruno: my favourite genre is the ghost movie, but I've seen a lot of zombie movies because they are very fascinating to me. And we have never seen a zombie movie at Christmas and shot like a found footage movie too!
You shot Christmaz found footage style. So what attracted you to that method of filmmaking, and what are the advantages and challenges filming that way?
Giovanni: I don't like the found footage style. It's the most "false" idea in cinema's history. In my opinion it doesn't work, I feel the falsity of which I am seeing! We have chosen this style because we thought that it was better for our movie: Everybody is obsessed by filming tons of shit with a cell phone, so finally in our movie they shoot something important - their own final hours! In our movie we don't have a cameracrew like in many found footage flicks, but people that shoot with smart phones ... and when they become zombie, they continue to shoot! Our choice of using found footage style was a "philosophical" choice (and was very amusing! And the movie it's amusing too!).
Bruno: I don't like found footage, either, but filming this way it was very interesting. Looking for a "language" to be understandable for the audience but going on with the illusion of casual found footage... it was exhausting too, for our body and our mind, because we are two very "classic style"-directors.
Christmaz features quite a bit super 8 footage shot decades earlier - so what can you tell us about that footage?
Giovanni: Yes, there is super 8 footage from '82 and '88!! Two of my old horror movies that come from the analog world!! They were shot on film, they come directly from another world. The boys in Christmaz found this vintage stuff on the web, and maybe, I don't know, maybe all this mess and the zombie invasion are caused by this cursed old movies!! [The original titles were: La Chiesa (The Church, 7') and Auguri! (Best Wishes, 43')]
Bruno: It was a very risky idea, but many people whatching the movie told us "the super 8-footage was the most frightening thing of the movie, the most disturbing idea."
Christmaz stars Canadian pin-up/web model Kelly Abbass, who has never been to any of the main sets though. So what can you tell us about her, why did you choose her to begin with, and how did you integrate her footage into your film?
Giovanni: Kelly Abbass is a bright goddess that I have come to know via the web (only via the web, alas!!) in 2006 when I made my Argento/Corbucci giallo homage Darkness Surrounds Roberta. She sang a beautiful song with her great voice over a stunning sex scene!! We remained in touch and finally we were able to work with her on Christmaz. She is a "nude" model (her pictures are very sexy but also extremely sweet!!) and a great singer in the group she formed a band called Pristine with husband's daughter Steph Dilts. So Kelly in the movie is the good heroine, she is naked and lustful, but also pristine!!! Her roleI is important because suddenly with her appearance the movie changes from local movie (a typical bourgeois family of South of Italy) to a global movie between Canada and Italy. Her nudity will save the world!! We have shot her section talking to her via web cam… Her husband shot her with his camera, uploaded the file to a private page of her site, and Bruno and I controlled the shot. When the shot was good, we downloaded it on our computer: World movie!!!
What can you tell us about the rest of your cast, and why exactly these people?
Giovanni and Bruno: The cast comes from Caserta, a little ancient town near Naples, and from Naples itself. They are not "famous" actor, but they were enthusiastic and very good. Some of them come from the theatre scene that in these towns of South Italy have a great tradition! The movie was made according to an elaborate sequence plan, and they were great to act through their scenes greatly and quckly!! (ee have shot the movie in 12 days.) Theatre actors are able to act in long sequences and they are also able to improvise!! And I love how they have personalised all the human miseries of the middle class bourgeois family: Jealousy, betrayal, alcoholism, pruderie, bigotry, racism… A bunch of great people, they did a great job, from the young ones to the older ones!! (Mapi Verona, Luigi Di Salvatore and Giovanni Galletto are expert theatre actors, also Maria Teresa Verona comes from theatre; beautiful Francesca Di Rienzo is a talented dancer; Max Oliva comes from cinema; Anna Delli Paoli is a journalist; introducing the young and talented actors Pietro Orlando – as the main character – Vincenzo Casertano, Ilaria Sorbo and Nereide Terranova.) And congratulations to our FX-zombiemaker Fabiana Furfaro: she is only 20 years and she did a great job! And also a great job in the make up section was made by the Beauty & Nails Academy of Napoli. Stefania Visconti also appears In the movi , a beautiful shemale model who acts with myself in a mythical duet!! (I act a Santa Claus zombie!!) Stefania had acted in many cult independent movies (also with great Sebastiano Montresor) and she will be in next ghost movie by Bruno di Marcello.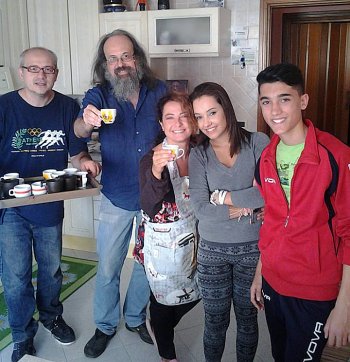 Do talk about the shoot as such, and the on-set atmosphere?
Giovanni: The shoot was very strange, without a traditional camera! It was a guerrilla movie, without a moment of rest, but we made it!! All the movie was organized by three persons: Me, Bruno and costume designer and set designer Giovanna Vasapollo. It's the fifth movie I have done with Giovanna, and this means that we work well together. About the on-set atmosphere I attach a picture: we are friendly all together and we drink a beautiful cup of coffee! About the scenes with Kelly: A night time of beautiful and sweet work admiring her beauty and talent!
Bruno: We were shooting in this empty house, many hours for the make-up of all these zombies. I took care of the cinematography too (as I've just done for my slasher The Terrace, ten years ago). It was the same situation as in an old comedy of mine, Engagement Party: Many actors from Naples in the same large room for ten days, acting as a middle class family... I know well it can become a nightmare for everybody! This time the atmosphere was good instead, probably because this is an horror one, not a comedy!
A few words about audience and critical reception of Christmaz so far?
Giovanni and Bruno: The audience reception is always very good: They are surprised by the vivacity of a living dead movie! And everybody loves the characters and the use of the different media. And everybody is surprised by the good acting of the young actors!! And of the strong presence of the adult actors! And of the beauty of the Italian an Canadian actressess!! The critical reception is not bad, but sometimes I feel that people are too much intrigued with rape horror, or with stylish movie, or with videogame-derivated movies… We hope they will understand our very different movie. It's a movie full of humour, but also splatter and real meat!
Any future projects you's like to share?
Bruno: I'm preparing a ghost movie with Stefania Visconti, written with Antonio Tentori (Fulci [Lucio Fulci bio - click here] and Argento's screenwriter) and with the special effects by the italian master Sergio Stivaletti.
Giovanni: I am "stationary" at the moment, after 7 movies in 10 years I need a little rest! But anyway I'm preparing a zero budget 9 episodes movie with Stefania Visconti called Edgar Allan P.O.V.. We have shot the first episode, Berenice, P.O.V. style!!
What got you into filmmaking in the first place, and did you receive any formal education on the subject?
Giovanni: I began to shoot in the 80s using my super 8 camera, and I learned to make movies on my own. My university's studies were only "theoretical". I began to write screenplays in '95, I also won a European Script Found with a project. But it was impossible to make the movie and so I was obliged to work in the porn industry for 3 years writing screenplays and being assistant to the directors. I learned a lot on those sets!! I made also a lot of documentaries, also for the Italian television (RAI), about Serbian people, tattoo, piercing, heavy metal, young techno fascist dancers, the crisis in Jugoslavia, and so on.
Bruno: I learned to organize and making movies on set, working as assistant director and production assistant for many years. I worked for advertising, music videos and full length movies. My university's studies were only "theoretical" too. I started making movies directed by myself with a giallo one, All Souls Day (in 2000), after two or three shorts. Then I've worked (and still work) for television shows like documentaries series and so on.
What can you tell us about your filmwork prior to Christmaz?
Giovanni: In 2003 I directed my first horror movie, Nella Notte - Night's Vampire, produced and co-directed by hardcorne porn producer Lorenzo Onorati (it's not porn but a "political" splatter, Lorenzo shoot the first 20 minutes, I made the other material). After I met Bruno di Marcello and with him executive producing (and also producing as such) I made all my movies: Pilgrimage (satanic horror episode for American movie Red Midnight), and the full length Darkness Surrounds Roberta, both produced by American actor/producer Joe Zaso; La Canzone della Notte, musical horror noir, Embry" (episode for Finché Morte non Vi Separi, horror movie produced by Bruno di Marcello, a movie about the crisis of couples), and now Christmaz co-produced and co-directed with Bruno di Marcello. With Bruno I have also co-produced and co-directed Gordon Pym, an episode for the Italian anthology movie P.O.E. – Poetry of Eerie, a project created by myself and Domiziano Cristopharo (distributed in the USA). I'm preparing a no-movie: me and my friend Stefania Visconti, one mini dv, one light, no director of photography, no music: Edgar Allan P.O.V..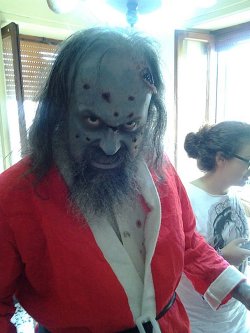 Bruno: aside from the short films, I've directed the giallo All Souls Day (2000), with a small village in the south of Italy as background. It was full of atmosphere, as I like to make movies; Engagement Party (2002), an amusing comedy about marriage traditions in Italy (still seen in USA on Amazon) inspired to famous theatrical comedies from Naples; the slasher The Terrace (2007), a personal homage to 1980s John Carpenter's movies, with a group of young people besieged by a mysterious friar killer during a summer party (still very appreciated by VOD audiences); the episode Gordon Pym co-directed with Giovanni; the episode Premonizioni in the full length Till Death Part You. Plus,the very amusing homage to italian giallo Darkness Surrounds Roberta, me and Giovanni have written together. He was very passionate of those years of Italian cinema, I was very passionate of giallo/investigation plots: the perfect (but odd) couple!
How would you describe yourselves as directors?
Giovanni: Fast as a shark!! Ah ah!! (And always very friendly with actors.) I love to work with actors, I remember some of them: Yassmin Pucci, Iuliana Ierugan, Giada Vadalà, Giorgio Filonzi, Maurizio Rapotec, Giulia Morgani, the American Joe Zaso, Raine Brown, the English Eileen Daly, the Canadian Kelly Abbass, and all the cast of Christmaz!!
Bruno: I like to work on characters very much, and on angles to shoot too. One has to be fast on set on the independent movies, so I generally prepare my work shot by shot months before to obtain what I'm looking for, drawing a storyboard by myself too. I generally like the "invisible" editing to give the audience the illusion to keep part to the story without any filter. Nothing of those things was possible in a movie like Christmaz! I was very scared!
Filmmakers who inspire you?
Giovanni: I like Romero, Carpenter, De Palma, Doris Wishman, Werner Herzog, Pasolini, obviously Lucio Fulci [Lucio Fulci bio - click here], Mario Bava [Mario Bava bio - click here], Andrea Bianchi and a lot of Italian directors of the 70s/80s. Joe D'Amato [Joe D'Amato bio - click here], and also rather unknown directors like Amasi Damiani, Raniero Di Giovambattista, Luigi Petrini… and Lasse Braun!!
Bruno: I'm more main stream: Fellini at first, then Antonioni, Pietro Germi, Dino Risi, Pasolini, Hitchcock, Spielberg, Carpenter, and essential Woody Allen. But also Monicelli, Comencini, Corbucci, Magheriti, Bava, Fulci, the great Scorsese, John Landis, Joe Dante, Tim Burton and a lot of others.
Your favourite movies?
Giovanni: Dawn of the Dead, Escape from New York, Salò, L'Aldilà, Dressed to Kill, Fata Morgana (by Herzog).
Bruno: The Fog by Carpenter; 8 e 1/2 by Fellini; Ed Wood, Gods and Monsters, Crimes and Misdemeanor by Allen, Le Mani sulla Città by Francesco Rosi with Rod Steiger.
... and of course, films you really deplore?

Feeling lucky ?
Want to
search
any of my partnershops yourself
for more, better results ?

The links below
will take you
just there!!!

Find Christmaz
at the amazons ...

amazon.com

amazon.co.uk

amazon.de
Looking for imports ?
Find Christmaz here ...
Something naughty ?
(Must be over 18 to go there !)

Giovanni: All the movies by Steven Seagal, the rape movies, and stuff like Saw. I like extreme movies, also violent movies, but I hate bully-movies, made only for sadistic bourgeois motivations!!
Bruno: All the idiot stuff. Particularly the horrible Italian comedies from '70s like Pierino, or American stuffs like Porky's or American Pie, and the extremely violent movies without reason too.
Your/your movie's website, Facebook, whatever else?
https://www.facebook.com/bruno.d.marcello
http://digilander.libero.it/gothicproduzioni/
https://www.youtube.com/user/gothicproduzioni
Anything else you are dying to mention and I have merely forgotten to ask?
That's all! Thanks a lot!!!
Thanks for the interview!