Your new movie Poetry Slammed - in a few words, what is it about?
It's a film that lampoons the sometimes overly-serious poetry slam community. In the film, slammer Hex-Man D-Lord is coached by Julius to get him ready for the Ultra States Poetry Slam, which is the most prestigious poetry slam in the world.
Your personal thoughts about "poetry slams", and what inspired you to make a comedy about the subject?
My limited experience with poetry slams is that the participants sometimes take themselves a bit too seriously, as if every word they speak is the most important, monumental word ever spoken. With this in mind, it seemed like a natural comedy leap to simply push that thought a little bit farther to bring some humor to the world of poetry slams. That being said, I have seen some really talented poetry slammers.
Other sources of inspiration when writing Poetry Slammed?
To a small extent I would say the film Nacho Libre in that I see the main character in Poetry Slammed, Hex-Man D-Lord (played wonderfully by actor Jonathan Hodges), as being a bit like Nacho in that he's using unconventional methods to attain his dream. I also drew a bit from our earlier film Therapissed where one of the characters who's getting psychological help decides he wants to perform a poem at an open mic night, and it doesn't go anything close to as well as he hoped it would.
Weird question maybe, have you ever tried to write (serious) poetry yourself?
I wrote a book titled Guernica Still Burning that is one long stream-of-consciousness poem. We ended up making a short film based off the book that is also titled Guernica Still Burning - people can watch it here at https://youtu.be/YPHsW43i4rY. The film was rather well-received at festivals. Some of the dialogue in Poetry Slammed delivered by Hex-Man and his arch-nemesis The Groove (played awsomely by Joe Maurer) is straight out of the book, though the majority of poetry in Poetry Slammed is appropriately new, self-serving, and dreadful, and it largely focuses on Hex-Man and The Groove being mad at their parents for basically everything the parents said and did as they grew up.
What can you tell us about Poetry Slammed's brand of humour then?
We certainly lampoon people who maybe take themselves a bit too seriously. The humour is also self-deprecating at times, and it's absurd at other times. We also have a young African American poet in the film (played with pure fun and exuberance by Clarence Zanders) who ends every one of his poems by screaming out "KILL WHITEY!", which really makes me laugh. We also worked in a little lampooning of romantic comedies when it came to the relationship the develops between Hex-Man and Chelsea (played by Kari Gall, who did a fantastic job).
Do talk about your overall directorial approach to your story at hand?
As usual, I kept my directing to a minimum, allowing my wonderfully talented cast members to bring their own interpretations to their characters. Occasionally I'd have one of the cast members do something a little differently if I had a very concrete notion in my head for the exact facial expression or voice inflection I wanted for a particular shot, but by and large the cast members made their characters their own. When it came to the actual shooting of the film, DP Molly Brown and I were pretty much on the same page throughout the shoot on what shots we wanted to get.
You also appear in front of the camera in Poetry Slammed - so what can you tell us about your character, what did you draw upon to bring him to life, and have you written him with yourself in mind from the get-go?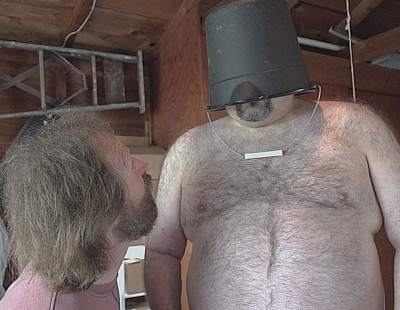 Early on in the process of writing the script I knew I wanted to play the role of Julius, so I tailored the role for what I think are my strongest attributes, which primarily consists of making sure my lines are limited and easy to remember. Julius is a retired poetry slammer, and the film opens with Julius arriving at Hex-Man's house to tell Hex-Man - not ask him - that Julius is now taking over as Hex-Man's coach to prepare Hex-Man for the upcoming Ultra States Poetry Slam, which is only the most important poetry slam in the world. Julius is a take-charge, no-nonsense kind of guy who drives Hex-Man to become the best poetry slammer he can be, and who also drives Hex-Man crazy at times. To bring Julius to life I wanted to make sure he wasn't a caricature, that even though he can be over-the-top at times, he's still believable. He has a backstory that is revealed as the film moves along, so hopefully viewers will find Julius interesting and engaging, as well as funny.
What can you tell us about the rest of your cast, and why exactly these people?
The cast was awesome. Jonathan Hodges [Jonathan Hodges interview - click here], who plays the lead, was in our 2013 film Midget Zombie Takeover, so I knew he was talented and fun to work with. Joe Maurer had worked with me as both a cast and crew member in our horror film Paralyzed with Fear that stars Kane Hodder and should be ready for release late this year, and Joe and I had actually gone together (the day after the shoot for Paralyzed with Fear wrapped) to The Stanley Hotel, the hotel that inspired Stephen King to write The Shining, and we had a fun time doing that, so I knew Joe would be great to work with again. With Christopher Butturff, I had seen him do both theater and short film work, so I knew he was really talented, plus, we had met years ago when I spoke at a film festival in Ohio, and we hit it off right from the start. And when it came to Clarence Zanders and Kari Gall, I received recommendations from other cast members and from DP/editor Molly Brown about their talents, and everything I heard about both of them was true because they were both fantastic!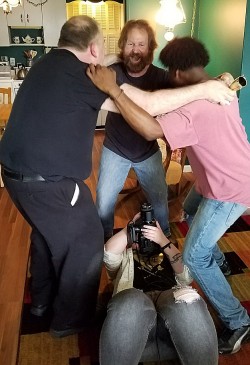 A few words about the shoot as such, and the on-set atmosphere?
We worked quickly - all total we only spent about sixteen hours actually filming, though those hours were parsed out over four days and two weekends. The on-set atmosphere was a blast. Everyone got along great, and there was a lot of laughing. Our sound guy was Clinton Wood, who handled the sound for Midget Zombie Takeover, and Clinton was a lot of fun to work with again. And I had never worked with DP/editor Molly Brown before, but Molly was fun and talented and super easy to work with. So the shoot was smooth and fun - just the way I like a shoot to go!
The $64-question of course, when and where will the movie be released onto the general public, however tentatively?
The film may be ready before the year is done, but we'll have to wait and see. I've already talked with a comedy club owner about him possibly hosting the premiere of the film at his comedy club in Fort Wayne, Indiana (where we shot the film), but nothing is set in stone yet. Since we're really picking up a lot of traction these days with getting various releases for our films - the DVD release of our film The Worst Movie EVER! is June 13 while the DVD release of Midget Zombie Takeover is August 8 (both films can be purchased on the websites for Walmart, Target, Best Buy, Barnes & Noble, and Amazon), and the Blu-ray releases of all nine of our already completed feature films will be coming later this year from LeglessCorpse/Back Aisle Video (including our films Auto Shop of Horrors, The Ghosts of Johnson Woods that stars Joe Bob Briggs, To Die is Hard, and Evil Intent) - hopefully we can use this momentum with Poetry Slammed to find a distributor who'll be able to make it available to the public.
Any future projects you'd like to share?
I've reached a verbal agreement with stand-up comic Pete Buchbauer for him to play the lead role in a comedy feature I hope to shoot in 2018 that will be a lampooning of Leo Tolstoy's The Death of Ivan Ilych. The film version is tentatively titled The Death of Ivan Nussbaum, and the tagline is "Some people die with dignity - Ivan Nussbaum isn't one of those people." The script isn't written yet, but the idea is that the dying Ivan, played by Pete, will basically become a self-centered moron when he finds out that he's dying, and he will constantly be going off on tangents as he's talking with people, and these tangents will consist of Pete's stand-up material. If we can get this film shot it should be a great combination of film and stand-up comedy.
Your/your movie's website, Facebook, whatever else?
Here's a link to where people can watch the trailer for the film: https://youtu.be/kLFjcoG461s
My personal Facebook page people can contact me through or check for film updates is https://www.facebook.com/glenn.berggoetz
My personal website that I use for booking speaking engagements is http://www.glennspeaks.com/
For people interested in purchasing the DVD for The Worst Movie EVER! they can go to https://www.walmart.com/ip/Worst-Movie-Ever/55731917
For those who are interested in pre-ordering Midget Zombie Takeover in advance of its August release, they can go to https://www.amazon.com/Midget-Zombie-Takeover-Kristi-Mckay/dp/B071R2WYT2
And the page for purchasing Blu-rays on the LeglessCorpse website (for when our films are available there) is http://lcfilmsonline.com/
Anything else you're dying to mention and I have merely forgotten to ask?

Feeling lucky ?
Want to
search
any of my partnershops yourself
for more, better results ?

The links below
will take you
just there!!!


I hope fans will keep an eye out for the releases of Poetry Slammed and Paralyzed with Fear later this year, and anyone who is interested in donating to the shoot of The Death of Ivan Nussbaum in exchange for an executive producer or producer credit should get hold of me through my Facebook page. Finally, thanks a million for chatting with me!
Thanks for the interview!