Your new movie The Gesture and the Word - in a few words, what is it about?
The Gesture and the Word is about love and how we love and care for one another; how we show kindness and affection to each other. It can be between loved ones, family members, or friends. We find ourselves reticent about pursuing what could make us happy and allowing ourselves to love others.
With The Gesture and the Word being a romance of sorts, is that a genre at all dear to you, and some of your genre favourites? And how would you describe your take on the genre?
All my work involves a romantic element. The intimate relationships between people are at the heart of my stories; however, it is important that the themes surrounding these stories are multi-layered. I want to combine the romance genre with important issues and stories about people and their lives. It is important to shed light on how love helps us face difficulties and overcome the insurmountable in all areas of our lives.
(Other) sources of inspiration when writing The Gesture and the Word?
For as long as I can remember, I have been in love with France, the culture, the history, the cinema, the art… It inspired me to move to Paris in 2011. When I began writing the script, I was living there. The romantic and visually stunning city was a huge inspiration when writing The Gesture and the Word. Paris is a city where you can spend hours people watching. The initial idea for a postman came from seeing my local postman on his daily route. There are an endless amount of flower shops in Paris, as well. My friend Nico was a burlesque dancer who owns a flower cart, which became the foundation for the Eloïse character. French cinema has been a huge influence in how I approach my filmmaking, as well. I love the magic and intimacy that I find in some of my favorite French films. I find inspiration in art, fashion, and music, too. When creating lookbooks and storyboards, I pulled from a variety of sources. All of these factors were part of the creation of the story.
To what extent can you actually identify with The Gesture and the Word's Gilbert, or to put it another way, how much of you can we find in him?
This story is about a middle-aged man's coming of age. I love the idea of how we can - as human beings - constantly evolve. I feel that I am always growing as a person. Gilbert is a very sensitive person - which I am - and a quiet individual - which I'm not. He shares aspects of my personality. However, he is uniquely his own person. Someone who could be afraid of his own shadow. In a way, each character is coming into their own. As I have grown older, I have become more and more comfortable in my own skin. Gilbert is on a journey to be secure in himself. A journey that I have personally been on. Haven't we all? I think I can find myself in all my characters - not just Gilbert. Each characters is on their own journey of personal growth.
There are clips showing Eric the postcard writer all around the world - now where were they actually filmed and how was the authentic look achieved?
Thank goodness you think it looks authentic! It was important to me that we did our best in representing the places and their people. This is one of my favorite things about The Gesture and the Word. Eric's travels were shot in one Hollywood Hills location. The magic of movies! I found an amazing home that was able to be nine different locations around the World. We shot Spain and Portugal on the front patio; Turkey and Russia on the back patio; Japan on a balcony overlooking the backyard; Malaysia, India, and Morocco in the backyard; and China inside the house. (After we were able to film these locations, we then shot Gilbert's apartment inside, as well.) Our production designer Anna Loesby and our costume designer Matthew Peridis were instrumental in creating the look. I gave them references, so they had a clear idea of what I had in mind. My amazing cinematographer Matt Rodgers and I were able to frame their work in such a way that made the locations seem realistic. It was an incredible experience. A fun challenge.
What can you tell us about your overall directorial approach to your story at hand?
There are so many layers to directing. So many steps and stages. I enjoy creating look-books and visual references for my cast and crew. I draw my own storyboards, as well. I have a clear vision of how the story looks and feels and do my best to give my cast and crew a clear picture of what I am imagining. I work very closely with my cinematographer in creating the look and style of the film. I am hands-on, but also want those around me to have the freedom to bring something incredible to the table. If you're open to them, they can surprise you with wonderful gifts. For example, costume designer Matthew Peridis came up with the idea of having the color of Eloïse's dresses match the flowers she gave Gilbert. When working with actors, I ask them questions. I never want to tell them how to think or feel, but instead help them reach the emotion within themselves. That's how a character truly comes to life. When you have a cast and crew of this caliber, you need to trust their expertise and surround yourself with people that truly know their craft.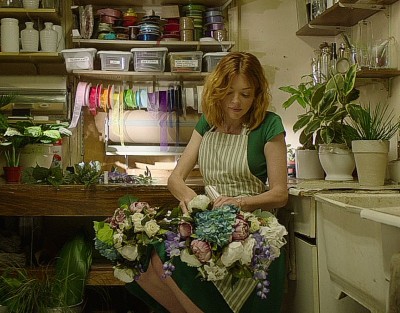 Do talk about The Gesture and the Word's cast, and why exactly these people?
I am beyond fortunate to have my cast. Most of them came to us through personal relationships. James Michael Tyler (Gilbert) has been a dear friend for many years and someone with whom I have always wanted to work. I knew he would be perfect for the character. My friend Bruce introduced me to Paul Dooley (Mr. Rostalle). It was an opportunity that I jumped at. He has played so many amazing father roles and was perfect as Gilbert's mentor. Nicole LaLiberté (Eloïse) is a friend of producer Andrea Fellers. She has an elegance, as well as a charm that fit the role of Eloïse. Nicole is stunningly beautiful, but she is also unique and approachable. I wanted to believe that Eloïse and Gilbert would have this connection. It was through a friend of my producer that we met Andrew Creer (Eric). Besides being one of the nicest people, he symbolized an ideal - handsome, intelligent, creative, adventurous, and gentle. Andrew was a great Eric, because he is all those things. French actress Roxane Mesquida (Aurore) was the only one with whom we did not have a personal connection. We sought her out. I dreamt of having a French actress in a film that was inspired by my time in Paris. When I found Roxane, I knew that she would be perfect. She is both incredibly strong, but also sweet. I wanted the relationship between Eric and Aurore to symbolize what we all strive for - a relationship built on trust and love. Again, an ideal. Roxane was perfect as that reflection of Eric. I asked my producer to reach out to her and the rest is on the screen.
A few words about the shoot as such, and the on-set atmosphere?
I realize that The Gesture and the Word was a huge undertaking. We had quite a few locations. Each location was dressed on the day with very early crew pre-calls in order to make this happen, which resulted in a very fast shooting schedule. Because I have worked several times with cinematographer Matt Rodgers and producer Andrea Fellers, we already had a shorthand that worked to our advantage. Having a strong relationship with your crew is important. I have also worked with several other crewmembers before: Costume designer Matthew Peridis, production designer Anna Loesby, makeup & hair artist Alexandra Graniello, on-set photographer Ryan Lawton, and composer Craig Richey. I also had the good fortune to work with three friends: choreographer Nathan Prevost, artist Caroline Ghani, and musician-songwriter-singer Printz Board. His song Till the End (with his band Parker Lane) played over the end credits. What I required from my cast and crew was not simple and I set the bar very high and we met it. There was an authenticity that I wanted to have in all aspects of the film, and the cast and crew did everything they could to make that happen. We all were driven towards the same goal. Everyone was invested. We had a six day shoot and it was an incredible experience. For me, I felt that my crewmembers had my back. I felt supported and was able to do my job freely.
The $64-question of course, where can The Gesture and the Word be seen?
Some upcoming festival dates are:
UK Motion Pictures Film Festival - festival runs: August 30 - online
Summer in the South Film Festival - Friday - September 4 @ 8 pm - Atlanta, Georgia
Imagine This Women's International Film Festival - festival runs: September 25-27th
The Soho London Independent Film Festival - festival runs: November 20-22nd
There will be updates and further postings of upcoming festivals on our Facebook and Instagram sites, too: https://www.instagram.com/gesturefilm/ and https://www.facebook.com/gesturefilm
Anything you can ell us about audience and critical reception of The Gesture and the Word?
We have had an incredible reception. I am beyond humbled at how many people love the film. So many people have said how happy the film makes them feel, especially during the global pandemic. I honestly wasn't sure how the film would be received, because it is a simple love story. I didn't know if it would catch the hearts of an audience; however, the feedback has been one of appreciation. I feel as if we have lifted the hearts and moods of so many people already and it is just the beginning.
Any future projects you'd like to share?
I have a few projects that I am working on! After seeing how people love the short film, I have decided to write a feature version of The Gesture and the Word. I am so excited, because I love these characters and the world they inhabit! Another project that is near and dear to me is The Time of the Wolves, which is inspired by my own experience during the 2015 Paris terror attacks. It was originally to be set in Paris, but I am now making Los Angeles the backdrop. However, I do not want to make a film about that 2015 night, but instead create a fictionalized story about the emotional trauma that people experience during an event of this kind, as well as the hope and love that grows between loved ones, friends, coworkers, and strangers. I am also developing a documentary series about my father, In the Shadow of the Storm, which follows his fleeing Latvia in 1944 and immigrating to America as a refugee. He became a US naval captain and diplomat and was the last naval attaché to the Soviet Union and the first to Russia after the 1991 coup d'état. In a perfect world, I would also create a narrative film that follows the cyclical nature of his personal, military, and diplomatic life and how my father's most important journey was his leaving Latvia for America and his return to his homeland in 1991. Lastly, while I was in Paris, I wrote a feature film, The Burden of Light, which I am also turning into a novel. It is about an American woman that inherits an apartment in Paris and learns the truth about why her great aunt immigrated to America before World War II. All four films have very different stories.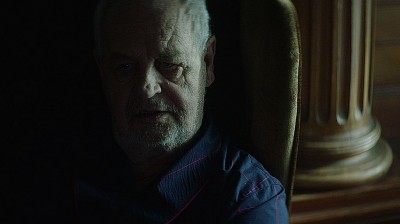 What got you into making movies in the first place, and did you receive any formal training on the subject?
I have been highly influenced by my family's involvement in the entertainment industry. My great-grandfather (Mark Hansen) came to Los Angeles with my grandmother (Helen) and their family in 1921. He was a movie theatre and nightclub owner. He was in the midst of Hollywood in the 20s-40s when he owned the Florentine Gardens and my grandmother Helen was attending the Pasadena Playhouse. As a child, my grandmother and mother (both cinema enthusiasts) would spend hours talking about the old movies with me. I grew up on Bette Davis, Katherine Hepburn, Vivian Leigh, Lawrence Olivier, Yul Brynner, Cary Grant, Jimmy Stewart… When sick from school, I'd watch the 3pm matinee on TV with my mother that always showed an old movie. I was schooled on the movies and stars of Old Hollywood. My grandfather Bill was a location manager in the Bay Area and later an independent documentary filmmaker and photographer. He influenced my interest in being behind the camera. My grandfather Jack, a larger than life personality, told me stories about the good ol' Hollywood days. Perhaps that added to how I romanticized this world at a young age. My mother had decided not to follow in our family footsteps and had never imagined being a part of the film industry. However, our closeness and our interest in film brought us together as business partners in 2007. After creating several projects together throughout the years, we have formed a partnership under Burden & Light, LLC, our production company. It was perhaps inevitable that our family history would bring us together in this way. Next year will be our family's 100 year anniversary in Hollywood. As far as education, I was very fortunate to have some guidance while I was in high school. My French teacher's wife was a screenwriter and would discuss the craft of screenwriting with me. I was given Syd Field's Screenplay at fourteen-years-old. I began my formal film education at Denison University in Ohio, but I decided to transfer to Emerson College, the communications school in Boston in 2000. While there, I worked as an intern and a director's assistant on documentaries from 2000-2002.
What can you tell us about your filmwork prior to The Gesture and the Word?
When I moved to Los Angeles in 2002, I started working as a production assistant on films like Seabiscuit, Anchorman, War of the Worlds, Elizabethtown, to name a few. This rite of passage taught me a great deal about what went into making a film. As I "paid my dues", I was given an all-access pass and learned about each and every department while honing my own skills as a PA and later non-union assistant director. In 2007, I directed the award-winning short film The Weight of It. What a learning experience. I went onto directing several spec commercials in 2010 in order to build my reel, but took a seven and a half year detour to Paris, France, where I concentrated on writing screenplays, directing the occasional commercial, lecturing for MBA students, and enjoying the influences of another culture. In 2018, I returned temporarily to Los Angeles to direct a several spec commercials (again in order to bolster my commercial reel). I did a #MeToo PSA - We Stand Together, which will be soon be traveling the festival circuit, as well. Life in LA surprisingly intrigued me once again and I permanently relocated back to California in 2019 in order to film The Gesture and the Word.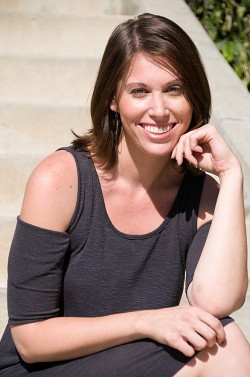 How would you describe yourself as a director?
I am a writer-director-producer. I love all aspects of filmmaking from the development stage to festivals and marketing. I am very hands on and enjoy my relationships with each department. I believe in collaboration and not dictatorship. It's important to surround yourself with people that are experts in their craft. You must trust your cast and crew. As a director, I am not the only creator on set. It is like having a paint palette with a variety of different colors. While I hold the palette, I recognize the importance of each person's contribution. The individual colors must come together to create a whole piece. However, it's important to be a strong and decisive leader in order to guide all these different talents into one final, cohesive film.
Filmmakers who inspired you?
Anthony Minghella, David Lean, Jane Campion, Wong Kar-Wai, Krzysztof Kieslowski, Zhang Yimou, Jean-Pierre Jeunet, Darren Aronofsky.
Your favourite movies?
The English Patient, Doctor Zhivago, Lawrence of Arabia, In the Mood for Love, Queen Margot, The Three Colors Trilogy: Blue, White, and Red, Raise the Red Lantern, Amélie, Atonement, Burnt by the Sun, The Piano, Chinatown, From Here to Eternity, Truly, Madly, Deeply.
... and of course, films you really deplore?
Horror. I'm a scaredy-cat.
Your/your movie's website, social media, whatever else?
Got a few sites that people might want to check out!
www.gesturefilm.com - currently being re-designed.
www.instagram.com/gesturefilm/
In the Shadow of the Storm:
www.facebook.com/intheshadowofthestorm
Helen Alexis Yonov:
www.instagram.com/abohemiangirl
vimeo.com/yonov - has my current work, including my reel.

Feeling lucky ?
Want to
search
any of my partnershops yourself
for more, better results ?

The links below
will take you
just there!!!


Anything else you're dying to mention and I have merely forgotten to ask?
I was fortunate enough as a child to grow up overseas in Kuala Lumpur, Malaysia (1984-86) and Moscow, USSR/Russia (1990-1992) when my father was the US naval attaché at the American Embassies. These experiences have undoubtably influenced my life and created a love for travel, for different cultures, and for their art, music, and film. I feel that this part of my life has influenced my filmmaking and storytelling, because I'm constantly looking to create stories that incorporate the world and the different people within it.
Thanks for the interview!