Your new movie Outburst - in a few words, what is it about?
"In a World on the verge of collapse, a young girl must use her survival instincts to survive the destructive epidemic that suddenly breaks out and ravages her once safe childhood home.
Pustule infected creatures of pure horror, wrought from the deepest depths of hell, stand in line to make life miserable for "The Girl with No Name".
But they have disturbed the wrong girl."
Outburst is a 40 minutes roller-coaster ride with no dialogue except from a voiceover here and there. We let the blood and the gore do the talking. The film is not sponsored by any others but ourselves, and all the 100 people in the cast and crew are doing it because they believed in the project.
Outburst is more than a little reminiscent of zombie and post-apocalypse movies from the late 1970s and early 80s - so what do you find so appealing about these movies, and some of your genre favourites?
Outburst is a tribute to genre films from the 70s and the 80s, especially Italian horror films and spaghetti westerns and post apocalypse films. I love these films from that period, because they were so full of "life" and imagination. Of course, they were made to make money, but there were also made because the cast and crew loved to play with the film media, and because they simply loved films in general. Zombie movies from that period where all filmed on a low budget, so the directors and producers were forced to think creative, and I like when you can see creativity in films, a thing almost every big blockbuster lacks today. My favorite directors who always inspire me are Ruggero Deodato [Ruggero Deodato bio - click here], Lars Von Trier, Mario Bava [Mario Bava bio - click here], Paul Verhoven, John Carpenter, Peter Jackson, Sam Raimi, George Romero, Tobe Hooper, Jack Hill, Stuart Gordon, Jess Franco, Sergio Martino, Umberto Lenzi [Umberto Lenzi bio - click here], and the great Jean Rollin.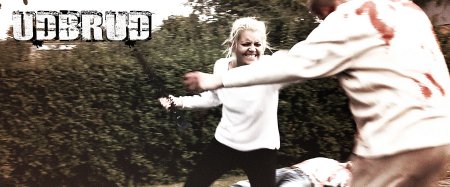 Other sources of inspiration when dreaming up Outburst?
Many different things inspired Outburst, and many films from around the world. I have been working as a special effects man on many low budget pictures in Denmark for the last 10 years, but I have not helped on a film where you could use as much blood as you liked. The directors always say: "Henrik this one is going to be wild, blood everywhere" But when we stand on the set, most of them back down on the blood thing. With Outburst, we used over 100 liters of blood, and I have not seen any other Danish low budget picture using so much of the red stuff. We were going all the way; because this time I was the director, and I did not back down on the set. Therefore, in a funny way all the directors I have worked with who are a little bit afraid of the red stuff have also inspired me.
What canyou tell us about your writing and producing partner Kim Hermansen, and what was your collaboration like - and how did the two of you first meet even?
Kim Hermansen and I have studied together. We are both social workers, and work with children and young people. We met when we were getting our education and have been friends since. One day I called Kim and asked him if he would like to make some film with me again, and the rest is history. Kim Hermansen is a very skilled underwater camera operator, and this is his first big project as a cinematographer for a film. He has done a excellent job on Outburst.
For all the gorehounds in our audience, you of course have to talk about the gore effects in Outburst for a bit, and how were they achieved?
With my company Amos-FX I just do practical effects, with latex, silicone and film blood. Therefore, we decided that most of the gore effects in Outburst should be done in the old-fashioned way, like in the old horror movies. So I made hundreds of boils, over 400 hundred exactly. They were molded and cast in latex, and painted before the shoot, so they were easy to glue on the actors on the set. I also made a lot of intestines, and gunshot wounds, and a fake penis, for the climax of the film. Then Andreas Krag from Feature Creep joined the project as the editor. He is also a very talented compositor, and he suggested that we should use a small amount of computer made effects. The computer effects in Outburst complemented the practical effect nicely and never take over. Our goal was that you can never tell if it is a computer made effect or a real practical effect done live on set.
How would you describe the film's overall look and feel!
It is not a film with a big message and a deeper meaning. This is entertainment, and I hope that, when you watch the film, you can see that we were having fun doing it. It is fast-paced, rock and roll film making. Not for everybody of course, but if you relax and give yourself over to the humor and the action, we hope you will not be bored. The film's composer Flemming Berg has made a great soundtrack that is a tribute to the soundtracks of John Carpenter, Claudio Simonetti, Ennio Morricone and the italien band Goblin [Goblin profile - click here], who are best known for their work on Dawn of the Dead and Dario Argento's many films - synthesizer scores that we love so much. Flemming Berg has also done an amazing score that is inspired by Brian May's score for Mad Max. Therefore, the music in Outburst also has great meaning to the whole picture. It is, all in all, good old fun , from the good old times.
What can you tell us about your key cast, and why exactly these people?
Our leading lady Anne Stenholt, who plays The Girl with No Name, is a very talented actress, who I have worked with before. Every time we worked together, Anne always ended up being covered in blood. We talked about shooting a film together, and when I wrote Outburst, I had her in mind as The Girl with No Name. Luckily Anne said yes when I asked her, and she was doing an amazing job every day on set. All the other actors are old and new friends who all worked very hard to bring all my crazy ideas to life. I owe them all my deepest respect.
Do talk about the shoot as such, and the on-set atmosphere?
We were shooting 5 days with Anne Stenholt, and then 3 days with pickup shots, green screen shots and stop motion. We were very effective and focused, but we were laughing all the way, because we love what we are doing, so even when we were in a hurry the atmosphere on the set were calm and good.
A few words about audience and critical reception of your movie?
We were making this movie because we love films. In a way, it is a very personal film, and I am very surprised that so many people around the world like it too. We held the gala premiere In Denmark and filled a cinema with 300 seats. That is not normal for a no-budget independent horror film like this. Therefore, I 'm very excited to see what it all leads to.
The $64-question of course - where can one get your movie from?
At the moment you can buy it from small stores in Denmark, but if you want to buy a copy you can email me at broderbyld@yahoo.dk and I will send the region free DVD with English subtitles and a lot of extras all over the world.
Any future projects you'd like to share?
I'm at the moment writing a manuscript for our new film. I cannot reveal the title at the moment, but it is a story about revenge, childhood, and of course it contains a shit load of blood and gore.
As far as I know, your main claim to fame is being a special effects artist - so how did you learn that craft, what are your strengths, and how do you approach special effects as such, and what can you tell us about your company Amos-FX?
Amos-FX is a small hobby FX company. I do workshops and hold seminars for people who like to be introduced to the world of special effects. Amos-FX have worked on films, theater, and TV commercials. I like to show people that with a small amount of material (latex, cotton and toilet paper) you can do amazing things.
In 2006, you directed the zombie movie Codename: Yin/Yang - so what can you tell us about that one?
Codename: Yin/Yang was made with the same love for movies as Outburst. Codename: Yin/Yang is kick-ass no budget entertainment that will blow you away. Featuring frothing zombies, tons of blood and glistening babes with heavy guns. The fate of the Danish nation lies on the edge of a razor-sharp katana, and down the barrels of a high-powered assault rifle. It was co-directed with my old friend Bo Mørck Penstoft, who also have a small role in Outburst. I think you can find it for sale around the world if you google it, and I know that the cult magazine Is it UNCUT ran a smashing review of it in issue 22. I'm very proud of Codename: Yin/Yang, it was in a strange way many years ahead of its time.
Directors, special effects artists, whoever else who inspire you?
Because I like the horror genre, I like of course Sam Raimi and Bruce Campbell and what they did on the three films about my all-time favorite hero, Ash (next to Indiana Jones and Han Solo). I am also a big fan of Peter Jackson before he rode off to Middelearth. His films Braindead and Bad Taste keep inspiring me. They are so bloody well made and funny. Special effect guru Tom Savini has always inspired me; he is a true master and has inspired so many over the years. But many other films, actors and directors have also inspired me to do Outburst. One scene in the film is a tribute to Mad Max 2: The Road Warrior (I have seen that film hundreds of times, and I'm still surprised how god it is every time I see it), and in the same scene there is a hint to the Swedish exploitation classic Thriller, starring the legendary and beautiful Christina Lindberg [Christina Lindberg bio - click here]. And the shootout at the climax in Outburst is inspired by the violence in the films of the great Paul Verhoeven, who always delivers the red stuff in plenty amounts.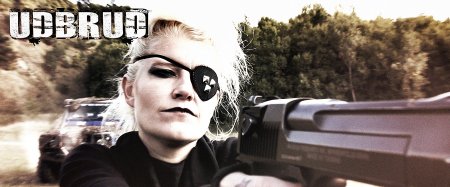 Your favourite movies?
I like Raiders of the Lost Ark a lot, and the Star Wars universe. I like A Clockwork Orange and all the films of Stanley Kubrick. Lars Von Trier is a true master, and his films always make me cry, because they are so horribly good. In the horror genre I like Texas Chainsaw Massacre 1 and 2, Evil Dead, all the magic zombie films made by the true zombie master Lucio Fulci [Lucio Fulci bio - click here], and I like the power in Dario Argento's Suspiria, Opera, Deep Red and Phenomena. I also like the films of Troma. I like The Rocky Horror Picture Show, The Last Boy Scout, The Goonies and Jaws, and Taxi Driver and Woody's Manhattan … I could go on and on, the list is endless, so I think I will stop by telling how much I love films like Bronx Warriors, Turkey Shoot, Blastfighter, From Beyond, Ichi The Killer, Nekromantik 1 and 2, Re-Animator, Night, Dawn and Day of the Dead and all the great films of Mario Bava [Mario Bava bio - click here].
... and of course, films you really deplore?
I do not like big budget Hollywood films with fancy young actors with no creativity and fantasy, and I do not like all the remakes of all the good old horror movies, it is a waste of time and money.
Your/your movie's website, Facebook whatever else?

Feeling lucky ?
Want to
search
any of my partnershops yourself
for more, better results ?

The links below
will take you
just there!!!

Find Henrik Andersen
at the amazons ...

amazon.com

amazon.co.uk

amazon.de
Looking for imports ?
Find Henrik Andersen here ...
Something naughty ?
(Must be over 18 to go there !)

You can follow Outburst on the Facebook page "Udbrud" (the original Danish title) and you can also follow my work on Facebook via "Amos-FX".
Anything else you are trying to mention and I have merely forgotten to ask?
Nobody but ourselves sponsored Outburst, and it was filmed on very low budget cameras. A Canon 600D is a fine camera, but not the best out there.
We hope with Outburst we can inspire people around the world to pick up what they got and go out there and make movies … have fun with it, and just follow your crazy ideas - just do it! We hope that when you see Outburst you will think "wowm these guys had some fun doing it! - and we hope that you can see that we really love films!
Thanks for the interview!
Thank you for the interest in our small Danish Outburst.