Your new movie Dyscrasia - in a few words, what is it about?
Specifically, itís a about a young woman who survives a ruthless attack in an alley. It takes a microscopic view of what can happen when one is faced with extreme adversity. The film explores the macabre nature of the human heart in opposition to life in its purest sense. Itís about things out of balance and what it may take to restore that balance.
Dyscrasia glimpses into the fight or flight mechanism, focusing on the sinews that make up the aftermath of a choice. It unpacks the decision itself, focusing on the Ďwhat comes nextí and the consequences that come with that, the additional choices required that often arenít considered.
You just have to talk about your movie's villain, the Plague Doctor, for a bit, and what inspired you to create a character like him? And what drew you to the plague doctor appearance in the first place?
I came aboard the project when a different story was present. There was a Plague Doctor and there was a Woman - an apprentice to his murder madness spree of sorts. Upon agreeing to climb aboard, I reworked the script to what we see now. I donít think Iíd have approached the concept we wound up tackling with a Plague Doctor character in mind. Thanks go to Mr. Webster, the cinematographer, for planting that image in the initial draft.
That said, there was a certain element of darkness in those early pages that led me to the story that Dyscrasia transformed into. Something about the innocence of the apprentice, the being misled by her pseudo-master, the Plague Doctor. I wanted to enhance that darkness and give it something to grasp onto - something beyond shock and blood. I found myself asking about the moment before, over and over - wondering how they met, whatís with this world, etc. All those questions steered me toward a different realm, which became the one we see in the film now. It transformed into something more brutal, more personal.
Itís a story that works on the audience in a backward, sneaky sort of way. Itís one of those that, once you see everything that leads up to the final image, gains a significant weight, a particular, I hope, marrow-chilling jolt. I wanted to creep that up on people. The evil that is the Plague Doctor, what constitutes his ultimate goal so to say, tends to behave this way. Being shown the kindness of an offered rose, only to have that trust stripped away, creates something worse than simply never having been offered the rose in the first place. I think itís a story any individual can relate to
(Other) sources of inspiration when writing Dyscrasia?
Failure. Being caught unawares. Being perceived as purely what others assume you to be. Life does that to you if you arenít looking out for it. I think, with Dyscrasia, I wanted to touch on what one person can do - despite odds. It didnít matter much to me who this person/character was once I cracked the story I wanted to tell. It just so happened it was Sia that would be driving the narrative.
Knowing it was Sia, however, aided in creating the specifics to the story. As wholly unfortunate as her tale would become, it was incredibly captivating to explore it and, ultimately, to see it realized.
Dyscrasia is quite visceral at times - so do talk about the bloody bits in your movie for a bit? And how important is gore for your style of filmmaking?
This is something Iíve put a great deal of thought into over the years. For my style, gore was really just a by-product. Gore is just icky innards, stuff, residue. We all have those bits. We all know what they look like. Itís not necessarily important to me because itís not the story.
The advantage of showing those bits and pieces is in demonstrating a truth to the audience. Itís a ďseeing is believingĒ moment; a handshake with the audience that says: Yes, this is happening. Gore typically signifies a moment of no turning back. Itís especially effective when thereís a character we love and we see them get all cut up or wounded. Itís their mortality leaking out up on that screen, the same as if they were bawling their eyes out. And we can empathize with that.
If gore is in horror (or any genre) itís not really the horror of the moment to me - but I might just have an odd perspective on blood and gore. To me, horror is just a day when things go to shit and we notice. A typical day can easily take a macabre turn, and often does, but we just donít focus on it. Pass some roadkill and itís just a part of our day. Nosebleed? Dab it. Relative die? So will you. Tired? Go to bed because youíve got tomorrow to mess with, and if a monsterís arm reaches out from under the bed and takes hold of your ankle when youíre climbing in - tough luck. Go ahead and scream - but know that it's not the arm thatís actually the scary thing... itís the fact that it was there all along and could have, at any point, grabbed you. How many other arms in other places are there? And maybe more so, what is it gonna do now that it has you?
Movies explore our inner workings, be it romance, drama, western... itís always about who we are at our core. Top onto that the fact that weíre all just walking sacks of gore, both physically and emotionally. So... if some spills out along the way, to me, itís just an expected outcome, as we already knew what was inside. We know thereís tears from crying the same as we know an ax draws blood. Itís the how these things spill out, the why, and the what comes after, as a result, that interests me.
You show it if it enhances the story, if itís truth. Like smiling and crying, gore happens. Itís not something I seek to insert into story -- but it keeps happening in what I find myself writing. So, it seems, the truth that gore provides interests me greatly.
Do talk about Dyscrasia's overall approach to horror!
For Dyscrasia, the goal was to slow things down. I wanted the audience to be sucked in, then wonder how they got there. I wanted them to come to an understanding along with Sia. I felt this would strengthen her plight, invoke audience empathy.
This is not a usual story, at least not in how we ultimately aimed to tackle it. Knowing that the content would venture toward horror, but understanding the value of the story, we took a hard look at how weíd implement the more gruesome aspects so as to not bury the story behind a bloody screen. I wanted to slowly introduce the environment and the goings on and strike a balance between overt and subtle in hopes to keep the audience engaged and asking questions. In essence, the goal was: show everything, explain as little as possible so that Siaís every movement became crucial to understanding the story. That, while dancing the Plague Doctor about in a somewhat excessive manner. This was to showcase his cruelty and self-obsessed glorification, as well as his fragility.
It could have been a much more straight forward story, but I didnít feel that would do much justice to Siaís experience.
Much of Dyscrasia was filmed in a single room - so how limiting and maybe also liberating was this for you as a filmmaker, and what did you do to keep things interesting?
Liberating. It was very liberating. Iíve always been a fan of minimal location, if not single room films. Things in the vein of Clue, Arsenic and Old Lace, Rear Window, Deathtrap, stuff like that. Most of us spend a great deal of time in the same space, over and over again. Thereís something to that familiarity that is both comforting and terrifying at once in that, if something were to invade that familiarity, youíd assume youíd be fine since you know the lay of the land - but what if youíre not? What if youíre caught off guard? Your sanctuary suddenly has weak walls and nobody can ever truly be ready for that.
The location, Thornhaven Manor in New Castle, Indiana, was perfect. It was beautiful in its decay, so there wasnít too much by way of keeping things interesting that the camera didnít simply soak in naturally. That said, hours (and days) of discussion went into the shots we selected, in how the characters would move about the space. We wanted to stray from insert shots showing off the location. We wanted to let the audience explore the space along with Sia, watch as the Plague Doctor moves about it, and ultimately succumb to the feeling of confinement Sia is experiencing.
What can you tell us about your overall directorial approach to your story at hand?
A 3-second film is how I described it in the early stages. Not that it was ever aimed to actually be that short, it was just how I described the somewhat hair-brained script I came out waving around. While what I wound up describing is, in essence, just three-act structure talk, that was not the intention of the 3-second film phrase I kept repeating, almost to the level of mantra.
Broken down, it went like this: Her initial confrontation was deemed Second 1 and the reveal at the end was Second 3. The middle, and longest chunk, was of course Second 2.
Second 2 is all about Sia making discoveries. It is her journey into fight vs. flight, and the confusion she suffers along the way. Working with Bridget Murray, the actress, we discussed how her character needed to, by virtually doing nothing, do everything at the same time. She is to be seen as uncertain of her surrounding, of taking it all in and realizing the horror surrounding her, confining her. But it had to be in something of a slow-mo, as this Second 2 is not actually happening. This is not reality. We donít really get a look, for the most part, of the Second 2 reality. We relied on implication and Bridgetís performance to drive this portion of the story.
Ultimately, as Second 2 unfolds, it becomes itís own mini-movie in a way. We see her change from almost a catatonic state to a person not only in control, but blurring the line between good vs. evil, in its most intentionally basic of terms.
Thereís something in that Second 2 that resonates with us all. Fear of being ignored; used; controlled. Those precise emotions tend to make us act. Little fires brew within us and scream and scream, until we release them - or they release themselves. My goal was to stoke those fires as realistically (in an unrealistic environment) as possible so when Second 3 finally unleashes, what we see from Sia is not only vindicated, but as closely felt by the audience as possible. Itís a story about what happens when opposing instincts clash.
Do talk about your key cast, and why exactly these people?
The primary cast was in place by the time I arrived to the project.
In a grand sense, Bridget Murray (Sia) carried a positive energy with her to set that really helped the crew feel a bit better about all the torment we would have to put her through. There are at least two moments where she found herself covered head to toe in blood and, whatís best summed up as, lamp liquid. She seemed rather excited about both. But maybe she was just acting. I think she also drove home once covered in that blood.
Working with her on creating Siaís character was in many ways a breeze. She was quick to ask questions and deliver immediately on any direction given. She was also extraordinarily confident in some choices she wanted to make. Those were by far some of my favorite moments working with her as I was able to somewhat act more as an audience member on set.
Taylor Watkins and I spent a great amount of time rehearsing the physicality of the Plague Doctor. We actually did this in the nearby basement of a friend - a location that somewhat rivaled the Thornhaven place by means of eeriness.
Specifically, concerning what Taylor had to endure on the project is difficult to quantify. There were hours behind that mask, one that fit almost just right, and eventually caused some headaches. He had to, essentially, live most of each shoot in a costume that was half blood, half cloth. He stuck to things and himself. Itís kinda similar to what Iíve read happened to Bruce Campbell during portions of the Evil Dead shoots.
Like Bridget, Taylor was a driving force behind the entire project. Cast and crew morale was nearly always boosted by his presence. He was also our production designer, which was truly fascinating since this allowed him to help create the environment his monster existed within.
Both were tremendous to work with. And for one of them, it was a good thing the mask was the type it was, otherwise it may not have been able to fit around his nose.
Of the voice actors, Sean Orlosky, Beau Thompson, and Barry McMullen all performed something unique with their individual humors (humoral medicine) over the course of several long hours in the booth. What Matt Cutshaw (sound designer and producer) asked from them was far from simple - but each managed to provide us with a great deal of directions to choose from.
A few words about the shoot as such, and the on-set atmosphere?
All and all, it was about seven shooting days. Maybe eight. It was a good kinda pressure throughout.
The cinematographer, Webster, was extraordinarily sick the first few days. I think he had a trash bag worth of prescription pills to keep him going, and it was someoneís job to remind him every now and then to take those pills. His voice was cracking, and he had a terrible fever, but he never once let this slow him down. Iíd say he actually used it in a positive light, somewhat making fun of how horrible he was feeling, as well as how ridiculous his voice was beginning to sound. It made our long hours easier to endure knowing what he must be going through. I remember how impressive he was in front of the crew. They responded very well to his leadership throughout his sickness. Thereís one thing in particular about working with Webster, and thatís his ability to steer through adversity. There were times, like any set, when it seemed the deck was stacked against us, but he found a way to power through.
Nicole Lehrman (1st AC) was instrumental in the projectís success. There was a moment when a massive rearrangement of the dayís schedule became paramount. Working against the clock, and during a time when we should have been sleeping to prepare for the next day, she and I found a path forward. It will be a scenario Iíll never forget, and forever be grateful for.
I really canít speak highly enough for the crew. There was a massive set piece that needed to be built, two of these actually, and the amount of labor involved was simply nuts. Crew members (of particular note: Garrett Finn, Emily Fischer, Ryan Dietrich, and Shawn Weyerbacher) offered their time between shoots to help construct these and maintained a level of excitement throughout. There was a pervasive feeling that we were all on something that was gonna work - and that kinda magic is rare.
And Iíd better point out Abigail Urbik (producer) as well. Her dedication, patience, hard work, and threats (at me) were responsible for keeping us all going. There wouldnít be a film without her efforts.
The $64-question of course, where can your movie be seen?
Nowhere! At least not for most of the rest of this year (2018). Itís in festivals still. However, if you were to follow Pale Moonlight Cinemaís Facebook and Instagram, youíll hear about the release. Vimeo, YouTube, and maybe elsewhere.
Anything you can tell us about audience and critical reception of Dyscrasia yet?
Itís been positively received in festivals that select it. In some viewings, we get to hear gasps and awws, and even some well-placed shouts from audience members encouraging characters to act in certain self-preservation ways. That part, is very cool.
Any future projects you'd like to share?
Several actually. Pale Moonlight Cinema has another film currently running around the festival circuit. This one, Hinterland, is written and directed by Nicole Lehrman.
Another one is in post and should hop into festivals come Spring. This one is Tryst, written and directed by myself, and starring Mia Dietrich, Sean Orlosky, and Nate Shumate, along with Erin Oechsel and Adrian Blackwell.
Beyond that, we are finding time to create several micro-shorts. These will be up on YouTube in the coming months. Expect some particularly offbeat dark comedy and horror!
What got you into making movies in the first place, and did you receive any formal training on the subject?
Iíve had a handful of solid teachers in my life. Iíd say that Michael Daehn, an acting instructor at Ball State University, was instrumental in my understanding of working with actors. He possesses an acute awareness to the human soul as well as a kindness with his time that is rare to find.
Additionally, thereís Wes Gehring, an instructor of Film History and author of well over thirty books. I actually wrote a piece on horror in his class years ago and he remarked very positively on it. This came at a time when some encouragement was almost more than required for me. I may not have continued on this path, had it not been for him. He remains extraordinary and typically always has an eye on my work at some stage or another.
But, what got me into movies in the first place is likely some odd combination of my mother and her father. With my mom, it was her relentless showing of horror movies and the way she laughed and squirmed while watching them - my step-dad, Brent (or B) is perhaps just as guilty because he scared the hell out of me with Carpenterís The Thing and his affinity for dressing up as Freddy Krueger and telling me heíd Ďsee me in hellí.
With my motherís father, Papaw, it was maybe a little more direct. Heís a massive movie aficionado with well over... maybe ten-thousand films? His house, growing up, was better than the rental places (as much as I miss them). There were walls of movies to choose from, towering over me. Staggering. It remains to this day one of my fondest memories.
My father, Iíd like to add, had an interesting affect. The movies he showed me, namely The Terminator, had a very realistic grittiness to them. I think I was very lucky for my childhoodís unintentional film-school for providing me with a uniquely well-rounded knowledge and exposure to films. That and all the G.I. Joes I had that I used to recreate and ultimately play out my own little stories. Someone always fell into a vat of something and came out all wrong.
What can you tell us about your filmwork prior to Dyscrasia?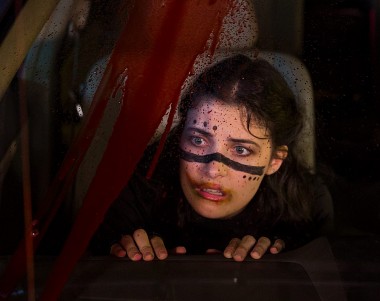 Tryst
Writing primarily. I had been on various projects, but writing was the everyday. I think I spent a handful of years as a madman with the craft. By drowning in it nearly every single day, something clicked. For anyone looking to write I canít recommend highly enough the madman approach. Spend every moment of every day writing and after a while youíll come out the other side surprised by what your hands can scribble out. Just donít forget sunlight, friends, and family.
How would you describe yourself as a director?
Specifically, I wouldnít. I donít think I can do that. But I can talk about my approach to the stories I want to tell.
I stray from anything Iíve seen. Or at least try to re-invent if Iím encroaching on familiar territory. I hear, quite often, Ďartistsí are to steal. Iíve never agreed with that sentiment, as itís inherently lazy, but I get it. Itís not exactly easy to show audiences something theyíve not seen already. But thatís not discouraging. Itís a good challenge that lends itself toward increasingly creative stories.
I guess, the spin on the whole Ďstealí thing to me is better summarized by, I think itís Bruce Lee to have said this, ďAdapt what is useful, reject what is useless, and add what is specifically your own.Ē I think this is a much more reasonable and respectful approach.
Filmmakers who inspire you?
Stallone, Shane Black, John Carpenter, Mel Gibson, Sami Raimi. And Iíll think of more later and shake my fists for leaving them out.
Your favourite movies?
Edge of Darkness (2010), Ghostbusters (1984), Raimiís Evil Dead films, Indiana Jones movies, Jaws, Clue, Carpenterís The Thing, Kiss Kiss Bang Bang, Halloween (1978), Robocop (1987), The Terminator (1984), Arsenic and Old Lace, Who Framed Roger Rabbit?, Dr. Strangelove or: How I Learned to Stop Worrying and Love the Bomb - and maybe about 100 others.
... and of course, films you really deplore?

Feeling lucky ?
Want to
search
any of my partnershops yourself
for more, better results ?

The links below
will take you
just there!!!


Anything overtly commercial. Popcorn movies are fun and always will be and always should be. Cinema is not responsible for generating or providing art/culture type films. However, I donít want those to go away and I donít want attention spans to overlook what authentic focus can provide and ultimately reward.
Your/your movie's website, Facebook, whatever else?
Facebook: https://www.facebook.com/PaleMoonlightCinema
Instagram: @palemoonlightcinema
Our website for Pale Moonlight Cinema is under construction, but should be up and running come Spring sometime.
Anything else you're dying to mention and I have merely forgotten to ask?
Just a sincere thanks to you for noticing our film, taking the time to write your review of it, and going so far as to offer this interview.
Thanks for the interview!
Dyscrasia bts-photos by Sadie Lebo