Your new movie DisAssociationVille - in a few words, what is it about?
It's about a guy, Chris, who's personal life is falling apart. Fresh off the finalization of his divorce, he finds out his mother died. He's not been home in over seven years, so he goes home to face the people he left behind. As he navigates the tricky reunions with his dad, brother, his former girlfriend and best friend, we learn of why he left. The movie is really an examination on the effects of emotional stress and abuse and the real role that family plays in life. It's about unfulfilled expectations and the difference between fake and real and the difference between choosing to leave an unhealthy situation versus running away.
As far as I know, DisAssociationVille is partly based on your personal experiences - care to elaborate, and to what extent do you actually find yourself in Chris?
That's tricky. There is always a great deal of ME in the characters I write about. Points of view, that sort of thing. And yeah, the movie is peppered with experiences that I had, at least the way I saw them. That's something I really played with. There is almost a lack of definition to the actual answer to the main question of the film, because it is different for everyone. So I wanted to make sure we played up Chris' perception of the past. We cast actors in the flashbacks to fill that view point. Everyone is bigger than he is: taller, more imposing. Just to help drive the angst he might feel from having felt smaller than everyone around him. That is definitely something I brought from my own memory: that feeling of not being as good looking or as cool as the people I was around growing up.
Other sources of inspiration when writing DisAssociationVille?
I am fascinated with small town life. I mean, I grew up in Houston, Texas which is a huge city. So this almost romantic view of small towns intrigues me. Always had. I used to go to Bremond, TX with my cousins and my girlfriend in High School and I loved it. That close feeling you had being there. But I know that it can also feel closed in. And there is almost a sense of betrayal when someone decides to leave. So I wanted to kind of explore that. Members of the crew were from small towns so I had some insight. It was fun to play in that venue. But rest assured, it's not Hope Floats or Garden State.
DisAssociationVille is a rather big departure from your usual output - so how did that resonate in both your narrative and your directorial effort?
Honestly, it's coming home for me. These are the types of films that I started out making, and I wanted to get back to more character driven films with some heart. We try to keep that in all of our movies, but I really wanted to dive in for this movie and our new one, The Last Beautiful Girl. We'd done Abram's Hand and the Quad X-movies. 3 References is a raunchy rom com that has played over 20 festivals and still rocking the circuit, but it's still not what I like to do the most. So for the next two, I just wanted to really dive into the storytelling style that I think fits me best.
What can you tell us about the look and feel of DisAssociationVille?
Cinematographer Chris Copple and I really wanted to feel West Texas. So we wanted to shoot the movie in a lot of wides and then closeup. Love the way he shot the movie. We knew we'd have a lot of flashbacks and we wanted to separate them without being too jarring, so we went with just a slightly different look.
Do talk about your main cast, and why exactly these people?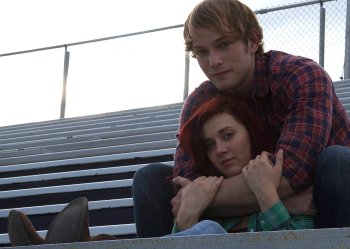 Derek Babb, Terissa Kelton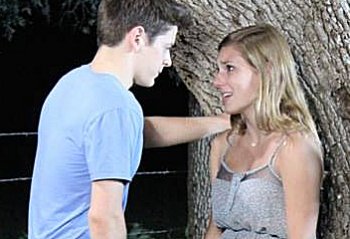 Reece Everett Ryan, Leslie Solcher
How good are these guys? It was honor just to watch them work. Derek Babb has the most screentime of just about any character we've used. And working with him was great. He really brought so much honesty to the part. He felt this real burden of playing "me" in a way, and I think he really took it to heart. There is a scene at the emotional breaking point of the movie where the tension and sadness was palpable on set. One of those moments where a usually jocular crew was all very reserved during the shoot. Reece Everett Ryan played his younger version and just did a fantastic job bringing some real angst and a little bit of smartass to the part that we needed. It's always great to work with new actors, and Leslie Solcher as the world's most undumpable girl was great. She has a tremendous look for the camera and really open emotionally to what the part needed. We actually rewrote the end of the movie to feature her, and I think it worked. We brought back our regulars too. Marc Wasserman, in a career that spans decades, did his best job of acting in anything he's done, both with us or outside in the indie world. He captures the two faced, good time Charlie that gets called on his shit in such a way that you feel bad for him. There is so many cast members that we loved. Sarah England. Sydney Clark. Rob Novak. Allison Wood and Allison Gregory both play "Aunt Karen". Such a big cast. Can't name them all. The biggest, most pleasant surprise was Mike Donis. All the way from Toronto to play a rodeo rider long since too beat up to keep riding. I'd be remiss if I didn't mention Terissa Kelton [Terissa Kelton interview - click here]. She has the hardest part in the film. So much of the story is told in her reactions as the one person who understands Chris and has so much to be angry about, but yet she holds it down long enough for him to figure things out first. It's a great cast, man. So great.
You of course have to talk about your seemingly very authentic locations, and what was it like shooting there?
Producers Elizabeth and Bill Kring live in Sabinal, TX which is about 90 minutes west of San Antonio. And it was perfect. They opened up their homes and town to us in a way that we'd never see before. We can't thank the good folks of the town enough. It added so much production value to our little micro budget movie. Javier Flores and the people on the Chamber of Commerce got the word out, helped us crew up and really just let us melt into the fabric of the town. We shot at the street dance, at some great local stores like RUSTIC CHARM and my favorite spot, the rodeo arena. Sabinal is a character in the film and I don't think we could have made the same movie anywhere else.
What can you tell us about the shoot as such, and the on-set atmosphere?
Maybe the most fun we'd had. it was a great combination of old Twitchy crew like Brendan Johnson and Aaron Gaudin and some great new parts of the family like Emily Heifner and Joshua Gonzales. It was fun. Road tripping to Sabinal was a blast, despite the flat tire and the broken bathtub. Yes. A member of our crew was in an old claw footed bathtub and not one... but two of the legs broke off. When she told me about it, all I could say was "welcome to Twitchy" and hugged her. I'm not sure the experience of that set and that group of people can be topped.
The $64-question of course, when and where will the film be released onto the general public?
Well, we're about 2 weeks from closing the book on it. We're hoping for the Austin Film Festival in 2015. And once we have a premiere, we'll set a screening in Sabinal for the town to come out and see it.
Any future projects you'd like to share?

Feeling lucky ?
Want to
search
any of my partnershops yourself
for more, better results ?

The links below
will take you
just there!!!

Find James Christopher
at the amazons ...

amazon.com

amazon.co.uk

amazon.de
Looking for imports ?
Find James Christopher here ...
Something naughty ?
(Must be over 18 to go there !)

Well, you know us. We're always working! We're about a month from starting The Last Beautiful Girl. Still raising money for it, if you want to help! http://igg.me/at/lastbeautifulgirl/x/25936
Your/your movie's website, Facebook, whatever else?
https://www.facebook.com/pages/DisAssociationVille/
246543748836335
Anything else you are dying to mention and I have merely forgotten to ask?
Thanks for the support! And thanks for reading. You can follow us on Twitter for the most up to date Twitchy news - @twitchydolphin
Thanks for the interview!