Your new movie Friends Don't Let Friends - in a few words, what is it about?
Friends Don't Let Friends is a psychological horror story about one of the most base fears. That fear that your friends aren't really your friends. It follows a group of friends who come together to cover up a murder. That cover up being the catalyst for each person turning on the other.
Which of the characters of Friends Don't Let Friends did you identify with the most, actually, and why?
It's gonna sound pretty twisted, but I identify with all of the characters. I've been the doting guy in the friend zone. The aggressive hot head who pushes things too far. The couple who are just there because of obligation, and most importantly, the guy trying to get out of a bad relationship. Each of the characters represents different parts of my growth in some ways. The things you let people get away with when you're 18 is different from what you'll put up with at 28 and each of these characters represents that in some way. For me, bringing them all together and having them battle it out was really important for me as a storyteller.
Is Friends Don't Let Friends in any ways based on personal experiences with exes and "friends" (apart from murdering your partner I hope)?
In some ways the characters were a cathartic release. The things each of them represented in my own psyche were things I saw as weaknesses in my younger years. I'm still bonded to the friends I've had since high school and some of them actually became producers on the film because they saw just how crazy this film could be and many of the situations in the film were things we all joked about for years. (We never murdered anyone though, I swear.)
(Other) sources of inspiration when writing Friends Don't Let Friends?
When I was fresh out of high school I took a job working for a residential facility that helped people with mental disabilities. I spent 6 years there working as a behavioral coordinator and building behavioral programs to help the clients normalize into daily life. Things like creating program rituals to help autistic adults do things like brush their teeth each day or take out the trash, things we take for granted but actually give these individuals more control over their daily lives. Working in that community and focusing on programming I learned a lot about motivations. About trying to find ways of letting things progress naturally in the direction that was right for each individual. I feel like I approached directing some of the scenes this way too.
Do talk about your movie's approach to horror for a bit!
I feel like no matter what I say here I'll think it's pretentious later. I knew my first film was going to be low budget and had to be done with the equipment I had in my possession but I also wanted it to feel like the movies I loved from my childhood. The movie that stuck with me when we were starting the process was Lamberto Bava's Demons. Maybe not so much the actual movie but the movie within the movie. Even in the beginning I had colored each of the cameras to be more heavily blue to reflect this style but ended up bringing it back to a more neutral look in color correction.
What can you tell us about your overall directorial approach to your story at hand?
In the beginning I had this wacky idea that we were going to shoot the entire film in one night. I created case studies and story beats for the actors to follow and relied heavily on the improv skills of the actors. We rehearsed through the story about four times before we went out into the desert for the actual shoot but in the end maybe 25-30 mins of that night made it into the final film. After that Lyndee and I studied the footage we had and I went to work building out the scenes and script that would eventually become the final film. As much as I wanted a feature in a night to be what I'd be known for I'm so glad my actors and crew saw what I saw and were willing to stay with us till the end.
Friends Don't Let Friends is mostly an outdoors movie - so do talk about your location, and what were the challenges filming there?
Filming outdoors always comes with a long list of issues. We were insanely lucky that we had a film friendly family who rented us a house on 5 acres of land. In many of the scenes the house is as close as 20 feet away. One of the major challenges was weather. My first trip to Joshua Tree I was working on OMG: We're In A Horror Movie, a horror comedy by Ajala Bandele [Ajala Bandele interview - click here], which is where I met Brittany and many of our crew. On that shoot is was 105 during the day and 89 at night. When we decided to shoot it was 75 during the day and 32 at night. A huge difference which caused us some serious issues on set. There's a scene in the film where Jeb is covered in Carrie's blood that had to be cut because it was so cold the blood had frozen to his hand like a glove. Drips caramelized as they fell from his fingers. Then on the next shoot we were now in spring but in the same wardrobe we had during the winter. Low budget filmmaking is all about making things work and to the credit of our entire team, we managed to make it happen.
On that spring shoot we got entirely shut down for one of the nights because a mixture of high winds and rain decimated the location for the entire night. There's a scene in the film where the group are back to back, being stalked from the bushes and everyone's hair is flying around like their trapped in a wind tunnel. It added to the scene in a way that only the outside element can.
Do talk about Friends Don't Let Friends' cast, and why exactly these people?
Casting was a great experience on Friends Don't Let Friends. Brittany and I had talked over the characters and she ran with putting together a casting place and time. We worked with a company in Hollywood called Cazt.com who were incredible. We saw some amazing talent, many of them would have been great with a script but when we needed actors to improv a little more we saw that not everyone has the chops for improv. I certainly don't. What cracked me up about our final decisions were that most of them knew each other from CalArts. Brittany, Jenny and Brendan had all gone to CalArts and had not only been friends but had acted together on stage projects. That was a huge bonus for us when it came to having actors push each other's buttons in scene.
What can you tell us about the shoot as such, and the on-set atmosphere?
I think the best way to judge the on-set atmosphere is to see how closely it resembles a summer camp. For some reason it's the best way to gauge the process. We worked crazy hard and everyone brought their A game. So when we finally got to cut loose we all had a good time.
Anything you can tell us about audience and critical reception of Friends Don't Let Friends?
The reviews have been better than we expected. When knew the same audience who loved mainstream movies probably wouldn't be able to handle our run-n-gun style of psychological horror but one of the things that I've always loved about the horror genre, for years of arguing with other fanatics is, there is no wrong answers. We all have niche sub-genres we love. There are plenty of movies I couldn't sit through that everyone loved. And there are movies I love that most people find cringeworthy. My hope is that the people who like fast-paced indie movies with twisted characters are able to find our film.
Any future projects you'd like to share?
Over the last year as we awaited the release I began turning some of my feature scripts into novels and ebooks, which has been an amazing way to see the story from another perspective. Currently I have a collection of transformation/werewolf short stories called We Are But Human, A collection of behind the scenes production horror stories called Hollywood 666 and finally, the one I hope to make next, Omnivore, a cannibal horror film set in the near future. Omnivore has some of the similar psychological tones as Friends Don't Let Friends but instead of turning on one another they embrace their tragic flaws. It was also the first time I decided to change perspectives in a story to give the reader and the viewer two very different stories. The script is mainly from the female protagonists perspective whereas the book is rooted in her boyfriend's voice and gives much more insight into the reasons why he does what he does throughout the story.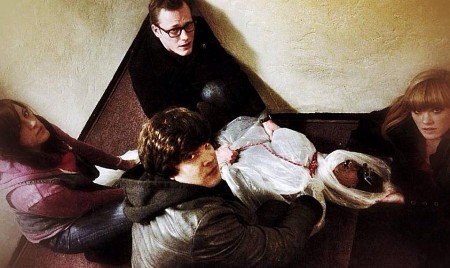 What got you into making movies in the first place, and did you receive any formal training on the subject?
I grew up in a small village in Scotland until I was 15, so filmmaking wasn't even on my radar. At that time even mentioning you wanted to be a filmmaker would be reviled and you'd be told to "grow the fuck up." It wasn't until I moved to Virginia and met my friends that the idea was not only entertained but encouraged. I'm very thankful for the people in my life because they saw my level of crazy and told me to write it down :) After that I went to James Madison University to their College of Media Art and Design, which was a catch-all for everything media related. Mostly news and documentary training but I always knew I wanted to be making horror films. In college it wasn't as encouraged as you'd expect. Personally, I expected college to be the classroom scene from Scream 2, where everyone had seen the movies I had but sadly, that wasn't the case. There was a lot more censorship than I expected at an academic level. After college I moved to LA where I've been ever since.
What can you tell us about your filmwork prior to Friends Don't Let Friends?
My regular day job for the last few years has been working in reality TV. For most of that time I worked on the Travel Channel series The Dead Files which was one of the most fun and rewarding experiences in the industry. We traveled 3 weeks a month which can be crazy hard, especially when you're trying to finish a film, but the entire cast and crew were so supportive of my film and kept the pressure on to make sure I finished it. Rob Toth and Adam Eurich from that show both worked on Friends Don't Let Friends.
How would you describe yourself as a director?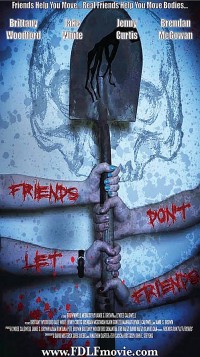 Feeling lucky ?
Want to
search
any of my partnershops yourself
for more, better results ?

The links below
will take you
just there!!!


I would like to... I think of being a director as exercising a muscle. Every time you direct you get better at what you are trying to say. I love the writing process, I love a wall filled with note cards and manically laughing as things start to work themselves out in my head. But there's a high you get from seeing someone elevate the words you've written into an emotional form. From my first short film, to my last music video, there's so much excitement on a set that I couldn't ever give that up.
Filmmakers who inspire you?
I wouldn't be the filmmaker I am without Rebel Without a Crew. Robert Rodriguez's production diary was influential to everything I've done. I've been a fan of Jessica Cameron [Jessica Cameron interview - click here] for a while and watching her work is on an entirely different level.
Your favourite movies?
There's so many. Jessica Cameron's Truth or Dare was twisted and incredibly well done. It was a character study on the most truly awful and I loved it. I love movies that take chances, from True Romance to Spring Breakers, Dead Alive to Tucker and Dale Vs Evil. I just want to be entertained for the duration. I'm not someone who can sit through the typical "slow burn" horror.
... and of course, films you really deplore?
I hate to bash someone else's films but I do hate when a movie is marketed wrong. I would have loved It Comes At Night if it hadn't been labeled a horror movie. It was a post apocalyptic thriller in the realm of These Final Hours or Right At Your Door but it wasn't a horror movie. But the trailers touted it as a horror film which left me disappointed.
Your/your movie's website, Facebook, whatever else?
www.facebook.com/friendsdontletfriendsmovie
Come find me on Instagram at www.instagram.com/shoot4edit
Anything else you're dying to mention and I have merely forgotten to ask?
I honestly don't know. But if you have any other questions fire away.
Thanks for the interview!
Thank you.