Your 3 movie-project Kill the PA - in a few words, what is it all about?
I packed an RV with a group of my favorite filmmakers, traveled across the USA filming 2 narrative feature films back to back and a documentary around the process. The documentary is titled Kill The PA. PA stands for Production Assistant, and on indie sets the PA is often over worked (to be fair most people are on indie sets) hence the title :)
How did you come up with the idea for the project in the first place?
I came up with the concept for Mania, which is a film about a couple who flees their home after an traumatic incident forces them to leave, they travel across the USA as they figure out what to do. I knew that I wanted to film the movie while ACTUALLY traveling across the USA, I hate it when movies (often poorly) try and fake traveling while shooting in the same area. But shooting a feature across the USA is very expensive. That said when I was thinking about how to do it in a cost effective way I came up with the idea of putting everyone in a single RV, having a skeleton crew that traveled with the film. But then I realized we would travel far across the country only to have to turn around and go back to LA with everyone, so WHY NOT make a second feature film on the way back and utilize some of the amazing locations and meet some fans. Everyone thought that concept was a cool new way to make movies so I decided to document the process. That's how it all came together.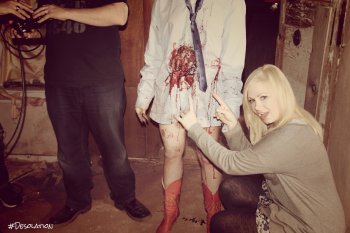 What can you tell us about your fellow travellers, and what was living together at a rather cramped space like?
As the weeks passed it got harder and harder, as one would expect. The logistical aspects wore on some more than others - the whole nature of having to unload and reload often was quite tiring. Trying to find consistent power sources while filming across the country was in itself a great challenge. We were filming so much that we had to have the footage downloading most of the time which meant we had to have multiple working outlets. Aaron M Lane was handing the DIT work, and he would have to set up his DIT station in rest rooms and such, basically wherever he could! He was great though, never complained once!
The one item you wish you had brought on the trip but hadn't?
A winter coat! We filmed in November, and traveled from California to Ohio and back. We actually hit a snow storm, which greatly impacted our filming. We had to find new exterior locations in warmer climates that matched the interiors of the locations we had confirmed. I did not bring a winter coat, why I did not think of that I can't say. Which is why in some of the photos from the shoot I am wearing blankets from the RV - you do what you have to do!
I was also blessed to have brought on Jordan Pacheco [Jordan Pacheco interview - click here], a great special FX guy and filmmaker. He was such a gentleman and always insisted I wear his coat when he was around. That man is such a beast - he would be outside in the freezing cold in a t-shirt and he was always genuinely happy to be there and was one of the easiest people I have had the pleasure to work with!
Let's talk about the two features in a little more detail: Mania - in a few words, what is it about?
Mania is my fucked up lesbian love story. It's Thelma and Louise meets Henry Portrait of a Serial Killer with some cool David Lynch-esque dream sequences thrown in!
Mania was written by your long-time partner-in-crime (and fellow traveller) Jonathan Scott Higgins [Jonathan Scott Higgins interview - click here] - so what drew you to the story?
I originally came up with the concept and Jon wrote this powerful script that I just had to make. I wanted to do a love story - in a very horrific way. Kinda a more fucked up, modern Romeo and Juliet type thing. The script was so good that I wanted to watch this film as soon as I read it, so I knew I had to make it!
What can you tell us about your directorial approach to your story at hand?
For Mania I really tried to be as reactionary as possible, because it was a super stressful shoot (the whole traveling across the USA thing) so I tried to make things as simple as possible where possible. I encouraged the actors to embrace the stress of the shoot and use it in their characters, which as an actor I know can often help. As an actor you are stressed and exhausted, and in this story so are the characters.
From what I've heard, it wasn't quite easy to cast the lead characters of Mania - care to elaborate?
It was very hard - partially because of the way that we were filming, while traveling across the USA shooting when and where we could. But also the characters - both leads are really complex and extremely multi-dementional with strong character arcs. Add to that the many nude scenes, and sex scenes and it made casting tricky. I had talented actresses who wanted the role but would not do the nudity in it, but since all the nudity is plot crucial we had to pass on those actresses. We also had a few wonderful actresses who were fine with the nudity but the sex scenes made them uncomfortable, and as an actress I understand this as sex scenes are always to an extent uncomfortable, however they can not come across that way on screen (unless the character would in fact be uncomfortable in those moments).
I know you've ruled it out from the beginning to serve double-duty as director and lead on Mania as you did on Truth or Dare ... but will you appear at all in front of the camera?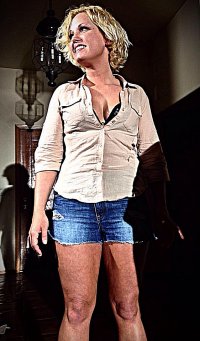 Ellie Church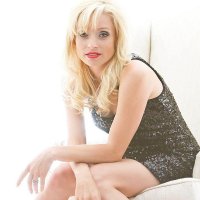 Rebecca Moore
I did not act in Mania at all. With Truth or Dare I was in front of the camera and also behind the camera and it was hard, trying to be in two places at once was very difficult for me. However we struggled greatly on Mania with a particular actress (watch Kill The PA to find out more) and in the end I would have been better to do the role myself since we had so many issues arise that did not need to. But filmmaking is a learning process, so we do the best we can and learn for next time!
Anything you can tell us about your cast, and why exactly these people?
Well Ellie Church (who plays Mel) nailed the audition - she WAS Mel, that's all there was to it. As soon as she did her first take I knew that she was the lead I had been searching for.
Becca Moore I worked with years ago while I was working out of Ohio. She is one of those incredibly talented actors who you just have to cast every time you can because not only is she incredibly talented but also she is wonderful to have on set.
Mickey Melillo has been a friend for a few years and I have been wanting to put him in a horror film for a while now.
Zack Morse and Jonathan Hatley were both contributors to our crowd funding campaign and worked really well in the roles that we had. I also adore them both as people, I didn't want them to leave. We were able to convince Zack to stay around for a few extra days.
We were looking for a young, beautiful perfect little girl for a very important scene - and one of our crew members (Steve) happened to have two perfect daughters - so we altered the scene to include them both because they were so darling :) Bailey and Chloe Lochowitz really did an exceptional job, and they are so young! We also gave their dad Steve a role, he was perfect for it and turned out to be a really talented natural actor (must run in his family).
Jason Hignite and Brigid Macaulay I have known for a while and like Becca if I have anything that they fit, the roles are theirs. I am forever impressed with their work! They actually steal the scene that they are in so much that we are writing them into the sequel in a much larger capacity.
You do however star in the other feature shot on the road, Ryan M. Andrews' Desolation [Ryan M. Andrews interview - click here] - so what can you tell us about that one, and your character in it?
This is a really fun, modern hitch hiker tale, which we have not seen in way too long. My character Heidi seems to have it all, a perfect husband, job that she loves but as the story carries on you realize that everything is not as perfect as she would have you believe.
What did you draw upon to bring your character to life, and how much of Jessica Cameron can we find in Heidi?
The stress of filming 3 movies while traveling across the country!
I am only partially kidding - Heidi is definitely a women who is over worked and very stressed out - which I can relate to, especially on this shoot. She has family problems that I think many who watch this film will understand to various levels, and she is honestly just trying to do the best that she can. I really related to that aspect of the character - and I am very much the same way. You can't help it if you are surrounded by lemons so you might as well throw some tequila in and make a cocktail!
With Ryan M. Andrews, you recently also shot Save Yourself [Ryan M. Andrews interview - click here] - so how did the two shoots, how will the two movies compare?
They were drastically different - not only in plot but execution. Save Yourself was filmed the traditional way, in and around Toronto with a full cast and crew. The sets were much larger, we had lots of more people involved, lots more equipment and more actors and extras. Desolation we had our traveling skeleton crew of filmmakers, with a minimal equipment and very small cast. So they are basically polar opposites. The movies are themselves vastly different and I love them each for different reasons. I love the ensemble cast on Save Yourself and I got to work with many actors that I greatly admire including Tianna Nori [Tianna Nori interview - click here], Ry Barrett and Caleigh LeGrand. They are each tremendously talented and it's a joy to share scenes with them. Desolation had a much smaller cast, and we were around each other 24/7 as we traveled across the USA. Although my co-star Carlo Mendez is phenomenally talented and there is no one I would rather travel across the country with while filming, and he even drove the RV!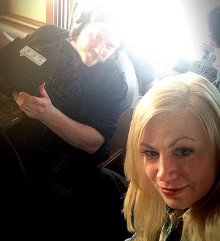 Ryan M. Andrews with Jessica on the road
Shooting two feature films and a documentary on the road ... what were the main challenges, but maybe also advantages?
Finding new and constant sources of electricity was tricky. We had the generator on the RV but that made a lot of noise and we could not use it when we were filming. We ran like 5 extension cords from a rest stop on more then one occasion :)
There were a lot of great advantages - including finding perfect locations like our small town, old fashioned church and not having to pay location fees, or build it. It was just there and not in use and we were able to get permission to film in it for free. It was perfect for the story.
Which stint did you enjoy more during your roadtrip, being behind or in front of the camera?
Being in front of the camera will always be my first love, career wise... and you never forget your first love! With every film that I work behind the camera on, I grow more passionately attached to the filmmaking process, and the ability to connect with the fans on what feels to me like a more intimate level. That said the beginning of the shoot was much easier from a physical stand point - we were rested and all eager to film. As the shoot continued on everyone became more stressed and more restless. So the final week was much harder then the first week.
What can you tell us about the documentary Kill the PA, what will it be like in tone and the like?
It's going to be an honest, detailed accounting of true indie film making. The struggles, the triumphs, the fight to make the films! I am always honest, in my life, on my social media and in this documentary. The fans will see it all!
Any anecdotes not captured in the documentary you'd like to share?
Too much of a good thing can be bad but too much of a bad thing is much worse!
Any idea when and where any of your three films might be released yet?
They are all in various stages of post production - that said, Mania will start the festival circuit this summer and hopefully the others will follow shortly after.
In light of your experience - will you ever shoot another movie on the road (let alone more than one) ... and (other) future projects you'd like to share?
If you had asked me this right after we were done filming I would have said no (and I think I did in a few interviews). However upon looking at the gorgeous footage and some of the great sets we were able to utilize, I have to say that I most certainly would. Both Mania and Desolation are better quality films because we traveled across the USA to make them. And at the end of the day, isn't that what really matters?!!!
Your/your project's website, Facebook, whatever else?

Feeling lucky ?
Want to
search
any of my partnershops yourself
for more, better results ?

The links below
will take you
just there!!!

Find Jessica Cameron
at the amazons ...

amazon.com

amazon.co.uk

amazon.de
Looking for imports ?
Find Jessica Cameron here ...
Something naughty ?
(Must be over 18 to go there !)

I LOVE social media and you can follow me and my films at the following links:
My FB page: https://www.facebook.com/ActressJessicaCameron
My Twitter: https://twitter.com/JessicaCameron_
Mania FB page: https://www.facebook.com/ManiaTheMovie
Mania Twitter: https://twitter.com/ManiaTheMovie
Kill the PA FB page: https://www.facebook.com/KillThePA
Kill the PA Twitter: https://twitter.com/KillThePAdoc
Desolation FB page: https://www.facebook.com/DesolationtheMovie
Desolation Twitter: https://twitter.com/DesolationMovie
Truth or Dare FB page: https://www.facebook.com/TruthOrDareTheMovie
Truth or Dare Twitter: https://twitter.com/FilmTruthOrDare
Thanks for the interview!