Your movie the Depths - in a few words, what is it about?
Desperate for a measure of success, wannabe screenwriters Mickey Hansen and Ray Ferguson decide to fully explore the depths of murder and crime within their story only to discover their obsession with their work has made it all too real.
From what I know, the Depths was your first feature film after quite a number of shorts - so what made you choose exactly that story for your debut feature?
It felt like the right story. This one felt different, it was special to me and I could tell the difference between the concepts I was developing and this was enormous before writing even began. I had this idea for about a year before I brought it to my co-writer Robert Spat and it became the Depths as we know it, and Robert was huge in making the story what it is! No doubt!
Louis J Ambrosio is another great person and collaborator. He was my producer on every one of those short films. He was pushing for us to do a feature and was really a major driving force behind the Depths - the Depths would not exist without his guidance, support, passion and skill. He is the best of the best.
Besides the initial spark of a concept, the rest of the concept basically came together when I was watching a lot of film noir at the time and was really enjoying studying the genre (for fun), so suddenly a rough concept I had from a year prior solidified into the core of the Depths when I started digesting the themes, styles and stories of that genre. Some of those films are some of the coolest and most well made movies I had ever seen, no exaggeration. I felt if I was going to head down a road for several years, this was the right place to start and a great genre to be in. I had so much material to look at, I was fascinated by it and I could easily communicate it to every single person who became part of the team, I could just say "go and watch Double Indemnity, Maltese Falcon, and In a Lonely Place and we will immediately be on the same page." It unified all of the creative elements from writing to sound design.
How does making a feature compare to doing shorts?
Shorts are moments in time that are easier to hone. Features are long flowing experiences and you have to make the audience ride the waves in an interesting and entertaining way. They have to want to keep riding the waves. A lot more challenging.
With the lead characters of the Depths trying to break into the film industry - is any of the movie based on personal experiences and the like, and to what extent could you identify with either Mickey or Ray?
I think a lot of people in the industry can relate to what Mickey and Ray are going through, especially if they have ever written a script with someone. I am way more of a Ray to be honest (I mean as a writer, not his personal choices). I can relate to Mickey in small ways, I understand who he is and I have met so many people like him before.
Other sources of inspiration when writing the Depths?
I watched the first feature films of a lot of filmmakers. Christopher Nolan, Darren Aronofsky, Martin McDonagh, Shane Carruth. I really studied them and I was amazed by some answers I found in them.
What can you tell us about your co-writer Robert Spat for a bit, and what was your collaboration like?
It was a great collaboration on this project! We were both giving everything we had to this and we loved it and had fun writing it! Robert had written more serious feature film scripts and pilots and others and was much more put together on doing this type of long form format and showed me a lot things that helped me transition from short films right into feature film writing. When I brought him the core he totally knew how to plot it and unpack it and showed me through practice this great process and how to fight through it. Sometimes, scenes were less together, and if we were ever paused, we would simply have conversations as the characters. For example I would say "Okay you be Ray, I'll be Mickey and lets just talk about this idea or this objective and see what we say." Sometimes it was so interesting that we would just type every word we just said down and keep it exactly as is. I think this is how that scene where Mickey describes how "murder is purification" really developed, as one of these conversations between myself and Robert.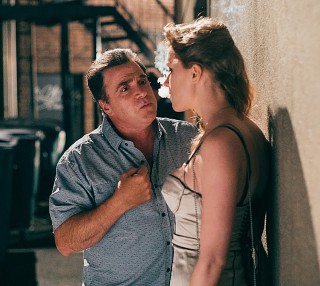 Do talk about your directorial approach to your story at hand!
I can talk about this for hours, I just feel like I worked as hard as I could on building every moment, so much of that power comes from trusting Mickey, even liking Mickey, then being afraid of Mickey. I'll go to some simple answers. My objective was to establish genre as early as possible because a lot of Mickey and Ray's interactions are funny before the film tonally shifts towards the middle to be a much darker experience. I really sat and studied the tension attempting to build it and heighten it, even lengthen it. I also paid close attention to the different levels of Mickey's character. I wanted to decide as an audience member myself, when I felt I would want to create distance from him with the camera. Sometimes I just wanted to sit and watch him and see where he would go, he was becoming unpredictable and losing it and there was… a shocking element to just letting him play things out onscreen while keeping some distance. His obsession with films, the noir film he watches over and over, starts to become part of the design of the film and is most prominently played on in the alleyway chase sequence where he has nearly at his breaking point. Shadows, tension, energy, and relationships (characters to each other and characters to the audience) were some of the most critical things to get right, I knew I had to work on those as much as possible. Adam Ambrosio is an incredible composer and I think brought half of the tension in the score alone. His process is amazing and he brought "the vibe" to the film that I think ultimately stays with the audience.
What can you tell us about your key cast, and why exactly these people?
Michael Rispoli… we were lucky to get Michael, he really responded to the script. What an amazing actor and collaborator! Michael is such a respected name in the industry that I was pretty stunned when he wanted a meeting. I met with him and I think he was shocked that I had the entire film storyboarded (by hand myself) months ahead of shooting. Every single frame, even standard coverage, I have always done that. He wanted in and just said "let's do it." It was great, it was an honor.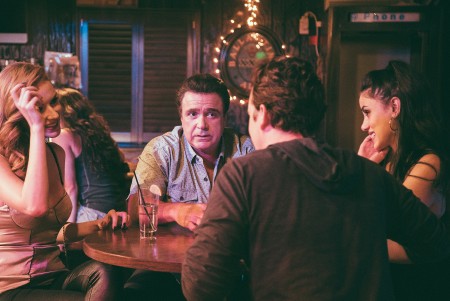 Our casting director Judy Henderson is an Emmy award winning casting director. We cast everyone in New York. She pushed for a lot of these great actors, and Patch Darragh is a wonder. As soon as I met Patch I thought he would be perfect for Mickey. Mickey is an extremely complex role and it needed an actor with incredible range. Patch was Mickey in the beginning and he had the tools and training, the talent really, to build Mickey to the climax of the film. That was really an incredible challenge for a performer, believe me. I really respect Patch for taking that risk. People were afraid to be Mickey, Patch took it and on and won!
Charlotte Kirk was our Chloe and we felt strongly about that. She had more to offer than the elements of the character on the page (admittedly). I always felt we needed a strong actress to really bring Chloe to life because she was complicated and did not discuss a lot of these layers. Lucas Salvagno, Michelle
Veintimilla, Hampton Fluker, Suzette Gunn, Liam Mitchell, Jennifer Bassey were all absolutely committed to their roles and brought their A game. I was amazed because every single one of these people have established themselves in the industry, had some great roles behind them and we're great performers. Gia Crovatin, Chuk Obasi, Alex Mulzac, everyone that I am not naming because I am just thinking about every single person in the film now.
A few words about the shoot as such, and the on-set atmosphere?
Very hot. 80-90 degree weather in 45 locations on an 18 day shoot is hard, trust me. I had to throw a lot out the window and just hone in on my objectives as a filmmaker.
The $64-question of course, where can the Depths be seen?
We are really proud to be working with our distribution team at Random Media led by Eric Doctorrow and thanks to Don Rosenberg, Rick Rhoades and Jessica Goldman and all the rest at Random Media for all they have done to push the Depths and to help filmmakers find audiences! the Depths will be available on April 24th, 2018 on Amazon, I-tunes, DVD, Google Play, XBOX, and more!
Anything you can tell us about audience and critical reception of the Depths yet?
It has been fantastic, we were sold out and had a standing ovation at our premiere. We won the Best Feature Film at the Manhattan Film Festival and Best Feature Film at the Los Angeles Film Awards. Michael Rispoli won Best Actor at the International Independent Film Awards and Patch Darragh won Best Supporting Actor at the Los Angeles Film Awards.
Any future projects you'd like to share?

Feeling lucky ?
Want to
search
any of my partnershops yourself
for more, better results ?

The links below
will take you
just there!!!


We have a new thriller in development right now that we are extremely excited about!
Your/your movie's website, Facebook, whatever else?
Anything else you're dying to mention and I have merely forgotten to ask?
Check out our behind-the-scenes channel Film Valor on YouTube: www.youtube.com/channel/UCYMpC0IdUggTr1xMMEqsCPw/
Thanks for the interview!
Thank you for your time!