Your new movie Sunset - in a few words, what is it about?
Jamison: A diverse group of people grapple with the imminent probability of a nuclear strike on the East Coast.
With Sunset being by definition a rather dystopian science fiction movie, is that a genre you're at all fond of, and some of your genre favourites?
Adam: I wouldn't say that I'm fond of that genre and I wouldn't say that this is science fiction. We paid a good amount of attention to real life scenarios that we drew from, unfortunately there was a lot sceneries that were even happening while we were filming, i.e. Hawaii.
Jamison: I agree with Adam, I really see it more like a drama about people with a realistic premise.
(Other) sources of inspiration when writing Sunset? And since your movie's set in a not too distant future, to what extent does the film reflect your view of things to come?
Adam: I came up with the concept while watching end of the world movies and constant theme that I realized is that it was always about a younger generation or younger people going on after the disaster. I felt like it was important to touch on the people that you don't see. The older people who can't do what these young people are doing, they lived their whole lives up until this point…so what do you do?
Jamison: Adam came to me with the concept and then we developed it. We paid heavy attention to nuclear war stories that came before us to make sure that we were operating in new territory with Sunset. It was important to us to add to the conversation and not tread on the same ground. We looked at On the Beach with Gregory Peck and a lot of other movies.
How did you get together to write Sunset, and what was your collaboration like?
Jamison: Like I said before, Adam Ambrosio came to me with the concept - totally his, which was exciting because I was removed from it and could consider it's potential almost like an audience would. We made Sunset as a short film FIRST. It was critical to know if this thing would work…and boy did it make a WORLD of difference in the final feature film. And incredible thing was that the short film we made is actually the same ending as the feature film and we worked backwards in the storytelling - the 48 hours leading up to it. You can watch that short that got over 16,000 views on our channel here on Film Valor:
https://www.youtube.com/watch?v=Un-ZBQkdtrY
It sounded terribly exciting to tackle something like this as a feature and very ambitious. Adam and I have been working together for a long time now, Adam is an excellent musician and has done all the music for my movies going back to my first union short film Midnight Catch and up through my first feature the Depths and now Sunset. It is important to know that this all really came from the great collaboration we have had together on Film Valor which is a series that Adam and I create together on YouTube. It is a series that takes a look at how we make our films (a look behind the curtain) and also looks at other people in the industry and what their craft looks like too.
In your movie, the characters Henry and Julian pretty much embody very opposite points of view regarding the bigger picture - so who do you feel closer to, and do you specifically identify yourself with either? Or any of the movie's other characters for that matter?
Adam: The quickest answer is that you really don't know what you're going to believe. We haven't been there so we don't know how we are going to feel. I think all the characters embody the feeling that we would have in a tragedy… you want to stay, you want to go, and then there is confusion or not knowing information. Then there is the feeling of "what happens next?"
Jamison: I really agree with Adam in the sense that these guys are reacting emotionally. How could you not? Henry is angry and scared and he wants to get even, I can understand that but at the same time the nuclear option is the end of the world. I would probably lean more towards Julian on it but I understand the anger. It's hard not to bring up the feelings you felt when 9/11 happened and how it was so scary you didn't know what to think. I was young but I remember the feeling well. I think I would be the Ayden character in the story and would have pages and pages of research because no one is an expert on this stuff and it is really hard to sift through the options. If you survive the initial impact, it is only half the battle
Despite the rather spectacular topic of Sunset, you chose a deliberately laid-back pace to tell your story - care to elaborate?
Jamison: While I believe the story is realistic, I also know that the interactions between the characters are drawn out. I knew exactly what I wanted to see in this film… it wasn't people running away. It was having the audience get inside of the decision process these characters make and engage it in a pressurized way. You got 24 hours to make a choice and you might die either way. Go. That was the film and I have never seen anything like that before. The pacing was meant to allow time for the audiences to digest one bad survival option after another
Jamison, what can you tell us about your overall directorial approach to your story at hand?
Jamison: Going off of that last one, I thought it was fascinating to make people's homes the battleground of this type of warfare. Not only their conflict with each other but also the fact that something could fall out of the sky and destroy everything that they think is "safe" in their life. Their family, their bedroom, their life. Nothing is safe and that is what scared me most. The drone footage was used to create a sense of tension from the sky. In dialogue scenes we worked very hard to create feeling of isolation, anxiety and tension. In the ending sequence I wanted Liam Mitchell (Henry) to be waking up in a war zone and I talked a lot to director of photography (Nicholas Pietroniro) about making that final scene resemble combat footage - hand-held, messy and chaotic. This is really the basis of the filmmaking done here - the impending doom that was set against the battles that we would have to have with the ones we love to survive.
Do talk about your key cast, and why exactly these people?
Adam: We worked with everyone on the cast before. It was a very comfortable feeling working with them. We knew what we could expect from everyone and they gave us even more. If you look at our other film you can see that we used pretty much everyone except Austin Pendleton, who we just met before making this film and we really wanted him to play Julian.
Jamison: They all are amazing and we knew them prior. We wrote the characters for the actors. We knew them - we wrote it for them. Pretty unconventional but it really worked!
A few words about the shoot as such, and the on-set atmosphere?
Adam: Easy. We shot in my home. It was like having a party and having guests over. More work and less space! Getting to the set on time was not a problem for me! We ONLY had a 4 person crew - Jamison (director/sound), Nick Pietroniro (DP), Adam Ambrosio (producer), Mike Pacyna (gaffer).
Jamison: Yes I did the sound too! And it was very wonky at first but we got into it. I'll tell you this - a director has to listen to the words the actors say closely anyway so it was sort of a no-brainer… but it was not fun when camera and sound had to be in two different places! I hated that. But all that I really had to do was watch these performances in times like that, the set is like a stage and that is a director's primary function is studying those and knowing when to jump in… or let things develop naturally. The focus for a director is always that. Play back makes these things possible, it makes it so you can study it live and also see if the camera captured it that well too.
The $64-question of course, where can your movie be seen?
Amazon, i-Tunes, X-box, Google Play, Vudu on July 3rd, 2018.
Anything you can tell us about audience and critical reception of Sunset yet?
Adam: Yeah! A lot of people where surprised how young we are to write a film like this. They did not expect that something like this would be of interest for us to write. When people think about two young writers making a nuclear bomb movie… they think of action but actually there is no action.
Jamison: We had a cast/crew screening that was very very positive, and we gave our IndieGoGo donors a place to see the film FIRST for supporting us! We were very happy with the excited response. It served as our compass. We have won some awards including Best Ensemble at the 2018 Los Angeles Film Awards, David Johnson won Best Actor in a Leading Role in the International Independent Film Awards 2018, we were an official selection of the Miami Independent Film Festival and we are an official selection of the Manhattan Film Festival where we will world premiere in New York City on April 27th, 7pm!
Ticket info here: http://www.independentfeatures.com/view-screening/1105
Any future projects you'd like to share?
Adam: We actually have a few feature film projects in the works right now.
What got you into making movies in the first place, and did you receive any formal training on the subject?
Adam: What I wanted to do was be a musician. I started off when I met Jamison just doing the music and helping out on set. My family has a background in the entertainment industry. I knew a bit about how movie making worked already and eventually I just got interested in making movies while scoring these projects.
Jamison: I received my B.F.A. from Montclair State University but I have been making movies for a long time before that. I often would rent gear from my college and just go out and shoot things (nothing to do with an assignment) and that is how my team made our first professional short films together. You learn the most from doing that and submitting those projects to festivals and getting feedback, growing.
What can you tell us about your filmwork prior to Sunset?
Adam: We started off with shorts. 7 SAG shorts or shorts that we made with Screen Actors Guild actors. Shorts are easier to get going. It is easy to create a concept and just go with instead of going with a full feature. We knew we wanted make a good amount of quality projects and get the ball rolling.
Jamison: I worked on a lot of little things in high school including two 40 minute short film projects that were pretty ambitious for some kids in high school. I had enough already to get right into the film program and I just kept forging ahead and was guided by Louis Ambrosio, who served as my producers on these first short (he was an experienced professional) and I was then introduced to Adam and we made Film Valor and on and on.
Jamison, how would you describe yourself as a director?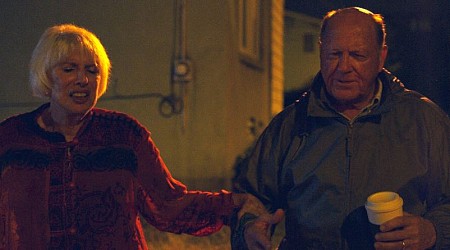 Jamison: I storyboard every single frame by hand. I do the work ahead of time but I do allow for the thing to change. I mostly do that so I know my objectives for a moment or a scene. I may wind up with a totally different frame or shooting style (you have to throw things out and completely alter a shoot sometimes) but an objective set by you ahead of time gives you a road map to your themes and objectives as a filmmaker and ensures that those things are ultimately met. I care more about performance and collaborating with the actors above all things as a director. Fancy camera tricks don't matter if the performance is not there or if the scene isn't working. I care about actors and I want to bring them into the process. I know first-hand how hard it is to get in front of a camera and bare everything. It is very scary and I know it is a creative process that you cannot demand from someone. You can't just push a button. Everyone should be working toward the same goal.
Filmmakers who inspire you?
Adam: I look at movies themselves more than filmmakers. Anyone before the year 2000.
Jamison: Christopher Nolan is absolutely amazing.
Your favourite movies?
Jamison: Zorba the Greek I always say is my favorite film. I love everything about it and it is surprisingly funny. The Prestige, The Great Escape.
Adam: The Dunwich Horror (1970), Aliens, The Darkest Hour.
... and of course, films you really deplore?
Adam: Oh, this is good, yeah! Happy Death Day.
Jamison: Expectations are an important thing. I hate trailers that hype a movie to be something it is not - they try to sell it as an action film and it isn't. I find myself most disappointed by false advertising on films I am overhyped about.
Your/your movie's website, Facebook, whatever else?

Feeling lucky ?
Want to
search
any of my partnershops yourself
for more, better results ?

The links below
will take you
just there!!!


STAY TUNED to our channel Film Valor and subscribe for updates on all things!
www.youtube.com/channel/UCYMpC0IdUggTr1xMMEqsCPw/
Anything else you're dying to mention and I have merely forgotten to ask?
Adam: Thank you!
Jamison: Yes Thanks a lot for giving us this great interview.
Thanks for the interview!