Your documentary Screaming in High Heels: The Rise and Fall of the Scream Queen Era - in a few words, what is it about (apart from what's already given away in the title of course)?
It's essentially about what three women (Michelle Bauer, Linnea Quigley and Brinke Steven) did with what little was handed to them, and in turn created a whole new industry and sub-genre. They were essentially "bodies" on display. The naked shower girls. The extras. When they were finally given dialogue, and then given bigger roles, and then given starring roles, they took that moment and the elements surrounding them and figured their own way to exploit it all. The movies weren't necessarily making them wealthy, so to bring in additional cash they learned how to market themselves: trading cards, fan clubs, bars of soap, 900 #'s... No one had really done that before in terms of women in the horror film industry. Cheesecake had existed long before them - they were just the girls who got to have it and eat it too.
The second story being told is about the video boom of the 1980s and how mom & pop video stores ruled... until big box stores gobbled them up. But while VHS rentals were at their peak, all the parties involved in this doc rode that wave of success.
What is it that actually fascinates you about the scream queens of old, and what prompted you to make your documentary?
I think it's just that I was a teenager at that moment. I'm also obsessed with Debbie Gibson, Madonna, Julie Brown (MTV's Just Say Julie), Samantha Fox... all those fun ladies of the 80s. For whatever reason, 1986 - 1990 were the most impressionable of my life... I was about ages 12 - 16 during the height of all this. I can specifically say 1986 was the year I got into horror films. It's also the year my family got a VCR. So I was pouring over the video rental shelves every few days watching some of the schlockiest movies known to man... Linnea, Brinke and Michelle were in many of them.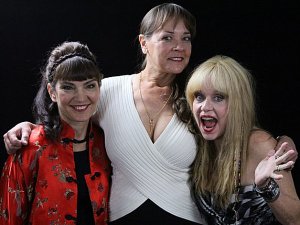 Brinke Stevens, Michelle Bauer, Linnea Quigley
I love scream queens in general because of their strength. Sometimes they cower and die in horrible - or silly - ways. But a lot of times they end up as either the heroine or the bad guy... the one with the upper hand. Brinke in particular has spent more of her career as vampires and demons than Victim #3. I had covered what it takes to be a scream queen and survive the industry itself in Something to Scream About (2004), and the articles I wrote for Femme Fatales. But it never seemed completely focused. With Screaming in High Heels, I wanted to tell a very specific story, focused on not just these three girls and how they created the modern interpretation of the "scream queen", but the entire group of filmmakers they most often worked with - this little band of thieves who all took the moment and made something out of it. It's a section of film history that - whether you like the films or not - meant something... and that is almost completely forgotten today. I wanted to pay respect to those who'd earned it, because they're still mimicked today, even though the younger generation doesn't realize it.
With Michelle Bauer, Linnea Quigley and Brinke Stevens you have brought together the (I think unarguably) biggest scream queens of their era. How hard was it to get them all for your film, and did you ever consider others instead?
It actually was fairly simple. The only one who took some convincing was Michelle, because she'd been out of the spotlight for so long. But as soon as she knew everyone else was on board, including the directors and male actors, she jumped right in.
I had considered bringing in other actresses like Julie Strain, Tiffany Shepis [Tiffany Shepis interview - click here] and Debbie Rochon, but decided it would just be too many talking heads for an hour-long piece. Knowing how much I would cram into that hour I wanted to remain focused on the six subjects. Jim Wynorksi was actually supposed to be in it as well but he never showed up for the interview, which actually is fine because I realized afterwards he never really did much with Linnea and Brinke the way David DeCoteau and Fred Olen Ray had. Jim was a big part of creating that image on film (boobs, butts and blood), but it was often with other women. Again, I had felt Something to Scream About wasn't focused enough, so to me I think it's better to hear what it was like to be in that moment from the people themselves, rather than other people's interpretation of that moment. Does that make sense?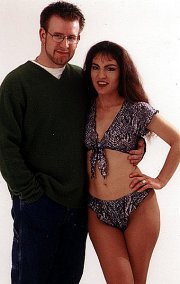 Jason Paul Collum with Brinke Stevens
As far as I know, prior to Screaming in High Heels, you have made quite a few features starring Brinke Stevens. What can you tell us about your earlier collaborations with her?
Plain and simple fact is that I owe my career to Brinke. I moved to Los Angeles as a scared kid in 1998 and she took me under her wing and introduced me to all of these people and tried to get me jobs. I've worked more for David DeCoteau (The Brotherhood) and J.R. Bookwalter (The Dead Next Door) than anybody else, and it was Brinke who made that happen. As thanks, I always write juicy roles specifically for her. I'm kind of a pompous ass in always assuming she'll say 'yes' ... but she always does.


The first time I hired her was for my short Julia Wept. I paid her a tiny bit of money and she essentially did it to help me out. I had designed it as a visual resume to hand out to producers so I could get some directing jobs... and I did. So there again is Brinke getting my foot in the door. I got Something to Scream About as a direct result of Julia Wept (which is included on the Something to Scream About disc from Tempe). Then I wrote her into October Moon (which was a huge success for Tempe) and October Moon 2: November Son. Shy of Normal, my lone comedy, was actually a stage play with a group of college kids. When I optioned the rights to it, I wrote in a new character - an author who has lost her mojo - just so I could bring Brinke in as the lead who ties the three stories together. I really, REALLY enjoy giving Brinke roles that give her something to do. She so often handed bit parts as psychologists and moms these days that people - filmmakers - seem to forget she's an actress - and a good one at that. Give her something to chew on and she'll go to town!
What was it like working with these scream queens (and of course your other interviewees) on Screaming in High Heels?
Everyone was a delight. The whole thing was shot in 3 days in Los Angeles. Jay Richardson and Kenneth J. Hall were actually filmed and interviewed by Anthony Masi (Halloween: 25 Years of Terror) because of scheduling conflicts. So it was quick. But everyone seemed to be so appreciative - and a bit dismayed - that a documentary was being made about them. I don't think any of them realized their own place in film history until they saw the finished documentary. They initially didn't get it either. Based on their responses since, they all have been really thankful. I have too, because to sit in a room with these people I've admired for the better part of 25 years was a truly awe-inspiring moment for me.
Has working on your film at all altered your perception of scream queens as such?
Not really. I've studied them so long and written so much on them as a whole that the only really new thing I walked away with was how they've all accepted what they created and the labels they were given - good or bad. They're all very gracious about their success. No shame at all about the nudity and the negative reviews or complete refusal by the mainstream to be acknowledged as legitimate. They enjoy being scream queens.
Despite their budgetary shortcomings and obvious flaws, many of the classic scream queen movies are reissued again and again to this very day. How would you explain the continued popularity of these movies?
I think they keep getting rediscovered because the films wind up getting exposure in multi-packs and bargain bins. Seriously. And I'm not being rude. A lot of these girls' movies are being put out at cheap prices, so it's not really for any kind of effort other than the folks who own the rights trying to make more money. And that's a good thing.
As for the dedicated fan base, the fact is that these movies are fun. Campy. Crappy. Scary. Sexy. Whatever end of the genre they fall fall into, they stick with you because they're not mainstream. I think it's because the bulk of the work is so eclectic, good or bad. What mainstream movie follows sorority girls who find an imp in a trophy in a bowling alley and then get possessed by it? Point made.
Some of your favourite scream queen movies, and the directors who did scream queens in general the most justice?
For Brinke, Linnea and Michelle, obviously Nightmare Sisters and Sorority Babes in the Slimeball Bowl-O-Rama. But with other screamers: Stripped to Kill II (Maria Ford and Debra Lamb), Sorority House Massacre II (Melissa Moore and Robyn Harris), of course the Slumber Party Massacre-trilogy... ugh. Too many to mention. Let's just say I love Felissa Rose, Julie Strain, JJ North...all the Friday the 13th-girls...
As for who gave them the most exposure: Fred Olen Ray, Roger Corman [Roger Corman bio - click here], David DeCoteau, Jim Wynorksi, Charles Band...
If you had to make a sequel to Screaming in High Heels in, let's say, 25 years and you had to choose three of today's horror actresses as your scream queens, who do you think you would you choose?
Hands down Debbie Rochon and Tiffany Shepis [Tiffany Shepis interview - click here], and probably Felissa Rose. It's funny because they're not necessarily the same as Linnea, Brinke and Michelle image-wise... they've amped it up somewhat. And Felissa came into it so long after Sleepaway Camp - like, 20 years later! But each of them have taken what the original three did and spun it into their own versions of continued success... that's the key. Being able to not just mimic the image, but to make it their own.
Let's go back to the beginnings of your career: What got you into filmmaking in the first place, and did you receive any formal training on the subject?
Never any formal training. I simply was a lonely teenager who spent his weekends at first watching a plethora of movies - then for whatever reason began studying them. I remember the moment I decided to become a filmmaker. I was sitting in my bedroom rewatching Friday the 13th for probably the 30th time and first realized that I knew the names in the end credits by heart - I'm talking caterer and gaffer... then at that moment I knew I wanted to see my name in the end credits. Not necessarily in a key crew role - I just wanted to see my name somewhere on the screen and know that I was a part of that creative process.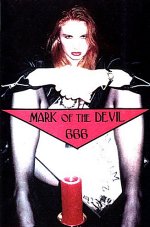 So I taught myself how to write a script from books at the library, bought the book Feature Filmmaking at Used-Car Prices by Rick Schmidt (which I reference to this day), gathered a group of friends and a camcorder and started making shorts on video. By the time I was offered Mark of the Devil 666 I had learned some sort of skills. It's a piece of shit, but when you consider I never sat in on a single filmmaking class (short of a film theory class), I'd have to say it's not the worst ever (contrary to IMDb). I'm still learning. Every movie I make teaches me something new.
Your feature debut as writer/director was I believe Mark of the Devil 666: The Moralist. A few words about that one, and lessons learned from it?
Again, not a good movie, but to have started with $400 and a group of non-actors and no formal training ... it's at least bearable. And it taught me that I could make a full-length movie. There's a marked improvement between Mark of the Devil 666 and my second movie 5 Dark Souls, which is still shot-on-video and made for $400, but it's visually and story-wise much more solid. I also learned that when you don't pay people to show up they often don't and then you spend 5 months filming the movie instead of 5 days...
Other films of yours you'd like to talk about?
I just wrapped Safe Inside, which actually reunites many of my 5 Dark Souls actors for the first time in 15 years. Safe Inside follows a guy (Chris Harder, Extraordinary Measures) who has inherited a house from his mother (Judith O'Dea, Night of the Living Dead), and during his first night alone he starts to believe there's something inside with him. His best friend Betsy (Brinke Stevens) is his only source of sanity throughout the evening.
I think I'm going to be really proud of Safe Inside. All the elements just fell into place between actors and crew and events during filming. It was possibly the easiest shoot I've had as a director. It's also probably my most mainstream-ish film. The October Moon-films have a lot of fans, but they're also limited in who will watch them. This is just a straight-forward possible monster-in-the-house suspense movie, somewhat in the tradition of the 1970s thrillers like When a Stranger Calls, Eyes of Laura Mars and all those Dan Curtis tele-movies.
Otherwise I'm telling folks to watch for the first time on DVD release of 5 Dark Souls. I had my editor Derrick Carey clean it up, so it's coming out as a 15th Anniversary special edition this fall. You reserve it on amazon now! That's my not so subtle hint. But for whatever reason it's another one that people are always contacting me about. So I figured between it being an anniversary year and regrouping the cast for Safe Inside, it made sense to put it back out now.
You also did lots of assistant directing for David DeCoteau, who's actually one of your interviewees in Screaming in High Heels. What can you tell us about his approach to filmmaking, and what have you learned working with him?
From David I learned how to make films quick and efficient. He goes in, gets a master shot and a close up on each actor and moves on. He can make a movie in - hold on - 1 day (!) because he has it down to a science. He's a master of catchy titles and hiring hot young actors. It still takes me more time to make a single feature (Safe Inside is my shortest fiction film with a 5 day shoot). The other thing I learned from working with him is how to manage a film set. Keep everyone in order and moving along since so much is being crammed into a short amount of time.
Besides making movies, you have also written quite a few articles and books on B-movies. What can you tell us about Jason Paul Collum the writer?
I write at an 8th Grade level. Seriously. I write pop culture and fluff. I enjoy meeting my heroes - the actors and directors I grew up watching and admiring. I like to interview people. My writing fits perfectly into the pages of Femme Fatales. You'll likely never see an article written by me in the pages of Time. But I'd like to think I'd fit well into People. Here's the catch: I don't want to be in Time. I'd rather be in People. Whether writing for journalism, fiction, children's books or film, I simply want my reader to be entertained. I like to teach - but not weigh the reader down. Kind of the same as a B-movie.
Any future projects (in whatever medium) you'd like to talk about?
Aside from Safe Inside, I'm just completing my first children's book titled Robyn's Egg. I'm doing my (supposedly) final edit, and will start shipping it off to agents in the coming weeks, so watch for that in the future.
Filmmakers who inspire you?
Brian De Palma (Carrie), Wes Craven (Deadly Blessing), Alfred Hitchcock....
Your favourite movies?

Feeling lucky ?
Want to
search
any of my partnershops yourself
for more, better results ?

The links below
will take you
just there!!!

Find Jason Paul Collum
at the amazons ...

amazon.com

amazon.co.uk

amazon.de
Looking for imports ?
Find Jason Paul Collum here ...
Something naughty ?
(Must be over 18 to go there !)

1 - Carrie (1976)
2 - Elvira, Mistress of the Dark (1988)
3 - Moulin Rouge (2001)
4 - Friday the 13th, Part 2 (1981)
5 - The Color Purple (1985)
6 - Edward Scissorhands (1990)
7 - The Electric Grandmother (1982)
8 - Steel Magnolias (1989)
9 - Finding Nemo (2004)
10 - Precious (2009) & Little Darlings (1980) (tie)
... and of course, films you really deplore?
Pet Sematary II (simply awful), House at the Edge of the Park (too pointlessly vulgar), and I used to say Crazy Fat Ethel II, but now I kinda like it... and I'm generally not a fan of torture porn. I like to be scared, not grossed out.
Your/your movies website, Facebook, whatever else?
Facebook: Jason Paul Collum
Website: www.bboyproductionsllc.com
Anything else you are dying to mention and I have merely forgotten to ask?
I think I'm good...
Thanks for the interview!
No, Thank You!