Your new movie Not Another Zombie Movie ... About the Living Dead - in a few words, what is it about?
Not Another Zombie Movie ... About the Living Dead is the story about a group of unconventional survivors who must learn how to work together when a zombie apocalypse hits their city. They quickly learn they are in more danger around each other than around zombies.
With Not Another Zombie Movie ... About the Living Dead being a zombie movie (duh!), is that a genre at all dear to you, and some of your genre favourites? And what do you think makes your movie stick out of the zombie crowd?
I have been a fan of the genre for a long time. Some of my favorites are Zombieland, Shaun of the Dead, Dawn of the Dead (the original and remake), Night of the Living Dead (original), I love The Walking Dead. My film sticks out because it's more real in terms of human behavior. For example if an apocalypse breaks out, and you pick up a gun to try and fight them off, chances are you might accidentally shoot an inoncent person if you never fired a gun before.
Since zombie movies tend to be gory almost by default, do talk about the violence in your movie for a bit, and was there ever a line you refused to cross for other than budgetary reasons?
We wanted to make the gory scenes catch people off guard. One line that I did not cross was the scene where Tony throw the baby over his head and Oscar caught it. Originally the zombies were supposed to catch the baby and eat it. The director of the film, Donte Williams [Donte Williams interview - click here], was like let's not do that because it would change the tone of the entire movie.
You of course also have to talk about Not Another Zombie Movie ... About the Living Dead's brand of humour for a bit?
Edgy, uncut, and raw. I incorporated my particular brand of comedy with horror. It worked out well because it created a sense of shock value in almost every scene.
What were the challenges of bringing Not Another Zombie Movie ... About the Living Dead to the screen on the production side of things?
The only real issue was finding unique locations and getting actors to show up at those locations on the days we needed them. Operating on different people's schedules was a difficult task.
What can you tell us about your directors Donte Williams [Donte Williams interview - click here] and Black Jack Johnson, and what was your collaboration with them like?
I have been working with them for a few years now. Itís very easy working with them because we are like brothers. They understand my unusual thought process, lol.
Donte is very good a understanding my vision and transitioning it on to film. Black Jack's very good at putting fight/action sequences together and making them look good on film.
You also play one of the leads in Not Another Zombie Movie ... About the Living Dead - so what can you tell us about Mike, what did you draw upon to bring him to life, and can we find any of Jay Davis in your character? And did you write him with yourself in mind from the get-go?
I did write Mike for myself. It was easy to play because it was basically 85% me. So if you are running alongside of me in a zombie apocalypse and zombies are gaining on us. Iím going to trip you. Iím also going to shoot first and figure out the rest later, lol. Mike is a borderline sociopath. He has little to no regard for things going on around him. He is very irresponsible and self-centered. I wrote the character because you see this type of person in a lot of zombie films, but that type of person always ends up getting killed. I wanted to create a character that people hate so much that they start to love.
What can you tell us about the rest of your cast, and why exactly these people?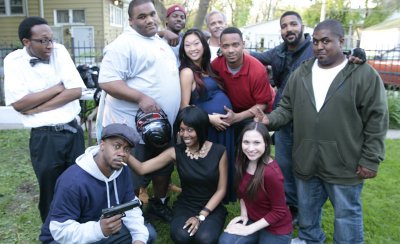 I worked with Will Cummings III (Mr. Cooper) on my last feature film Shots Fired. I wanted to have the token ďangry old white guyĒ which appears in most zombie movies and he was my number one draft pick. His improv is amazing. Always catches me off guard. David Perry (Oscar) was incredible. He really made the character his own. He did not have any dialogue so that entire character was all of his talent. Calvin Evans (Peanut) is a comedian from Chicago and he also studied at 2nd City. For him not to drink or smoke in real life, he played one of the best ďstonersĒ I have ever seen on film. Black Jack Johnson (Franklin) always delivers. He was the ďheroĒ and one of the more balanced characters in the movies. He did his own stunts, and brought a lot of his past acting experience to the table which really created a great character on screen. Marlon Hull (Marcus) and Jackie Dallas (Maggie) did not have big roles, but had great natural chemistry with each other. James Barbee (Capt. Williams) was a perfect for the role. He had the mercenary type attitude we were looking for.
Do talk about the shoot as such, and the on-set atmosphere!
The set was very easy going. All of the cast, crew, and extras were very easy going and fun to be around. There was a ton of good energy throughout the entire filming of this project.
Anything you can tell us about audience and critical reception of Not Another Zombie Movie ... About the Living Dead yet?
We premiered the film on March 21st at the Patio Theater in Chicago. We had over 800 people in attendance. The diverse crowd laughed throughout the entire film.
We received nothing but inspiring and good reviews.
Any future projects you'd like to share?
We are finishing up a comedy sketch project entitled Choke On That Reloaded. It is uncensored sketch comedy in its purest form. We plan to release that this fall. In the first quarter of next year we are going to begin filming the next feature film entitled Not Another Black Movie.
What got you into acting and making movies to begin with, and did you receive any formal training on the subject?
Initially I just wanted to write. I took a few writing classes in college. I started coming up with the crazy stories about past dating experiences. I let a few friends read them and they told me that I should try and film them.
My first series of stories were called the MisAdventures of J Davis. It was 9 episodes loosely based on my life. I developed the characters from that into a feature film called The Hostile Takeover
What can you tell us about your filmwork prior to Not Another Zombie Movie ... About the Living Dead?
My second feature film was called Shots Fired. It was a buddy cop movie about two polar opposite cops who are paired together to solve a career changing case. One cop is a drug addicted drunk while the other is an overly aggressive hero who runs head first into danger. My 3rd project was called Choke On That. It was an hour sketch comedy DVD which received great reviews.
How would you describe yourself as an actor and as a writer?
As a writer Iím different from anyone that I have ever seen. I try to think outside of the box with every script to give people something they have never seen before. As an actor I incorporate a lot of my actual personality in all of my characters. In most cases Iím the loveable asshole. Lol.
Actors, writers, filmmakers, whoever else who inspire you?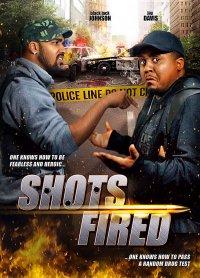 Feeling lucky ?
Want to
search
any of my partnershops yourself
for more, better results ?

The links below
will take you
just there!!!

Find Jay Davis
at the amazons ...

amazon.com

amazon.co.uk

amazon.de
Looking for imports ?
Find Jay Davis here ...
Something naughty ?
(Must be over 18 to go there !)

Robert Townsend, Dave Chappelle, Eddie Murphey, Spike Lee, Denzel Washington, Robert De Niro, Stephen King.
Your favourite movies?
Too Many. I know that Iím going to forget a lot of them: Harlem Nights, 48 Hours, Beverly Hills Cop, Bad Boys 1 & 2, Goodfellas, The Dark Night & Dark Knight Rises, Shawshank Redemption, Dawn of the Dead, Zombieland, School Daze, Creepshow.
... and of course, films you really deplore?
I hate love stories. Iím sorry. I have undiagnosed ADD and I just lose focusÖ I might write one just because I donít like them, lol.
Your/your movie's website, Facebook, whatever else?
Facebook: https://www.facebook.com/jay.davistp
Facebook fan page: https://www.facebook.com/Jay-Davis-142523682492778/timeline/
Instagram: @jaydavistp
Twitter: @jaydavistp
Thanks for the interview!
Thank you!