First of all, why don't you introduce yourself to those of us who don't already know you?
My name is Jeff Schneider I am a producer and director here in Salem, Oregon USA. I have worked on about a dozen feature films and several shorts. I enjoy shooting, visual FX and editing as well. I have been a managing partner in Masch Productions and WJD Films with Abel Martinez jr for the last several years.
Let's talk about your upcoming Fading Flowers - in a few words, what's it going to be about?
I'm really excited about this film, it captures the suspense and uneasy feeling I enjoy in this type of films. That feeling of dipping into the surreal as the lead character unravels and not knowing if it's her or the world around her toying with her sanity. I absolutely love Luc Bernier's script [Luc Bernier interview - click here].
How did the project get off the ground in the first place?
It really is started with Luc writing a great script. Then Luc was looking for support and has always supported my projects. One of the biggest benefits of owning your own equipment is you can dedicate resources out of the gate. Once I read the script and Luc had already had commitments from Helene Udy [Helene Udy interview - click here] and Donna Hamblin [Donna Hamblin interview - click here] to be in the picture, I really felt this was something I wanted to be a part of. We literally green-lit the project in less than 24 hrs.
Helene Udy
Do talk about Fading Flowers' writer Luc Bernier [Luc Bernier interview - click here], and what's your collaboration like?
Luc is a very passionate person and working with him is so easy because we both want what's best for the project. What's great too is we are on the same page that film making is an organic process and constantly evolving, nothing is set in stone. Film is such a great artform because it's constantly changing like a symphony of images, emotions and sounds, so it's such a great experience to work with someone like Luc who has such an open and creative mind.
What can you tell us about Fading Flowers' approach to horror (as in suspense vs sudden shocks, atmosphere vs all-out gore and the like), and is horror per se a genre at all dear to you, and why (not)?
I love Luc's approach, and our approach on this project is suspense-driven, as Luc describes it "a slow burn". I love films that are psychological thrillers especially when the twists and suspense are artfully done.
A few words about the film's general look and feel?
A descent into madness like that bad dream where you keep waking up and keep trying to scream and just can't. You're in a familiar place but something is off and you just can't get comfortable. Then just when you find that spot of comfort the hum of confusion starts swimming in your brain until it's a freight train and you realize you are standing on the train tracks with the train barreling down on you. As for the look we are going mostly with that indie desaturated feel with moments of dreamlike sedation.
Anything you can tell us about Fading Flowers' projected cast yet, and why exactly these people?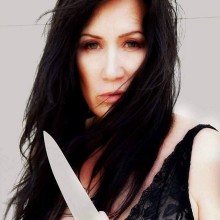 Donna Hamblin
Luc already had the two female leads in his mind when he was writing and we are still casting the male leads. Luc has know Helene [Helene Udy interview - click here] and Donna [Donna Hamblin interview - click here] for a long time and honestly the three of them have been part of this project a lot longer than I have. These parts were tailored to them specifically and in Luc's mind they are exactly who he envisioned. I am excited to work with the both of them.
As far as I know, Fading Flowers is still in pre-production - so how far along is it, and what's the schedule? And any idea yet when and where the film might be released yet?
We are in talks with distribution and we are expecting to shoot in September in Oregon.
Any other current and future projects you'd like to talk about?
Masch and WJD films have several projects in development including Awaken, a vampire trilogy, Axeki, and Deep in the Hole as well as others. My focus right now is Fading Flowers.
From what I know, you entered the showbiz-world as a circus performer - so what can you tell us about that part of your career?
It was some of the best times of my life: I hand-raised animals, did pole climbing, hoop diving, juggling, and was a magician's assistant. They are a lot of parallels with filmmaking, you develop new friendships on every shoot and both are traveling life styles filled with amazing people. When you go through hard times and good times in that environment the friendships are life long for certain. WJD Films is named after William Jack Davis who owned the circus I worked with until he passed on.
What got you into filmmaking eventually, and did you receive any formal training on the subject?
CCTV in Salem, Oregon, a cable access station, allowed me to recieve an education in filmmaking for almost no money and is a publicly funded program allowing just about anyone access to thousands of Dollars worth of equipment to use. I cant say enough about Charles Lewis and the crew there, I would not be making movies if they were not there. I also was fortunate to work with Anthony Pierce and Una Jo Blade, who really taught me how to shoot an indie film on a limited budget. They showed me making movies is hard work and if you're willing to work you can make it happen.
Do talk about your filmwork prior to Fading Flowers!
Lake Noir was the first feature film I shot and produced along with Burn off, and now Fading Flowers. I associate produced on Terrible Angels with Michael Madsen and I am really excited to work with Patrick Kilpatrick, Costas Mandylor and Nina Bergman on the Burn off-reboot. I also enjoyed working on The Speak, A Haunting at Silver Falls, American Disciples and Scamelot. What I found is the more experience on set you get, even if you're just a PA starting out, you get to learn the business and see how a set runs.
How would you describe yourself as a director?
I would say a collaborator who enjoys the organic process of allowing a film to be the best it can.
Filmmakers who inspire you?
Terry Gilliam I think, Time Bandits, Brazil, Tideland, he always made me feel like you do when you have a fever and you're floating just outside of yourself. There is a strangeness, a sort of mysticism his movies. Like you're dreaming awake or had a drink of absinthe.
Your favourite movies?
Star Wars I saw when I was 5, prior to that Forbidden Planet was sci-fi to me. Star Wars blew my mind. Time Bandits, Wrath of Khan, Alien, Angel Heart, Galaxy Quest, Halloween, and I am sure I will get flack for it, but for campy movies I love Starship Troopers.
... and of course, films you really deplore?
You know, after making movies I am much more hesitant to put other peoples work down. I used to feel that a movie with a 50 or 100 million Dollar budget had no excuse to not be awesome. I spoke with a UPM who worked on the first X-Men and said that must be great having a huge budget, but he corrected me he said "the bigger the budget the bigger the headaches, if you have 100 million budget they want you to stretch it to 110 million, if you have a 250,000 budget they want to stretch it to 300,000, so your problems don't go away they just get bigger." This of course was a letdown to hear :)

Feeling lucky ?
Want to
search
any of my partnershops yourself
for more, better results ?

The links below
will take you
just there!!!


Your/your movie's website, Facebook, whatever else?
http://www.imdb.com/name/nm3550868
http://www.imdb.com/title/tt6696280
https://www.facebook.com/indiefadingflowers/
Anything else you're dying to mention and I have merely forgotten to ask?
No excuses, get out there and make a movie - that is the best advice I can give, get on a set, make yourself memorable and valuable, and soak up as much as you can.
Thanks for the interview!
No, thank you, I wish you best, it was fun!