Your new movie She Sings to the Stars - in a few words, what is it about?
The endless desert. A Native American grandmother lives alone tending her corn. Her half-Mexican grandson and a white, aging magician are stranded. No water. A river of stars. Everything changes: anything is possible.
What were your sources of inspiration for writing She Sings to the Stars? And seeing all of your movie's esoteric elements, do you consider yourself at all a spiritual person?
I think we are all 'spiritual' people. We just find different ways of defining what is 'spiritual', don't you think? Perhaps what one person calls 'esoteric', another person considers everyday.
There is no single inspiration behind She Sings to the Stars. It grew out of necessity, it grew from a vision, then a dream, considerable research, volumes of poetry, years spent observing beauty and human behavior. (And asking not only 'what is it to be human?' but 'what is it to be a woman vis à vis a woman in a man's world?')
I had written a rather epic screenplay which involves the city of Rome, a child, a dog and the upheavals of 1968. My brother, who is my producer, said "No" outright, "This is far too ambitious for a first feature, we'll never be able to fund it. Three characters, three locations." As his words sank like a disappointed stone over our Skype connection, I smelled sagebrush and saw the desert Southwest. Then came a vision to create a cycle of films about women. As I've said on the website: "Women are bearers of life, and with this comes a natural capacity to nourish in the way we are all nourished by the Earth. The beauty of our diversity can be celebrated only when we acknowledge that we are, integrally, all related. And in this collective, women's voices are still missing. Balance longs to be re-created."
Several months later, I was visited by Mabel in a dream. She was quite small, very old, sitting on the back of a wooden cart, spindly legs dangling. She said, "It is time to sing the song. Listen. It will take four years." She made it clear that a grandmother would initiate the cycle of films.
I had lived in the Southwest for years and came to know several elders from Third Mesa at Hopi in Arizona. I was able to draw on a life lived with that land, its skies, its animals. One of the elders I have alluded to appeared to me in dreams with regularity. When I asked him about the dreams, he replied, "This happens."
Dreams arrive, we don't concoct them.
One of the threads that plays through She Sings to the Stars is 'what does it mean to listen'? Can we stop long enough to actually listen to each other, and perhaps more importantly, to listen to something deep within ourselves? The desert offers a silence, a mystery that engages the film-goer in a way that will, hopefully, inspire. I find a quiet in the desert that thunderously begs you to listen.
Of the three characters in She Sings to the Stars, who do you identify with the most?
I don't know whether I would use the term "identify" as such, but I do love all three of them. Deeply. A psychologist might tell you that each character is a part of me, but I think that is rather simplistic. I think each of them represent a piece of our collective identity, and I simply plugged into the mains. Perhaps that is simplistic.
But where do stories come from at all?
She Sings to the Stars remains rather mysterious when it comes to its several backstories - as the writer, how hard was it for you to not get lost because of that, and did you ever attempt to explain things away in more detail - at least to yourself in writing?
With only three characters, there was the possibility to tip an entire backstory into the mix for each one, including the kitchen sink; but I was acutely aware of not wishing to overwrite. As a reader or an audience member, I expect to use my imagination to flesh out a character. When you meet someone for the first time, you aren't given the whole story. Little pieces are parcelled out, you inuit other bits. And as She Sings to the Stars unravels over just 31 hours, there is only so much of each story that can, realistically, emerge.
I did wish to make what was revealed as culturally appropriate as possible, based on my own observations. One reviewer asked why I didn't give Mabel's complete backstory, why we couldn't get a better sense of her emotional life -- why didn't I include flashbacks to her childhood? From my point of view, it simply wasn't necessary.
What can you tell us about your directorial approach to your story at hand?
On the film's website, I have written, "Magic is everyday. We have created separation between what we call magic or the 'impossible' and what we call reality, where there is none. We knew this unequivocally as children. Everything was alive, interconnected and we existed in a continual state of reciprocity. Indigenous cultures still know this. Physics can prove it."
Quantum physics shows us that the universe is made up of waves of energy. Non-locality, parallel realities and wormholes through time and space confirm wisdom held by traditional peoples. The Lakota phrase "Mitakuye Oyasin", which means "All are related", is used as a common blessing. It describes the harmony with all forms of life, including people, animals, plants, rivers, rocks, mountains -- everything is one. What happens to one affects the other as all are a part of one web. (We are so much more than we perceive ourselves to be!)
Hypnotist Dolores Cannon, author of The Convoluted Universe, adds: "Given what we now know about the structure of time, means that anything can happen because all the possible combinations are present in any moment. This is the reason why magic works. Because if you want something to happen, and you meditate on it and project mental energy towards it happening, it will cause your life to be directed into that time stream... Once we learn to slow down and focus the power of our minds (especially in groups), there is nothing we cannot do. Miracles then become possible."
Filmmaking is a fluid, intuitive medium. The process, itself, is how vision comes to life. That's magic. Poet Diane Ackerman described it as "knee-deep in the cosmic overwhelm, I'm stricken by the ricochet wonder of it all: the plain everythingness of everything, in cahoots with the everythingness of everything else."
Since I was a child, I have had a facility and a willingness to step in and out of what lives beyond normal, what is indefinable and 'apparently' intangible. I see and I hear. Although it began in childhood, my experimentation with this ability and interest in better understanding 'reality' has been ongoing for 30 years. It has taken me to far-flung places, to the desert Southwest to learn from indigenous teachers and into the wilderness on my own.
I suppose this perspective affects how I write and direct. I experienced She Sings to the Stars as "alive" in a way. I had lived and breathed the story for over two years before we went into production, but I knew that it would grow and change from page to production to post-production based on who was there, why, and where we were.
When I worked as a director in theatre, directing plays written by others, I always wanted to write and direct my own work. I wanted to work from the inside out, rather than from the outside in. Writing and directing your own work is like trying to wake up within a dream.
You of course have to talk about your cast, and why exactly these people?
We auditioned for the parts of Third and Mabel in Albuquerque. I had lived with the character of Mabel for two years so was sure I would recognise her as she walked in. But though we had some very capable actresses audition, Mabel just wasn't appearing. Our casting director went to a book launch featuring contemporary Native American artists from the Southwest, where she met two artists. They invited her to their tribal feast at Jemez Pueblo the following weekend and introduced her to their mother, Fannie Loretto. Fannie had not acted before, but as soon as our casting director saw her, she phoned me immediately, "I think I've found Mabel." And she had. Fannie, who is a native of Jemez Pueblo (about an hour northwest of Albuquerque) is beautiful with long greying braids and an open face which conveys both a depth of feeling and a whimsy. And she is, indeed, a very proud grandmother of 8 grandchildren. She was intrigued by the prospect of being in a film. When she auditioned on camera, we discovered she had a natural onscreen presence. And her timing with regard to dialogue was instinctive.
I had trawled the internet 6 months prior to auditions in Albuquerque and had found a head shot of our actor for Third, Jesus Mayorga. He was quite young in the shot with an intense, disturbing stare. I actually used his face for the newspaper-stuffed character I had created for Third. Our casting director had pre-screened him prior to auditions and decided he didn't suit the part well enough to go through to the next round; but when I didn't find who I was imagining in the auditions, I showed her his headshot and requested that she call him back. In walked an actor much older than the head shot, with a softer demeanor but still with an uncomfortable intensity that I needed for the part. He was perfect, and he and Fannie bonded immediately as grandson and grandmother. We learned that he had a lot from his own life to draw upon for the character as he is, indeed, an immigrant from Mexico with indigenous roots.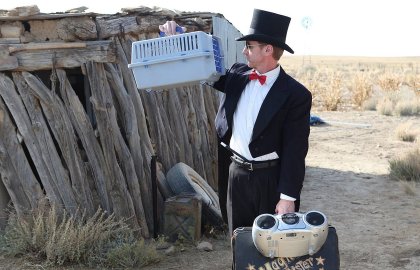 The casting of Lyle, the magician, was tricky as we were holding out for a box-office name. Tom Waits came to mind again and again while I was writing the part of Lyle. He even waltzed into my dreams. I modelled the character of Lyle on a broken Waits-like magician, collecting old bits of wreckage and trivia -- a junkyard philosopher -- a peculiar rogue. Though Tom Waits is a musician and a performer - definitely not an actor - we thought we'd see if he would play the part when it came to casting; but we couldn't get past his gatekeepers. Waits' gatekeepers did us a big favor. Larry Cedar, a seasoned stage, TV and film actor based in Los Angeles, offers an amazing and profound performance, one for which I am deeply grateful. At the suggestion of our line producer who had worked with Larry on another film, I called him at the eleventh hour. He was just closing a one-man show on stage with a final Sunday matinee. He read the script, fell in love with it and flew out to New Mexico Monday morning. We started shooting three days later. He was a gem to work with, so fluid, responsive and intelligent with an "actor's actor" ability to share scenes, which was particularly important as he was working with two unseasoned actors.
Your desert locations - what were the advantages and challenges of filming there?
Not only were we in a desert landscape, we were in the middle of nowhere. We had miles to drive every night (or at dawn, if we had been shooting all night) to get back to our motel. All electrics had to run off generators. Fine desert sand and grit ground into all the equipment. The sun could be intense and burning during the day, we had dust storms and driving winds which wear you down, and at night temperatures went down to 15F.
And yet, it was enchanting, mysterious -- its beauty sometimes startling. The abundance of life in such a stark environment is thrilling to stumble upon, the sounds, alone, are mesmerizing. We recorded and incorporated the ubiquitous drone of daytime cicadas and nighttime crickets into the soundtrack. It was hard and harsh, grueling at times, but I watched many of the crew, particularly those not from New Mexico, undergo subtle changes. Our DP has described the shoot in the desert as "one of the most cathartic experiences I've ever had on a film."
The story is set in the summer. We planned to start shooting in August, but had to push as we didn't have our financing in place and we still didn't have the actor to play Lyle. We finally started shooting at the end of October and into mid-November where night temperatures fell well below freezing.
The rain and fight scene occurred on the coldest night. The water coming from the rain tower froze into icicles in between takes; the actors were in summer T-shirts and had to warm up in electric sleeping bags as soon as they came off set. We had to forgo the participation of the dog in several important scenes as the animal human protection agent would not allow the dog to act on the cold nights.
It can be challenging to make intelligent decisions when shooting through the night in those temperatures. The combination of trying to keep warm and fighting tiredness takes all your energy. I watched us all stutter with brain freeze and fumble at simple tasks. On November 1, All Soul's Night, our actress, Fannie Lucero who is a native of Jemez Pueblo, asked for the night off as it was an important feast and night of ceremony for her tribe. Her parting words were "You all should take the night off because the spirits of the ancestors will be out. We honor them and then go inside for the night while they wander around, revisiting their land. If they find you outside, they can play tricks on you." Well, we thought we had a film to make, so on we forged, shooting scenes which didn't involve her: a generator broke down, the picture car broke down and the camera broke down. When Fannie heard our news the next day, she said, "I told you."
We were fortunate not to encounter rattlesnakes while we were shooting. I had come across two on location just prior to production. Cabezon Peak, the mountain in the film, is a haven for rattlesnakes. In October and November, they come out to warm in the morning sunshine.
What can you tell us about the shoot as such, and the on-set atmosphere?
Filmmaking is collaborative by nature. I engaged with the actors as well as crew for their creative input. Even though I had a definitive script, there was something alive and open to change in the moment, something potentially improvisatory on set. The unpredictable nature of the desert fed into this. Both our DP, John DeFazio, and I thrived in finding the moment in a scene on set together. It was exciting and daunting at the same time because our AD was continually reminding us "we have to get our day". Time and budget vs. the wonder you can find in a moment.
It was the props master, Phyllis Detrich, who actually clarified the importance of the role of the magical rabbit, Alvin, for me by suggesting I let him loose in the car. This simple suggestion brought an important element to life in the film as Alvin is, indeed, one of the 'real' magicians who can disappear at will. (And where does he go?)
The set was a quiet one. I was ridiculed by our art director who asked me why I wasn't more demanding, why I didn't raise my voice to assert my authority. "You need to be an asshole, get tough, then people will respond, you'll get things done. This is your film."
To me, it was listening that was needed.
Our DP has repeatedly described the shoot in the desert as "an amazingly cathartic journey", and in a recent interview, actor Larry Cedar described the on-set atmosphere for She Sings to the Stars this way:
"The experience was almost indescribable in its uniqueness. Every day was full of surprises, challenges, joy, stress, exhaustion, and supreme satisfaction. Rarely have I worked on a project of such creative purity, i.e. where everyone involved, from cast to crew to cinematographer to director and producer, was completely and passionately committed to capturing the story in the best way possible. Add to that the sheer magic of working in the vast expanses of the New Mexico landscape under the cover of what seemed like a billion stars, and you have a fairly intoxicating creative brew."
It was a fairly intoxicating creative brew. If you keep the door ajar, you don't know who or what might wander in -- and that's exhilarating.
The $64-question of course, when and where will She Sings to the Stars be released onto the general public?
Definitely a $64 question! We are eager for it to be released to the general public.
Only one out of every 250 films made each year ever gets distributed and seen by the public. We've decided to market and distribute She Sings to the Stars ourselves and to use crowdfunding to raise the money we need to do that. The platform, Seed and Spark, was built by filmmakers to help filmmakers like us connect directly with our audience and get our film to them. The campaign started on March 29 and will run until May 1. People can go online and join our campaign at: www.seedandspark.com/shesingstothestars - Crowdfunding is the only way we will be able to distribute the film; and unless we reach 80% of our goal, the funds will not be released to us.
One of the incentives offered to contributors is the DVD or HD Digital Download of the film itself. And because the film story touches on such a variety of unusual possibilities, the incentives for the campaign are by no means ordinary! Traditional, hand-carved Hopi katsina dolls, star-gazing with the seasoned astronomer-park ranger from Chaco Canyon out at our film location Cabezon Peak, astrology consultations; original props from the film, as well as opportunities to meet the cast. Have a look!
Any future projects you'd like to share?
My brother, Jonnie Corcoran and I created Circeo Films, our independent film production company, in 2011 with the intention to produce a cycle of films about women -- innate feminine voices are too often missing in the story-telling world of film. And we seem to have forgotten the feminine nature of the Earth and our intimate relationship to it. What is our collective feminine nature? This is a time when women all over the planet are beginning to come forward with their own voices -- ones which have been quiet for a very long time.
She Sings to the Stars initiates the cycle. Once it has been distributed, keep an eye on the Circeo Films website. Our next film of the cycle will be shot in Ireland with a 28-year old woman as protagonist. I have nearly completed the screenplay, so we'll be hunting for investors. The third screenplay, set in 1968 Rome, Italy, is already written, and there is a loose foundation for the fourth in Ethiopia.
What got you into filmmaking in the first place, and did you receive any formal training on the subject?
We grew up with a mother who wrote, directed, shot and edited 8mm and 16mm films. I am sure it influenced us. She imparted her passion for film, introduced us to Chaplin, Buster Keaton [Buster Keaton bio - click here], Mister Magoo and, as we grew up in Italy, to the pantheon of iconic Italian filmmakers of the sixties and seventies. And both she and my grandmother were actresses.
As a child I fashioned a box to capture my dreams. With a hole in the top, shedding light on a blank piece of paper inside, I tied the box to my head when I went to sleep. I wanted to bring the unrestricted realms of dreaming into the confines of our waking world.
My mother encouraged me to write from an early age.
I come from the theatre, trained as a director, worked on stage. I moved into documentary production then picked up a cheap Super-8 camera and started making black and white shorts when I lived in New York City, with no expectations, just a lot of experimentation. I've had some kind of camera in my hand since I was a teenager, most of my inspiration for stories comes either from photographs or dreams.
What can you tell us about your filmwork prior to She Sings to the Stars?
Thousands of stills and reams of unedited Super 8 footage. She Sings to the Stars is the first feature I've worked on. We dove in at the deep end. Exhilarating, gruelling, mystifying and demanding. A thirteen-ring circus. As soon as we've been able to distribute She Sings to the Stars, we will be on to the next one.
How would you describe yourself as a director?
Quiet, intense. Big emotions burbling just below the surface. But I can also look at a scene as if from the moon.
Filmmakers who inspire you?
It is particular films that inspire me -- either whole films or scenes or shots from them. See below.
Your favourite movies?

Feeling lucky ?
Want to
search
any of my partnershops yourself
for more, better results ?

The links below
will take you
just there!!!

Find Jennifer Corcoran
at the amazons ...

amazon.com

amazon.co.uk

amazon.de
Looking for imports ?
Find Jennifer Corcoran here ...
Something naughty ?
(Must be over 18 to go there !)

A few - Fellini's 8 1/2 and La Strada, Marcel Carné's Children of Paradise, Satyajit Ray's Apu Trilogy, Kelly Reichardt's Wendy and Lucy, Debra Granik's Winter's Bone, Bertolucci's The Conformist, Chaplin's Modern Times, D.W. Griffiths' Broken Blossoms, Nuri Bilge Ceylan's Winter Sleep, Jane Campion's The Pianist, Krzysztof Kieślowski's Blue, Terry Gilliam's Brazil, Edgar Reitz's Heimat series, Wim Wenders' Wings of Desire, Iñárritu's Amores Perros and Biutiful, Paolo Sorrentino's The Great Beauty, Andre Tarkovsky's Stalker & The Sacrifice, Pawel Pawlikowski's Ida --
... and of course, films you really deplore?
Iñárritu's The Revenant.
Your/your movie's website, Facebook, whatever else?
Crowdfunding for distribution of She Sings to the Stars March 29 - May 1: www.seedandspark.com/shesingstothestars
Trailer: vimeo.com/150988579
Website: shesingstothestars.com
Facebook: facebook.com/SheSingstotheStarsMovie
Twitter: @SingstotheStars
Thanks for the interview!