Your movie Bloodtraffick - in a few words, what is it about?
Bloodtraffick is a story about loss and revenge. Ava - played by the award-winning actress Grace Huang - is a vigilante obsessed with finding her missing sisters, so much so that she's delved into a world that doesn't exist, a world filled with vampires and angels and creatures beyond her understanding. When she finds proof that one of her sisters is in fact dead, then out comes all this pent up rage and desire for revenge.
Angels vs vampires - which side do you feel more drawn to, which can you better identify with?
Vampires for sure. It's easier for me to identify with the outsiders, the ones who are hunted and misunderstood. I find angels incredibly cold, pristine, arrogant.
Your sources of inspiration when writing Bloodtraffick?
I loved the Underworld films. There's something simply intoxicating about seeing a woman who's graceful with guns on screen. I'm a big fan of Kaori Yuki's manga Angel Sanctuary, she's such a visually gifted artist.
Bloodtraffick is quite an action-packed movie - so what can you tell us about the challenges of bringing the action scenes to the screen, and how did you approach the film's action aspects to begin with?
Action takes quite a long time to shoot! It was my first action piece and I underestimated the time it would take to shoot it. Luckily we had a great action choreographer, Philip Ng, who both shaped the look and style of our action scenes and kept us going in terms of time. Both Grace and Kirt did their own stunts, which was quite exciting and nervewracking. Prior to shooting, Philip and I had a long conversation about what action styles we liked in films, and we decided to go for Taken influenced action - realistic, gritty, fight scenes, but still something suitable to what is essentially a fantasy film.
What can you tell us about your overall directorial style on Bloodtraffick?
I wanted to bring a sense of wonder and longing to the viewer. Loneliness. Want. And not about a sexual want, which is often the case for modern day films - but a real longing for a place to belong, a place among those you respect and admire. As a director, I gravitate towards artists who really can bring something to the table, who are hungry and want to make the best film possible, not just treating this as a "job." If I can bring people together who share my vision and want to enhance it, then I feel like I've succeeded.
You just have to talk about your film's star Grace Huang for a bit! And how did you get her, and what made her perfect for the role? And what was your collaboration like?
Both Grace and Kirt Kishita are amazing actors to work with. I met Grace through alivenotdead, which is an artist social media community established by former Rotten Tomatoes founders Patrick Lee and Stephen Wang, in conjunction with actor Daniel Wu. Jason Tobin brings over his acting coach Jeanne Hartman from LA twice a year, and we met during one of the social events surrounding her incredible workshops. It was one of those amazing collaborative atmospheres, where everyone is so ... charged ... you know? And when she mentioned that she wanted to do an action film, I said ... hey, I have this idea, it's got vampires in it. And away we went.
The role of Ava was written for Grace, so in that sense, she and the character came up together in my mind, each giving and adding to the other. And what she brought to the table, after our long discussions about action movies we both liked (Aliens, Terminator, Resident Evil) really filled in Ava's backstory and brought the character to life. She also is incredibly hands-on and brave - she wanted to do her own stunts, she wanted to get into the character as much as she possibly could. All this with the greatest sense of humor. I love Grace.
What can you tell us about the rest of your key cast and crew?
Kirt - who plays the vampire Finn - I met at a premiere party for Quentin Lee's The People I've Slept With. I later got a chance to see him on stage, and he was great. So different on stage and in character from his normal self. I love and respect that versatility, and after a long talk with him about the role, I knew he was the one. And he's a former baseball player, so he really brought a physicality to the role, a sureness in his own movements. Great stuff.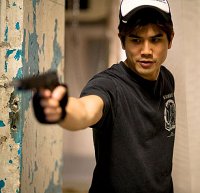 Philip Ng
We were very lucky to have Philip Ng on board as our action choreographer. He's a talented actor in his own right, and he lent us his skills to getting the action scenes to where we wanted them to be. He's also incredibly encouraging and patient, both skills that you don't expect from someone with as many projects under the belt as he has!
The DP team - XiaoSu Han and Andreas Thalhammer - we've worked together on several projects, from my first ever experience on set in Hong Kong to my first web series to my first action film. What I love about them is that they are endlessly creative, and so passionate about their work. If left alone with a cardboard box and a boxcutter, they'd make you a lamp, a shade, a pelican and an elevator. And it'd be a gorgeous moodily-lit penguin too.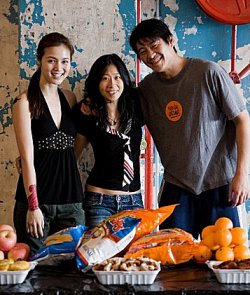 Grace Huang, Jennifer Thym, Kirt Kishita
on set
And of course there is also my set photographer and editor, Bettina Enigl. Her lovely atmospheric photos really set the tone for our promotional work early on. She has the ability to capture beauty in the grittiest of places, a real master of painting with light.
A few words about the actual shoot and the on-set atmosphere?
The shoot was intense, the most intense three days of my life so far! We had so little time to get everything we wanted. I guess there never is enough time, eh? It was also fun at the oddest moments, when everyone is so focused and intense, and then suddenly Grace is dancing in the elevator like it's a hip-hop video. That kind of spontaneity got everyone laughing and re-energized us.
As far as I know, Bloodtraffick has just had (is still having?) a very successful festival run. So what can you tell us about your movie's reception at various filmfest, awards, and audience and critical reactions as such? Oh, and is a more widespread release planned any time soon?
We have been very lucky. We're playing at our twentieth festival in March - Emerald City ComicCon with the Viscera Film Festival tour - and have picked up six awards along the way. The audience reception has been great, especially now that Grace's film with Russell Crowe has come out (The Man with the Iron Fists). We have been getting so many inquiries about where fans can watch our film! I've got great news on that front, but I can't share it publicly yet. Soon though!!!
The first public screening that I attended was Bloodtraffick's world premiere at Gen Con in Indianapolis, and I was so nervous. You work so long on something, and there's a privacy to that, because it's just you, your editor, the screen - and then all of a sudden you're there with a large group of strangers, critical strangers mind you. The film ahead of us had just gotten totally panned, and when I got called up to say a few words to introduce the film, I was just shaking. But the audience loved it, and I got so many cool comments that night and the next day about it.
Let's go back to your very beginnings: As far as I know you were born in New York City, raised in the rural South, have been an investment banker in Europe ... so how did you become a film director in Hong Kong? And did you receive any formal education on moviemaking?
I haven't had any formal film training. But I always knew I wanted to be a director. When I moved from London to Hong Kong and started looking for a job, I realised - I could just do it. I just could start. With all the resources and information that's now available online, topped off by the incredible online communities out there willing to support you, there's really nothing stopping you from achieving your dreams. Or at least taking a shot at them! I did my research, I did a bit of online networking, and I found myself on first film set (35 mm to boot) in July 2008, two weeks after I started looking.
Your first webseries Lumina - what can you tell us about that one, and how did it come into being?
So that first film set I was on - Flashes - I met my DP's XiaoSu Han and Andreas Thalhammer as well as my editor Bettina Enigl, and my sometimes Assistant Director, sometimes Art Director, Billy Lau. There was just this amazing energy on set, you know? Like everyone was new, didn't know each other well, and just bonded. And at the end of the shoot, I was like, hey I want to shoot something by the end of the year. And they were like, cool, call us. So I wrote the script for Lumina and we shot it in November 2008. It was a fun ten days, intense, crazy, and a great first learning experience.
You are currently also working on the webseries Mister French Taste - you just have to talk about that one for a bit!
Mister French Taste was a fun project for me, one that let me loosen up and just enjoy the filmmaking process as I was only wearing my favorite hat during the shoot - director. And being on set for a comedy is a hoot - the actors - Olivier Malet, Osric Chau and Sarah Lian - are hilarious in their own right. And working with legions of French people ... that's a story in and of itself!!! And we're pleased to announce that the show has been accepted to two festivals, Asians on Film Festival and LA WebFest.
Any other films of yours you'd like to talk about, any future projects?
I'm co-developing some new projects with friends, nothing I can talk about yet, but I am very excited about them!
Your films vary considerably, genre-wise. Any favourite genres, or genres you'd love to work in but haven't yet?
I would love to do a period film. I grew up in the South (Southern part of the US for those who are not in the US!), and I'm fixated on stories from that region. And I do have a soft spot for 80's flicks.
How would you describe yourself as a director?
Passionate when it comes to quality, creative when it comes to finding solutions and fiercely loyal to my team - making films is like making war, you really want to know who will have your back when you're on your third 18-hour shoot day and all hell has broken loose.
Filmmakers who inspire you?
Ridley Scott, simply because his films are legendary. Tim Burton for being odd and staying odd.
Your favourite movies?

Feeling lucky ?
Want to
search
any of my partnershops yourself
for more, better results ?

The links below
will take you
just there!!!

Find Jennifer Thym
at the amazons ...

amazon.com

amazon.co.uk

amazon.de
Looking for imports ?
Find Jennifer Thym here ...
Something naughty ?
(Must be over 18 to go there !)

Blade Runner, Total Eclipse, Big Fish, Sunshine, Velvet Goldmine. I love visually stylish films, and films about outsiders. From recent movies, I really enjoyed Chronicle, 50/50, and The Dark Knight Rises.
... and of course, films you really deplore?
Really badly made films. I know it's supposed to be "all about the story", but I have a special place in my heart for craftmanship.
Your website, Facebook, whatever else?
This is the website for my production company RockGinger: http://www.rockginger.com/.
And of course, Bloodtraffick's Facebook is here: http://www.facebook.com/bloodtraffick.
For those who are keen on seeing a bit more of our lovely lead actress Grace Huang, they are welcome to check out her Facebook: http://www.facebook.com/gracehuangactor.
Anything else you are dying to mention and I have merely forgotten to ask?
Go watch An Evening with My Comatose Mother, which was just released on iTunes! It's made by talented friends and it's a fun horror film - here's the trailer: http://www.youtube.com/watch?v=gfHVT3h_uDQ.
Thanks for the interview!
Thank you. :)
Oh, and if that sounds at all interesting, you might want to watch the movie here: http://indieflix.com/film/bloodtraffick-34458/