Your new movie Postpartum - in a few words, what is it about, and what can you tell us about your character in it?
Postpartum follows the story of Alice, a woman struggling with her perception of reality. On one hand she is a devoted mother who would do anything to protect her children. On the other handÖ well youíll have to watch the film.
To what an extent could you actually relate to Postpartum's central theme?
I certainly donít relate to the storyline - if I did, I couldnít admit it here. Thatíd get me in some troubleÖ
In all seriousness though, itís necessary for me to connect to the story in order to do my job. I can certainly relate to protecting what matters most to you and having to come to terms with your past actions.
What did you draw upon to bring such an over-the-top character like yours to life, and honestly, how much of Jenny Curtis can we find in Alice?
My favorite part about acting is diving into scenarios that are far removed from myself. The character of Alice is everything I as an actor long to play in. The dichotomy and extremes of her emotional state from scene to scene is like a playground for being everything that is not Jenny Curtis. Yes, these places Iím accessing are a part of me, but in my mind acting is the exploration of ďwhat would it be like to be this other person?Ē not ďhow can I fit myself into who this character isĒ.
How did you get involved with the project in the first place?
I auditionedÖI remember getting the sides and getting really excited because right away I could tell this would be my Girl, Interrupted moment.
What can you tell us about Postpartum's director Richard Bakewell [Richard Bakewell interview - click here], and what was your collaboration like?
Rick is a champion. He takes care of his cast and crew in ways that are often rare in indie filmmaking. He does his best to make sure everyone is happy and comfortable. Even in the high-stress moments when time was tight and shots were getting cut, heíd be checking in to make sure people were OK.
We met several times before shooting to talk about Alice. He gave me information about his inspirations and sources, he gave me music he listened to while writing, he told me about what he envisionedÖ I took it all in and then put my spin on it - which is exactly the kind of collaboration I love. Rick is clear on what he wants but he gives actors space to do their thing. And from there, if he needs to steer in another direction heís to the point and respectful.
Do talk about the shoot as such, and the on-set atmosphere!
It was quick! An intense and exhausting three day shoot. Two of the shoot days were at an abandoned animal shelter. Being on location somewhere like that immediately drops you into the vibe of the film. It was a creepy place, to say the least. The cast and crew were all awesome and professional. We had a lot of fun and accomplished a ridiculous amount in the short time we had.
Any future projects you'd like to share?
Iím one of the leads in a western feature, Any Bullet Will Do, which will be hitting festivals this year - keep an eye out for it! Also (for something completely different) if anyone local to LA likes a good laugh, Iím a member of an improv group, The MaD JaCKRaTS. We perform every 3rd Sunday of the month and you can get more info at LPNSImprov.com
What got you into acting in the first place, and did you receive any formal training on the subject?
Iíve always considered myself an actress, but I canít really tell you why - for most of my life I didnít really act. I just knew, thatís what I was. Itís who I am. As I grew up, I didnít think it was possible to follow that path so instead I went to a liberal arts college for a couple years. The summer after my sophomore year I had the gift of interning as a personal assistant for a major Broadway actress while she performed an iconic role in NYC. Standing in the wings night after night, I realized this was where Iím supposed to be. I threw everything I had into chasing my dreams and got my BFA in Acting from CalArts. It was the best decision I ever made.
Can you still remember your first time in front of a movie or TV camera, and what was that experience like?
I grew up riding horses. When I was 8 or 9 the childrenís barn I took lessons at was asked to participate in a sing-a-long video Kathie Leeís Rock ní Tots Cafe: Rockiní Roundup. A group of us rode, fed, and groomed horses - I donít think at the time I really even grasped what it was for. Though, I do remember being excited because I was picked to point from a map up to the mountains. I acted the hell out of that pointing.
What can you tell us about your film- and TV-work prior to Postpartum?
Iíve been blessed with some incredibly fun roles. One of my favorites would be my first TV appearance as a juror on an episode of Modern Family. That crew was a happy, kind, well-oiled machine. Iíve also been blessed to be able to shoot on location for several of my projects. We shot the digital mini-series Ride The Lightning in a western town in Arizona. The post-apocalyptic short Who We Are Now was filmed in a fully abandoned neighborhood out in the desert. The first horror I was in, Friends Donít Let Friends, was shot out in Joshua Tree. We shot Any Bullet Will Do in the snowy mountains of Montana - it was wrapped a few months before we shot Postpartum. Iím looking forward to them both making their way through the festival circuit!
Besides movies and TV, you've also done your fair share of theatre acting, right? So do talk about that aspect of your career, and how does performing on stage compare to acting in front of a camera? And which do you prefer, actually?
Theater is my first love and it will always be a home I come back to. I crave the kind of creative process that tends to be more common with theater than film. Having a live audience feeds performance in a way that canít be beat. That being said, film has become a medium that sets me on fire. Itís a different form of exploration and creation. The camera becomes your audience and it can feed you just as much. I love it I love it I love it. I honestly canít tell you which I prefer - I think anything that is creative and interesting lends itself to making other facets of creativity richer. So being a theater actress makes me stronger on film and vice-versa.
How would you describe yourself as an actress, and some of your techniques to bring your characters to life?
Me as an actress really stems from who I am as a person. I like to understand people - where they come from, why they behave the way they do, what drives themÖ Acting is just taking that another step deeper.
I lean towards roles rife with inner turmoil. I love swimming around in the sea of emotions that characters like Alice provide. Iíve always had an active imagination and I can jump into the world of a character fairly quickly if I have done the preparation. I donít have a set technique - how I get into each character changes from role to role. However, having a hook that drops me into character is always helpful. Music is a huge tool for me. For Alice, because she is so extreme, I would alternate between listening to a string quartet and Marilyn Manson depending on the scene. A physical action is also a quick way to drop in. As Alice, I would rub the palm of my right hand with my left thumb. Immediately Iíd have a tactile connection to my emotional state. No matter the tools I use, everything starts from the willingness to ďplayĒ.
Actresses (and indeed actors) who inspire you?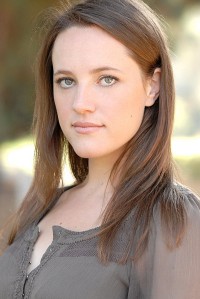 Feeling lucky ?
Want to
search
any of my partnershops yourself
for more, better results ?

The links below
will take you
just there!!!


Oh the list is never-ending! But the one that always jumps out at me is Cate Blanchett in Iím Not There. In a group of men playing versions of Bob Dylan, no one came close to touching her. She WAS Dylan. And she made it seem effortless. Thatís the kind of work I look up to. And Nina Arianda, who is a beast. I was lucky enough to see her on stage in both Iveís Venus in Fur and Shepardís Fool for Love. Sheís going to be this generationís Meryl.
Your favourite movies?
Again, how do you choose? Iím a big fan of movies that try to be different. Movies about passion. Movies that move me to laughter or tears. Anything that is bigger than regular life, really. Anything from Jurassic Park (God, I love dinosaurs) to Eternal Sunshine to The Princess Bride to Birdman. Hot Fuzz is always at the top of the list. Oh! How to Train Your Dragon! I donít know. If you can get me to sit down and watch a movie Iíll probably have some kind of strong feeling about it.
... and of course, films you really deplore?
Well lets just say, the ones that are the opposite of that. Clichť, obvious, lazy.
Your website, Facebook, whatever else?
www.instagram.com/thejennycurtis/
Anything else you're dying to mention and I have merely forgotten to ask?
The answer is 42.
Thanks for the interview!