Your new movie The Device - in a few words, what is it about?
JEREMY: It's about two estranged sisters who are trying to reconnect. There's a tragedy in their past that has put a wall between them and now they're trying to move past that and heal so they can have a real relationship again. As they are beginning this process they find an object in the woods at what looks like a plane crash site. The object turns out to be an alien artifact and the finding of this object will have lasting repercussions on the sisters and their family.
What were your initial inspirations for writing The Device?
JEREMY: I've always been fascinated by aliens and alien abduction stories. My mom had a close encounter of the second kind before I was born and I used to ask her about that experience. It fascinated me and it spurred me to read about other abduction cases. As for the object itself, I was inspired by this because I felt it gave us the opportunity to do something a little more character-based with the genre, seeing how this artifact affected the different characters and played them off one another.
JOHN: I've been terrified by aliens for as long as I can remember. Growing up watching shows such as Unsolved Mysteries and The X-Files, there were few things more horrifying to me than the idea of being abducted by aliens. I'd always wanted to tell an alien abduction story on film because it's such an underrepresented sub-genre and the subject is so inherently scary. The only problem was I could never come up with a second act. The film would start with an abduction incident and then I knew what the repercussions of that would be in the finale, but I couldn't nail down what would happen in between. Jeremy then told me his idea about an alien device being found in a wreckage and I knew that that important story element was what had been missing when I tried to outline my own abduction script.
Since the film's about alien abductions and the like, how much research went into this aspect of The Device, and your personal thoughts about the subject?
JEREMY: Well, I'm definitely a believer, as you can probably tell from what I've already said. It's a topic that has fascinated me all of my life, from books and movies and TV shows, to discussions with people who've actually had encounters. I even had a concept for a book I started writing when I was in my early 20's but I didn't get very far.
JOHN: I've been researching this project my whole life from the documentaries, movies, and TV shows I've watched to the books I've read. This was very helpful because we had a very short period of time to make The Device. We had another project, my film Valley of the Sasquatch, which we were shooting in June. So when Ruthless Pictures (the sales reps behind our previous film The Invoking) came to us in December and said they wanted to co-produce a film with us and they liked the idea of The Device, it gave us 6 months to complete shooting before Valley of the Sasquatch was going to be in production. We also didn't want to step on Valley of the Sasquatch's pre-production time too much, so we decided to shoot in April. So over the course of 4 months we outlined the story, wrote the screenplay, completed pre-production, and shot the film. If Jeremy and I weren't so familiar with abduction mythology, I don't know if we would've been able to pull off such a quick turnaround.
What can you tell us about the film's look and feel?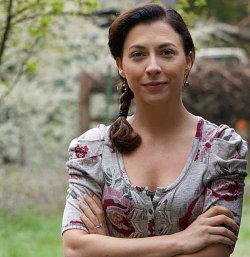 Angela DiMarco
JEREMY: I love atmosphere and wanted to capture that idea of not feeling safe wherever you are, even in your own home. Part of that was trying to create a style that would feel real but also be disorienting. Some of that was the look itself, which is intentionally more desaturated with many earth tones in the color palette, very different from most alien abduction films. But I would say most of that was created by my editor Autumn Lisa Mason. We wanted to utilize bright lights and jump cuts to simulate the idea of loss of time that many abductees experience. Autumn really took it to the next level though, creating the dream sequences and jump cutty moments from scratch and really giving the film a language that it was missing in its most basic form.
A few words about your key cast, and why exactly these people?
JOHN: Our key cast was made up of three performers: Angela DiMarco [Angela DiMarco interview - click here], Kate Alden [Kate Alden interview - click here], and David S. Hogan [David S. Hogan interview - click here]. Jeremy and I worked on a short film entitled Trauma which Angela and David starred in and produced. We were really impressed by how they were both able to give great performances off of a script they just read (Trauma was a 48 Hour Film Contest film, meaning it was written, shot, and edited in just 2 days) in a production where they were also wrangling the production. So it was very easy to imagine them in these complex roles. Kate was recommended to us by another actress in the film, Lorraine Montez who plays Aunt Linda. Lorraine produced a feature called The Darker Path that Kate was the star of. She recommended that we have Kate read for the role and it was easy to see that we had our Rebecca after she auditioned.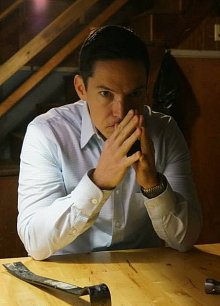 David S. Hogan
JEREMY: I really enjoyed the experience of working with David and Angela prior to The Device. Angela is wonderful at taking a direction, internalizing it, and then turning that direction into something real and honestly, probably better than the direction I originally gave. I knew she would be perfect for bringing Abby to life and showing her mental and emotional disintegration as she's so good at bringing her emotions to the surface.
David is an amazing performer and a great guy to have on set. He's always searching for the right moment in every scene and he's never satisfied, which I appreciate. I think he really made Calvin a fun character on screen but did it without sacrificing the tragedy of the character so the audience doesn't lose their sympathy for him.
Kate was somebody we found through auditions. I was convinced immediately she was right for the role of Rebecca. Her face is very expressive and her emotions translate so well to film. She was able to convey her characters emotional inner life in a very concise way, which was really impressive.
You of course also have to talk about your film's creature for a bit, and how much of a say did you have in its design?
JEREMY: I worked with our creature designer, Kate Dixson, on the look of the alien. We each brought our own ideas to the table and were able to meld them into a happy medium.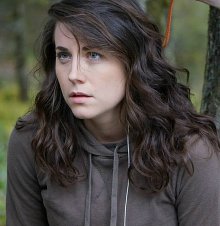 Kate Alden
JOHN: One thing we wanted to do was respect the classic (and nightmare inducing) look of the greys. From the cover of the book Communion to the TV miniseries Intruders, this look of an alien visage had horrified us for decades. But we didn't want to have the key creature of our film be something that everyone has seen before. So we changed a few things up in the head and hands and increased the stature to make our design look even more alien, but still as scary as the classic greys.
You have written and produced the movie together, and were director and assistant director on it respectively - so what was your collaboration like through all of this?
JOHN: Jeremy and I have known each other for about 8 years. We started off as PAs on the same set and have worked together ever since. We'll write together, I'll assistant direct things where he is the director, and he'll be the cinematographer for things where I am the director. Because of this it's pretty easy for us to know what the other wants and be comfortable on set because we know how much the other will bring to their role.
JEREMY: John and I have a great working relationship and we stay pretty communicative through the entire process. I don't think there's a day that goes by that we didn't talk about the project and keep it moving forward, together with our producing partner Matt Medisch. All together the three of us were able to take this project from concept to completed film in about 8 months, which is a crazy schedule to keep! I wouldn't want to keep doing that but I think it's great that we proved to ourselves we could accomplish that.
What can you tell us about the shoot as such, and the on-set atmosphere?
JEREMY: The shoot was a quick 12 days and a few of those days were pretty long and intense. That being said, we had a lot of fun on this shoot. Most of the people on set had worked with us previously and were friends and the new additions to the cast and crew fit in perfectly. We just try to have a good time and make a movie and the chemistry on set really helps our efficiency.
JOHN: Like Jeremy mentioned, we had 12 days to shoot the film. We shot around south Seattle, WA and in a town across the Puget Sound called Belfair. In the first week we had a bunch of locations and company moves which kept us on our toes. During the second week we shot everything taking place in Calvin & Abby's home, which was a house we rented in south Seattle. The one major thing that was different about this production compared to the others was that this was the first film we shot in the city where we live. So instead of spending the entire shoot in one location and sleeping on the set, we got to go home each night. So that was a nice change of pace.
The $64-question of course, when and where will the film be released onto the general public?

Feeling lucky ?
Want to
search
any of my partnershops yourself
for more, better results ?

The links below
will take you
just there!!!

Find The Device
at the amazons ...

amazon.com

amazon.co.uk

amazon.de
Looking for imports ?
Find The Device here ...
Something naughty ?
(Must be over 18 to go there !)

JOHN: The Device has been accepted into a few film festivals and we still have several to hear back from. It will have its world premiere at the Local Sightings Film Festival in Seattle, WA on September 27th. After our brief festival run the film will be released on DVD & VOD in the US on December 16th by Image Entertainment. A UK release will follow later in 2015.
Any future projects you'd like to share?
JEREMY: We have a few projects in the pipeline, mostly in the funding phase of things. The biggest project is Valley of the Sasquatch, a film written and directed by John that is currently in post-production, and slated for a festival release next year.
JOHN: We're really excited about Valley of the Sasquatch. It's my directorial debut and, like The Device, based on my lifelong love of the film's subject matter, in this case Bigfoot. It's the biggest October People production yet and we will have a festival run that starts in early 2015 and goes throughout the year. In addition to that, there are many more stories we are all itching to tell and we can't wait to get back on set and get rolling on them.
Thanks for the interview!