Your new movie The Device - in a few words, what is it about, and what can you tell us about your character in it?
The Device is about two estranged sisters (Abby and Rebecca) that find a mysterious device in the woods near their familyís cabin, and the journey that the discovery of that device prompts for Abby, her fiancť Calvin, and Rebecca. I play the younger of the two sisters, Rebecca; her journey in this film is interesting because she has already experienced a lot of what Abby encounters through the narrative of the film and is thrust back into a set of circumstances that she is trying to heal from.
What did you draw upon to bring your character to life, and how much or Kate Alden can we find in Rebecca?
I think with Rebecca, as with pretty much all of the characters that I am lucky to play, there is a fair amount of Kate Alden mixed into them. Acting is such a great medium for exploring different aspects of myself and looking into the darker, weirder, more fun places that I donít live in on a daily basis. Rebecca has been through really traumatic events in her past, and now she has to try and live somewhat of a normal existence while harboring massive secrets from basically the only family she has left.
How did you get hooked up with the project in the first place?
John Portanova [Jeremy Berg and John Portanova interview - click here] contacted me directly about auditioning for the film because of a recommendation from Lorraine Montez, with whom I had just wrapped a film. It was actually very humorous reading the initial synopsis because The Device sounded so much like The Darker Path (the film that I had just shot) and I thought to myself, ďwait, didnít I just shoot this?Ē After being cast and reading the entire script, I can say with gusto that the two films are very different.
Since the film's also about alien abductions - your personal thoughts about the subject?
Arenít we all a little alien? I do think it would be very self-centered of us as humans to think that we are the only planet with intelligent life in the universe. Also, there is a quote from Men In Black that really resonates with me about this topic that goes, ďfifteen hundred years ago everybody knew the Earth was the center of the universe, five hundred years ago everybody knew the earth was flat, and fifteen minutes ago, you knew that humans were alone on this planet. Imagine what youíll know tomorrow.Ē The universe is so incredibly vast, and I am so incredibly interested in what is out there.
What can you tell us about your director Jeremy Berg [Jeremy Berg and John Portanova interview - click here], and what was your collaboration like?
Jeremy Berg was such a tremendous director to work with. We were able to have a couple of weeks of rehearsal before starting principal photography, which is almost unheard of in this business. He has such an organic and supportive directing style; as an actor it is a real treat to work with someone who knows what they want for the story and how to move the actor in their best performance.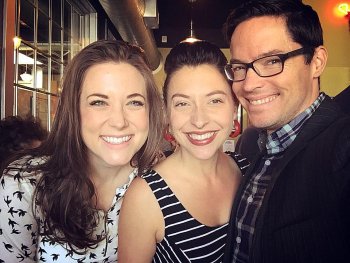 Kate with Angela DiMarco, David S. Hogan
What can you tell us about the shoot as such, and the on-set atmosphere?
Being on set was great! It was a quick shoot with long days, but the crew was fantastic and the locations were stellar. It was amazing to jump into working with Angela [Angela DiMarco interview - click here] and David [David S. Hogan interview - click here]; I felt immediately like a younger sister around them, which lent itself perfectly to our film relationship. Angela and I would run around set singing and being goofy the way that I imagine Abby and Rebecca would have when they were younger - we still break into song every time we see each other. Working with such professional in the cast and crew was tremendously helpful and inspiring, and Iím looking forward to future opportunities to work with each person from this film.
Any future projects you'd like to share?
Right now I am diving into the final days of pick-ups for The Darker Path, which is another supernatural thriller. I also just worked on a new TNT show called The Librarians that is set to start airing in November.
What got you into acting in the first place, and did you receive any education on the subject?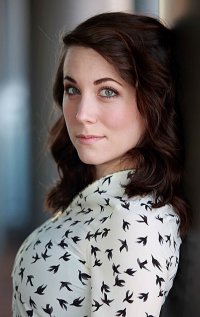 I got into acting at a very young age because of my momís involvement with a local community theater group. The company was doing a youth production of Peter Pan and I was cast as one of the Indians when I was maybe 4 years old. I had such debilitating stage fright that I ended up watching the show instead of performing. A couple of years later I mustered up the courage to perform in Oliver! and fell in love with being on stage. My education from that point has been fairly extensive in acting. I attended a performing arts high school (Las Vegas Academy of Intíl Studies, Performing, and Visual Arts) as a theater major, and attained a degree in theater from Chapman University. Since graduating I have been studying with various teachers in Los Angeles and Seattle, all well versed in the industry and old school shenanigans. There is always something to learn in this business and about myself as an actor.
Can you still remember your first time in front of a camera, and what was that experience like?
When I was in high school, my friends and I would make little home movies but it wasnít until college that I really dove into acting for the camera. I vividly remember doing a summer intensive where actors from the theater department were paired up with a bunch of graduate film students to work on short films. It was amazing! I got to spend the summer running from location to location, learning all about the various components of being on a professional set, acting my butt off, and meeting all of these wonderfully talented, visionary people. Since then, I have been absolutely hooked on film.
What can you tell us about your filmwork prior to The Device?
Up until the past year, I did a lot more work in comedy. When I was living in Los Angeles, I was surrounded by some really hilarious and talented filmmakers who were all about creating new work so I got to dive into producing and acting in some awesome original comedic projects. It wasnít until being cast in the film previous to The Device that I started looking at myself as an actor suited for thrillers. Now that Iím doing them, I love it!
How would you describe yourself as an actress, and some of your techniques to bring your characters to life?
I would describe myself as an actress who is constantly learning. When it comes to technique, I think I have become an amalgamation of years of studying various classic techniques mixed with my own brand of organics. Iím still figuring out what that means from day to day and from character to character, but I will always show up ready to give anything and everything to the project no matter how big or small.
Actresses (and indeed actors) who inspire you?
I love learning from and about actors (men and women) that found their stride later in their adult life. In this business there is so much pressure for youth, but I find the performances and prowess of actors like Emma Thompson, Meryl Streep, Jane Lynch, Kristen Wiig, Helen Mirren, Maggie Smith, Harrison Ford, Alan Rickman, Dustin Hoffman, and Morgan Freeman quite compelling. Paul Rudd is hysterical. Edward Norton is one of my all time favorites. Itís fantastic to watch actors when they reach a point where I can see how much fun their having with their job. Iím also a fan of British television (Misfits, Fawlty Towers, Top Gear) and recently watched the BBC mini series Sherlock - Benedict Cumberbatch and Martin Freeman are definitely also favorites of mine. Also, everyone in the Canadian show Slings and Arrows is fantastic.
Your favourite movies?
This is probably the hardest question for me so Iíll just rattle off a list of films that I love for one reason or another: Fifth Element, Twister, Bridesmaids, Star Wars, Star Trek, Fight Club, Up, Fern Gully, Red, Wayneís World, Good Morning Vietnam, Love Actually, The Bourne Trilogy, Lord of the Rings and The Hobbit, Wild Target, Best in Show, Jurassic Park, The Shining, The Boondock Saints, Zombieland, Ghostbusters, The Sphere. Disney movies always make me cry. I could go on and onÖ
... and of course, films you really deplore?

Feeling lucky ?
Want to
search
any of my partnershops yourself
for more, better results ?

The links below
will take you
just there!!!

Find Kate Alden
at the amazons ...

amazon.com

amazon.co.uk

amazon.de
Looking for imports ?
Find Kate Alden here ...
Something naughty ?
(Must be over 18 to go there !)

Actually, there arenít many films that I really deplore. I do have a seriously hard time watching horror films where people get chopped up and tortured by other people, but other than that I can find things I like about most films that I watch.
Your website, Facebook, whatever else?
Website: katealden.com
Twitter: @thekatealden
Anything else you are dying to mention and I have merely forgotten to ask?
My advice to myself on a daily basis, and to everyone else: Trust your own timing.
Thanks for the interview!
Thank YOU, Mike!