Your new movie Bill Huckstabelle: Serial Rapist - in a few words, what is it about?
Itís about an entertainer who is beloved by the public and respected by his peers, but he has a dark side, a really dark side. This film is my take on celebrity and the hypocrisy that comes with it. This whole Cosby scandal is a perfect example of that theory. For years there have been whispers about his drug and rape antics, but no one wanted to touch an American icon. This happens so much in Hollywood and the rest of the world. Itís sad to say, but when any of these guys preach too much in favor of family values, they are usually up to no good. This film is my statement on that culture.
I think I'm not giving away too much by saying Bill Huckstabelle: Serial Rapist has been inspired by the Bill Cosby rape allegations - your personal take on that story, and also on the (American) public's obsession with all sorts of sex scandals?
People love sex scandals; itís been that way since we had the printed page. When I wrote this script, I structured it like those Whatever happened to ...-shows. I recreated scenes from his TV, standup and movie work, we even have a Skinny Vinnie thing going on. So when you see this film, you're getting a lot of dramatizations of whatís going on behind the scenes of these shows, the stuff you donít see, but only imagine.
Other sources of inspiration when dreaming up Bill Huckstabelle: Serial Rapist?
I was working on Vault Of Terror ll: The Undead when we started to kick around a few ideas on future projects we could work on. The Bill Cosby scandal was fresh and an idea for a film based on this was thrown against the wall. Sean Weathers [Sean Weathers interview - click here] and I had different ideas on how to tackle the subject, so Sean let me take my vision and flesh it out. While I was writing the script, Joel M Reed, director of Bloodsucking Freaks, was on the set of Seanís film The Fappening, so I sat down and had a great conversation with him about film, and when I told him that the Bill Huckstabelle: Serial Rapist script had taken on the tone of Bloodsucking Freaks, he got a real kick out of that. Bloodsucking Freaks was one of the few films to really blow my mind, so meeting Joel was awesome. Itís also such a scandalous story, I knew sooner or later someone would make this film, why not me and why not my twisted vision.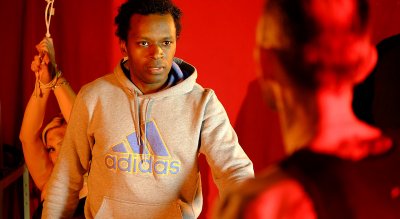 To what extent was the film actually pre-scripted, how much was improvised?
The whole film was pre-scripted. I believe in having a full shooting script before the first scene is shot. The scenes in the basement were re-written the night before the shoot. We only had the location for two days, and we realized we would never get it all done in that time frame. It stayed pretty close to what was originally written, but Sean is so great at Improvising, he took those scenes to another level. Another scene had to be re-written and re-worked because of an actress who jerked me around. I wound up getting my neighbor Reina to play the role, and she was 100 times better.
The rape allegations notwithstanding for the moment, what's your personal opinion of Bill Cosby, the comedian, and to what extent did you let his brand of comedy influence the tone of your movie?
I thought he was talented comic, and if you look at his body of work, he had some great shows other than The Cosby Show. I did a lot of research on his career and his comedy act. And recreated those shows in the film. Then we pepper in what we envision he is up to behind closed doors. And as far as the women who have come forward, I support them all. They were violated and treated like trash, then made to look like money-grabbing gold diggers, wrong on so many levels. He should answer the questions and come clean, otherwise, as far as Iím concerned, he looks guilty.
What can you tell us about your directorial approach to your subject at hand?
This was a real departure from my past films. I am totally against the trend of violence on women flicks. In my past films, the violence was often doled upon people who deserved to be killed or eaten. So when I was fleshing this film out, I had to make a decision on how graphic I was going to get. I spoke to my crew and asked how they felt about the subject and how far I wanted to go, and they all agreed to go all out. So the film took on a very dark tone. I was also directing people to perform these acts of violence, which was very surreal because itís so much against my nature. But after the day was done, we got some really scary stuff, and all the girls were competing for the best screams.
The titular character of Bill Huckstabelle: Serial Rapist is played by Sean Weathers [Sean Weathers interview - click here] - so what made him perfect for the job, and what was your collaboration with him like? And how did you two first meet even, and what can you tell us about previous collaborations?
Sean is a great actor. When we started to talk about this project, it was always going to be Sean who played Bill. We had a conversation about the way he wanted to play him. Bill has two sides, one where he preaches about cursing and family values, and the other side, who enjoys rape and torture like some enjoy reality TV. I am a big fan of They All Must Die, so when I saw Sean on Facebook, I reached out and when he mentioned doing a Vault Of Terror ll, we started to work on that project together. My short films Demon Frequency and The Butcher Game were a product of that. Since we werenít at each otherís throats by the end of that project, we decided to start Bill Huckstabelle: Serial Rapist.
What can you tell us about the rest of your cast, and why exactly these people?
Well as you can imagine, a lot of people turned down various roles after they read the script. The movie hits many nerves, so I expected it. I met Erika Smith through Sean, and thought she would be perfect as Bill's wife, and she was. Sal Amore, who plays Bill's lawyer, is one of my staples and a great behind the scenes guy, especially working with the actors. Sybelle Silver Phoenix and Sarah Rosenberg were also actresses I met though Seanís film, so I knew they could deal with the subject matter of the film. The biggest surprise was Brian Martin, who plays Billís sidekick in the basement. He was so cool; he kept apologizing to the girls after he tortured them, and then became this monster on screen. Very happy with everyoneís performances.
Do talk about the shoot as such, and the on-set atmosphere!
Most of the film was shot in my house, that is all the scenes that did not contain violence or nudity. We built sets on various floors of the house and kept them lit and set until we were done with them, which cut down on set up and break down. Plus, we were on a tight schedule, so we could shoot until we got what we wanted. I have a great crew, and itís the same crew on all my films, so we're all used to each other, which make things go off without a hitch. I have to say, I love working with them.
The $64-question of course, where can your movie be seen?
You can stream it now through Vimeo at https://vimeo.com/ondemand/billhuckstabelle or you can buy the DVD in November through http://fullcirclefilmworks.com and Amazon.
A few words about critical and audience reception of your movie?
The movie was just released, so we have gotten some feedback from the people who have seen it and they like it. They get it, and understand the humor. It happens to be the best thing Iíve done so far, I am very happy with the end product and the message it delivers. Iím getting offers to screen it so the word must be getting out.
Any future projects you'd like to share?
I just wrote four scripts, two features and two short films for a possible Vault Of Terror 3. One of the features is in pre production and itís an old-fashioned horror film, I have the creature suit all done so we're ready to roll. An investor is looking at the other feature script as we speak. So Iím keeping busy.
What got you into filmmaking to begin with?
I was a photographer most of my life who wanted to be a filmmaker but also wanted to eat and raise a family. So when I left my nine to five to raise my daughter, I got back into it. With the help of the digital age, it made it much easier for me to produce my own projects.
What can you tell us about your filmwork prior to Bill Huckstabelle: Serial Rapist?
My first film Silent Deaf'ning was a documentary about military funerals, which was also accepted into the New York Film Festival. After that I wrote Krackoon, which won two awards for Best Horror Film and Best Cult Feature. Bloodmarsh Krackoon was next, which I won Best Director for. Both Krackoon films can be purchased from Alternative Cinema or Amazon, those are really fun films. I also did a bunch of shorts, Rex Bailey is on the Bill Huckstabelle: Serial Rapist DVD as an extra, along with a behind the scenes short film. I have also worked behind the scenes on a few independent films as a DP, including Sean's Movie The Fappening.
How would you describe yourself as a director?
I think Iím the guy who gets it done, and doesnít interfere with an actor unless they are going totally off the rails. I also think Iím an easy guy to work with. I always listen to an actor's suggestion, and If I like it, I shoot it, and a lot of the times, it worked better than what I was shooting for. So I guess my ego is in check.
Filmmakers who inspire you?
David Lynch, Sam Fuller, George Romero, Todd Browning, Abel Ferrara, Martin Scorsese, John Carpenter. I met Wes Craven, who passed away this week, at Visual Arts when he came to teach a class. He was in postproduction on the first Nightmare On Elm Street, very cool guy. I worked on a George Romero fanzine and played an extra on Day Of The Dead and had the pleasure of having dinner with George Romero and talk about his experience shooting Night Of The Living Dead, great weekend.
Your favourite movies?
Iím always asked this question. Being a movie buff, thatís not an easy question to answer. My favorites range from The Sound Of Music to Blacula. Iím a big fan of nature-run-amok films and think Squirm is great enough to make my Top Ten Horror Films I would take to a desert island. But low budget horror is what I live on.
... and of course, films you really deplore?

Feeling lucky ?
Want to
search
any of my partnershops yourself
for more, better results ?

The links below
will take you
just there!!!

Find Jerry Landi
at the amazons ...

amazon.com

amazon.co.uk

amazon.de
Looking for imports ?
Find Jerry Landi here ...
Something naughty ?
(Must be over 18 to go there !)

I just saw Under The Skin, one of my favorites books turned into a real piece of shit. Iím not much of a hater. I appreciate anyone who actually gets a film done and out there. But having said that, rehashing classic films is a dangerous trend, and hardly ever works.
Your/your movie's website, Facebook, whatever else?
Iím currently on Facebook, friend me and keep up with the films . Iím also on Twitter as REDEYEONE and also on Instagram.
Anything else you are dying to mention and I have merely forgotten to ask?
I will be doing the horror/sci fi conventions this year to promote and sell Vault Of Terror ll and Bill Huckstabelle: Serial Rapist. Friend me on Facebook and keep up with where and when we are going to appear. I also ran a successful film festival in the Bronx this year and intend to do it every year, so filmmakers, please get in touch with me through my Facebook page and The Reel Bronx International Film Festival, also on Facebook.
And go out and buy Bloodmarsh Krackoon, which also contains the original Krackoon, and Vault Of Terror ll: The Undead on DVD. And in closing, thanks to the fans, you guys have made this a fun ride.
Thanks for the interview!