You have only recently released your debut feature Arkusan Martinsson. Can you tell us in a few phrases what that film is about?
The film is about a guy named Arkusan Martinsson, he's unemployed and bored. And we get to see what a typical day in his life looks like. Thatís basically it.
To which extent is Arkusan Martinsson autobiographical?
A lot of the stuff in the movie is taken from real life. I was basically living like Arkusan when I started writing it. And the guy playing Ronkas is actually playing himself (which I don't think he've figured out yet). So at some points it is kind of autobiographical, but mostly fiction. Damn, I really donít hope people think that this movie is about my life!
A few words about your co-writer and co-producer Erik Rydberg - who also happens to have a role in your film?
I've known Erik since 2003 when we went to the same high school. Early on we noticed we had the same sense of humor and we later found out that we're actually relatives! During production he was the one who I always called and complained about stuff to, pitched ideas, talked about suicide when things didn't work out as I wanted. So you could say he was my coach and psychiatrist while making the movie. So I gave him the co-producer and co-writer credits for listening to me bitching. So I and he were on the phone constantly during the whole process of making Arkusan Martinsson. He got the part as Molge when another actor, whom the part was written for, said no to the part. And I must say Erik did the part thousands of times better than the original actor would have done.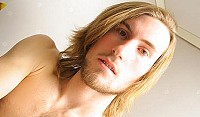 Patrik LindstrŲm in Arkusan Martinsson
What inspired you to make the movie?
I was really really bored and I've always wanted to make a movie. So I thought why not make a movie about a boring guy living a boring unemployed life? A movie with no real plot or meaning that doesnít cost anything to produce. I read Robert Rodriquezís Rebel Without a Crew and got really inspired by the way he wrote and produced El Mariachi and I decided to try to make my own movie in the same way he did his first feature.
A few words about your lead actors, and how easy/difficult was it to cast them?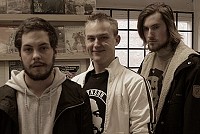 Johan Gustavsson, Robin Lindh and Patrik LindstrŲm in Arkusan Martinsson
Some of them were easy, like Ronkas. I wrote the part with Robin Lindh in my mind. He's like that in real life, no joke. Arkusan was pretty hard to cast, but when I asked Patrik if he knew about anyone who might be willing to act he said he was up for it. Almost all parts are played by friends of mine. Johan Gustavsson (who plays Acke) is a guy I met at a new years eve-party and thought he might be a good actor. I looked up his number and called him and asked if he wanted a part. Apart from saying ďWho is thisĒ he said ďnoĒ right away. But later he changed his mind. So he didnít really know anyone on set. I also had an ad out looking for actors. I got 150 responses, but I only cast one person out of them, Henrik SjŲman who plays Snorlof.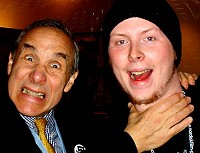 Lloyd Kaufman with Jimmy Johansson
In one scene, you also have Troma legend Lloyd Kaufman doing a voice-over. How did you get him and how was it working with him?
Lloyd has been my biggest idol since I was very young so I really wanted to have him in the movie. And since I had no budget whatsoever I couldn't fly him over for a part, so I figured that maybe I could use his voice. So I sent him an e-mail and he was up for it. I sent him some lines that I wanted him to say and a couple of days later he sent me an mp3-file in which he is moaning and free styling for 4 minutes. So he was great! Itís an honor to have him in the film.
A few words about the rest of your cast and crew?
Troopers. Nobody got paid or fed on the set. Everybody did it just because they wanted to do it. There were some walk-offs from the set and stuff, but that's what you get when you don't pay people. Some actors didn't even show up on the day for their scene! This happened two times actually, and there were only girls who did that. But luckily we have nice friends, so some other girls showed up on a very short notice and did an awesome job. This happened when we shot the record shop-scene and the scene where Arkusan has dinner with the woman of his dreams.
Could you talk about the film's soundtrack and the bands you got to perform on it for a bit?
There are some local bands in the movie such as S.P.D.A, Apsvett feat. Ralph ez Boston (in which I play bass), Sister, Albin Olsson (ex-member of Sister and Apsvett feat. Ralph ez Boston). Apart from the local bands the rapper Goretex (former member of Non Phixion), who is a personal favorite, gave me his song New America to use for the opening of the movie which really sets the mood. But the most important contribution is by Alter Egon (CrashdÔetís Peter Londonís own band). I listened a lot to Alter Egon while writing the script so when he gave me the ok to use his songs I was really happy. You should check all these bands; most of them have profiles on MySpace.
As far as I know, Arkusan Martinsson was produced on the dirt-cheap. Did you sometimes regret you didn't have more money at hand, or did the lack of funds help the film in terms of spontaneity and creativity?
Not at all. The whole mission was to make a movie for as little money as possible. We made it for the cost of 10 DV-tapes and a dog leash. I wrote the script based on what I could do for free. The only thing I regret was not getting a better microphone. The sound came out really bad some days.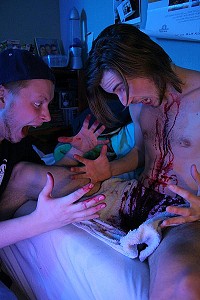 Ouch!!!
How did you come up with the scissors masturbation scene at the beginning of the movie?
I actually had a dream like that once. Thereís a skit by a Swedish comedian where he talks about masturbating with scissors on national television. So I guess thatís where my nightmare came from. It was basically like Arkusanís nightmare, but I didnít watch cat-porn. I was watching midget-porn.
Arkusan Martinsson premiered in Sweden in May I believe. What can you tell us about the audience's initial reactions?
Well over expectations. While writing and shooting the movie I never thought anybody would like it except for me. But people demanded a premiere so I rented a theatre and was hoping for 20 people in the audience so I could cover the rent for the theatre. But 80 people showed up and it looked like most of them really enjoyed it.
When and where will the film be available on DVD (again)?
Soon! The first 60 DVDs that were released on July 25th were sold out in a matter of days. This next edition is called Special SŲren Edition and will include a SŲren-pin and all new cover-art. Itís getting drawn in Iceland as we speak. You will be able to buy the DVD from our MySpace-page as soon as theyíre delivered at my door.
Arkusan Martinsson was your debut feature as a director. Did you have any previous filmmaking experience, or did you take any classes in film direction?
The only experiences I had prior to this was some homemade shorts and working on John Birminghamís The Vampire of Zanzibar [John Birmingham interview - click here]. I have no education in directing really. I just like telling people what to do.
Are there any lessons learned from making Arkusan Martinsson, mistakes you won't repeat in your next film?
Yes, donít cast too many friends. And I will to try to keep on schedule as much as possible. The movie was supposed to be done in May 2008, but we finished it a year after that. If you look closely in the movie youíll see peopleís hair changing. This is because we shot sporadically from March 2008 to April 2009.
What can you tell us about Sweden's independent film scene?
Iím not really sure there is one. Iíve seen some Swedish indie-flicks and most of them are really good.
Arkusan Martinsson is sometimes likened to Kevin Smith's Clerks. How happy are you about that comparison?
I fully understand why people compare them. And Iím ok with that. As long as people donít call it a Clerks-rip-off, which I havenít heard yet, Iím happy. Clerks was a major influence on this film.
Filmmakers who inspire you?
The people who inspire me the most are John Waters, Kevin Smith, Robert Rodriguez (mostly because of his book Rebel without a Crew Ė The Making of El Mariachi), Lloyd Kaufman, Fred Vogel, Trey Parker and Matt Stone, Quentin Tarantino, Nicolas Winding Rehn, and many more. I could go on forever.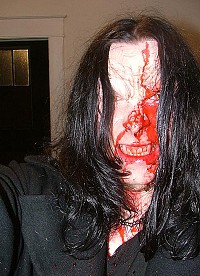 Jimmy Johansson in Vampires of Zanzibar
You are also involved in the production of John Birmingham's [John Birmingham interview - click here] The Vampires of Zanzibar. A few words about that one, and your function(s) in it?
I play the part of Marko, an evil vampire. I also serve as co-producer. Since itís a smaller production we all had to help out on set. So when I wasnít in a scene I was holding the boom, helping the special effects-guys, helping the DP with a dolly-shot and so on. So I did a little bit of everything and it was a great experience!
Birmingham also has a role in Arkusan Martinsson. How did the two of you hook up?
We got in touch on MySpace back in 2006 when he was finishing his first feature Crazy Animal and he told me about his ideas about a vampire-movie and I liked what I heard. So he offered me a role in Vampires of Zanzibar and I flew over to New York in the summer of 2007. We shot the movie in Roanoke, VA, over the course of three weeks I think. Then in March 2009 he called me up and told me he needed to shoot an additional scene for the movie, so I flew over to New York on a very short notice and shot a scene together with Brandon Dicamillo and Chris Raab from Jackass and CKY. At the same time I shot Johnís cameo for Arkusan Martinsson at his grandmotherís house in Staten Island, NY.
Any future projects you'd like to talk about?
I just got handed a script by a guy from Sweden. Itís really interesting and I like the idea. He wants me to work with him, but itís really too early to talk about.
Right now Iím developing the script for the sequel to Arkusan Martinsson. Well, itís actually a prequel and it takes place three years prior to Arkusan. We get to see some of the characters from Arkusan graduate from high school and their last summer as kids. It will be made in the same style as Arkusan Martinsson but with a darker and more depressing approach, but much funnier! This time we will see a guy taking a shit in another guys face. How epic is that?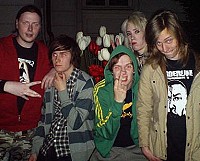 Apsvett feat Ralph ez Boston
A few words about your band Apsvett feat Ralph ez Boston?
Weíre on a long break now. All the members are busy with their own stuff. Iím busy getting ready for my next movie, the drummer spends all his free time with his band Sister and the other members just started studying. But who knows, Bring da Ruckus (the new demo) might be recorded tomorrow, next month or never. The songs are ready, we just need to find time to record them.
Your website, MySpace, whatever else?
The main site for Arkusan Martinsson is the myspace-site www.myspace.com/arkusan. We also have a Facebook-group, feel free to join it!

Feeling lucky ?
Want to
search
any of my partnershops yourself
for more, better results ?

The links below
will take you
just there!!!

Find Jimmy Johansson
at the amazons ...

amazon.com

amazon.co.uk

amazon.de
Looking for imports ?
Find Jimmy Johansson here ...
Something naughty ?
(Must be over 18 to go there !)

Your favourite films?
This list is really long. Right now Iím really into the Danish Pusher-trilogy, I love the style of those movies and they really inspire me. I love the work by John Waters, Kevin Smith, Quentin Tarantino and of course Lloyd Kaufman. So I guess my favorite ones would be movies made by those people. To name a few others: The Last House on the Left, Supervixens, Fyra Nyanser av Brunt, Ett Anstšndigt Liv, Bad TasteÖ I have a hard time to pick a favorite!
... and of course, films you really deplored?
And this list is even longer! I donít even think I should get startedÖ Letís just say that I despise the re-make wave. I really hate it. Re-making The Last House on the Left? What are they thinking?
Anything else you are dying to mention and I have just forgotten to ask?
I desperately need to go to the hairdresser, my hair looks awful right now and the hat Iím wearing is getting really smelly.
Other than that, if youíre going to Tromadance Indiana this weekend, please check out Arkusan Martinsson! Itís free!
And keep checking the MySpace-page for the latest updates on Arkusan and the upcoming prequel.
Thanks for the interview!
Thank YOU! And thanks to everyone reading this.