Your new movie House of Bad - in a few words, what is it about?
I like to call it a Haunted Heist film. The story follows three sisters whoíve stolen a suitcase full of heroin from the middle girlís drug dealer boyfriend Tommy. All three are very compromised characters - Teig, the oldest, has been in and out of prison and is on her third strike now. Sirah, the middle sister, is a stripper who obviously has a history of bad choices in men, given her current partner is a drug dealer. And Lily the youngest has a heroin problem, which as you can imagine makes being around a suitcase full of heroin sheís not allowed to touch pretty tempting. The girlsí plan is to hide out in the remote mountain house that Teig and Sirah grew up in (Lily is actually a half-sister, we discover) and lay low until the heat dies down and they can go South, sell the stash and find some measure of freedom to escape the lives theyíre stuck in.
Unfortunately the childhood house theyíve picked as their hideaway is also where their father killed Teig and Sirahís mother, and things quickly start to go wrong when the ghosts of their parents begin manifesting themselves and turning the girls against each other. Meanwhile Tommy is after his drugs, and is getting closer and closer to finding the girls.
What were your inspirations when writing House of Bad, and what can you tell us about your co-writer Scott Frazelle and the writing process as such?
Itís hard to pin down what the original inspirations for the idea were. I think they were pretty varied. Iíd actually started writing House of Bad back in 2009 as a follow-up to my first feature Prometheus Triumphant. I was pitching it to my distributor at the time. It was originally imagined as something much artier - I wanted to shoot it like a black box theater play and have all the girls wear Kabuki masksÖ which may explain why my distributor didnít jump at the chance to finance it, haha. Anyway, a few years passed and Iím now making somewhat more mainstream fare, so when I revisited the script in early 2011 I started reimagining it as the more conventional thriller it is now.
Scott Frazelle (whoís one of the Executive Producers on the film along with his wife Dorota Skyrzypek) came on at the 11th hour, as we were in pre-production, to help me out of some trouble spots Iíd gotten myself into with the narrative. Sometimes you need those fresh eyes. Most of the basement scenes are his rewrites and thanks to him I think it now all ties together really well.
With House of Bad being among other things a ghost story, is that a genre at all dear to you, and your personal take on the paranormal as such?
I love a great ghost story, yeah. One of my all-time favorite films is Guillermo Del Toroís Devilís Backbone, which I think is a really elegantly executed supernatural film.
Iíve had a few encounters over the years with things I canít explain, having lived and/or worked in some very old buildings in Savannah, Philadelphia, New York and Pittsburgh - one or two interesting ones, and at least one pretty freaky one. I drew from that and from stories told to me by a few friends to create the visual motif in the film that the ghosts are more like shadows rather than (the more conventional) glowing apparition-type of ghost you see in a lot of movies. Itís almost like they create a pocket of darkness wherever they stand. The ghosts in House of Bad, one of them you could interpret as being benign, while the other is obviously straight-up evil. But even the good one is so frightening that it takes so long for anyone to get past her scary appearance, itís almost too late.
House of Bad is mostly restricted to one single location. What are the advantages and challenges of this? And what can you tell us about your location to begin with?
Iíd written the film with this claustrophobic single environment in mind. The idea of three girls trapped together in this shunted interior space and how it affects them was always the key of the story. Of course, life always seems to find a way to imitate art, and after about a week of filming in that exact type of situation the cast and crew making the film definitely started getting some serious cabin fever - which to be honest was really what I was hoping for a bit - we were all to some degree going through what the characters did and I think that affected the film in a positive way.
Our primary location was a house in Pasadena (just north of LA) that actually belongs to a friend of my wife and I. Sheís an Emmy-winning special effects coordinator, so she knew what she was getting into allowing a film crew to take over her house for a week, haha. But it worked out great and her house has such a cool old-fashioned look that all we really had to do was move all of her things out and then dress down the place and we had our disused mountain house. The upstairs was actually a second location because the Pasadena house didnít have a second floor. That was a smaller place near Santa Monica, and we shot all those scenes out during a really crazy first day of filming.
Obviously the single location allowed us to shoot the film much more rapidly by not having to pick up and move the production for most of the filming. We were working with a very small budget, so minimizing the days saved us in cash. With any film - but especially with low-budget filmmaking - that kind of practicality has to enter into every stage, all the way from the writing. Itís about balancing your creative vision with the realities youíre faced with and finding a way to turn those limitations into assets for the film. I think in this case it all worked out really well, but it took some logistics to make it happen, and Scott my producer and Jenny my AD really saved us in that regard by keeping the train on the rails day to day.
At times, House of Bad gets pretty violent (even if much of the violence is of the mental kind) - so how did you aproach the violent bits of your story, and did you ever draw a line what to show and what not to show?
When it comes to violence in my films, I always believe it should be surprising, frightening and brutal. Not for the sake of entertainment, but because thatís what experiencing violence firsthand is actually like, and to romanticize or glamorize whatever violent act is happening onscreen I think not only lessens its impact on the viewer, but also contributes to the desensitization our modern culture is experiencing. This was the first film Iíd directed where there were blank-firing weapons on set, and as director I really felt an acute sense of responsibility for my cast and crewís safety, because unfortunately we all know even blank guns can be dangerous.
Having said all that, as a writer I do take pride in coming up with gruesome scenarios that will make an audience squirm, and I think House of Bad has its fair share of those. I like to show things that the viewer maybe hasnít seen before, to keep them off balance and a little worried about where itís all going. But itís a fine line between being inventive and being ridiculous. A few too many frames in a shot are all it takes, and Iím always aware of that. Sometimes the best thing is to just throw it away - treat it off-handedly and let the camera just barely glimpse the grisly stuff, and allow the viewer to create the rest in their mind. I donít believe in the old Ďthe scariest thing is what you donít seeí adage. My philosophy is more like Ďthe scariest thing is the thing you THINK you saw for a second but werenít sure and OMIGOD what WAS that?í
Oddly, thatís pretty much my approach to onscreen nudity as well.
Related to that, how would you describe your overall directorial approach to your subject at hand?
I try to keep it as simple as possible, and it starts way before the camera rolls. First off, have a strong story with interesting and well-developed characters so the cast and crew are all clear about exactly what movie youíre making, and you donít have to create that on set. Then hire good actors (not just pretty ones, although on House of Bad we got lucky and got both) and trust your actors to do what theyíve worked so hard to learn to do. Too many directors Iíve known try to manipulate the performances to align with preconceptions theyíve created. You have to let go and let your actors find the truth in what theyíre doing, and then gently coax them towards where you need them to go when necessary. Because the actor is laser-focused primarily on their own character, itís your job to make sure what theyíre doing works as an ingredient to the whole.
Also I think itís critical to create a safe environment for the actors. Theyíre naked up there in front of people, emotionally (and quite often physically in my films), and they need to feel secure that they can go where they need to go. I think we all understand that directing is incredibly stressful, but if youíre yelling and pouting and having some kind of director tirade, then the actors are going to naturally close down to protect themselves. Thatís just human nature. So you have to be the bigger person and keep that stuff off the set. Same thing goes with the crew, really. I try to keep it fun and friendly. Making a film is hard and everyone is working long hours and solving any number of problems and most of the time not being paid a fraction of what theyíre really worth, so I see no reason why everyone canít have fun while doing it. Otherwise, why are we all doing this, right?
I guess itís easier for me because I write what I shoot, so I know the material pretty intimately going in. Beyond the logistics of coordinating locations and props and makeup and wardrobes with my team, really for me itís about having all my storyboards drawn beforehand - so Iíve done a lot of my creative planning before I even walk on set, basically figuring out my blocking and coverage so I know what I need for a given scene and what I donít. That way a lot of my heavy lifting is done and I can hopefully just focus my creativity solely on whatís happening in the frameÖ because Iíve learned the hard way that by the time youíre actually shooting thereís a good chance youíll be pretty exhausted, and conserving your energies is critical.
Heather L.Tyler, Sadie Katz and Cheryl Sands - why exactly these three women, how did you find them and what made each perfect for her role in your eyes?
Heather, Sadie and Cheryl all came to us in different ways. Heather was friends with my producers Scott and Dorota, and they had just seen her in a one-woman play and were blown away. She came in and auditioned and it was pretty much a done deal. Heather had some really tough work on this film, charting Teigís downhill slide to madness and murder, and I think it pushed Heather further than sheís ever gone before, but the result is electric. Sheís a very sweet girl, but honestly, when she got into the Teig character, everyone on set was totally intimidated by her.
Sadie had auditioned for a prior film of mine called Manhaters!, which ended up being delayed, but I remembered her and the magic she brings to her performances. Sadie has an incredible vulnerability in her eyes that shoots through the camera and goes straight to your soul. All these marginalized characters in House of Bad, you need to root for someone, and Sadie makes that easy.
Cheryl was recommended to me by another actress friend of mine, Jamie Bernadette [Jamie Bernadette interview - click here]. Theyíd done a Creep Creepersin-film [Creep Creepersin interview - click here] together and Jamie couldnít say enough about her. So Cheryl had also auditioned for Manhaters!. This time around it was really pretty much just a phone call with Cheryl, and she was in. Cherylís so mellow and easygoing, itís hard to see how sheís going to do what she has to on camera. But she does and it always turns out great. And the camera loves her.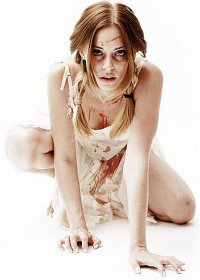 Cheryl Sands
Heather, Sadie and Cheryl each brought a different tool kit and approach to crafting their characters, but they were all a blast to work with - totally prepared, ready to fight for their characters because they believed in what they were doing, and of course theyíre all gorgeous, so they were easy to light and shoot - it made our job that much easier because none of them have a single bad angle.
A few words about the rest of your key cast and crew?
We had a fantastic cast and crew on House of Bad. I know everyone says that, but my folks are really like a little family to me and I hope I can keep working with all of them in the future, just as an excuse for us all to hang out again, haha.
Lisamarie Costabile and I have worked on a lot of other productions together over the years in various capacities, and there was a real kismet to her being pregnant and my idea of having a pregnant ghost, which Iíve never seen in a film before. She was a total rock star, letting herself get dragged along the floor by the hair and pushed around just weeks and even days before giving birth. Scott was actually ready with a car and directions to the nearest hospital at all times when Lisamarie was doing her scenes - we were so worried. But it all went down fine and now sheís a proud mom. We even gave her unborn daughter a credit on IMDb, because we felt like sheíd earned it.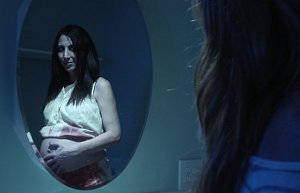 Lisamarie Costabile
Jim Falkenstein is a buddy of mine, and is actually one of the funniest people I know. We met back when I first moved out to LA and was a production assistant. Jimís actually a really sought-after propmaster who also writes and has been on TV in a lot of Nickelodeon shows. Hopefully one of those kids will see this film someday and be totally freaked out.
Clint Jung was another actor Iíd been trying to work with for a while and Iím glad he could be our Tommy. Heís another hilarious character who can just switch on the scary in a way thatís, well, frightening. Clint and Heather worked together to bring some great ideas to their fight scene, and I believe theyíve worked together since on another project. Iím glad to have been the catalyst of that.
We found Julia and Madison, the two girls who played the younger Teig and Sirah in the flashbacks, on an online casting site. This film was also my first experience directing children. Iíve heard horror stories from peers about working with kids, but I must have cast right because Julia and Madison were both fantastic and totally professional and easy to work with. Julia especially had some tough scenes where sheís being abused by the father and I was nervous about shooting them, but Jim Falkenstein made sure they got to know each other a little first, so that actually turned out to be no problem. I feel sure that Julia will be doing big films as she gets older, sheís a fearless young woman.
I could go on and on about my crew. Chad Courtney, my DP, is a young guy but if you watch the film you can tell heís ridiculously talented. Heís also really easy to work with and is very generous when it comes to my obsessiveness with details and colors etc. Heís also lightning fast - we were cranking through twelve pages a day on this film, and there was a lot of handheld work, so you could say Chad was maybe my best bit of casting in the whole film. Backing him up in the camera department we had Dashiel Kulander and Greg Mullin, who were also vital.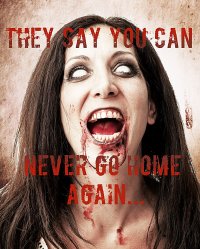 My other key people include my art director Nikki Nemzer, who also handled wardrobe and did some of the makeup as well. Sheís one of those people who can do pretty much ANYTHING and do it with a smile and make it look easy. Sheís also a great actress. Jenny Quam was our AD and did the heroic and thankless job of keeping me more-or-less on schedule. Jennifer Jackson did both the girlís beauty makeup AND the ghost makeup effects, while we had this cool FX guy named Dr. Death handle the real gory stuff - gunshots, etc. Augmenting those bits was Gregg Detrich our VFX artist, who also did the real subtle Ďghost interferenceí effects, which Iím pretty happy with. We lucked out when we got Nina Lucia, whoís edited on all of Michael Mannís films as well as Pirates of the Caribbean, to edit the movie. She was great to work with and a real partner, which is good since we spent almost a year in post-production. My producers introduced me to Terry Huud, our composer, and working with him was a great experience. Music is everything with this kind of film.
Everyone involved worked their butts off for very little money, because they believed in the project and its quality, which is a wonderful compliment.
What can you tell us about the shoot as such, and the on-set atmosphere?
Itís really a bit of blur now, haha. Overall it went really smoothly, which is what I strive for. We all worked together to find ways to get through the scenes as efficiently as possible, sometimes working out how to do it in a single shot, so we saved time. We rarely went over twelve hours, which is something for a film our size. I remember thinking I was spending WAY too much time shooting the scene where the girls are playing Monopoly, and I remember spending an entire day in that tiny bathroom shooting all the bathroom scenes, which was extra challenging because that was the only bathroom in the house and we had a whole crew. I think people were making trips to the Burger King down the street and not bothering us. Mostly I remember days and days in that little house made easier with laughter and smiles and a great team of talented people who love what they do. Thatís a rare thing in our world.
The last couple days of principal photography were great because we could get outside and shoot all the scenes in the woods, etc. I think everyone needed it at that point. Shooting the exteriors reminded me of making my first films back in Pittsburgh when I was a teenager. Just getting a girl bloody and telling her ĎRun!í - we all had a blast.
As we speak, House of Bad has been barely released if I'm not mistaken - so what can you tell us about critical and audience reactions so far?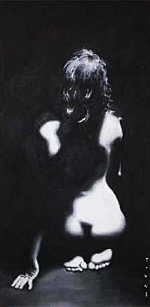 What is Ommitted
The film is currently for sale through our sales rep Paul Richís BoPaul Media, but we havenít settled on a distributor yet. All the reactions so far have been incredibly promising, so weíll hopefully be making an announcement soon.
Let's go back to the beginnings of your career: As far as I know, before becoming a filmmaker, you pursued a career as painter. So what can you tell us about Jim Towns, the painter? And how, if at all, does painting compare to filmmaking?
I studied painting and illustration at Savannah College of Art & Design. I tried to break into comics in NYC for a few years, but it didnít happen the way I was hoping. So I turned back to fine art, and showed in galleries for five or six years. I actually did pretty well - I have work in private collections across the US and abroad. But I started merging into filmmaking because I sensed that I was quickly going to run out of original things to say with painting. I still paint occasionally, but most of my visual art has turned towards creating graphics for the films I make, like the poster art for House of Bad. And I also do all my own storyboards, so in a way Iím sort of creating a comic book of the film first, then just making those still drawings move. Thatís the key to my personal process, I think, and why I can make a decent feature within a compressed timeframeÖ because I go in knowing exactly what I need to tell the story, and I donít have to waste time trying to Ďfind ití.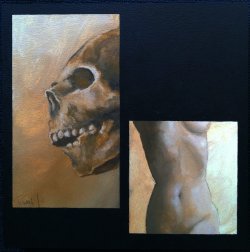 Flesh and Bone
What made you switch to filmmaking eventually, and did you receive any formal training on the subject?
The critical thing was the advent of digital video and non-linear editing in the late nineties, and the availability of digital filters that could give the video a more filmic look. Iíd made little films throughout high school with my friend Mike McKown [Mike McKown interview - click here], and when I moved back to Pittsburgh from New York in í99 and he showed me what he could do, the control we could have over the media - thatís when I started thinking about making my 2D art come to life. That was the genesis. I never had any formal training in film, but my background in comics and visual storytelling I think gave me the foundation I need to do what I do. Really itís all just telling an interesting story with a series of images.
Your first professional short The Sleep of Reason - what can you tell us about that one, and lessons learned from it?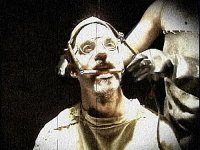 Sleep of Reason
Sleep of Reason was our first experiment with tweaking the video to give it the distressed, organic feel of old film. I think weíve all seen plenty of examples of that done crappily. To do it right takes some effort and knowledge of film as a medium, as well as an artistís eye. The story about an insane mental patient whoís in love with the nurse administering his shock treatments was something Iíd written years before as a comic, so it was easily adapted. Iím still very proud of Sleep of Reason. Iíd like to do a feature someday that captures the look and palate of that little experiment.
You just have to talk about your first feature Prometheus Triumphant for a bit - and what inspired you to make a hommage to silent and early sound horror movies?
Prometheus Triumphant could really be its own article, it was such an odyssey. Prometheus Triumphant was sort-of the logical follow-up to Sleep of Reason. We were taking what weíd learned from that and seeing if we could hold the viewer for 90 minutes with nothing but a musical score and intertitle cards. In keeping with the period look we were going for, I wanted to take themes from all the great horror films from the 20ís and 30ís - movies like Nosferatu, Cabinet of Caligari, Phantom of the Opera, and Frankenstein - and combine them to create a gothic world built out of what all those great films have in common. Prometheus Triumphant took Mike McKown and I something like six years to shoot and edit. We spent weekends in abandoned lunatic asylums, disused steel mills, and ruined houses all around the Pittsburgh area. Basically the scariest places you can imagine. Thinking back about the audacity of creating a silent feature (a decade before The Artist got adulations for basically doing the same thing) Iím amazed at our pluck. It certainly was a niche film - a lot of people really donít get it, but Iím proud of the unique thing we accomplished. It was released by Cinema Epoch in 2009 and is available online on Amazon and elsewhere.
Other films of yours you want to talk about? Any future projects you'd like to share?
I have two projects in motion right now, and am just waiting to see which one gets the green light first. A Man with a Gun is loosely based on the myth of Orpheus and is about a western gunfighter who travels through Purgatory to rescue the souls of his dead wife and son. We have Tony Todd (Candyman) & Dani Lennon (Bite Me) signed on already, so weíre hoping that will happen soon. 13 Girls is a supernatural story about a troubled cop (played by House of Badís Sadie Katz) investigating a mass suicide of students at an all-girlsí Catholic school, who is then caught up in the middle of an endless battle between ancient forces of light and darkness. Itís pretty intense stuff.
How would you describe yourself as a director?
Iíve been told Iím pretty low key and mellow overall. I try not to let things upset me, but instead focus on how to work around whatever obstacle has cropped up at any given moment - because the problems are going to keep happening whether you get angry or not. I like to think I can talk to actors in their own language, to cameramen in their unique dialect, etc., and thatís really just me having filled all those roles at one time or another in my career. I think I go into shooting with a very precise vision of the film in my head already, and itís really just about recording that vision and making it real. To that end Iím pretty intense when it comes to making sure that actually happens, because I have to be. It wonít happen on itís own. I like to think of the film as my boss, and from that perspective itís my job to do my very best work in service of the film.
Filmmakers who inspire you?
I have directors I look to for different kinds of inspiration - some inspire me with the visual stories they tell - guys like Guillermo Del Toro, Tim Burton, Tony Scott, Jean-Pierre Jeunet - real artists whoís films I enjoy watching over and over again, studying the color, compositions, editing, etc. Then there are other filmmakers whose struggles to realize a vision against odds always inspire me - people like George Miller, Don Coscarelli, Tod Browning, and even Ed Wood [Ed Wood bio - click here]. Then thereís just the old guys who are icons like Howard Hawks and Michael Curtiz. My film school has been just watching what these guys have done with the means at their disposal, taking whatís useful, and finding out what works for me as a filmmaker.
Your favourite movies?
Of the top of my head: Nosferatu, Seven Samurai, Yojimbo, Adventures of Robin Hood (1938), pretty much ALL the old Universal monster films, King Kong, The Frighteners, Bubba Ho Tep, Man on Fire, Richard Donnerís Superman, Terminator. Iím forgetting two-thirds of my favorites, probably. This is just stuff I can see on my shelf from where Iím sitting right now. Some of them maybe arenít the BEST films ever, but theyíre ones I can watch over and over and still find new things to love. Also, Iím an 80ís child so naturally all the original Star Wars and Indiana Jones films had a formative effect on me. Like so many artists of my generation, those two trilogies were my first experience in understanding that people actually CRAFTED these movies I enjoyed so much - the men behind the curtain, so to speak.
... and of course, films you really deplore?

Feeling lucky ?
Want to
search
any of my partnershops yourself
for more, better results ?

The links below
will take you
just there!!!

Find Jim Towns
at the amazons ...

amazon.com

amazon.co.uk

amazon.de
Looking for imports ?
Find Jim Towns here ...
Something naughty ?
(Must be over 18 to go there !)

Thatíd mostly be films you see that are obviously born in the stockholdersí offices - films that are targeted to demographics and created with formulas for a big opening weekend and thatís all. Disposable art thatís too common right now to even list. They take advantage of our weakness for movies and exploit it, making us waste two hours of our life on gimmicky insulting crap when we could have been watching something rewarding like Stake Land. Thereís a few directors out there doing stuff that I absolutely despise, of course, but I know that to some degree decisions are taken away from the director so itís hard to know how much blame is deserved. I just hope that if and when I work my way up to that point I can hold onto the ideals Iíve been talking about here and make things that people remember.
Your/your movie's website, Facebook, whatever else?
Please like our official Facebook page: www.facebook.com/badhouse2012
The official sales page for House of Bad is: www.bopaulmedia.com/portfolio-post/house-of-bad-3
Prometheus Triumphant is available through Amazon.com: http://www.amazon.com/exec/obidos/ASIN/B001NH4CIU
You can watch Sleep of Reason here: www.youtube.com/watch?v=X-cU3cHo3Ac&list=UUQfMZNpYFV3rhw2aSOBnv5g&index=22
Anything else you are dying to mention and I have merely forgotten to ask?
I think we pretty much covered it.
Thanks for the talk and I hope to do it again after the next film is done!
Thanks for the interview!