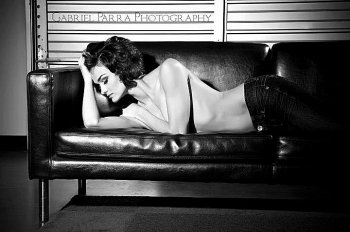 photo by Gabriel Parra
First of all, why don't you introduce yourself to those of us who don't already know you?
I am a small town girl from Kankakee, Illinois. I grew up in a big family - one of nine! I was always creative as a child. Writing, acting and dancing were my passions. I love music, poetry, travelling, and of course, film.
Let's talk about some of your new and upcoming films first: You have just starred in Reel Evil, produced by legendary Charles Band - anything you can tell us about the film and your role in it yet, and how did you get involved with the project to begin with?
Reel Evil is a found-footage style horror film. I play Claire, the makeup artist on a film set. I auditioned for the project and then had a callback and was very fortunate to be cast. I hadnít worked with director Danny Draven or producer Charles Band before this film nor had I met them. They are both wonderful people and Danny is a really calm and positive director - two qualities that I really value in a director.
Another film you're about to shoot is Joston Theney's Axeman at Cutter's Creek [Joston Theney interview - click here] - anything you can tell us about that one and your role in it yet? And is the slasher genre a genre that at all holds some appeal to you?
Axeman at Cutterís Creek is an 80ís style slasher film with some new twists. I am playing Tammy, a sexy lesbian who is very much in love with her girlfriend Liz, played by the beautiful Erin Marie Hogan. The slasher genre definitely is appealing to me and, as I told Joston after he cast me, it has always been a dream of mine to be in a film such as this. I always loved watching slasher films like Halloween and Friday the 13th with my sisters when growing up and I still love to do so today.
Speaking of slashers, you have recently also starred in Carl Lindbergh's The Bunnyman Massacre [Carl Lindbergh interview - click here] - a few words about that one?
I saw the trailer of the first Bunnyman before my audition and I ABSOLUTELY loved the concept. I was thrilled when I received a callback. Carl certainly knows how to audition actors and that is one of my more difficult auditions that I have done. I didnít hear from Carl right away so I thought that I didnít get the role but then he cast me! I was thrilled. I had a blast on that set - loved it so much that I actually considered sticking around to help out on set as part of the crew but I had auditions so I had to come back to LA.
Manhaters!, which you not only star in but have also produced - you just have to talk about that one, and what got you into producing the movie? And will we see more of Jamie Bernadette, the producer?
Manhaters! has yet to be made. I have to say that the script is absolutely phenomenal and that is what inspired me to help get the project off the ground. I was cast in it a couple of years ago after auditioning and, like can happen with so many films, the funding fell through and principal photography was pushed back. Shortly after that, I reached out to some investors I knew to fund the film because I just couldnít let such an amazing script not get made. It is looking very promising now that this film will indeed get made, but I do not know that I will be producing because of the volume of acting work that I have booked. Writer/director Jim Towns [Jim Towns interview - click here] is running with it full speed at this point. He has been talking to The Traveling Picture Show Company, and we will hopefully shoot in 2013.
As far as me producing any other films, I am writing a horror film that I am very much passionate about and I can see myself producing this in the next couple of years.
You also star in Steampunk Samurai Biker Chick - which is just too great a title to not say a few words about it - so please do!
Ha ha, yes. It is a great title. Itís a futuristic sci-fi full of action and humor that is slated to be a part of a trilogy. I play Boss Reeby, a no-nonsense Boss who is really overweight but has a special device that makes her thin.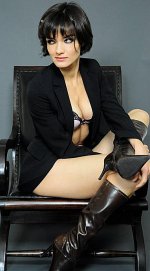 photo by Aubrey Chandler
What can you tell us about Resident Evil: Resurrection?
It was filmed as a short and is now being pitched to investors to make a feature. I play Rebecca Chambers, a rookie member of the S.T.A.R.S. Bravo Team, a branch of the Raccoon City Police Department that handles specialist cases.
Any other current or upcoming films of yours, any future projects you'd like to talk about?
Scarf, a dark drama/thriller, is nearly complete in post-production and will be submitted to Sundance among other film festivals. I play an anorexic drug addict. This role was extremely emotionally and physically challenging and I spent many months in rehearsals with the amazing director Yong Dae-Lee and researching on my own from literally 9am to 3am for some weeks before filming commenced. I have seen some of the footage and I have high hopes that we will do well in the film festival circuit.
Another film is Hell Hunters, a story about two childhood friends inspired by a horrific comic to become the murderous vigilante characters in real life. I play Louise Werner, the wife of Col. Jack Werner, played by William McNamara. I am excited to work with director Jourdan McClure and writer/producer Lawrence Donini and the incredible cast on this film.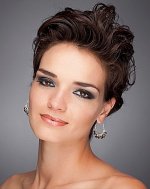 photo by Jason Christopher
What got you into acting to begin with, and did you receive any formal eductation on the subject?
I started acting in community theatre as a young child, perhaps around age 10 or so. Then I continued in high school theatre and speech team where I competed in humorous and dramatic duet acting. I have attended numerous schools here in Hollywood. Second City is next on my agenda.
Before entering the filmworld, you did quite a bit of theatre, right? What can you tell us about your theatre days, and how does acting on stage compare to acting in front of a camera? And which one do you actually prefer?
Yes, thatís right. I love theatre. The camaraderie you build with your fellow actors in theatre is so special. Acting on stage is not as intimate as acting in front of a camera. To me, acting on camera feels more personal because often in stage we have to be ďbiggerĒ than we do on camera, generally speaking, to reach a sizeable audience. I may do theatre again. Broadway would be nice!
Can you still remember your first time in front of a movie camera, and what was that experience like?
Yes, it was on Ulli Lommelís Son of Sam. I remember being very nervous!! Ulli is such a warm person and the people with whom he works are as well, so they made me feel really comfortable. Even when you are nervous I think that your instrument just takes over and you still know what to do.
Early in your career, you worked on quite a few films directed by veteran (genre) director Ulli Lommel - what can you tell us about the man, your films with him, and what was your collaboration like?
I absolutely adore Ulli. He is a kind, warm soul who makes you feel very special as a person and very appreciated as an artist. My films with him were based on scripts but Ulli allows for improv which was a lot of fun to explore the scene and go with what happens rather than be confined by a script.
Many claim your breakthrough film was the comedy Milf - so you just have to talk about that one, right?
It was quite a surprise when fan mail started pouring in after the release of Milf. It was something that I never expected. I thought that the script was clever and the director Scott Wheeler was amazing and the actors were very talented, so I expected a good movie but I never thought that it would be so widely distributed. I never thought it would develop such a large fan base for me. It was really great to have my work seen and appreciated so.
You also play a cameo in the new movie of Milf's director Scott Wheeler, Celebrity Sex Tape - and given the title and knowing my readers, you just have to say a few words about that one!
Yes! I play a goth girl and you wouldnít even recognize me in it. I think I definitely surprised Scott that day we shot that scene. The wicked in me came out :). It was definitely a completely different role from the sweet girl I played in Milf - so I am so glad that Scott trusted me to play the role.
Any other past films of yours you'd like to talk about?
Operation Terror, the September 11th movie that will shock you. I play the airline stewardess on the plane. I canít say too much about the plot but it is based on producer & writer Art Olivierís own research of actual events. If you want to check it out it is premiering in Los Angeles this September 11th. The event will begin at 6:30 PM at Rave Cinemas 18, 6081 Center Drive, LA, CA 90045 in the Promenade at Howard Hughes Center. Tickets for the event will be sold at the theatre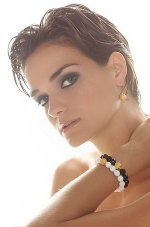 photo by Jason Christopher
How would you describe yourself as an actress, and how do you usually approach a role?
I am a versatile actress with a positive attitude on set. I am a really hard worker and I wonít stop trying until a director is satisfied. I love that I have had the opportunity to play such diverse characters. I donít like to just play someone very similar to myself all the time. I love to push my boundaries, dig in and bring out something that surprises me. For very challenging roles, I will remain in character on set for most of the time. I actually warned the director and cast of Scarf that I would be this way on set before we started shooting. That role was so dark and complex that I thought itíd bring out my best work if I stayed in it at all times. I did things that the character did. She was anorexic, so I barely ate. I had to lose quite a bit of weight for the role. I took up smoking a couple months before the shoot and smoked nonstop during filming as she would do. Luckily, I donít have an addictive personality so I was able to quit fairly easily. In a sense, I became her. For lighter roles, like comedic roles, I will come out of character in between filming. But I always think as the character and become that person. To me, acting is an aesthetic transformation.
Actresses (or indeed actors) who inspire you?

Feeling lucky ?
Want to
search
any of my partnershops yourself
for more, better results ?

The links below
will take you
just there!!!

Find Jamie Bernadette
at the amazons ...

amazon.com

amazon.co.uk

amazon.de
Looking for imports ?
Find Jamie Bernadette here ...
Something naughty ?
(Must be over 18 to go there !)

Natalie Portman, Sally Field, Kate Winslet, Christopher Walken, Jim Carrey, Natalie Wood, Lucille Ball.
Your favourite movies?
The Graduate, The Descent, Romeo & Juliet (1996), The Texas Chainsaw Massacre (2003), Requiem for a Dream, Black Swan, Dead End.
... and of course, films you really deplore?
Honestly, I canít think of any. I always look for the good in everyoneís work.
Your website, Facebook, whatever else?
http://www.facebook.com/JamieBernadetteFanPage
http://twitter.com/jamiebernadett
Anything else you are dying to mention and I have merely forgotten to ask?
No I canít think of anything. Thanks for the interview!
Thanks for the interview!