Your upcoming film State of Desolation - in a few words, what's it going to be about?
Fathers, daughters, and the end of the world.
With post-apocalyptic zombie films being a dime a dozen these days - is that a genre at all dear to you, some of your genre favourites, and what will make your film stand out of the crowd?
I'm from Pittsburgh, where they practically show us George Romero's Night of the Living Dead in school… it's very core to the identity of the town, and I doubt anyone would argue it's the blueprint for everything that's come after. The cool thing about the zombie apocalypse subgenre is that it combines the zombie horror element with this Road Warrior aesthetic (which is another of my favorite films), so to me it's the best of both worlds. There's not only danger from the dead, but there's a human element to deal with - people who, when there's no law anymore, become just as dangerous as the zombies. Maybe more.
I think what sets State of Desolation apart is this very strong dramatic hook, focusing on just two main characters instead of the usual group of 5-12 expendable/interchangeable protagonists. I think there's an honesty to our two heroes, and to the bond that develops between them as they try to survive. At the same time, we're dedicated to delivering all the action, makeup and special effects that fans expect from the zombie genre.
Other sources of inspiration when writing State of Desolation?
When we started I gave Craig Stark (Freddie) my copy of Yojimbo to watch again. There's a lot of that character in Freddie.
How would you describe your directorial approach to your subject at hand?
I try and approach both the dramatic scenes and the action/effects scenes the same way, so there's a naturalness to the flow of the storyline. Mostly in both the writing and directing I'm going for humanity and believability over stylization or showmanship - the backdrops and wardrobe and makeup do plenty of that. Basically it's all about telling the story of two people, and what it takes for them to survive, and not overcomplicate it by trying to show off or be gimmicky.
Zombie films usually suggest quite some blood and guts - so how far do you plan to go concerning that aspect of your movie, and anything you can tell us about your movie's gore effects?
Last week we got together with an expert and did a little machete fight training seminar with our main actors Jamie Bernadette [Jamie Bernadette interview - click here], Craig Stark and Kaiwi Lyman-Mersereau. There's been a lot of work put into creating prop weapons for different purposes - soft ones, rigid plastic ones, unsharpened real ones, and of course versions we can stick in chests, out backs, through heads, etc. There's a lot of machete fighting in the film, which I always think is more dynamic and visceral than a lot of people running around with guns making these miraculous headshots. We have some great effects artists on the project, including Anthony 'Doc Death' Eikner (Sands of Oblivion ) and Lillian Evans (24 Hours).
My battle strategy so far has been to shoot the 'talky' scenes early each day, when we're all fresh and we can take our time, and then shoot all the machete fights and blood and gore after lunch, when we can cut loose and all have a lot of fun with it. A big part of our budget is allotted for action and special effects - again, that's something you really have to deliver on in this genre and so far EVERYONE on this shoot has gotten bloody, including me and the crew.
Your two leads Jamie Bernadette [Jamie Bernadette interview - click here] and Craig Stark - why exactly them, and what's your collaboration like?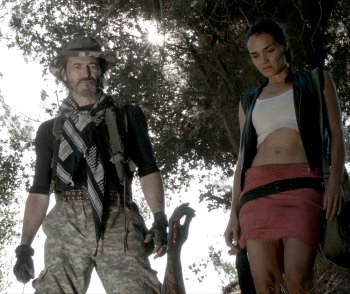 Craig Stark, Jamie Bernadette
Jamie Bernadette and I have been trying to work on a project together for a while now, and when this one came up it seemed perfect. Jamie's incredibly talented, incredibly giving and easy to work with, and the camera just loves her. She's also really tough, which is important because we're often filming under some pretty harsh conditions.
I met Craig Stark earlier this year, and in May when I started looking around for our ex-mercenary character Freddie, I immediately thought of him. He sent us an audition and I was convinced immediately. He's got this weight to his performance - this fatigue and sorrow that's buried down under this tough exterior - he's a guy who's tired of fighting, but finds one last mission that matters in keeping this girl alive.
Do talk about the rest of your cast for a bit!
We have some great supporting actors on the project, who've all been really great about jumping on board and have been fantastic to work with: Dominique Swain (Lolita), Daniel Buran from True Blood, Sadie Katz (Wrong Turn 6), Maria Olsen from Paranormal Activity [Maria Olsen interview - click here], Jessica Morris from Reel Evil, and Victoria De Mare (Killjoy goes to Hell). There'll be lots more casting news coming in the next weeks, as well.
As far as I know, you're currently running a fundraiser for State of Desolation - so what can you tell us about your fundraising campaign, and what whill the money go into, exactly?
Doing a film with this kind of setting and scope is really difficult. Everything has to be designed. Every costume has to be constructed. Every setpiece has to be augmented or altered. You can't just shoot everyone in jeans walking down the street. All that is expensive and time-consuming. Add to it all the makeup effects and gore, and then there's VFX, which this film has more of than any other I've done. So we're hoping to raise extra funds beyond the budget, and all that will enable us to push the boundaries of a modest-budget zombie film and do things that will blow people away. You'll absolutely see it on screen. The campaign's been going great but we only have a few more days and we're hoping for some last minute support from genre fans who want to see something just a little different.
https://www.indiegogo.com/projects/state-of-desolation/x/60207
While running your fundraiser, you're also in the middle of production with State of Desolation - so what can you tell us about the shoot so far, and the on-set atmosphere?
It's without doubt the largest canvas I've ever had as a filmmaker, and it's a big challenge to deliver on the scope that the script has. But the shoot has been a ton of fun, with a small but hardworking crew and some really great actors and crew working very long hours in some pretty tough and even dangerous locations. We've been shooting in some locations in the Los Angeles area that have never allowed anyone to film there before, and you can see the footage we're getting is pretty amazing for a smaller film.
Any idea when and where State of Desolation will be released onto the general public yet?
We're hoping to be done with post in the fall. If we get an early pickup then it could be as soon as Christmas this year!
Any future projects beyond State of Desolation?

Feeling lucky ?
Want to
search
any of my partnershops yourself
for more, better results ?

The links below
will take you
just there!!!

Find Jim Towns
at the amazons ...

amazon.com

amazon.co.uk

amazon.de
Looking for imports ?
Find Jim Towns here ...
Something naughty ?
(Must be over 18 to go there !)

I'm still in pre-production on 13 Girls, starring Sadie Katz from my last film House of Bad. And I'm planning on shooting a Japanese Vampire film called Gaki, the Hungry Ghost later this fall as well. There are some other projects in different stages of development that are pretty exciting as well.
Your/your movie's website, Facebook, IndieGoGo, whatever else?
There's only a few days left to get in on the great incentives on IndieGoGo at https://www.indiegogo.com/projects/state-of-desolation/x/60207
You can follow updates on the film at www.facebook.com/stateofdesolation, where we'll be posting tons of BTS stuff during filming and post leading up to the release.
Fans of Jamie Bernadette should follow her at www.facebook.com/JamieBernadetteFanPage and @jamiebernadett.
I'm on Facebook at www.facebook.com/jimtownsfilms, and Twitter @jim_towns.
Thanks for the interview!
Thanks man! Always good chatting with you.