Your new movie The Demonologist - in a few words, what is it about?
The film is about Damien Seryph, a detective investigating a series of occult murders that lead him down a dark road of self discovery and darkness.
What were your sources of inspiration when writing The Demonologist?
When I first came up with the story for The Demonologist back in 2011, my inspirations were the stories of old, Sleepy Hollow, Bram Stokerís Dracula, Lair of the White Worm. Coupled with the history of occult figures like John Dee, Aleister Crowley and the works of Edgar Allan Poe and H. P. Lovecraft. These stories and the history that revolve around the occult have always been a part of my life. The first script for Damien was set back in the 1800ís and it was really dark. Damien was an opiate addict using drugs to block his memories of a childhood he would rather not remember. When I was approached about doing the film by Thriller Films I knew that, for budgetary reasons, I would have to change the story to modern times, Damienís story and background would have to be updated. So for that I was inspired by Lord of Illusions and Seven coupled with some of the aspects of the original origin story I had created. I took the original story and history and passed it down to one of his ancestors and carried forward.
The plot of The Demonologist is deeply rooted in demonology - so did you do any special research on that aspect of your film?
My research for the film has been from years involving myself in occult teachings while creating new mythologies for those historical realities. The Hell Fire Club, The Golden Dawn, The Circle of Nine, all of these organizations exist or did exist at one time. Their histories laid interesting groundwork for the film. I did the same for the demons, but for me itís about creating a new mythology so putting my own spin on things was very important.
To what extent could you actually identify with The Demonologist's lead character, and how much J.M. Stelly can we find in Damien Seryph?
The way the character is played and portrayed is that character from the perspective of Brian Krause. Brian and I did talk about where he originated. I grew up in a Christian family. Around the time of fourteen, I was still going to church when my brother, Kevin, passed away. That was and still is one of the hardest deaths Iíve had to wrap my mind around but it was also the defining moment where I lost my faith in God. For years after I struggled with who I was as a person. Through that struggle I looked for philosophies, ideas, anything that could help me understand myself. Thatís when I found Satanism. Looking back in my life, even as a young child, I donít think I ever truly believed in a God. I think when I was younger I blamed God and hated God for all the death I had experienced. Everyone deals with death differently. With no God, youíre left with questions. Around 24, I realized and finally came to the conclusion that I would identify as a Satanist. Satanism is not a religion to me. It is a philosophy that encourages you to find the answers within. Why Satan is what people always ask. My answer is simple, Satan is a symbol, not of worship but of self empowerment. We have no one to blame but ourselves for a fair amount of our problems. We choose and those choices have consequences, be it good or bad. Because perception and perspective blur the line of good and bad you have to have grounding, and philosophy helps you do that. About three years ago, I went from being an Atheistic Satanist to a Nihilistic Satanist. They marry each other in a beautiful way, the Unconscious and Non Existent coupled with the Societal Ego. Itís a Schism yet not. Damien comes from that same Schism and perspective. He is at odds with himself internally and itís important for me to explore all of those aspects the way I have explored my own.
What can you tell us about your movie's approach to horror, and is that a genre at all dear to you?
For me, The Demonologist was never truly about horror though it has aspects of it. I donít think this movie is scary at all, though some might feel it is. To me it was all about suspense and terror. Growing up I was always a fan of the work of Kubrick, Carpenter, Barker and Fincher. All filmmakers that excelled at marrying the worlds of horror and suspense. Taking what I learned I developed my own style of storytelling. Horror is my lifeís blood when it comes to what I love. My mother was and still is a horror fan and she introduced me to horror as a child whereas my father introduced me to the movies of the old west. The gunslinger was never just a good guy, he was a tortured soul looking for a way and that always provided suspense. I try to bring that to my stories while, as I said, spinning my style.
Do talk about your overall directorial approach to your story at hand!
I try and take a similar approach to all my projects. A script is a blueprint. It establishes the core value of the film. The structure and outline if you will of something that could be. When it comes to my actors and characters, I lay the groundwork but allow them to explore the character. I give them the room to develop who they think they are. Thatís important to let an actor do that. So when I direct a scene, we block it, rehearse and talk about it. Usually I roll camera during the final rehearsal because you may get something special when they arenít trying. I tell actors donít try, donít act. Be that person. This moment is real for them, so be in that moment. Every movie I direct is different but one thing I try to do in every film is let them improv. Thereís this one scene where Damien and Frank (his partner) are standing outside arguing. It was completely improv. My poor script supervisor wanted to kill me lol. I think at one point her head was going to explode like in the film Scanners but that scene became one of my favorite scenes in the film because if felt raw.
What can you tell us about your key cast, and why exactly these people?
Brian Krause got involved through one of our producers, Justin Jones. They had a friendly relationship. At first I wasnít sure about it because I wanted Jared Bankens to play Damien. Once Brian got cast, we talked at great length and I saw he cared about the film and the character and now, forever to me, he is Damien Seryph. Heís an amazing person. Dane Rhodes got involved through my producer Ryan Westheimer. Another situation I wasnít sure about because I pictured someone else but again, Dane did such a great job. He defined Frank in a way that gets me excited to see on the screen. Jared Bankens is one of my dearest and closest friends. So when we cast him as Ian, I knew he would do such an amazing job and he did. He always does and I am forever grateful for his involvement and belief in my work. Kate Tumanova got involved through Justin, she auditioned, got the part and came in with an open mind and wanted to be involved any way she could. Manon Pages auditioned and man what a talent. The character wasnít French in the script but her accent is so amazing. Iím very fond of Europeans and have so much love for people of foreign decent. She plays something thatís pretty sadistic and she had a blast with it.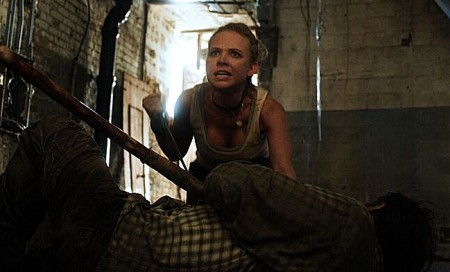 A few words about the shoot as such, and the on-set atmosphere?
It was hard. Iím not going to lie. Ten days....Wrap your mind around that for a second. Ten days to pull off an ambitious project with very little money and very little crew. Every day was a race to get things done. You miss opportunities to do things you want to do. Speciality shots you wish you can get but you just have to get the shots you need and build on that. Because I cut the movie myself, I knew what we needed to get it done to tell the story. Iím so used to making low budget films that I understand the core value of that way of thinking. It could absolutely be looked at as some reality TV show plot or behind the music episode. Tempers, arguments, yelling, and crew not being happy with the circumstances of heat and long hours. Ryan and I fought a lot. We were friends trying to make a film and it put a strain on us. However, you look back on the struggles. The hardest of situations and you learn from them. You donít hold grudges and you donít let it sour your accomplishments. You grow and build a family and thatís what we did. We built a family.
Anything you can tell us about audience and critical reception of The Demonologist?
No audience reaction yet, though people love to talk shit about a film based on a trailer. Iíve read some comments from ďelitistsĒ. You know, people who have an opinion because they think they know better and thatís fine. Let them run their mouths on the internet. Iíll tell them this, we are all waiting for their masterpiece but theyíll never make a film. Those types of people like to sit on their throne and judge because they donít create and never will. For the most part, the reception has been super positive. The nay sayers are a small group. The positive greatly outweighs the bad. As far as critical praise or hate, we are getting far more positive reviews than negative. People are having fun watching it and are asking for more. I hope we can give it to them. All I can say to the public is go in with an open mind.
Any future projects you'd like to share?
Iím finally writing again after taking over a year off. I have submitted one synopsis for a horror film and I am writing a horror comedy which Iím super excited about. Iíve pitched some docu-series. I keep several irons in the fire to see which one sparks.
What got you into filmmaking in the first place, and did you receive any formal education on the subject?
Drive. I wanted to be a film maker since I was a kid, so I just had the drive to do it. Itís a fairly unstable path but it was worth it. My only training was watching films and learning from working on set. Real world training is the greatest thing to have.
What can you tell us about your filmwork prior to The Demonologist?
My first film I directed is called Within Madness. That movie was my first time doing anything filmwise. It was 100 percent improv and was inspired by the tapes of Ricardo Lopez. After that I started directing music videos for bands like To Kill A Party, Jason Martin, Corrosion of Conformity, and Down. I would say my music video for Down called Conjure, which I co-directed and co-produced with my friend Chris Trainor, is one of my best pieces of work. That storyline was based off the original script for The Demonologist. I then directed a film called Abacus which stars Bankens, Macy, and Antonio Saez. It also co-stars Matt Story from Within Madness and Jerry Katz, who plays Elric in The Demonologist. Iím really proud of Abacus. It was again all improv but pushed the actors in a way that forced them to reach deep down and pull out some very dark realities.
How would you describe yourself as a director?
Iím a visual thinker so for me I can see the film already in my head. When it comes to getting performances, I prefer to push my actors and actresses to find the place they need to be within to deliver even if that means going to something dark and horrible.
Filmmakers who inspire you?
John Carpenter, David Fincher, Stanley Kubrick, Clive Barker and Lars Von Trier.
Your favourite movies?
Oh thatís a long list...but here are my top ten:
1. Halloween (1978)
2. Session 9
3. Hellraiser
4. Seven
5. The Shining
6. Anti-Christ
7. From Hell
8. Fight Club
9. Lord of Illusions
10. In the Mouth of Madness
... and of course, films you really deplore?

Feeling lucky ?
Want to
search
any of my partnershops yourself
for more, better results ?

The links below
will take you
just there!!!


Haha... I donít wanna go there... too many to name but... letís just say there a lot of films parading around as good that should be flushed down the toilet. Iím sure people say the same thing about my work but then again I personally donít give a rat's ass what people think and no one should.
Your/your movie's website, Facebook, whatever else?
Facebook: @demonologistfilm
Instagram: @demonologistfilm
Twitter: @TDemonologist
Anything else you're dying to mention and I have merely forgotten to ask?
Just remember to buy or rent the film starting January 1st and as always Hail Satan.
Thanks for the interview!