Your upcoming film I am Monroe? - in a few words, what is it about?
A young Norma Jeane dies a mysterious death. When she awakens, she finds herself in a womb-like realm, a limbo between the past and future. Norma Jeane, portrayed by Andrea Kinch, glances at her reflection in a mirror to find her being is no longer in her own, familiar body, and quickly learns that passage from one realm into the next can only be achieved by facing a series of challenges. One must be subjected to their past misfortunes and sins along with the "happy memories" in order to move on. Alongside 'Woman in the Womb' played by Jocelyn Padilla is character Laine, a whimsical spirit guide aiding the new soul on her journey played by Lorrie Bacon Chaban - in this mirror-like world, a warped realm. However, things are quickly shaken when horrific images appear in the magic mirror. 'Red Death', an evil, mysterious succubus portrayed by Lindsey E. Cork [Lindsey Elisabeth Cork interview - click here], plays mindgames and tries desperately to keep 'Woman In The Womb' from progressing...
What were your inspirations when writing the film?
In the past few years, I have almost died in about 5 different situations and as a result I've found myself thinking more about our existence in the world. I, along with so many people often wonder 'what happens to our souls when we pass?' This movie explores that very question using elements of realism, surrealism, fantasy and utilizing mother nature as our set. I am a spiritual person by nature and find the topic of death interesting and neverending. I love hearing about other people's beliefs and opinions on the subject. I hope this film will inspire people to look within themselves to find their own truths.
What can you tell us about I am Monroe?'s look and feel?
If I had to catagorize this film I would say it is a "period, surrealistic fantasy drama." That sure is a mouth full! The film has three different looks to it. We have the realistic scenes where everything is as true to the period as we could get. It's very beautiful and had the blessing of filming in some really beautiful locations like the Proctor Mansion Inn in Wrentham, Massachusetts. Then we have the "womb realm", which is out in nature but everything is very clean, beautiful, magical. But once things become very dark we enter into what I call "the scary woods", where Red Death and her demon "lost children" followers dwell and reside. I am the most excited about filming in this secret location in Portsmouth, Rhode Island. We literally will play off of the beautys of mother nature. There are abadoned mill houses, a never ending river stream, cool looking tunnels and greenery. It's going to be spectacular!
You are co-directing I am Monroe? together with Nathan Suher [Nathan Suher interview - click here] - so what's your collaboration like, and how did he come on board?
I have worked with Nathan a few times in the past. I acted in a few P.S.A's for Nathan. He has been such a huge supporter and hard worker on this film. When any other director would have dropped out due to the many obstacles this film has gone through he has stuck by my side through the thick and thin. He is super excited to begin directing the womb realm scenes. While I am excited to finish wrapping up the realistic scenes. We had to work hard to cultivate this co-directorship and it's definetely shows in our work.
Your Norma Jeane Andrea Kinch - what made her perfect for the role, and how did you find her?
I have been best friends with Kinch for almost ten years now! She graduated from AMDA in New York City. I originally had her in mind for Laine the guide in it's earliest incarnation. However, I knew deep down inside that this girl had talent and it needed to be shown. So without any audition or doubt in my mind I cast her as the lead role of Norma Jeane and I have never regretted that choice. She is super beautiful and talented. She will go far. I hope people see something in her and I hope as a result she gets more work after I Am Monroe? is premiered!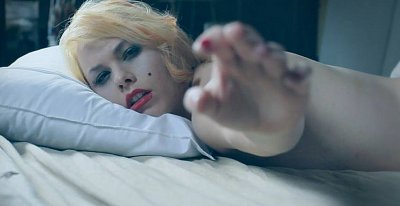 Andrea Kinch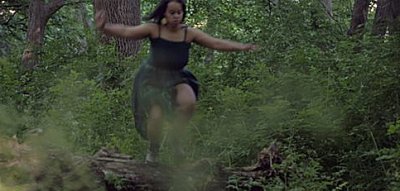 Jocelyn Padilla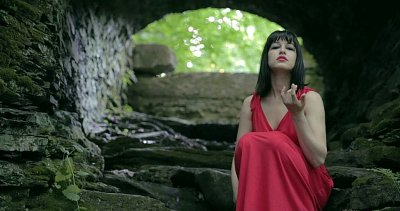 Lindsey Elisabeth Cork
You are playing a key role in I am Monroe? - so what can you tell us about your character, and what do you draw upon to bring her to life? And since you and Andrea Kinch essentially play the same character - to what extent did you develop the role with one another?
I play "The Woman in the Womb". I am the new incarnation of Norma Jeane played by Andrea Kinch. My character has a short time to learn her lessons and forgive or else she will not be reborn. The stakes are high for my character and it will be exciting to play her. We have all faced life and death situations. We have also have had to come face to face with our pasts and our demons at one point or another. There isn't anything special I am bringing from my life to the character because I feel very connected to the role. The fear is real. The stakes are real. What is important to me is to truly live her. How does she talk? How does she walk? What are her desires, dreams, fears? What does she want from Laine? I delve into the literal soul of the character to breath life into the role. Andrea and I really didn't consult each other about our characters in that regard. It's important to know that although Andrea and I are playing the soul of the same character we are playing TWO very different characters.
What can you tell us about the rest of your cast, and why exactly these people?
We have some very very talented performers and crew members from the New England area in this film. I feel very blessed and fortunate to have each and every person involved in this movie. If I didn't there wouldn't be a film. Each person however small or big their parts are in the film in front of or behind the scenes has brought this movie from paper to life right before my very eyes and it's so amazing.
As far as I know, you've shot portions of I am Monroe? quite some time ago - so what can you tell us about that shoot, and what brought the production to a temporary halt? And how has the project developed further during downtime?
When I finally sat down to view the footage after not having seen any footage in over a year I was blown away. I was under the impression that with everything that went wrong last year that perhaps the footage suffered as well. I was so wrong. This movie has such beautiful and high production value. You can see it in the teaser trailer and the IndieGoGo campaign video.
When I talk to people about the film's concept and when other people read the script or find out from others about this film they all have the same kind of reaction, "how unique and different! I can't wait to see it" - that makes me so happy!
Currently, our team is raising funds to see this project through to it's final completion. Last year, we were so fortunate to have had an amazing team of cast and crew. We captured beautiful, unique shots, were able to secure beautiful locations. These are some of the screenshots you see used on the campaign page captured by the talented DP Ben Heald! We have a great high quality production value in this film. I feel extremely lucky to have finished what we had finished! However, we had to make changes to the script, crew and some locations in the past year. Along with a re-writes and recasts, we are ready to film the second half of the film, the 'womb realm'.
You're currently running a fundraising campaign, right? So what can you tell us about your fundraising efforts?
In order to convey this surrealistic period piece accurately, we will need your help! As a backer, you will be helping us with:
- Equipment rentals: Camera, lenses, lighting, track systems, etc.
- Costumes, period piece clothing and unique, stylized costumes for the demons.
- Food for cast/crew
- Location fees
- Payment for key crew members
- Post production: Post production is just as important as the overall shoot. We will need to hire a great editor, colorist, sound and audio mixer and a composer.
- Premiere and distribution: The costs of a premiere, after party, film festival submissions, posters and branded merchandise are also just a small fraction of what we will need to cover in post production.
Once the funds are raised, what's the schedule, and any idea when the film might be released onto the general public yet (even though I know it's probably waaay too early to ask)?
Our IndieGoGo campaign - https://www.indiegogo.com/projects/bring-i-am-monroe-to-life/x/7828141 - ends August 6th at 11:59PM.
We are filming August and September of this year. We are hoping after editing we will be able to premiere this film in Spring of 2015!
With Lindsey Elisabeth Cork [Lindsey Elisabeth Cork interview - click here], who has produced I am Monroe? with you and who also had a key role, you have recently also made Amor Sangre ... so you obviously have to talk about that one, and how did you two hook up in the first place?
Lindsey E. Cork is super talented and has wanted to turn Amor Sangre into a short film. It was her first film. It had its road bumps but I have to say it was one of the most fun I have ever had on a set.
Amor Sangre or Love Blood is a romantic comedy featuring a lesbian vampire and her kidnapped lover, written by and starring Lindsey Elisabeth Cork, with Jocelyn Padilla, and was directed and produced by Geena Matuson [Geena Matuson interview - click here]. The film follows a 426-year-old vampire, the out-of-touch Lucianna, as she kidnaps a housewife with whom she has fallen in love. Veronica, a wholesome, old fashioned mother of two, is whisked away to a 'love nest', and Lucianna tries desperately to make Veronica her loving bride. Comedy ensues when the couple meet Serena, a witty prostitute, who goes from being their next meal to a lifelong friend. With her help, can Lucianna win Veronica's heart?
IMDb: http://www.imdb.com/title/tt3551554
Trailer: https://vimeo.com/86626816
Twitter: https://twitter.com/amor_sangre
Webpage: http://www.geenamatuson.com/amorsangre
Contact: Amorsangre14@hotmail.com
Any future projects beyond I am Monroe? you'd like to share?

Feeling lucky ?
Want to
search
any of my partnershops yourself
for more, better results ?

The links below
will take you
just there!!!

Find Jocelyn Padilla
at the amazons ...

amazon.com

amazon.co.uk

amazon.de
Looking for imports ?
Find Jocelyn Padilla here ...
Something naughty ?
(Must be over 18 to go there !)

After I Am Monroe? is in post production I will still be working on the film. Planning film festivals submissions, publicity, marketing for the premiere. But in terms of other films I am taking a mini-break from filmmaking to focus on improving on my acting skills and writing skills. I have a few movies, I am writing one called Kiss of Death, which is a written collaboration with Cork. The only thing we will give away is that the premise of the film is a new age horror short film for which Cork and I will be starring in. I am also writing a short film entitled Girl Anachronism, a drama piece which I will be solely directing and will have a casting call to find 8 talented women to bring my vision to life.
Your/your movie's website, Facebook, IndieGoGo, whatever else?
IMDb: http://www.imdb.com/title/tt2711656/
Teaser trailer: https://www.youtube.com/watch?v=8PIY9ysAMt8
Twitter: https://twitter.com/IAMMONROE2014
IndieGoGo: https://www.indiegogo.com/projects/bring-i-am-monroe-to-life
My acting Facebook: https://www.facebook.com/pages/Jocelyn-Padilla/115749605177449
I am Monroe? PayPal (for donations): iammonroe25@gmail.com
Thanks for the interview!