Your upcoming movie Amor Sangre - in a few words, what's it going to be about?
Amor Sangre, 'love blood', follows 426-year-old vampire, the out-of-touch Lucianna, as she kidnaps a housewife with whom she's fallen in love. Veronica, a wholesome, old fashioned mother of two, is whisked away to a 'love nest,' and Lucianna tries desperately to make Veronica her loving bride. Comedy ensues when the couple meet Serena, a witty prostitute, who goes from being their next meal to a lifelong friend. With Serena's help, can Lucianna win Veronica's heart?
How did the project fall together in the first place, and what were your sources of inspiration when writing Amor Sangre?
I began writing this as a short story 3 years ago. When I wrote this I was obsessed with online role playing and one day an old friend and I began a similar role play. However, it was totally different. The concept has had a major makeover since then. I didn't want to keep it a short story. It was too good to not see it in action.
With Amor Sangre being a vampire movie - is that a genre you're especially fond of, and what do you think will make your movie stand out of the crowd?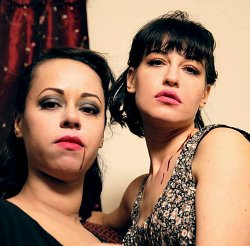 Jocelyn Padilla, Lindsey Elisabeth Cork
I loved vampire films as a child. But it was the old Bela Lugosi and Nosferatu types. I am also a huge comedy fan. I love finding humor in strange or dark situations. This film will stand out because even though it is a comedy there is a lot of heart and beauty in it. Plus, it a vampire film about a lesbian couple. It speaks subtly that it doesn't matter that the two lovers are women. The conflict is found outside of the gender of the pair.
You also play one of the leads in Amor Sangre - so what can you tell us about your character, and what will you draw upon to bring her to life? And have you written your character with yourself in mind, based her on yourself?
Veronica is an old fashioned, and naive housewife who doesn't quite understand a world outside of her own. I have observed the Stepford type of wife in films, and even women I see here in New England to help me get the idea of how to approach her. I actually have planned to play Veronica since I wrote this as a script. The reason being that actually Veronica is completely different from me. I am not at ALL like a traditional housewife. I don't have children, I don't pride myself in cleaning, or baking. I am far more out there and rebellious. But that is part of the fun. I love playing people totally different from me.
What can you tell us about the rest of your projected cast, and why exactly these people?
Starring in this film first we have Jocelyn Padilla [Jocelyn Padilla interview - click here] playing Lucianna the lead. Jocelyn is not only a very close person in my life but a prominent New England filmmaker and actress. She was the main reason I got a chance here. She helped me so much. I chose her because like me with Veronica Jocelyn is nothing like Lucianna. Jocelyn is usually type cast as a goody-goody or normal girl. I wanted people to see that she can branch out and go wild with her roles.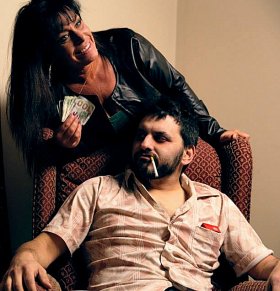 Dawn Shea, Leo Ariea
Then we have Dawn Shea playing Serena. Dawn hasn't had many oppourtunities in the acting world thus far. She is talented and deserves a chance to shine. Serena is a perfect role for her because Dawn has the perfect balance of feirceness, sexiness, and warmth.
Finally we have Leo Ariea playing Carlos. It is a first for Leo. Leo has never acted before. He got this role because he is a friend who I saw great potential in. When he auditioned for me I was blown away. I cannot wait for everyone to see the great potentional and sheer raw talent this cast is made of.
Your director Geena Matuson [Geena Matuson interview - click here] - what will she bring to the table?
I met Geena through another friend in the industry, Mike Messier [Mike Messier interview - click here]. He told me to check out her work and I did. I was very impressed. She is not only extremely talented as a director but she and I have a great working chemistry that we can communicate and have similar ideas for what we want for this film. Plus, Geena has taught me a lot about the production part of the business along the way. She has been such a God send for me and the rest of crew. I could never thank her enough for all she has done and taught me for this film.
As far as I know, the film is still in its fundraising stages - so what can you tell us about your fundraising efforts?
Right now we are launching our Kickstarter campaign. Our goal is $2,500.00.This will pay for special effects, make up, costumes, food, and even festival fees. So we can put together an amazing project.
https://www.kickstarter.com/projects/866639609/amor-sangre-this-project-has-bite
Once your funds are raised, how do you plan to proceed, and any idea when and where the movie might be released onto the general public yet?
Once the Kickstarter reaches its goal and we have the funds in hand we plan to shoot this film the last three days in March. Once it is shot, edited, we plan to send this film to festivals, and have DVDs made, and of course the premiere.
Any future projects beyond Amor Sangre?
I have several projects in mind. Jocelyn [Jocelyn Padilla interview - click here] has a film I am co-starring in, and she and I have collaborated on several ideas for future scripts. But, shhh... no word on them yet. That is for later.
What got you into the filmworld to begin with, and what can you tell us about our filmwork prior to Amor Sangre?
I have wanted to act since I was 3. I began looking into it when I was eighteen while I still lived in my native home in West Virginia. No luck there. But I then moved to Arizona when I was twenty-one. I acted in a few indie films out there as an extra and got my feet wet in both acting and modeling. It was when I moved to Rhode Island in 2012 that I got any kind of break. I am writing my own projects now because I decided if I want a chance to prove myself I had to make my own work. From there I am hoping other filmmakers can see my potential.
How would you describe yourself as a writer and as an actress?
I am an eccentric in life. So my scripts are very outside the box. I like being an adventurous actress and writer. I like to escape myself and play characters I am very different from. However, very relateable. I love escaping myself. That is what makes an actor a real actor.
Actors, writers, filmmakers, whatever else who inspire you?
Tim Burton is my absolute favourite director. He has been my favourite since I was a baby. I have wanted to work with him for years. His child-like qualities mixed with the dark side of life is just a perfect blend. Also as actors/actresses go Helena Bonham Carter is another inspiration, along with Johnny Depp, and Shirley Maclaine. All three are to me unique, and the epitomy of talent. Plus beyond that they are just real. I love anyone who keeps it real.
Your favourite movies?
I love psychological movies with dark humor like Fight Club, Heathers and Secret Window. Also older films like The Seven Year Itch, Irma La Douce, and The Trouble with Harry. Of course Tim Burton works like Beetlejuice and The Corpse Bride. I could really ramble about movies I love all day though.
... and of course, films you deplore?

Feeling lucky ?
Want to
search
any of my partnershops yourself
for more, better results ?

The links below
will take you
just there!!!

Find Lindsey Elisabeth Cork
at the amazons ...

amazon.com

amazon.co.uk

amazon.de
Looking for imports ?
Find Lindsey Elisabeth Cork here ...
Something naughty ?
(Must be over 18 to go there !)

I cannot stand films that are stupid attempting to be funny. Such as, National Lampoon's Van Wilder. That is just not my humor. Also, extremely gorey horror films with no plot. You know the type that has half naked women for no reason. None of the actors can act and they think by adding breasts it makes the bad story better.
Your/your movie's website, Facebook, Kickstarter, whatever else?
https://www.kickstarter.com/projects/866639609/amor-sangre-this-project-has-bite
https://www.facebook.com/AmorSangre?fref=ts
My acting page: https://www.facebook.com/pages/Lindsey-Elisabeth-Cork/480169518662172?fref=ts
Twitter for Amor Sangre: https://twitter.com/amor_sangre
Thanks for the interview!