What can you tell us about your upcoming movie Frost Bite?
Frost Bite is one of the projects where you're like "this going to be a nightmare" and then it turns out to only be a fun filled ride of awesomeness! Frost Bite is about two things. One, zombies, and it's always about zombies isn't it? And two, social interaction between humans after the end of the world. SIDE NOTE: The apocalyptic genre is my favorite from video games like Fall Out 3 and Rage to history of fallen civilizations. I find the idea of the fall of mankind interesting. What's going to happen? Where's it going to happen? When's it going to happen?
Frost Bite is about what happens when mankind has to fight each other to stay alive as well as fight the undead. But the undead eventually take a back seat. Once you figure out how to secure your resources from the undead that issue is solved. But when humans become part of the equation that's a different story. Humans are sneaky, ruthless, and deceitful. They can make strategic plans to attack and kill. Zombies just meander looking for food. The only danger is when they are in a hoard. So, the survivors of the small town of Frost Bite have to fend off not only zombies but a rather large group of raiders led by a religious zealot named Regis. Eventually I would like to expand on this story. Maybe with a part 2 at some point.
Why a zombie movie, is that a genre especially dear to you? And what can you tell us about the brand of zombies populating Frost Bite?
I think like everyone else I find zombies to be a great story line. I think they tie us to the unknown of the afterlife. And it allows us to escape into this world we all want to live. Where it's okay to kill things, a lot! We all won't to live in a zombie apocalypse. Running around killing the undead with hatchets, bullets, chainsaws, meat cleavers, crowbars, eggbeaters, or anything else we can get our hands on.
In Frost Bite the zombies are not exactly fast or slow. I didn't try to segregate them from either lore. Some people like slow zombies and others like fast running zombies. I wanted to take the approach that they are in the frozen tundra, their blood is freezing, their muscle are freezing, so they are slowing down. They are also a more blue or purplish in color. And I wanted to make clotting on them more predominant. Not that you'll see that at all but I know it's there. But there are special zombies in the film as well. For example we took actress Zillah Watson and made her a puppet zombie of sorts. Cheyenne Buchanan (Regis) choreographed for hours with her. You'll have to see the film to understand that of course. It's my favorite zombie in the film.
Why did you decide to shoot Frost Bite in Alaska, and to what extent have the locations influenced your movie, not just storywise?
I was headed to Alaska to see my family. My father was very sick and I hadn't seen him in about ten years. I knew I was going there and I wanted to not only see my family but maybe make a film. I started to think of the vast backdrop to set the film against. The mountains, the snow, the empty roads, and I thought zombies. And then I immediately thought of the film Dead Snow. So I was very hesitant at first. I know we are going to be compared to that film and it's a great film. So, I hope we get the some fans to like this one as well. I had some equipment I could bring but I thought I would put out some feelers and see what happens. The response was incredible. The first person I talked to was Beth Skabar, she is our director of photography. She mentioned a ton of people who would be willing to help. So after about a two months of planning we were ready to go.
My brother Rob, was a big help as well. He lives in Talkeetna, a great little town in Alaska. He was able to get us some great people. In fact the entire film was crewed and cast in Alaska; all but myself and Andre Reissig, who flew over from Germany, I can't explain how awesome every one was. From Chris Pearson of Cubby's(a great grocery store on the spur) to Amanda Randles who not only acted in the film as Pam but acted as our liaison for the town. Once there, myself and Beth Skabar scouted locations and found the best we could. Which wasn't hard with there being a chain of mountains around you at all times. Originally the very end of the movie was supposed to take place in a giant warehouse area that was supposed to in the town of Frost Bite. But, again, the Pearson family (who own Cubby's) was a big help. We ended up using their store as the actual set for Frost Bite. So Frost Bite the town is really a large store well secured by a bunch of survivors. Which is why Regis wants in so bad. To get all the goodies.
It was hard to not shoot everywhere we went. I wanted to shoot everything and everywhere. Being from Florida it was contrast that blew me away. We ended up using several iconic locations in Alaska. For example the awesome Fairview Inn. They allowed us to shoot a nice little zombie fight scene in there and we shoot a great scene on the frozen three rivers in Talkeetna. It was great!
Your sources of inspiration when writing Frost Bite?
I knew I wanted to created a parallel for human struggle. We're in a universe where zombies exist but that can't be the only conflict. There needs to be a human aspect to it as well. I don't want to sound like a pompous writer here so I won't get too detailed on the method of writing but when I start a story it doesn't take me long to finish it. I want to touch on religion, life, death, and the struggle someone has to make to get over the death of a loved one. Which sits heavily with me. Since my was dying while we were shooting and unfortunately died shortly after we finished.
What can you tell us about your directorial approach to the subject at hand?
I love zombie films. I'm pretty sure everyone does. My very first film ever was a short titled Afterlife. It was a zombie action film of sorts. That was in 1999. Then in 2007 I made Experiment 7, not exactly zombies but close. And I followed that up with a novel titled The not so True Stories of Sam and William. Who feature both in Afterlife and Experiment 7. These characters will resurface in the future I'm sure. Dwight Cenac and I are working on a Science Fiction comedy titled Warp Speed featuring these guys. But when it comes to Frost Bite I wanted to look at the decline of humanity after the fact. Zombies are around sure, but they're the least of the threats. You have the cold, the hunger, and the actions of other humans. Zombies are pretty straight forward. Move awkwardly in packs and devour anything that moves. They can't sneak into your bastion in the middle of the night and stab you to death. Humans can. That's a new threat that hasn't been explored much in zombie films. Frost Bite is like Escape from New York with zombies.
A few words about your cast and crew?
Bastards! All of them!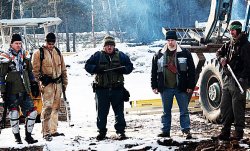 Seriously though, they are great and super fantastic! I couldn't be happier with the cast. Cheyenne Buchanan was one who just knocked me over with his approach to Regis. I knew he was going to do something spectacular when I watched his audition video. Then Cassandre Leigh had sent me a video audition as well. She was great! I loved what she did with Reagan. We ended up holding auditions in Talkeetna, which is about two hours away from Anchorage. We had a hell of turnout. I was more than surprised. Which leads me to the most awkward moments in the audition process. After they were over I singled out a few key actors who were great, one of them being Stephen Waalkes, title-holder for middle weight in the MMA for UFC in Alaska. He's a bad ass squared but the nicest guy you could ever meet. And good looking. Man, now that I think about, I hate this guy! So, for the majority of the film his character (Chris, Reagan's love interest) is shirtless for the last half of the film. So, I was like "I love to give the role of Chris" and he was like "great!" and then I said, "oh can I see your abs?" There was this moment where we were both slightly uncomfortable. Then he slowly raised his shirt saying "ooooohhhh kaaaayyyy". So, yeah, that was weird.
Steve Sterling was great as John Bannister as well. Bannister is our ex-marine in the film who has huge amount of baggage as well. He's not exactly the man he used to be and now he's trying to lead a bunch of not marines in their survival of life and killing zombies. There is a great dynamic between him and Regis which you will find out later in the film. But the one who steals the show is little Dominic Randle. This kid is great! And smart. The part was originally for a young girl but Dominic came in and auditioned and I was like that's what we need. So he won the role.
I couldn't have asked for a better cast all around. Everyone was on their A game for sure. And the crew was great. What can you say about the crew? From our producers to our editors. Which I would like to announce we just hooked up with award-winning Johnny Brajdic of Afterlife Media Effects for our post VFX! That's awesome! He will be mastering the post effects.
When and where will the movie be released, tentatively?
As of right now we will have the cast and crew screening will be on February 3rd at 7:30 pm at the Arts Hangar in Talkeetna, Alaska. For it being release we are unsure. I'm hoping we can get picked up quickly. We'll see. Distribution is a tough and stressful thing. But we're confident we'll get foreign and domestic distribution for sure!
You are also about to release your movie As Night Falls. Now what can you tell us about that one?
As Night Falls is a labor of love. It took me almost four years to get it funded. I had met with several investors and various producers over that time. At one point it almost went to Turkey to be shot. But, that was a joke. No seriously. I had hired a team of producers to help get it financed. The original budget was something 350,000.00. These yahoos wanted me to bump it up to 10 million. So, we did in hopes that maybe they had their shit together. Not the case. So after about six months of nothing, I fired them and took the project back. Insert Dwight Cenac and Crown Productions. I had raised just over about have the funds and Dwight stepped in and raised the finishing funds. Now it's screening all over and doing great!
The film is about a young woman named Elizabeth Croft (Deneen Melody [Deneen Melody interview - click here]) and her little sister Holly (Lily Cardone), who move into this farm house that has some bad history. History of people dying inside it, on it, or around it. Then one fatal night, like always, they are attacked by husband and wife ghost team, played by Debbie Rochon and Micheal Ellison. All hell breaks loose and there's kick-ass action, sword play, a van chase scene with a flying Debbie Rochon latched onto the outside of the vehicle. And then when things can't get any worse, we threw in some zombies to help even out the chaos. With the help of Elizabeth's boyfriend Otto (Dwight Cenac) and her older brother Charlie (Joe Davison) they just might make it through the night.
From what I've read, As Night Falls seems to have a dark fairytale vibe to it. Would you like to comment on that?
It very well could be a fairy tale. One about a little girl named Amelia (Grace Chapman) who is killed by her parents. Then the parents die in a freak mine shaft accident leaving all three of them to haunt the farm house. Only Amelia's part is to warn the newest residents to leave. The film is very dark but has its comedic moments as well. And the parents, well they're straight from hell for sure.
Your sources of inspiration for As Night Falls?
Honestly, I pulled from a friends house who lived out in the middle of nowhere on a river side. Why back in one of the original drafts the script had this river in it. But, when we met the Altman's, who own the farm we shot on, we were like, this is the place. Look at it. So, we did some changes and rewrote a bit. And I love anything to do with ghosts. I would have to say if any one thing creeps the hell out of me its not knowing what's in the dark. So, I wanted to play with that a little. We do a lot of what's that there? And did you hear that? But then was also do a lot of "Holy Shit she's fighting ghosts with a sword!" It's gonna be a fun ride for sure. I just want people to have fun and enjoy it.
What can you tell us about your young leads Lily Cardone and Grace Chapman, what was it like working with her, and a few words about working with children in general?
So, we were having auditions and we had auditions for days. It was the last few actresses on the very last day. And this little red hared girl walks in. She was so adorable and sweet and cute and awesome! We talked for a bit about the character and how she wanted to play her. So I ask if she needed the script and she was like "Nooooo." and I was like "Ooookaaaay." As we started to read I missed a line and she corrected me. She seemed to know the entire script. Everyone's lines. I was blown away. And she was sassy! I asked her to stick around. I was still waiting on the perfect Amelia to walk in. Then in walked Grace Chapman. This other little sassy youngster. She was just as cute and adorable as Lily. But Grace had long dark hair. And she looked just like all the sketches I had done for Amelia. It was great! Then they read together and it was eerie! Like they knew each other. I sat back with the casting director and almost cried. I was that freaked out by these two little show biz queens. Between the two of them they ran the set. Lily always wanting chocolate and Grace always wanting Mountain Holla'! They kept our craft people hopping for the entire shoot. Oh, and don't get me started on the limos. They had to have their own limos. To and from set. LOL! Nah, I'm kidding' these girls where the best. So amazing.
As Night Falls also features a quite stellar genre cast, including Deneen Melody [Deneen Melody interview - click here], Debbie Rochon [Debbie Rochon interview - click here], Raine Brown and Julie Anne. Now how did you get all these women, and what was it like working with them?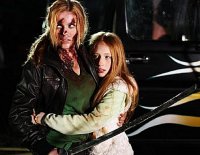 Deneen Melody, Lily Cardone
Well, I started casting some two years ago. And Deneen came to me through MySpace and a friend. We started talking and I sent her the script. She did a video and sent it to me. It was funny as hell. I knew I had to work with her. Raine Brown and I have been in like four films together. Raine is like my little sister. I care for her greatly! She's a joy to work with and loves to goof around. We had so much fun on this and Timo Rose's Beast set. Debbie and I have also worked with Timo Rose in Germany on Fearmakers. I love Debbie with all my heart. She is a great friend and mentor. And she'll be straight with you. Or gay. Depending on how you role. No, seriously. She is a world of wisdom. We have spent hours and hours talking about everything from religion to science. Julie Anne I met at auditions. She came in and blew us away. I didn't really have a part for her. So I wrote one. I wrote the role of Olivia for her. In the original script Dude (Tyler Cross) didn't have a girlfriend. He just hung with his partner in crime Pennywise (Andre Reissig) and got into trouble. But after meeting Julie Anne I wanted to have her in the film. So, I wrote her in.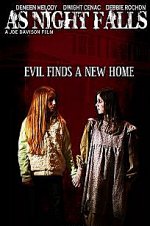 A few words about the rest of As Night Falls' cast and crew?
The crew worked their asses off. Brian Bourke our DP is so awesome. With our gaffer Andrew Ortowski the lighting is amazing. And our editor Stu McLaughlin I think did a terrific job! I can't thank everyone enough. Josh Long, Mike Long, our set designer Brittany Stevenson who worked her ass off building an entire mine shaft and the one and only Mr. Platinum for digging a hole the size of Texas in about two hours.
The $64 question of course: When and where will the movie be out?
As Night Falls will be out very soon. Hopefully in theaters. Of course that's completely up to our distributors. We have no control over that aspect of the film. But, let's just say it's in some very nice hands as we speak.
Let's go all the way back to your beginnings: How did you get into filmmaking to begin with, and did you receive any formal training on the subject?
I started filmmaking in my backyard shooting comedy sketches. Back then in 1994 we did a public access show titled The Side Walk Cracks. Then I got into Improv comedy and did that for about ten years. Then I got my first film out of Miami. That was so great. I remember being on the plane and I was like I can't believe I'm being flown to Miami to shoot a movie. It was so great! After that it was a few short films, four of which were shot in England. I still miss those guys. Then it was onto features. My first feature was Unearthed. Directed by Craig Kovach. It starred Tom Savini and myself playing detectives chasing dead bodies all over the city only to lead to an Alien agenda with John Franz kidnapping Dr. Mallory Page (Kate Kissingford) to find is missing artifact. That film taught me a lot. What to do as a producer, what not to do as a producer. If I knew then what I know now, we would have one hell of a movie. That's for sure! But, I don't regret making our first film on a shoe string budget. It was the best we could do for what we had.
According to my information, you have done quite a bit of producing and scriptwriting before actually directing your own movies. What can you tell us about some of your movies not directed by yourself?
When I first started in film making I was eager to do what ever it took to get into the industry. I was already writing scripts, poorly, but still writing as much as possible. I remember sitting in my little room inside the old trailer in the middle of the woods and pounding out scripts on an old IBM think pad. We eventually destroyed that old trailer in a short film titled Afterlife, it was a zombie film. And my first endeavor into film making. I was the writer and producer. Noeland Collins was the director. It would be several projects before I would step up and become a director.
Progressing through the ranks on set I slowly started to learn more and more. The first real feature I got to produce was Unearthed with Tom Savini. That was so much fun. But I learned so much on that film. Made a lot of mistakes too. If I had only known what I know now. I learn a lot from working with other directors and producers. There's a film company in Clearwater named Chameleon Film Works and it's headed by Buddy Winsett, he's a great producer and good friend. He is a mentor for me. A constant source of advice and reassurance. I've also learned a substantial amount from working the Pete Guzzo as well. Working on his higher end short films and documentaries has given me a sense of a wider perimeter of film making that might ´take some a long time to achieve. We had the privilege to work with a techno crane and four RED cameras on one particular short film. That was an amazing organization. And thankfully I was producer on that. Got to work with a ton of great people on that film.
Acting has a been a big help as well. Acting has lead me across the planet to Germany, twice. I owe a lot to Ted Geoghegan of Staving Kappa Films for those. He hooked me up with Timo Rose and now Timo and I are like brothers. He's put me in two of his films. I love going over to Germany and working with him and Andre Reissig, Andres Pape, and Tanja Karius. But I also got to work with the lovely and talented Debbie Rochon, and Raine Brown, and then there's Manoush...
What can you tell us about your debut feature as a director Experiment 7, and what convinced you to take the plunge and start directing?
Every person I met when I started working in film wanted to direct. I never really did. I wanted to just write and act. Even when I was doing improv comedy with The Charming Hooligans or The Caffeine Kids. I never wanted to direct any of the sketches or shorts we did. But, I was always guiding certain elements of it all. It wasn't until I was crushed and had a series of some very unfortunately issues that I started thinking about making Experiment 7. And I knew I wanted to direct it. I knew what I wanted to see, I worked hard to get the film off the ground. Our budget was modest to say the least. But, we managed to pull it together and get it made. And now it's in Japan, UK, Ireland, and soon to be Germany and here in the United States.
Any other films of yours you'd like to talk about, any future projects?
As Night Falls just finished post post production. I say post post because it had to go through two post production sessions as it were. It premiered at a festival and we acquired a rep and he sent it out to some big name distributors and they wanted to see some changes so we (Dwight Cenac) went back into post and revamp some scenes. It happens all the time. So we weren't too worried about the changes. So, now we wait to see what happens and see who picks up the film.
My most recently finished films are Frost Bite, a zombie horror film shot in Alaska and Mr. Engagement, a romantic comedy shot in St. Pete. Those are both in post production at the moment. They will both be hitting the festival routes this coming season. Frost Bite premieres on February 3rd in Talkeenta Alaska. No premiere set for Mr. Engagement as of yet. Everyone keep an eye open for Cassandre Leigh, that girl is going to launch into hyper stardom very soon.
I am also currently producing a pilot episode of Johnny Brajdics new show titled The Dark Hours. The pilot is titled Dead Buzz. The show is the same vein as Tales from the Crypt, Alfred Hitchcock Presents, and Creepshow. Each episode is a stand alone. If our investor likes this one we're going to do a full season with twelve episodes.
Then in January we start shooting Journey into Hell. A fast paces action horror film set in the 1950s starring Cling Glenn, Alex Vincent, Deneen Melody [Deneen Melody interview - click here], Natalie Stavola, Joel D. Wynkoop [Joel D. Wynkoop interview - click here], Jack Amos, and a slew of actors. This is will be my largest project to date.
You also appear as an actor in not only your own movies quite regularly. What can you tell us about Joe Davison, the thespian?
As an actor in other films like Timo's (see above) I find it quiet rewarding. I love being able to slip into another character for a while and explore there inner demons, attitudes, and history. I like playing side characters more then lead characters. I'm not a lead character. But, I am the buddy who makes everyone laugh and I'm totally fine with that. And I love playing off other actors. Dwight Cenac is one of the best actors I've played off of. He and I can quickly start improving and we don't stop. Timo is another one. He and I can get into a grove and just go. I can't wait to have enough money to make a larger film and do some really stupid things in it with these guys. On a side note, Deneen Melody fits right in there with us. She can dish out some great improv. She loves having fun and she doesn't mind getting dirty. I recently met a great actress by the name of Natalie Stavola. It has been a great pleasure working this girl.
As an actor you like people you play off of and Natalie is one of those people just like Dwight, just like Timo, and just like Deneen.
Writing, directing, producing, acting and whatever else - which parts of filmmaking do you prefer, which could you do without?
I would rather produce and direct. Writing is a given. I love writing. Short stories, scripts, or novels you name it. But I feel there's more action in producing and directing. If I can produce a buddy's film I'm all over it. It's fun for me. I love the business side of film making. The marketing, finalizing posters, stills, and press releases. That's the moment you want to achieve. When your product is finished you can market the shit out of it. However, on our lower end financing budgets you don't always have the ability to market like a larger film production but it's still just as fun. When it comes to directing I love the story outline part of it. Time lines and story boarding. Putting the images on page for the first time is a wonderful feeling. Organizing with crew and cast is a blast as well. You become a small family for a while and when it's over you really start miss the people. Acting you don't always get that feeling. You show up for a day or two try to fit in but mostly focus on your craft and then you're gone. The crew side is where its at!
In all of your films you never stray too far from the horror genre - a genre especially dear to you, and why?
I love horror. The dynamic and textures of it. Creating a world of terror for characters and pushing them through the torment. But, I love comedy as well. I was fascinated with movies live Puppet Master, Demonic Toys, Netherworld, and well anything Full Moon was pushing out. I had all their posters on my wall in my room. My parents thought I was nuts! Ghoulies was a huge inspiration for me. And films like Critters. My father would let me stay up on Saturday nights and watch Elvira or USA Up All Night. On Saturday mornings I would watch Dr. Paul Barer, that was my favorite show, and that's where I found some real gems. But, I never wanted to go campy with it. I like the Peter Jackson and Sam Raimi style of delivery. It was ridiculous that these insane things were happening to people but it was dealt with in a real world setting. It may have been over the top but the characters where grounded.
I love the horror genre. Recently however I have been toying with the fact of leaving it and trying to move more toward comedies, or straight up low end action drama indies. But, the more I think about the more I can't let go of those reins. And I love horror conventions like Fangoria's Weekend of Horrors or Spooky Empire. There is no better fan base then the horror fan base. And I don't want to let those fans down. Once they back you they stay with you regardless if your film is a huge hit or it bombed. And I like that feeling. Much like the cast and crew the fans are family as well.
Directors who inspire you?
I started making films because of Sam Raimi and Peter Jackson. Now, I'm talking 1994. Not the recent Spider-Man or Lord of the Rings directors. But, that just proves my point. Back then I was inspired and watching them and I continue watching them as they rose to make those films I only want to get better as I go and achieve that kind of success. But, I'm also inspired by Kevin Smith and that Smith Universe he has created, and guys like James Gunn. And forever, the Coen Brothers.
Your favourite movies?

Feeling lucky ?
Want to
search
any of my partnershops yourself
for more, better results ?

The links below
will take you
just there!!!

Find Joe Davison
at the amazons ...

amazon.com

amazon.co.uk

amazon.de
Looking for imports ?
Find Joe Davison here ...
Something naughty ?
(Must be over 18 to go there !)

Evil Dead 2, Hell House, Slither, Ghostbusters, The Princess Bride, Clue, Dead Alive, Kate and Leopold, every King Kong ever! The Incredibles, Planes, Trains, and Automobiles, Unborn, Exorcist, Amityville Horror, The Empire Strikes Back, Raising Arizona, and Tremors and the new Star Trek and The Orphan.
... and of course, films you really deplore?
The Room, Friday the 13th Part 8, Leonard Part 6, Aliens vs Predators, Dream Catcher, The Stand-mini series, holy shit that's so horrible - Devil with a mullet and a denim suit, never go double denim, and anything with Rosie Perez (except Pineapple Express).
Your website, Facebook, whatever else?
https://www.facebook.com/joeygigglepants
https://www.facebook.com/pages/Frost-Bite/199152700125648
https://www.facebook.com/pages/As-Night-Falls/259223171512
https://www.facebook.com/pages/Experiment-7/129610224555
www.twitter.com/joeygigglepants
Anything else you are dying to mention and I have merely forgotten to ask?
I don't think so. Just keep an eye out for Journey into Hell, Frost Bite, and As Night Falls.
Thanks for the interview!
It was awesome! Thank you sir!
Stay bloody folks!