Your upcoming movie Model Hunger - in a few words, what is it about?
Model Hunger is about the emotional and psychological decline of a woman who has been rejected by the business after experiencing a niche of success. She is thrown away based on her physical look and with years of rage her pain explodes via brutal carnage.
After the long and successful acting career you've had (and are still having of course), what made you finally change into the director's chaír for Model Hunger- and how would you describe Debbie Rochon, the director?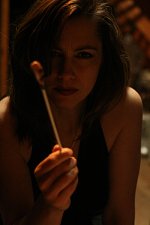 Debbie in The Theatre Bizarre
I was given the opportunity by writer and executive producer James Morgart [James Morgart interview - click here] to direct something with meaning and that had something important to say. Because of these elements, and his belief in me, which I will always be grateful for, I took the project on. It has a lot to say and says it with a vengeance.
Why make a movie about the model industry, and your personal take on the subject?
It's not exactly about the modeling industry. It's more about the exploitation industry à la Bettie Page-type of modeling. Exploitation in film is a very close relative so it was material I understood very well. As will most women and it will be appreciated by men as well. I think the pressures for women are very intense and can lead to neurosis and serious body issues. Self worth is a big subject but it's because of what we have created that so many of us walk around emotionally wounded and not in the moment or able to be happy on a deep level.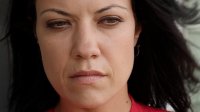 Tiffany Shepis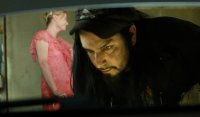 Voltaire
(Lynn Lowry in the background)
How did the project get off the ground in the first place?
It was all James Morgart's [James Morgart interview - click here] doing! Once it was decided that this movie was going to be made I planned the shoot to take place in Buffalo, New York, where there is a terrific film community and brought on Greg Lamberson [Gregory Lamberson interview - click here] to line produce. He brought the entire film together with locations, scheduling, you name it. He was out boots on the ground during the entire pre-production process seeing he lives up there and is one of the best work horses and friends around!
Will you actually appear in front of the camera in Model Hunger as well, and what can you tell us about your cast?
I have a cameo and that only came about because one of my celeb friends had to back out last minute.
The cast for this movie is really off the hook. This was the most important element to me. The writing was in place, a terrifically multi-levelled script, a great line producer that made so much happen, a cast that would hit their characters way out of the park and the DP Wolfgang Meyer [Wolfgang Meyer interview - click here] and lighting designer Daniel Lipski (http://www.imdb.com/name/nm2370474/). It is only with a group of people who all are on the ball, extremely talented and committed that you can really pull off something so ambitious as this movie is. My female leads were outstanding, beyond what I ever thought the characters could be, Lynn Lowry and Tiffany Shepis [Tiffany Shepis interview - click here] devoured their characters and it was such a joy to see. I have some hard hitting male actors too, Brian Fortune, Michael Thurber, Carmine Capobianco and Aurelio Voltaire. The supporting cast are ALL fantastic from Mary Bogle, Michael O'Hear, Robert Bozek, David Marancik, Bette Cassatt, Suzi Lorraine [Suzi Lorraine interview - click here], Babette Bombshell... the list goes on. I don't have a single weak link in the entire cast and I am so proud of that. Every actor hits it home and it is very rare to see that in a small budget film.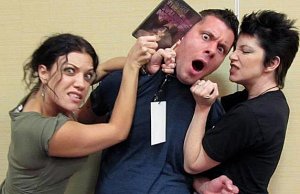 Tiffany Shepis, David Marancik, Debbie Rochon
What can you tell us about the shoot as such, and the on-set atmosphere?
The creative aspects of the shoot were wonderful. We made a very definite point of having the set be as performance-friendly and quiet and concentrated as I would love every set I am on to be. It is also very important to have this type of shooting situation for the crew as well so they can do their best work. It is very much appreciated from serious film people and something as simple as having a concentrated set makes ALL the difference in the world and sets the tone for high quality work. The business part of it all was fine in the sense that being a director is a problem solver in a lot of ways but certainly less appealing to me when it strays much too far away from the creative. But everything must get dealt with so what wasn't easy was learned! I had my great friend David Marancik there the whole time to keep a smile on my face and I am very lucky to have had that!
Model Hunger was written and executive produced by James Morgart [James Morgart interview - click here], in whose Won Ton Baby! you starred. So what can you tell us about the man and your previous collaboration with him?

Won Ton Baby! was terrific fun! It was James' first movie and we got through a very rough shoot in extremely good spirits. We shot overnights so that we could use locations that were not open to use during business hours. I loved playing Madame Won Ton and I love bizarre comedy horror cult films so it was a gas. Everyone on set was a pleasure to work with. I am very happy I made that movie and it was just a complete bonus that I would get to know James well enough for him to trust me with such great material directing Model Hunger. So certainly a win-win situation! It's not that often you meet people who see deeper into your person than the visage or image, and he knew I had a lot to say from having spent what time we did together. He is a really fantastic talent and I know he will go very far in this business. I'll never forget the chance he gave me.
You have also worked on your line producer Gregory Lamberson's Slime City Massacre [Gregory Lamberson interview - click here]. Again, what can you tell us about the man and your previous film together?
I have known of Greg's film Slime City since the late 80s and have always been a fan. When he asked me to be in the sequel Slime City Massacre I jumped at the chance. It was a really special shoot for all of us, I was working with everyone there for the first time and the energy from the entire cast and crew made it feel as special as it was! We kept in touch since then and have become friends. His family is amazing and he is a very hard working person who deserves more credit than he often gets.
And since we are talking producers, a few words about your producer Shannon Lark [Shannon Lark interview - click here]?
I met Shannon on Mel House's Psychic Experiment, which we both acted in. She also came on Chris Warren's Imago-set to interview myself and Lisa Wilcox. The next time I saw her was on Joe Hollow's Disciples [Joe Hollow Interview - click here], where she was hard at work producing his film. On Model Hunger she is in charge of all the press and web materials and even though we haven't rolled out a lot of press yet, we want to wait till it's closer to being completed, she is doing a really terrific job!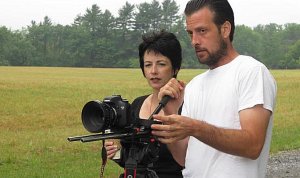 Debbie Rochon with Wolfgang Meyer filming
The $64 question of course: When and where will Model Hunger be released onto the general public?
2013 is the best answer I can give you.
After your experiences with Model Hunger - will you ever be lured back to directing ever again?
It would have to be something equally special as far as the material goes. It would have to be something that I would die to direct. Directing for the sake of directing isn't my thing. I love the creative process but the film lives with you for so long that you better be 100% committed to it before you sign up. I don't look at directing as something of a light job, so it would have to be a highly unique project.
Let's go back to the very beginnings of your career: What got you into acting in the first place, and did you receive any formal training on the subject?
I have studied at 3 of the top studios in NYC for 15 years starting in the mid 80s. I would love to go back to school for it seeing it's a very pure form of the art. Time doesn't permit at the current moment. I got the bug when I worked on Ladies and Gentlemen: The Fabulous Stains! as a teen extra with one line in 1980.
Can you still remember your first time in front of a camera, and what can you tell us about that experience?
YES! I remember very well that while I had no idea what I was doing, whatever I was asked to do I did 110%. The first AD would give me very nice feedback and that made a huge impression on me! I'll always be grateful to him for taking the time to do that.
One of the first films of yours was Roberta Findlay's very last, the as-of-yet unreleased Banned - anything you can tell us about that one?
Only that it should be released! I was an extra with one line in her film Lurkers (titled Home Sweet Home when we were shooting it) and her next film Banned (1988) started shooting almost right away. I LOVED the film, my crazy punk/new wave character, and it's a cinematic shame this punk-rock-body-switch-comedy was never released. I think people would get a HUGE kick out of it and I would love to see it on DVD one day SOON. I guess there is still hope, it took over 25 years for Ladies and Gentlemen: The Fabulous Stains! to come out! All it will really take is a huge amount of people wanting to see it, which might change her mind but that takes awareness of the film's existence. With Ladies and Gentlemen: The Fabulous Stains! that was shown on TV once or twice in 1984 so there were enough bootlegs floating around to have a cult following. Then Rhino released it, God bless them.
I guess no Debbie Rochon interview would be complete without mentioning Troma, right? So would you care to talk about your work for the company for a bit?
I have known Lloyd Kaufman and Troma since 1992. I have made a few films with him and have done a ton of TV and promo/comedy stuff as well. I love him and was just in his current film Return to the Class of Nuke 'em High l so the legacy continues! I have been a long time friend of Lloyd's and we work together quite often together on other people's movies as well. Of course he had a cameo in Model Hunger!
As fate has it, you have been in one of my all-time favourite movies, Gladiator Eroticus ... so you just have to say a few words about that movie and your other collaborations with director John Bacchus!
Well that's pretty funny... I worked with him on a number of the sexy parody films they did - Playmate of the Apes, Erotic Survivor etc. I always had a blast! That was because I was always on the non-erotic end of things, shooting the comedy scenes with the other 'non-erotic' players. They were always a lot of fun. Had a blast!
Any other past films of yours you'd like to talk about?
I have worked with many people I adore so I always hate this question because I end up leaving out a person that means a lot to me. But I will say that making movies with Ivan Zuccon [Ivan Zuccon interview - click here], a director in Italy, has been a highlight of my career (Colour from the Dark, Wrath of the Crows). Also Jon Keeyes (American Nightmare, Nightmare Box) is another director I love to work with [Jon Keeyes interview - click here]. JimmyO Burril is great to work with as well, I base this on how I like to work as an actor. There really are many more people that I love to work with as well but this would become just a list. If they are creative, have vision and know how to work with actors then I am a huge fan! Love working with Mel House and met the amazing Cunningham brothers (Tim and Sean) when I made the soon to be released Sick Boy. Also another stand out is Richard Marr-Griffin [Richard Griffin interview - click here] who directed a movie I am very proud of called Exhumed to be released soon!
Any future projects you'd like to share?
Soon to be released: Nightmare Box, Sick Boy, Exhumed,Solid State, Sick, Wrath of the Crows, Disciples, Imago, Tales of Poe, Billy's Cult, Gallery of Fear and a few more but I don't have the dates for them yet!
In pure volume, your filmography is nothing short of impressive. What keeps you going?
Creative hunger.
Most of your films are of the horror variety - a favourite genre of yours, and why (not)?
Yes horror is the shite because it forces you to use some of your deepest emotions. The stakes are always high, life or death usually, and that's the stuff I love to do (and watch, I also love documentaries).
You have been called a scream queen at more than one occasion. Does that label at all bother you? And how would you describe yourself as an actress?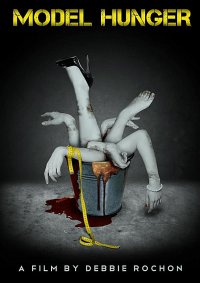 Feeling lucky ?
Want to
search
any of my partnershops yourself
for more, better results ?

The links below
will take you
just there!!!

Find Debbie Rochon
at the amazons ...

amazon.com

amazon.co.uk

amazon.de
Looking for imports ?
Find Debbie Rochon here ...
Something naughty ?
(Must be over 18 to go there !)

I only describe myself as an actress. But others call me a Scream Queen. I don't care too much about it, it's just a label and people are obsessed with them.
Actresses (or indeed actors) who inspire you?
Movies inspire me more than any one person because it takes a 'village' to make a piece of art. The Road Warrior, True Romance, The Warriors, The Shining, Taxi Driver, Shutter Island are some of them.
Speaking of - films you really deplore?
Anything made with no heart and soul. I'll take a good-bad movie (because it was made with love and for all the right reasons) over bland BS any day.
Filmmakers who have influenced you?
Lynch, Cronenberg, Jarmusch are my top faves, many more inspire me too.
Your/your film's website, Facebook, whatever else?
Anything else you are dying to mention and I have merely forgotten to ask?
You have done very well my friend.
Thanks for the interview!
THANK YOU!!!