For all those who have never heard of Johnny B. Morbid - how would you describe your music to give people a general clue?
Johnny B. Morbid is a unique blend of punk and metal of all types with mostly dark lyrical content. I try my absolute best when writing my songs to maintain a consistent theme throughout while still being able to cater to all different types of musical tastes regardless of one's cup of tea.
Do talk about your new album Welcome To Die! for a bit, and what sets it apart from previous Johnny B. Morbid-albums?
Welcome to Die! is the first Johnny B. Morbid album to ever be produced in a professional recording studio. The previous 5 albums were all recorded in my basement. 4 of which were mixed by me and only 3 of which were mastered. Welcome to Die! not only drastically strays from all of my previous releases in sonic quality, but also in the songwriting and my overall style as well. In addition, this release is the 1st one to ever include a DVD and a 12-page-booklet.
What can you tell us about your musicians on your album, and why exactly these people?
The drummer (Archie Panic) has been playing in my band on and off since 2006, so naturally he was my first choice to include as the drummer on this album. This was not his first rodeo with me though as he had also contributed his drumming talents to my releases in both 2008 (Some Things Are Better Left Undead) and 2009 (Monsterpiece). I performed all instruments on my first 3 albums, but when I realized that Archie had far surpassed me as a drummer, I thought it wise to include him on my records instead of just in my live band.
The guitarist (Count Vlad Cadmus) was in a band with me back when we were 16 / 17 years old and have kept in touch ever since despite whatever projects we may have been involved with along the way. He started in Johnny B. Morbid as a fill-in for when certain members couldn't play shows. Eventually it became a permanent position and he has been the lead guitarist since 2007. Much like Archie, Count Vlad Cadmus's talents on guitar bury mine so he is the one I call in when I see fit to add solos, leads, and harmonies on top of the rhythm guitar tracks that I write and perform on my albums.
Tony Baptist was called in to finish tracking drums on this album due to scheduling conflicts with Archie. I know and work with him in a band with Michale Graves (ex-Misfits Vocalist). He was able to lend his expertise and pick up the slack on what Archie was unable to complete. Tony appears on 3 tracks off of Welcome to Die! which are Enough, Drinking About You, and also the hidden track.
Chibo Jones was called in to add a guitar solo to the hidden track because I thought it seemed to fit his playing style perfectly. I know him from working with Michale Graves and Marky Ramone.
Do take us through the "making of" of Welcome To Die, from initial ideas to studio sessions and the like?
Some of the writing for Welcome to Die! began shortly after the release of Monsterpiece in 2009. Only fragments of songs would begin to take form in what eventually became a 4-year hiatus. That was due to my working as Marky Ramone's drum tech as well as being Michale Graves's bassist. It seemed that I had finally caught a long enough break to start piecing together 4 years worth of fragmented songs and ideas in mid-summer of 2013. I sat down and started writing music to vocal melodies I'd had in my head for years and vice versa. I also knew at this time that I wanted to pull out all of the stops and release a professionally recorded, mixed, and mastered album for the first time since my band's emergence in August of 2005.
Enter: Kickstarter. I decided to utilize Kickstarter in order to adequately fund the project I had been dreaming to accomplish and with that and a devoted fan base I was able to raise more than the necessary amount of money needed. This is when the idea for a CD/DVD combo pack came in to play along with a 12 page booklet and the production of what would be our first music video. I promised to provide more bang for everyone's buck who contributed to my Kickstarter instead of releasing just a CD with a 2 page insert and no DVD and pocketing all of the excess money for whatever I please.
I decided to seek out Soundmine Recording Studio in East Stroudsburg, PA to take on the project because I had already worked with them previously on two Michale Graves albums and loved the results. In just 2 weeks time, the album was tracked, mixed, and mastered. We finished in August and the album was released in October. The sessions were not always easy or fun and many unforeseen hardships were faced due to faulty software and/or instruments, but nothing worth while ever comes easy so it was of no concern to me as long as I received a product I could be proud of after all was said and done, and I do believe that is exactly what has happened.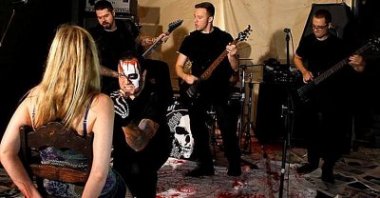 Your music video for the song Forever stars indie horror icon and good friend of this site Suzi Lorraine [Suzi Lorraine interview - click here] and was directed by another good friend of this site, James Morgart [James Morgart interview - click here] - now how did that collaboration come into being, what's the video about, and do talk about the shoot as such for a bit?
I met James through Keryn Thompson (www.kerynthompson.com) on the set of a film they were working on called Stockholm in which I played the role of a cashier and was also given the opportunity to write and record the title track for. I originally sought out an acquaintance of mine to handle the music video duties, but there were too many costly issues that prevented it from working out. Keryn suggested that I get in touch with James and see if he could make this work for me. Low and behold he was not only available, but ready and willing to dive right into a music video project with a bunch of amateurs. James, Keryn, and I each added just a little bit of our artistic ingredients to what would become a perfect cocktail of visions and ideas for this music video, but it was James who suggested that Suzi Lorraine be involved.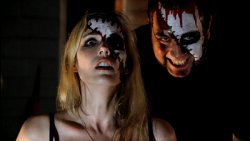 Johnny with Suzi Lorraine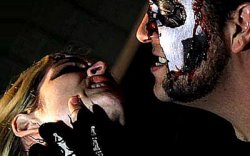 I was stunned that such an experienced and established actress / model like Suzi Lorraine was willing to work with a band who had zero screen time to speak of. She was an absolute delight to work with though and helped guide me through our scenes together by giving me little pointers and hints here and there. James was also very helpful and patient as he directed myself and the band through this journey. It wound up being a 14-hour day, but we got everything we needed with the combined talents of James Morgart, Suzi Lorraine, Daniel Lipski (director of photography) and Adam Torkel (make-up & fx). The video was then sent out to be edited by Wolfgang Meyer [Wolfgang Meyer interview - click here] and was done in just a weekend. I couldn't have been happier or more satisfied with the final product and not only that, but I was also thrilled that it got back to me with enough time to add it on the DVD that would included with the CD of my new album.
One of your tracks is to be featured in the upcoming movie Stockholm - now how did that come into being, was the track written specifically for the film, and how do you feel about your music used in movies?
This opportunity was orchestrated by Keryn Thompson who I've known since 2010. It was she who mentioned the idea of having Johnny B. Morbid do the title track to James Morgart. After getting the green light, I decided to write the track specifically for the film and also include it on my upcoming album. The timing just seemed too perfect not to do so. I'm beyond grateful to not have only had the opportunity to have a song in Stockholm, but to have it also be the title track. I love the idea of having my music in movies and I truly hope that more opportunities will come to me in the near future.
Any future projects (of whatever kind) you'd like to share?
The only thing on the horizon as of now would be the release of my final album in 2015 to commemorate and put a cap on 10 years of Johnny B. Morbid. That's not to say that I won't be touring or playing shows, it will just be the final studio album.
What got you into making music to begin with, and did you receive any formal education on the subject?
I spent the weekend at my cousin's house when I was 13 or 14. He had a snare drum that for some reason I could just not leave alone. It was shortly after that when I began taking an interest in playing drums so I got a drum set and began taking drum lessons when I was 14. I played out in a band for the first time when I was 14 on the seaside heights boardwalk at a place that now rests at the bottom of the atlantic ocean due to hurricane sandy. When I was 15, I began messing around with my mother's bass guitar and eventually taught myself how to play. The same thing happened with guitar when I was 16 or so and within that time I had already begun singing but only received a total of 4 months vocal instruction in my lifetime because I couldn't stand it. I played bass in a band when I was 15 and was the lead singer in another band during the same time period. In 2005, I was the singer of a metalcore band which overlapped the birth of Johnny B. Morbid and as the metalcore band began to burn out, my passion for the Johnny B. Morbid project had begun to set fire.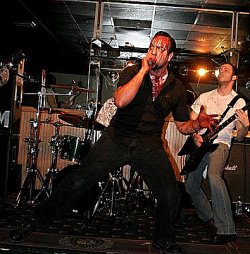 What can you tell us about your musical endeavours prior to/besides Johnny B. Morbid?
I played drums in a band called Cultivate The Grave when I was 15. We were only a band for 6 months, but we played every single weekend in that time and would practice 2 or 3 times a week. We also released a CD & won 3rd place at an under-18 Battle of the Bands in which we competed against 47 other bands. Next was a pop-punk project called Self Reliance which I played bass for and shared vocal duties with the rhythm guitarist who would later become a founding member of the Johnny B. Morbid live band. During this same time period, I took on vocal duties for a death metal band called Shackled Humanity, which also had 2 other members in it from Cultivate The Grave, 1 of which would also become a founding member of the Johnny B. Morbid live outfit. When I was 16, I recorded vocals on a 4-song EP for a metal band called Shadowcast, but never played out live. At this time I was also a vocalist for Burnt To Ashes which was a metalcore band. Both Burnt To Ashes and Self Reliance released CDs in 2004. In 2005 I found myself doing vocals for a different metalcore band called In Memory Of, which had members from both Burnt To Ashes & Self Reliance. All throughout this chaotic musical journey, there was also one goofy project that would fade in and out from time to time but would never die... it was called Dysfunctional Barnyard. That was started in 8th grade, but we wouldn't release anything until 2005 when we were all seniors in high school.
What led to the launch of Johnny B. Morbid, and how did the project evolve over the years?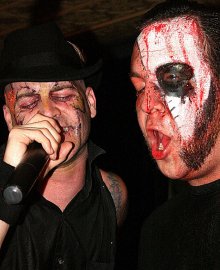 Johnny with Michale Graves
It was my fascination with The Misfits that led to the creation of Johnny B. Morbid. It was the summer after I had graduated high school and some friends and I had plans to start a Misfits cover band just for the summer to have fun and play out a few times before we all disappeared to college. We all picked out aliases for this band and mine was Johnny B. Morbid. The band never happened, but one day I was on my delivery route at work and heard a familiar voice in a song on a college radio station. It was Michale Graves and apparently he had just released his first album in 4 years. When I got home from work I decided to look him up online and see if he would be playing any time soon and he was so I told a few of my buddies and we took a ride to see him one night. Mind you none of us had ever seen him with The Misfits because we were too young at the time or hadn't even heard of them yet. So after seeing Michale Graves for the first time in July of 2005 I decided to can the Misfits cover band idea and just do my own thing like he was doing. I began writing my 1st album just days after that concert in August of 2005. The first song I wrote was called UFOh No.
What are typical Johnny B. Morbid studio sessions and live shows like?
The studio sessions used to be very stressful because I would do everything alone. If I messed up then I would have to get up, run over to the console, and start a new take. That's how it was for my first 3 albums. For the 4th and 5th albums, it wasn't as bad because other people were involved. We'd break for lunch during 8 hour sessions and usually be drinking beer to make being in a basement for 8 hours seem a bit easier to tolerate. A lot of what we did wasn't pre-rehearsed though. We'd jam out the song a few times and then hit record when it was fresh in our minds. Welcome to Die! is the first album we ever did the "right" way.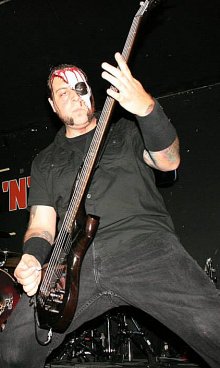 photo by Tyler Wesley
Our shows are usually a lot of fun for everyone because I'm a big fan of crowd participation. Sometimes I'll turn the microphones around to face the crowd so they can sing along. I always try my best to include the audience because it gives people a reason to keep coming back to see us. What's the point of playing at people when it's more fun to play with people. They can just stay home and put on a CD or Spotify or Pandora if they don't want to be involved with the band. People go to shows for a little interaction and that is what I try to provide.
Musicians who inspire you?
Obviously seeing Michale Graves was a major catalyst to starting Johnny B. Morbid, but other than that I would have to say Mike Patton and Glenn Danzig because they both seem to do whatever they want regardless of what may be considered marketable or what have you. It's just great to see people who are that successful without ever bending for anyone and without ever compromising their sound.
And since this is first and foremost a movie-site: Your favourite and least favourite movies?
My favorite movie of all time is Encino Man. I've probably seen that movie 867 times since I first saw it when I was 6 years old or so.
My least favorite would have to be The Royal Tenenbaums. It was the only movie I ever walked out of in my life.

Feeling lucky ?
Want to
search
any of my partnershops yourself
for more, better results ?

The links below
will take you
just there!!!

Find Johnny B. Morbid
at the amazons ...

amazon.com

amazon.co.uk

amazon.de
Looking for imports ?
Find Johnny B. Morbid here ...
Something naughty ?
(Must be over 18 to go there !)

Your website, Facebook, whatever else?
Anything else you are dying to mention and I have merely forgotten to ask?
Bruce Willis is a ghost at the end.
Thanks for the interview!
Thank you so much for the opportunity! I sincerely appreciate it very much.