Your upcoming film Solid State - in a few words, what is it about, and what can you tell us about your character in it?
It's a sci fi movie about an American rock band who are on their "comeback" tour in Italy. They're trying to resurrect the popularity of their band, until they inadvertently come across a deadly meteor which unleashes murder and mayhem on the Italian village. It's very tongue in cheek in many aspects, and reminds me of a cross between the vampire satire movie Suck and Spinal Tap. With a little Dawn of the Dead sprinkled in. It also stars genre icon Debbie Rochon [Debbie Rochon interview - click here] as Emily, and beautiful LA based actress Ava Brunini as Cynthia.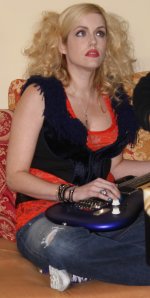 Solid State
I play "Sharon", who is the least cerebral and most air headed of the band mates. Much like the legendary band Steel Panther (aka Metal Shop), Sharon feels that image is everything, and music is kinda secondary. We're still not quite sure what instrument Sharon actually plays. After the band broke up, she rode a wave of success by winning the reality TV show, Tits Up. This parlayed into her latest successful creation - a line of edible bras. Flavors run the gamut from green tea to poppy seed to black licorice.
In Solid State, you are in a rock band. Are you at all a musical person in your private life, have you ever been in a rock band for real, and how much fun was it to pretend to be in one?
Yes, I play a mean recorder. It's a sight to behold. I would say I possess prodigy level recorder skills. And I'm not a drummer, but I find it incredibly satisfying to bang on a drum set.
What music do you listen to in your private life, and how does it relate to the music in Solid State?
I like dark music. Any music that praises satan and his minions. Haha. Seriously, I love rock'n'roll. I grew up on hard rock and metal bands like Mötley Crüe, Guns N Roses, Alice Cooper, Savatage, KISS, and Judas Priest. I also love Brit pop/rock, such as Suede, Oasis, and Placebo.
The music in Solid State is pretty poppy. In reading the script, I was expecting it to be more punk rock. But I think the pop rock soundtrack fits the theme of the movie really well. There is this hilarious scene in the movie where Debbie's character is watching her newest music video for the song New Model. In Steel Panther-like style, it is over the top 80s and totally ridiculous, complete with Def Leppard styled "sword fights" and sneering. Debbie's character wears this hilarious metal headdress, and a chain metal outfit. She's on the phone with her manager while watching this opus, and orders him to simply "Burn it".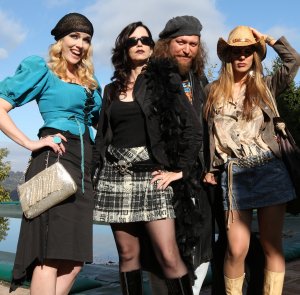 Suzi Lorraine with Debbie Rochon, Diego Casale, Ava Brunini in Solid State
From what I've seen in photos (and my perception might deceive me here), you wear quite a number of extravagant outfits in Solid State. Would you like to elaborate on that?
That's a great observation! The costume designer is Agostino Porchietto, and he is a fashion stylist from Milan. He's worked in high fashion all his life, and he has a knack for clothing that is avant garde and that really makes a statement. The project lended itself perfectly to his style, since he was able to outfit the whole band, each of whom had a completely different personality and style. So Debbie's character was styled really rock'n'roll and punk, mine was really glittery/girly/Moulin Rouge-ish, and Ava's character was styled sexy cowgirl meets hippy chick. And our drummer Diego wore whatever he wanted - whether it was a bright yellow bathrobe, or a bra and boxer shorts.
Solid State was shot in Italy. In what way does shooting in Italy differ from shooting in the USA, and what are the best and worst aspects of shooting abroad?
The best aspects are the tasty eats. You can't beat Italian food. And the Italian people are lovely. As a whole, I've found them to be very friendly, passionate and welcoming. They're happy to share their culture and history with visitors. The worst aspect is the long plane ride, and potential jet lag. Other positives include the opportunity to travel to a foreign country and immerse yourself in the culture and local sights. I've only been to Italy for work, but usually there's opportunity for sightseeing at some point, and Italy has become my favorite place to visit in Europe. I've been there about 5 or 6 times (for movies and also for film festivals). The architecture is really breathtaking. From shooting in castles to caves to arenas to downtown city centers to the Po River to houses right on the sea, it has been a life changing experience.
And don't forget the grappa! ;-)
You have worked with Solid State's director Stefano Milla twice before, on Claang: The Game and Kingdom of Gladiators. What can you tell us about these two films and Stefano Milla, the man and director, and how did you hook up with him in the first place?
I met Stefano through my friend Fabio Zanello, who is a prolific writer and also a film festival director. I believe Fabio contacted me after he had read some of my articles in Horror Mania Magazine, which at the time was kind of like the US's Fangoria Magazine. Fabio knew that Stefano was looking for an American actor for his first feature film, Claang, so he put Stefano in touch with me. Stefano brought me to Italy about 6 years ago to shoot Claang. It was originally a short film. It piqued the interest of a distribution company, and they requested that it be developed into a feature. Stefano brought me to Italy again for the feature length film, which was only about a year later. He is one of my favorite directors. He is a joy to work with and he has a great heart and is very kind. He is so passionate about filmmaking and cinematography. He's also really open to the actor's interpretation of the character, and it is very freeing because he welcomes improvisation. We also have lots of laughs on his set. Much fodder for the blooper reel!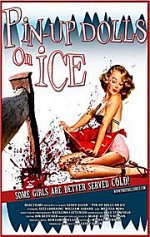 Your other upcoming film (one of them anyways) Pinup Dolls on Ice - what's that one about, and a few words about your character?
It's the sequel to Geoff Klein's award winning Bikini Girls on Ice. Serial killer Moe returns to wreak havoc on a touring pinup/burlesque troupe. In the film, you learn the back story of Moe, and even see his soft side. He has a love scene and everything. OK, well not exactly, but you do see a different side of him! He continues his MO of really enjoying killing, however, and the body count is about 3 times as high as the first film. I'm really proud of this movie, and happy I had the opportunity to work with Geoff again.
According to my information, in Pinup Dolls on Ice you are not one of the Pinup Girls as such. Will we at all see you performing with them anyways (please say yes)?
In a sense, yes. I'm not a member of the pinup troupe, but since most of the main events take place during the pinup themed party, I do don some festive retro-threads, and fancy pinup hair to match. It was a blast!
Pinup Dolls on Ice was shot in Canada. What can you tell us about shooting up there, and a few words about the actual shoot?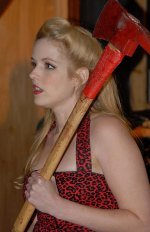 Pinup Dolls on Ice
We filmed at a campground in Canada, about an hour away from Montreal. It was located right on the St Lawrence River. It was very rural, and I didn't have a car while there, so I didn't leave the campgrounds for the entire 2 weeks I was filming. After a while, I felt like I was living in M. Night Shyamalan's The Village Every day or two I would take nature walks to relax and clear my head and mentally prepare for the shoot, and walk all the way to the edge of the campground which meets a main road and some semblance of civilization. Every time I approached that main road, my eyes would widen and I would take in the new surroundings as if it were the first time I'd ever seen them. Geoff and Melissa found me walking down that main road one night, with cars whizzing by, and they're like, "What are you doing???" I'm certain they thought I was a few cards short of a full deck.
Pinup Dolls on Ice's director Geoff Klein has also previously directed you in an all too short scene in Bikini Girls on Ice. A few words about him, and how did you two get in touch in the first place?
Geoff reached out to me via email while he was in pre-production on Bikini Girls on Ice, and offered me the role of Kelly - the "opening kill". This was probably about 5 years ago now. Geoff's a real horror fan, and he totally understands the genre and what fans love about the genre. This time, Melissa Mira co-produced the film with him, and she added a fantastic female perspective and some insight that really complemented Geoff's ideas and sensibilities in terms of the characters and their interactions with each other. Melissa even directed some of the scenes, and she did a really impressive job.
With Solid State being a sci-fi movie with rock music and Pinup Dolls on Ice being a slasher with pinup girls - which can you relate to more, plotwise, and which was more fun to shoot? (... and I know that's an unfair question.)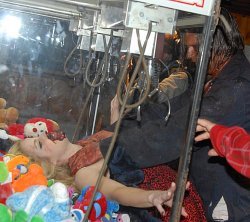 Pinup Dolls on Ice
They were both fun to shoot. I totally related to both characters, and felt comfortable in their skin. It's really difficult to compare the 2, since they are totally different animals. The role of "Joy" in Pinup Dolls on Ice was probably more grueling than the role of Sharon in Solid State, primarily because there were some real knock down drag out fight sequences in the former. It required quite a bit of rehearsals and stage combat. I had to bust thru a (sugar) glass window with my face. Not for the faint of heart, bitches! While obviously not nearly as dangerous as real glass, the sugar glass can break into really hard plastic shards.
While shooting Pinup Dolls on Ice, there was one scene where one of the actors had to break into the campground office and frantically search for a phone to call the police. She thought the phone was disconnected, so she dialed 911 and was connected with, well… 911. She didn't want to ruin the take, so she continued on, hysterically informing the 911 switchboard operator that a mad man had killed her friends and she needed help. 15 minutes later, the cops show up, and strangely they did not see the humor in the situation! ;-)
Any idea when both movies will be out, tentatively?
Solid State will be distributed by Wonderphil Productions, and will have a 2012 release. It's likely that Pinup Dolls on Ice will be in post-production for the next 6 months or so. So I'm guessing a late 2012 release or possibly early 2013.
Any future projects you'd like to talk about?

Feeling lucky ?
Want to
search
any of my partnershops yourself
for more, better results ?

The links below
will take you
just there!!!


I filmed an episode for the Discovery Channel's show Oddities this month, which will air on national TV in March. Even more importantly, my wonder cat Monki is on the show too! Oddities is about an antique/pawn store called Obscura which is located in the East Village, NYC. They have really freaky items for sale there, like human skulls and antique medical instruments. The idea of the episode is that I was prop shopping for Won Ton Baby 2, the sequel to Won Ton Baby. I was looking for unique and/or bizarre items that would be suitable for the set of the film, perhaps in the "baby's" nursery. I have Monki with me, along for the joyous shopping occasion. I explain to the shop owner that he is a singing cat, and I bring him out of his carrier for a special performance! I nicknamed him "Baby Pavarotti".
Your website, Facebook, whatever else?
Official website is www.suzilorraine.com and I'm on Facebook under "Suzi Lorraine".
Anything else you are dying to mention and I have merely forgotten to ask?
Be sure to check out the latest issues of the horror magazines I write for.
Virus Magazine at www.raptor.de (German magazine)
Shock Horror Magazine at www.shockhorrormagazine.com (British magazine)
BioGamer Girl Magazine at www.biogamergirl.com (US magazine)
Thanks for the interview!
Thanks so much Mike! It was a pleasure!