Your upcoming movie Noctambulist - in a few words, what's it going to be about?
Noctambulist is a silent black and white feature set in the late 1920s to early 1930s.
After a failed suicide attempt, Zellas' (Bianca Allaine) life spirals in to a world of madness. Having crossed over only to return has blurred the lines between life and death, making it all the more difficult to differentiate between sanity and disillusionment.
What were your inspirations when dreaming up Noctambulist?
Dreaming was a very big inspiration. Most of my inspiration for films come in dreams, or occur just before falling asleep. The human psyche being the other big inspiration. I have always been fascinated by the line of sanity and what is considered insane. Combining dream state with waking reality is something of great interest to me.
What led to your decision to make Noctambulist a silent movie, and how close will you stick in style and imagery to films the silent era, actually?
This is the film that I have been waiting my career to make. I have always felt as tho I am living in the wrong era, and was meant to be born in the early 1900s. I am trying to stay as true to the era as possible. We are filming in a house fully decorated in 1920 and 1930s antiquities. Our make up artist (Buffy Fox) and hair stylist is well versed in that era. We even had a creepy 1920s doll custom made by Teri Campbell Long of Long Gone Dolls. So yes, we are trying to stay as true to the era as possible.
What can you tell us about the musical score of Noctambulist, and your collaboration with your co-composer Jeannie Taylor?
Since the mid-90s I have been composing very dark orchestral string arrangements in bands. Compositions which make for great soundtrack music. When I started creating Noctambulist, I knew that this would be a great time for me to score an entire soundtrack. Prior to this, I had scored a song here and there for some of my other films, but not an entire soundtrack.
Jeannie is the lead vocalist for the Canadian band Curse In The Woods. They are classified as dark cabaret. I am a big fan of the band and Jeannie has a voice that will fit perfectly for some of the compositions. Not only that, but she also thinks and writes her music in the same manner that I write my films, and that is very dark and sad.
I reached out to Jeannie and she was more than happy to oblige. She has always wanted to be involved with a film musically. The timing was right.
Beyond the silent aspect, how would you describe your movie's approach to horror?
I have always gone into films being heavily influenced by the past. The greats like Hitchcock, Serling and Lang. Like my influences, I don't show nudity, gore or lots of blood. The films are more a psychological horror. I am a firm believer that the mind can create horror far worse than anything that we as filmmakers can show on the screen.
Anything you can tell us about your cast yet, and why exactly these people?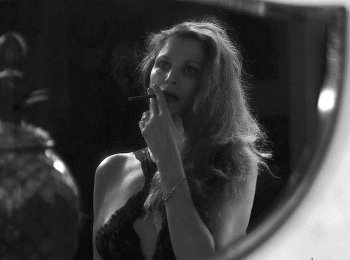 Liane Langford
Firstly, I shall mention my lead actress, Bianca Allaine. Bianca and I worked together on my last film, Blood On The Reel: The Guts Behind Indie Horror. She was my horror hostess for the documentary. She was a lot of fun to work with on set. She carries herself very professionally. And she has the style and grace that one would need for a film of this nature.
Secondly, there is my supporting actress, Liane Langford [Liane Langford interview - click here]. Liane just screams classic starlet. She expressed a great deal of interest in being in the film. At the time I was not sure that I had a role that was right for her, but as time went on and as I wrote the script, not only did I find a fitting character for her, but I found that her character became more dominant in the story of the film than I had initially planned. Liane plays a beautiful antagonist of the story and more or less is the main catalyst that descends our lead in to a world of madness.
As far as I know, your movie's still in pre-production as we speak - so what's the schedule, and when and where might the film be released onto the general public, however tentatively?
We plan on starting production in early to mid spring. As far as the release, that would depend on the distribution company, SGL Entertainment. I signed on with SGL for Blood On The Reel, and will be releasing all of my future films through them.
Any future projects beyond Noctambulist?
Yes. My film after Noctambulist will also be set in the 1920s, but in prohibition era. And again, a horror film, but this one will not be silent. I have spent the last 5 years of my career building up to where I want to be as a filmmaker. The horror/noir is where I want to be and where I feel most at home.
While you're here, you of course have to talk about your recent documentary Blood on the Reel for a bit?
Yes. Thank you. Blood On The Reel is a documentary which focuses on the trials and tribulations of the indie horror filmmakers. This is actually the first horror documentary of its kind.
Thanks to kind people such as yourself who help keep the scene strong, it is very difficult for most filmmakers on the indie level to get a film made and completed. And if they do, it is hard to distribute and get people to actually see it. I have been very fortunate to have procured a distribution deal and to find a company which has become family. People like Jeffrey Swanson, Massimiliano Cerchi, Damien Dante [Damien Dante interview - click here]. These people are amazing and have shown so much support.
Blood On The Reel covers everything from production problems, both pre and post. Distribution issues. Funding or self-funding films. Legal issues with permits and filmming without permits. Some that has nearly gotten me arrested twice and nearly shot by an MP once. It can ber very dangerous being an indie filmmaker.
Blood On The Reel will be released worldwide on Blu-ray, DVD and VOD on June 14th, 2016.
What got you into filmmaking in the first place, and did you receive any formal education on the subject?
I feel in to the world of filmmaking truly by accident really. I had actually inspired to be a professional musician. I had a record deal and a European tour planed and I walked away from it once I saw how the corporate machine works.
I have always been a fan of horror film since the age of 4. In 2010 I was sick and tired of "Hollywood" horror. Fed up with remakes and sequels. I wanted to make a film for me. Something that my friends and I would enjoy. With that said, I called up some friends and we made a 20 minute black and white film entitled Samhain: Night Feast. To be honest, I didn't expect anyone else to see the film. A week or so after the film was completed, I received an email stating that the film was going to be shown by Tim Gross at the Bastards Of Horror Short Film Fest. Long story short, Samhain won the film fest being deemed "best film". After that, I thought to myself, if we could make a film just for fun and win a film festival, what could we do if we actually put our minds to it. Five years, going on six years later, here we are in the world of film as a professional filmmaker. I am very fortunate.
What can you tell us about your filmwork prior to Noctambulist and Blood on the Reel?
Well, aside from Blood On The Reel and Samhain: Night Feast there was Caustic Zombies. Caustic Zombies has never been officially released, although it did have a premiere. We had legal issues with the editor who kept the master tapes for nearly four years and it was just a nightmare. Something else we also talk about in the documentary. I did release a bootleg edition for a while. And I do plan on re-editing the film properly and officially releasing the director's cut in the future. Aside from writing and directing, I also act. So some of the past 5 years have been spent acting. I played the lead role as the "Devil" in the film Tablet Of Tales. And I was an extra on two episodes of the A&E television show Those Who Kill. I will also be acting in the upcoming film by Bianca Allaine and Michael Kyne entitled Zombinatrix. I also was a producer on the upcoming film Intrusion by Craig Everett Earl. The films stars Corey Feldman and Tiffany Shepis [Tiffany Shepis interview - click here]. 6 films in approximately 6 years, not too bad of a record.
How would you describe yourself as a director?
I have been told that I have a very "European" style to my approach. I like to shoot long drawn-out detailed scenes. I also like working with shadows, which is the German Expressionist in me coming out. And aside from that, I like to run a very open set where actor and actresses do not necessarily have to be verbatim, as long as the proper point is conveyed. Some of the best scenes in movie history come from being spontaneous and thinking outside the box. I have been told that I am an "actors' director", so I very much enjoy that.
Filmmakers who inspire you?
So many. Some of which I have discussed. Others and some outside the horror genre would be Woody Allen and Mel Brooks. Writers are also very influential to me. Also being a writer and and author of books, I am a lover of words and a good story. Neil Simon is a genus. I love his writing style. Those are just a few who might be a bit of a surprise, but who quickly come to mind.
Your favourite movies?
Most Hitchcock films. I also love a lot of the pictures that Larry Fesseden has been releasing all these years with Glass-Eye Pix. I also love Cabinet Of Dr. Caligari, The Daughter Of Horror and Phantom Carriage. War of the Worlds. Invasion Of The Body Snatchers. So many.
... and of course, films you really deplore?
That is simple. Shaky cam found footage films.
Your/your movie's website, Facebook, whatever else?
My professional Facebook page is: facebook.com/johnnydaggersofficial
The official Noctambulist page is: facebook.com/TheNoctambulist
My Twitter account is: twitter.com/JohnnyDaggers2
And my professional website is JohnnyDaggers.com
Anything else you're dying to mention and I have merely forgotten to ask?

Feeling lucky ?
Want to
search
any of my partnershops yourself
for more, better results ?

The links below
will take you
just there!!!

Find Johnny Daggers
at the amazons ...

amazon.com

amazon.co.uk

amazon.de
Looking for imports ?
Find Johnny Daggers here ...
Something naughty ?
(Must be over 18 to go there !)

My first novel, Neverlasting, is being released by Burning Bulb Publishing in the next few months. It is a very dark and demented children's story (in some twisted sense) and is being illustrated by the amazingly talented artist, William C. Cope. Please stay tuned for that
I would just like to take this time and thank some other very important people behind the scenes. They are Bonnie Shipley Peele, Loran Peele, Steve Summerlin. They are the ones priding the set for Noctambulist.
And lastly I would like to thank you and your readers. It has been an absolute pleasure speaking with you. And I thank you for supporting films like Noctambulist and all of the other independent filmmakers that you so generously cover.
Thanks for the interview!