Let's start this with talking about your beginnings in modeling, why don't we? How did you get into modeling in the first place, and can you still remember your first photo shoot, and what was that experience like?
Ha! Well I was at my junior high school graduation and Seventeen Magazine had a scout approach me, so that was really the beginning for me. Honestly when I was a young girl I thought I was ugly! Everyone wanted to be a blond with thin lips, NOT thick lips and, well, look European.
I had an agent in Hollywood, I did swimming pool shoots in Pasadena and shoots for all kind of photographers. My really cool break was with Jean Muir what a scene that was. I loved her! She was huge in the UK. That was a runway show in Beverly Hills. I have been photographed since I was 14! Then there was the shoot in the Mojave desert, hahahaha, that turned out to be a party that I was held hostage to, until my dear friend drove from LA to get me... I was a bit naive. I love the camera! Always have.
Over the years, you have also appeared in quite a few adult magazines, wearing very little or less? What can you tell us about these shoots, and was nudity on camera ever a problem for you?
Well! Michael! Nudity was never a problem. I never had an issue with my body. These shoots were done with great photographers! One who shot for Vogue, he shot my light test for Larry Flint, I will never forget this because I have a dear friend, Jefery Levy, he said to me one day, I dare you to do centerfold work! Well I was a teen and I was very much a wild child! So I got on the phone and called everyone and the first one up was Hustler so I took myself down to the Century Towers penthouse, did a light test and the next week I was called to do a centerfold!! So yah Jeff I win!! I did many shoots. They are hard work on a sound stage.
Some of the highlights of your modeling career?
Hmmm wow! I love the pictorial work/centerfolds and National Lampoon! Jean Muir, the work I am doing now with my agent at City Model in SF. I adore my work with the many photographers, Pat Johnson - http://www.patjohnson.com - Mark Pernal, Frankie James, Tom Millea, Patrice Ward, and coming up in August the amazing Lance Miller - http://www.jlphotographydesign.com. So many. I hope to keep going!
How did your transition into acting happen, actually, and did you receive any formal education on the subject? And to what extent has your experience in modeling actually helped with your acting performances?
I have been acting since I was in 7th grade, I sang and danced as long as I can remember, so Toby my mother had me in chorus since I was in 3rd grade! Well, I couldnít stand it anymore, so I was allowed to create a comedy about a group of kids, going through a haunted house, and it made everyone laugh... I was hooked!! In my household you were expected to perform so it was very natural for me. Then I just kept going on to high school drama and with my agent in Hollywood, ahaha, they were called YES. Then later the modeling as a pro. And then back to acting I did a few local commercials here in Carmel and print work as well and theatre work. It was kind of both! I did everything! My mother trained me vocally and I wanted to be on the stage! I loved it all.
I think (and you may correct me) the first movie you've been in was A Blood Story - so do talk about that movie for a bit, and your character in it?
Yes, in this indie world I met the Fabulous Joe Hollow [Joe Hollow interview - click here] through Debra Lamb [Debra Lamb interview - click here], who I had known for a few years. Joe got in touch with me on Facebook and asked if I would look at a script? At the time I am not sure if it was A Blood Story... I never got the script... Joe forgot! He saw some of my videos and spoke to me about coming on board. He said he had this part that was small but was a good start. I was thrilled to be a part of his team, I became production and wardrobe as well as my part as a Swinger Assassin! I got to work with some really incredible actors.
On A Blood Story, you also filled quite a few positions behind the camera - so do talk about your behind the scenes work for a bit?
Yes I became Joeís go to gal I painted statues, ironed, was stylist for wardrobe. Cooked!!! Anything Joe needed I did! He had a fantastic team. It was a really great learning experience for me. It's like theatre in a way, something comes up and you just take care of it.
What can you tell us about the movie's director Joe Hollow [Joe Hollow interview - click here], and what was your collaboration like?
I have talked about Joe many times, I think he is an example to many new directors out there who are having a go at this world of indie horror. For one thing Joe is one of the most professional directors I have worked with. He runs a tight set and takes very good care of his actors! He stays on point and works hard!!! And has a wicked sense of humor ... ahha I love his East Coast accent!
What can you tell us about Natural Born Filmmakers, and your character in it?
This is a film by Steve Oakley, I call Steve the Ed Wood of the indie world and it's true [Ed Wood bio - click here]! It has everything, vampires, walking dead! Nudity! SEX - well ya now simulated and implied! And the story of wicked unsavory film distributors!! My character is a Dominatrix Bar Tender! Brenda.
Again, how did you get involved with that movie?
A fellow actor of mine who was in A Blood Story, Luc Bernier [Luc Bernier interview - click here] had suggested I look onto the casting call. I am so glad I did.
Do talk about the shoot as such for a bit?
Well I drove down to LA where Steve had taken over a club for swingers, Club Joi. I got there at 3pm and left at around 2:30 am! I had a fantastic time! I met the wonderful Deborah Dutch who I adore so much and the late Diane Chambers, Arlan Godthaab who I will be working with in the future and who I spent a lot of time with while at the club. I am proud to say that Natural Born Filmmakers will be in Acton On Film Festival this September. I will be there!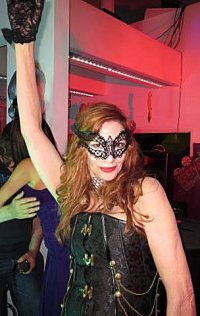 Natural Born Filmmakers
You Found Me - you do have to talk about that one!
OK wow!! That was really intense and I loved every moment of it. This film is to me is psychologically driven with director Lawrence Nelson [Lawrence W. Nelson II interview - click here] at the wheel! It's based on your biggest phobias come true! That is really all I want to say about that! I was taken to my limit of fear and it was good! Stay tuned kids!
What can you tell us about your director on that one, Lawrence W. Nelson II, and what was your collaboration like?
I really love the way Lawrence writes! He also collaborated with producer John Saunders. I really got to stretch my acting legs in this film. Lawrence is like Clark Kent, mild mannered BUT get him near a phone booth???!!! He knows what he wants. We hit the ground when we got to the set.
You will also be In Lawrence W. Nelson II's The Mangled, right? Anything you can tell us about that one yet?
Yes I am proud to be in this film as well. Let just say its a bit darker. It will push a different kind of button... The one that makes you want to cringe!! It's DARK!
A few words about Pitching the Tent?
I get to be in this film with one of my favorite actors/friends Luc Bernier [Luc Bernier interview - click here], I am so happy I will see him again. I am so excited to travel to Tennessee to shoot an old school slasher film with Christopher Miron [Christopher Miron interview - click here] and Timothy Oí Hearn.
What can you tell us about The Krokodil Chronicles, and how did you get involved with the project in the first place?
In most of my interviews I like to talk about Facebook and how it impacts networking. If used in the way it was meant to, It is a really great place to see casting calls. It's really amazing when you think about it. I knew about Cameron Scotts innovative Post Mortem America 2021, I had met Linnea Quigley on the set of A Blood Story, she is just wonderful! She is in Post Mortem America 2021. So anyway it's a very small world! I got in touch with Cameron, now this was a director I really wanted to work with! He offered me three different roles to choose from to audition for. I picked one. I read his work and just flipped for it, then I looked at Krokodil on google an understood what he was going to do and I wanted to be a part of it. I am thrilled that I will be working with Jim OíRear also of Post Mortem America 2021. It seems the further in I go, the more intricate my characters are becoming. This kind of film about Krokodil has never been done before and I am looking forward to being influenced by Cameron Scott.
Any other films of yours and future projects you'd like to talk about?
I have few things in the works. So we will see.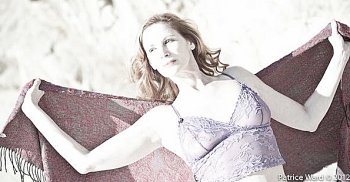 photo by Patrice Ward
How would you describe yourself as an actress, and some of your techniques to bring your characters to life?
Well when I am getting ready for the character I break it down, I study the script I read the story. Then I get ready, what I mean by that is I learn my lines like a mechanic, no emotions, I donít want to get stuck into an emotional rut when the director says action. When the time comes I then let go and become that person and stay there. It is easy for some reason to go deep. I study my character's story and if I donít have one I make one up. I am free to be spontaneous, and responding to the other actors. I need to let go... and YES I am terrified of forgetting my lines!!
Besides being an actress and model, you're also a writer - so what can you tell us about your approach to writing and your writing style? And to dalk about your book My Life as Julia Roberts: Snapshots of Life for a bit, and what were your inspirations for that one?
My Life As Julia: Snapshots of A Life is about my life, all the stories are true. I have been writing since I was a little girl. My approach is simple... The muses! didnít let me have a moment's rest, they are always nagging. Those who write do so because they HAVE to! So I decided to start a blog I figured if it's shit, then I won't write a book. Well it got a really great following. So I began, I would think ok its time and wham!! in the middle of the night, on napkins in cafes in Big Sur, on my little recorder etc. My inspirations were my life growing up in LA, my family, I grew up around the the film industry. And the many experiences I had with Crohns disease and of course Julia Roberts! I am onto the next book, this one is more serious but still some dark humor, called The Hounds Of Winter. I do want to do a stand-up with Julia.
Actresses, writers, models, whoever else who inspire you?
This is easy! Jessica Lange, Jack Kerouac, Gia, Fritz Lang, W.B. Yeats - ahaha there are way too many! And MUSIC!
Your favourite movies?

Feeling lucky ?
Want to
search
any of my partnershops yourself
for more, better results ?

The links below
will take you
just there!!!

Find Liane Langford
at the amazons ...

amazon.com

amazon.co.uk

amazon.de
Looking for imports ?
Find Liane Langford here ...
Something naughty ?
(Must be over 18 to go there !)

The Usual Suspects, Lawrence of Arabia, Burden Of Dreams, Hidden Fortress, The Exorcist, Mirror, The Sixth Sense, NIght of The Living Dead, Bram Stoker's Dracula ... tooo many to choose.
... and of course, films you really deplore?
Twilight! ... everyone says that donít they? ... Hello!! Edward!! sparkled!! BUT the music from the first one I loved and the score. BUT Edward! had too much lipstick on!!!! LIPSTICK!
Your website, Facebook, whatever else?
Come and visit me on FB, Twitter, amazon.com for my book and visit my page for My Life As Julia Roberts, And my IMDb.
Thanks for the interview!
Ciao Ciao. Thank you so much!