Your new movie Dolphinman Battles the Sex Lobsters - in a few words, what is it about?

Sex! Love! Explosions! Tromaville! Heroics! Ireland!

How did you actually come up with that ingenious title itself, and what was there first, the story or the title?

I'm obsessed with the heroes of Tromaville. My idea was to create a team-up picture featuring Dolphinman and Sgt. Kabukiman NYPD (Toxie is always conveniently on a Hawaiian vacation in my Dolphinman shorts). The story came when I resurrected an old sketch I had about an extreme STD called 'lobsters'. You thought crabs were bad?! Lobsters are worse! Kabukiman spreading lobsters around Tromaville's orgy spots seemed funny to me, and Dolphinman stepping up to find a cure sealed the plot.

The short was originally titled "Dolphinman vs The Sex Lobsters", but I had already made Dolphinman vs Turkeyman for Thanksgiving 2015, and Kabukiman vs Dracula for April Fool's Day 2016, so I needed to get away from the 'versus' moniker. 'Battles' it was!

With Dolphinman Battles the Sex Lobsters being firmly rooted in Troma mythology (besides being produced by the company and featuring Lloyd Kaufman in a guest spot) - are Troma movies something you've got a soft spot for privately, and some of your favourites?

I was a young boy when Troma came into my life, probably nine years old. One of the first times I stayed up past midnight watching TV in my basement, Class of Nuke 'Em High Part 2 came on cable. I was transfixed. I couldn't believe it was a real movie. There was so much going on -- comedy, horror, gore, nudity, a mutant squirrel. It was surreal, confusing, hilarious… all the adjectives! I found Lisa Rowland's Subhumanoid character both attractive and repulsive. A mouth where her belly button should be? It was a major mind fuck for a kid to witness! Definitely a life changing cinematic experience. The next weekend I went to the video store and rented The Toxic Avenger 2 and 3. I've been a fan ever since.

I dig a lot of Troma movies. Some major favorites, besides the ones already mentioned: Tromeo and Juliet, Sgt. Kabukiman NYPD, Redneck Zombies, The Toxic Avenger, Mother's Day, Father's Day, and Cannibal! The Musical.

Other sources of inspiration when writing Dolphinman Battles the Sex Lobsters - and how much of the movie was actually based on the script, how much just improvised on set?

I wrote a story outline first, then a ten-page script. The script was just a jumping off point, but I was precious about the story. As long as we were pushing the plot forward, anything was admissible. There was plenty of improvisation during the shoot. Every actor contributed!

The original impetus for Sex Lobsters, unrelated to Dolphinman, came years ago during a sketch class at the Upright Citizens Brigade in NYC. It was my first attempt at what they call a "blackout sketch". The scene was about a girl admitting to her new boyfriend that she had been living with a horrible STD, worse than crabs. What could be worse than crabs? Lobsters! The scene ended with a couple of big guys dressed in full-body lobster suits running on stage and beating the shit out of the boyfriend. Blackout! The teacher hated it. I kept the idea in my back pocket and eventually grafted it onto the Dolphinman/Kabukiman team-up story.

Dolphinman Battles the Sex Lobsters has an irresistible "anything goes"-mentality to it - so did you ever fear you'd cross some line or other?

I love all kinds of movies. I have favorites in every genre. Most recently, I've become a fan of extreme cinema, stuff like Ruggero Deodato's Cannibal Holocaust [Ruggero Deodato bio - click here]. One day I hope to make a truly fucked movie. However, Dolphinman Battles the Sex Lobsters is almost G-rated in terms of where I could see pushing myself as a filmmaker and I think it's pretty tame in the grand scheme of Troma!

Do talk about Dolphinman Battles the Sex Lobsters' brand of humour for a bit!

'Bonkers' could be a good way to describe the humor. This is an absurd piece of work, an insane comic book where anything can happen. I like that Dolphinman's head is obviously a cheap rubber mask. There were times when I was editing and I'd land on a Dolphinman freeze frame and it would make me burst out laughing. His face is frozen in this permanent idiotic smile. I find it enjoyable when he just nods along in dialogue scenes. So stupid. I love it. Dumb fun.

What can you tell us about your cast, and why exactly these people?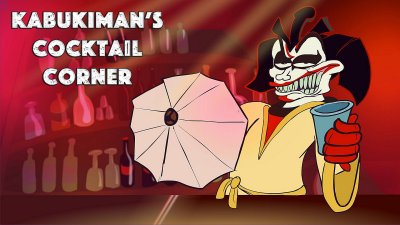 A little over a year ago, I was editing footage for Troma's upcoming documentary Occupy Cannes. Consistently, my favorite scenes were of Doug Sakmann in his Kabukiman costume interacting with people on the Croisette. He's a natural as the character. This was before I met him in person, but I knew I had to work with him, so I developed a psychedelic online talk show called Kabukiman's Cocktail Corner. I asked for permission from Lloyd Kaufman and he gave me the OK to make it. I contacted Sakmann and asked if he'd do it. He loved the idea. I brought on Kevin McGinnis as my producer and talent booker and Charlotte Kaufman as my co-director and DP. We now have a complete first season, four mid-season specials, and a faux theatrical trailer. We're currently in production on season two and planning Season Pi, which could go on forever. When Dolphinman Battles the Sex Lobsters was gearing up, Doug was my only choice for Kabukiman (though I'd eventually like to have Sakmann and original Kabuki-actor Rick Gianasi team up for a Tromaville time travel epic,Sgt. Kabukiman and the Trysexual Time Machine.

As far as the rest of the cast, Gibson Merrick signed on next. He worked at Troma for a while as PR and head of sales. One day he told me his dream was to play Dolphinman. Thank Christ! Most people hate being in the mask and think it's not a real role because their face is hidden. Not so with Gibsion. He's totally committed and brings a great physicality and personality to the role. When it was time to book the villain, international superstar Zac Amico was my choice. He really impressed me with his role in Return to Nuke 'Em High Vol. 1 and the upcoming Return to Return to Nuke 'Em High aka Vol. 2". He's an endless well of brilliant suggestions and inspiration. Super Tromette Double Dementia is the greatest Tromette since the heyday of Troma's Edge TV, so casting her was a no brainer. I met Amanda Flowers through producer Dylan Greenberg [Dylan Greenberg interview - click here] and her natural charisma added so much to the movie. She made me believe the love scenes! Brendan O'Cunter asked that I not mention him, so my lips are sealed.

I'd also like to add that Dylan Greenberg's Dolphinman Theme, which plays during the end credits of Dolphinman Battles the Sex Lobsters, is a brilliant addition to the short. It's one of the catchiest songs I've ever heard and harkens back to the great movie themes of the 80s, like Cyndi Lauper's Goonies 'R' Good Enough or"Ghostbusters by Ray Parker jr. It's available here on Bandcamp: https://tromarecords.bandcamp.com/album/dolphinman-soundtrack.

Do talk about the shoot as such, and the on-set atmosphere?

We filmed the bulk of this short, and the Kabukiman vs Dracula trailer, on a Sunday in early March 2016, then shot a couple of pickups a week later. We utilized the Troma building and the surrounding areas in beautiful downtown Long Island City. Our neighbors are used to the Troma madness, so when they see Dolphins, Lobsters, and Doctors participating in karate fights and laser battles in the street, it's just a normal day in the neighborhood.

The atmosphere was very loose on set. Everyone in the cast and crew contributed ideas. We had a blast making this thing. I will work with them all again, 100%.

Anything you can tell us about audience and critical reception of your movie yet?

It's too early to gauge the audience and critical reaction for this short, but I will say that Troma fans have been very welcoming and surprisingly pleasant with their comments on social media and on YouTube. Last year, right before we released the first episodes of Kabukiman's Cocktail Corner, I was prepared for the worst. I thought there would be a contingency of commenters who would rip the show apart, call us hacks, wish death upon us, etc. That never happened. Troma fans are overwhelmingly positive and supportive.

Will we ever see the Dolphinman in more adventures, and/or other future projects you'd like to share?

I definitely have more Dolphinman adventures in mind. Next up, I want to do a short called Dolphinman Duels The She-Sharks, in which Dolphinman returns to his childhood home just off the coast of Tromaville in the Atlantic Ocean. My ultimate dream is to write and direct a Dolphinman feature film called Dolphinman: Escape from Tromatraz. I've been working on the script. Fingers crossed for that!

Dolphinman Battles the Sex Lobsters isn't the first movie featuring Dolphinman - so what can you tell us about the character's creation and evolution?

Writer John Rieber just put out a piece about the origins of Dolphinman. Read the story here: https://johnrieber.com/2016/06/04/james-gunn-the-origin-of-tromas-dolphinman-wrestlers-v-zombies-
new-tromatic-classics/

Apparently James Gunn (screenwriter of Tromeo and Juliet and writer/director of Guardians of the Galaxy) and Alex Duda (producer for E! Entertainment) created Dolphinman at the Cannes Film Festival in the 90s. After that, Dolphinman made an appearance in Citizen Toxie: The Toxic Avenger Part IV.

The character stayed dormant until 2015 when I made a promo called The Return of Dolphinman for the 16th Annual Tromadance Film Festival. It can be viewed here: https://youtu.be/Kweo2n5G4og

Then came Dolphinman vs Turkeyman, a 2015 Thanksgiving special: https://youtu.be/7P_Jiz76hUw

Now, Dolphinman Battles the Sex Lobsters is on Troma Now: watch.troma.com

He's a great character!

What got you into making movies in the first place, and did you receive any formal training on the subject?

I've wanted to make movies since I was a little kid. My family has home videos of me at five years old where I'm already directing, setting up song and dance numbers, feeding people jokes to tell, etc.

As a teenager, my friends and I created hundreds of hours of skits, performance art pieces, class projects, documentaries, and a full-length feature on Hi8 video cameras. Then I made a bunch of student films while studying filmmaking at C.W. Post.

Now, I'm very excited to be building a body of creative work with Troma Entertainment, a company I've respected and followed for more than two thirds of my life. Me gusta!

Filmmakers who inspire you?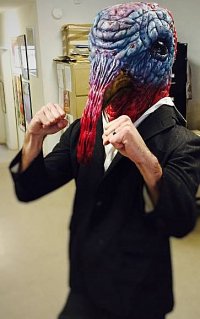 Dolphinman vs Turkeyman


Feeling lucky ?
Want to
search
any of my partnershops yourself
for more, better results ?

The links below
will take you
just there!!!

Find John P. Brennan
at the amazons ...

amazon.com

amazon.co.uk

amazon.de
Looking for imports ?
Find John P. Brennan here ...
Something naughty ?
(Must be over 18 to go there !)

Lloyd Kaufman and Michael Herz, and not just because I currently work for them! These guys created an independent movie studio that has survived for over forty-two years, and they're still going strong. Troma is a brand name with brilliant characters and an extensive library of films. Their in-house movies always contain some sort of political or social statement, so it's not just all gore and nudity, though there's plenty of that to entertain! I consider Lloyd and Michael filmmaking mentors and I'm grateful for the opportunities they have given me.
Your favourite movies?
Here's a list of movies I think are infinitely rewatchable. Weird Science, Goodfellas, Sunset Boulevard, The Naked Gun, The Lost Boys, Dazed and Confused, Pulp Fiction, Crimes and Misdemeanors, Rain Man, West Side Story, Boogie Nights, Stop Making Sense, Predator, King Kong (1933), Raiders of the Lost Ark, Aliens, Network, Sorcerer, The Thing.
... and of course, films you really deplore?
Rock of Ages… no me gusta!
Your/your movie's website, Facebook, whatever else?
- Watch Dolphinman Battles the Sex Lobsters exclusively on the Troma Now streaming service: http://watch.troma.com/
- Catch my previous Dolphinman shorts and my web series Kabukiman's Cocktail Corner on the Troma Movies YouTube Channel: https://www.youtube.com/user/Tromamovies
- Follow me on Twitter @badtechno
Anything else you're dying to mention and I have merely forgotten to ask?
Stay tuned for Lloyd Kaufman's newest masterpiece Return to Return to Nuke 'Em High aka Vol. 2 which I co-produced. It will be released by the end of the summer.
I'm also producing this year's Tromadance Film Festival, taking place July 29th and 30th at The Paperbox in Brooklyn: http://thepaperbox.nyc/
It's completely free to attend! Come celebrate independent art with us: http://tromadance.com/
Thanks for your time!
Thanks for the interview!