Your upcoming movie Zombie Massacre - in a few words, what is it about, and what can you tell us about your character in it?
Zombie Massacre is about what happens when secret, unaccountable, military departments take shit too far!! It's also about family, friendships, betrayal, trust, hope, love, and of course death... Yes lots of death, mainly death, and zombies.
I play Doug Mulligan, an up-in-yer-face hippy/hick from Alabama. He's just a guy on a nice li'l driving holiday in Eastern Europe with his hot, mute, Girlfriend (played by the well savvy and totally smokin' Natalia Hanao), and his Dog Indiana. They stumble across the movies heroes in a tight spot and he saves their asses lol.
I'm next to sure you have never actually experienced a real life zombie apocalypse - so how do you prepare for a role like yours, what do you draw from?
It's getting easier, the more apocalyptic-ally challenged roles I play!
I find it's about imagination, the writers have created a world and a set of circumstances, and my job is to accept them, then react to them as honestly as I can through my character, and to do that you just need imagination. Kids are amazing at this, they can just accept instantly and without question an entire concept and fully commit to its reality. So I just try to be like a child.
How did you get involved in the project in the first place?
Extreme Video advertised for actors and I knew as soon as I read their synopsis and pitch that I wanted to work with these guy. I think my entire letter of application was just 2 words 'HELL YES!', and a link to my showreel. Luckily they appreciated that and asked me to send a casting tape of a short scene (as they were in Italy) so they could shortlist actors for casting in London later. I took this opportunity to impress them by shooting the scene for real, using location, costume, make up etc, rather than just like an audition read. It paid off because I was cast straight from my tape.
Gotta love the guys.
What's it like shooting in Italy, and to what extent does an Italian filmset differ from a British one?
It was, unsurprisingly, TOTALLY AWESOME filming in Italy! The main difference? - NO TEA ON SET! On a UK shoot TEA and/or a KETTLE to make TEA are without a doubt THE most important elements of ANY shoot, so 3 weeks filming without on set Tea was HAAAAAARD. LOL.
A few words about your directors Marco Ristori and Luca Boni [Marco Ristori and Luca Boni interview - click here], and what was your collaboration like?
Marco and Luca are two extremely talented and exceptionally lovely guys. They have vision, an acute attention to detail, passion and a love of their art and... they are people people, they are also somewhat insane so the shoot was an endless hoot with many many photos of them to prove it! As for collaboration, it was total, I was able to discuss any aspect of my role with them and freely make suggestions, in fact they encouraged it. I got to choose the name DOUG MULLIGAN, invented my own back story, improvised lots of the dialogue around the script, I even suggested Doug sang in one scene and they loved it and so he does. It's how I like to work, so I actively seek out directors with this approach, and it's so amazing when you find them. Makes you want to work with them again and again.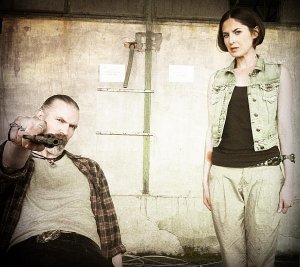 with Ivy Corbin
Since zombie films are not at all un-prone to sequels - would you be on board for Zombie Massacre II?
HELL YEAH!
Speaking of zombies, you have recently also starred in The Zombie King. A few words about that movie and your character in it?
Yes, like buses they are at the moment my zombie flicks. Well The Zombie King is a very different take on the genre from Zombie Massacre. Whilst Zombie Massacre does have lots of humour it has a more gritty, dark and pretty real feel to it, while The Zombie King is a quirky Brit-Com-Zom-bie movie. In this film the Zombie invasion has a more voodoo/Somerset origin and the fate of the world is in the hands of a postman, a milkman, a traffic warden and... a drunk priest (me) - so a very different film and a very different role. I got to work with the legend that is Corey Feldman and ... Edward Furlong, and as a MASSIVE Terminator 2 fan THAT was very special.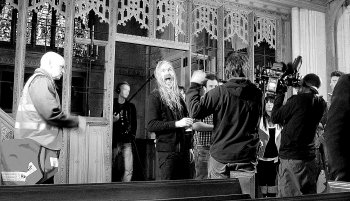 The Zombie King
Is the zombie genre a genre you can at all relate to, and your genre favourites?
I do like a good Zom flick, I like the fact they can easily be re-re-re-imagined as these 2 films have done, from voodoo incantation to military mad scientists - also in a Zombie movie I get to play heroes! Usually if I'm in a horror film... I am the horror! I'm also working with Sneaky Zebra on their web series The Good, the Bad and the Undead, set in the Mexican border town of... Romero! In the teaser I played the zombie sheriff. As for fave genres I am happy ANYWHERE in the HORROR genre, hmmmm a werewolf film would be very nice tho, oooowwwwww.
Let's go back to the beginnings of your career: What got you into acting in the first place, and did you receive any formal training on the subject?
For reason unknown to me I just always wanted to act!? Did it as a young lad with an amateur society, then with prestigious Hull Truck Youth Theatre, and then at 22 I moved to Birmingham to study full time for 3 years at the BIRMINGHAM SCHOOL OF ACTING, giving up my job as an Airframe Engineer at British Aerospace (I really wasn't happy there lol). I've never regretted it for a moment and am thankful for the amazing opportunities it has given me over the years, tough though the profession is, its emotional and experiential rewards are well well worth it.
What can you tell us about your very earliest on-camera experiences, and how do you think you have evolved as an actor?
Camera acting is tricky and its something I'm still learning, though I hope I am a lot better now than when I started. One of my earliest film roles was in a rather art housey short called Lust & Amnesia shot on 16mm B&W where I have cropped blonde hair. It's about a man and woman who wake up in bed, naked... handcuffed... with amnesia. It was a very memorable experience and cemented my deep love of film acting. I'm hoping to digitize a VHS copy I have and pop it online very soon, I'll let ya know when I do. I'm a big fan of Ryan Gosling, he demonstrates superbly how little you need to do yet the camera still reads and translates your thoughts, fears, needs, wants, to the audience. 'I did too much' is my constant note to myself. Having said that I mainly play somewhat larger-than-life characters, often in extreme situations, so I do fall back on my theatre skills to help make those performances fill the space they need to to do the role justice or portray the scale of the scenario... i.e. ZOMBIEEEEES!
Your most widely seen performance was probably that of a Death Eater in Harry Potter and the Deathly Hallows Parts 1 and 2. For all those not familiar with the Harry Potter-lore, what's a Death Eater to begin with, how did you get the role, and what's it like to work on big budget movies just like these?
Aaahhh yes... Potter! Working on Harry Potter was, as you might imagine, quite, quite amazing, and I consider myself incredibly lucky to have had the chance and to have had the benefits such an association brings. So a Death Eater is basically a wizard who is on the side of Voldermort - but for a full and detailed explanation I will direct you here as the fans like things to be accurate.
My initial casting was more of an informal chat in which I was asked to describe a dark role I had previously played. I had lots to choose from so it was easy, and I think the fact I enjoyed talking about it helped me come over as calm, cool and confident, when in fact I was of course, on the inside, a flapping bag of nerves on the verge of making heavy pants, simply because this was a Potter casting.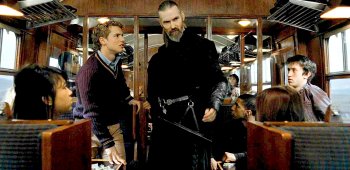 Jon Campling, the Death Eater
About 2 months later I was asked to come to Leavesden Studios to audition for director David Yates in his office. Now that was an exciting call from my agent, one that you dream of really and they even sent a car to take me to the casting so I knew I was seriously in the running. The casting was relaxed and David was lovely, he asked me to do the now famous train-stopping arm raise a few times accompanied with my 'bestest' hard stare and then I was driven home. A week or so later I was confirmed as Death Eater 9 AKA the train stopping Death Eater lol. My first shoot day was in Scotland on a real train track facing a real steam train (the same one me and the 100 crew had in fact just travelled on for 2 hrs to get to the location - very surreal as I was in costume the whole journey). I then spent 2 very wet and windy days raising my arm and willing several tons of steam train to STOP! It always did, meaning my stunt guardian never had to rugby tackle me out of the path of the train, but I thank him for being ready to do so the whole time as I felt incredibly protected. The remainder of my shoot days were back at Leavesden Studios, a magical place where from the moment my limo stopped and a beaming production assistant opened the door for me, to the moment they closed the limo door and waved a cheery goodbye 12 hrs later, I was an actor in actor heaven! A C T O R H E A V E N!!!! They make so much effort to ensure new actors joining the shoot are made to feel welcome and at ease. It was just simply lovely.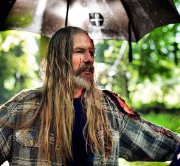 Bloody Cuts
Any other films of yours you'd like to talk about, any future projects?
Oooh yes please/thank you. As I write this I've just done two amazing days working with www.bloodycuts.com taking a lead role in their 6th short horror film part of a set of 13. Its called Dead Man's Lake and is a very imaginative take on the 80's slasher flick. I worked with some Bloody Cuts people a few months ago on a music video and let them know I would be very excited to be in a bloody cut, and a few weeks later they had written Dead Man's Lake for me. I was amazed, excited and honoured. The shoot was hard and involved a 3.5 hr make up session each day and the wearing of fake teeth and a lot of very sticky blood...! Who am I kidding I love a 3.5hr make up session, sticky blood, fake teeth, difficult conditions, rain, numb bum cheeks and aching limbs - MORE PLEASE!!!!! Do check out their previous shorts and watch out for Dead Man's Lake in about 8-10 weeks, all their shorts are made on a shoestring budget and they appreciate any support they get (@stephenfry is a big fan). So that was my bloody Sat/Sun in Norfolk and I spent Thu/Fri in Cornwall presenting 2 x 5hr LIVE webcasts right from the set as-they-were-filming on www.theunderwaterrealm.com with the also amazing Realm Pictures. Again please support/follow/share as these chaps are smashing the barriers of indie film making and are just in a league of their own. Shooting on RED EPIC, in amazing locations or on stunning (self built) sets or just plain under water they are producing 5 X 2mins dramas to an incredibly high standard on a stupidly low budget. I did a lil acting for them last October, again for me a very challenging therefore exceptionally rewarding shoot. On location on a rain drenched windswept clifftop in Tintagel, Cornwall last October set in 1208, I played LORD CONANT, an angry and vengeful husband about to teach his adulterous Lady a lesson. As if the shoot conditions were not challenging enough, I was also wearing authentic full body chain-mail, adding some 7kg to my costume weight and requiring 3 people to put on and take off - they were long hard incredibly fun days.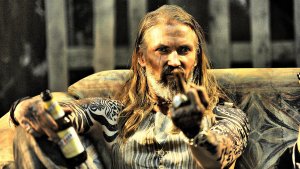 Hard Shoulder
Also I recently went to the cast & crew screening of Hard Shoulder (http://www.imdb.com/title/tt2393817/), a dark and twisted psychological thriller from the mind of writer/director Nicholas David Lean, shot in just 18 days on 35mm for a tiny budget with an amazing cast and crew. It was so exciting to finally see it in all its saturated glory on a BIG screen at Pinewood studios. So do watch out for it, it's a lil gem, and I got to work with one of my fave film actors Jamie Foreman.
Other recent exciting work includes the spooky & disturbing Tales of the Super Natural (http://www.imdb.com/title/tt2136689/), the dark & gritty Sleeping Dogs (http://www.imdb.com/title/tt2140405/), and the hard hitting Tax City, also starring former HBO world Champion boxer Steve Collins We are hoping for an LA premier for this short in which I play a rock star experiencing a massive fall from grace. So... lots going on.
You have also done an awful lot of theatre over the years. Want to talk about your stagework for a bit, and how does acting on stage differ from being in front of a camera?
Yes, lots of theatre, and I hope to do lots more as it's such an immediate art form. It's like 2 hours of extended, heightened 'in the moment' existence. The buzz you get at the end of a show is extremely addictive and can only be gotten the hard way. I'm less castable in theatre at the moment with the current look, even though it has worked hugely well for my film career. My favourite theatre roles were probably Alex In A Clockwork Orange, and remember that was back when the film was still withdrawn and few people had seen it or knew the story, so we had fans of the book flocking to see their anti hero brought to life. It was an amazing experience. I remember after one sell-out show a guy told me he couldn't wait to re-read the book but now seeing me as Little Alex... that stuff moves you. Also dabbled with a lot of horror on stage and loved the Edinburgh Festival show Famished The Musical!, a show about Victorian London being overrun by... zombies! It was a cult hit in the making but for some reason the producers abandoned it. I also did Camp Horror, another musical by the Heather Brothers (writers of the worldwide hit a Slice of Saturday Night), a kind of 80's slasher movie, on stage, with songs and lots of gore/FX. Also looking forward to doing some PANTO (oh no you're not!) having a theatre full of kids booing and hissing their little hearts out every time I walk on stage is amazing Mwaahaaahaaaaaaaa!
How would you describe yourself as an actor?
Fun, creative, inventive, fun, open, intense, loyal, imaginative, fun, surprising, adventurous, fun and... versatile. My tag line on The Underwater Realm shoot became Jon Campling - Evil but fun.
Actors (or indeed actresses) who inspire you?
Sigourney Weaver - beautiful, versatile and always incredibly engaging.
Enjoying the work of Ryan Gosling, love his stillness and commitment to the thought not the action.
Jamie Foreman who I worked with on Hard Shoulder is a hugely underrated actor and I hope to see him land a tasty, complex film lead very soon, he has a real performance sparkle and depth that keeps you glued to his performance.
Clint Eastwood is a definite acting role model.
I also enjoy watching Jack Black, Chloe Sevigny, Bill Murray, Olivia Coleman, Chris Cooper, William H. Macy, Kyra Sedgwick, Mickey Rourke, Joseph Gilgun, Vicky McClure and Paddy Considine
Your favourite movies?
Hmmmm... In no particular order...
Aliens, Tenebre, A Clockwork Orange, The Thing (Kurt's), Shawshank, Big Fish, Dogtooth, Mumsy, Nanny, Sonny and Girly, Morgan - A Suitable Case for Treatment, Dale And Tucker versus Evil, The Changeling, Team America, Cannibal the Musical, Cul-De-Sac... oh the list is very long!!!
... and of course, films you really deplore?

Feeling lucky ?
Want to
search
any of my partnershops yourself
for more, better results ?

The links below
will take you
just there!!!

Find Jon Campling
at the amazons ...

amazon.com

amazon.co.uk

amazon.de
Looking for imports ?
Find Jon Campling here ...
Something naughty ?
(Must be over 18 to go there !)

Anything that is style over content!!!! Why bother! SERIOUSLY... WHY? BOTHER?
Your website, Facebook, whatever else?
Excellent some social media plugging....
My Official Jon Campling website is at www.joncampling.com
My Official Twitter is @joncampling - please do follow.
My Official Blog is www.joncamplingblog
My Official Facebook is www.facebook.com/joncamplingactor
Anything else you are dying to mention and I have merely forgotten to ask?
I don't think so except, to say THANK YOU to my Zombie Massacre co-star Tara Cardinal [Tara Cardinal interview - click here] for introducing me to your site and of course to YOU for your excellent questions and email hospitality. Finally a big thanks to everyone who supports and encourages me in my acting endeavours, your love and great karma keeps me going. And finally a huge kiss to my new wife Ali and a huge hug to my Mum. XJC
Thanks for the interview!