Your new movie Darcy - in a few words, what is it about?
Darcy is the coming-of-age story of a 15 year old girl whose family run a motel filled with society's castoffs. Some of these residents are coming from prison and she sets her sights on one. Luke is a 28 year old former inmate who just wants to stay out of trouble - but that is easier said than done.
How did the project come into being in the first place?
My wife, Tracy Nicole Cring, and I wrote it, mixing elements from both of our past and also a story we read about local citizens protesting the residents of a motel outside town. At first we thought it would just be part of the backstory for another film project but then I told my wife that this world needed to be explored. I personally lived in a "No Tell Motel" for about a year with my family. One of the interesting neighbors we had was a pimp and his wife with their younger prostitute living with them. They also had a kid. So they were this little family during the day and something else at night. That demanded a movie.
Jon, what were your sources of inspiration when writing Darcy?
My wife actually used dialogue and character names from her family like Lonny Johnny. Peanut was a kid who terrorized my neighborhood but we ended up creating a much more benevolent character. The name Darcy was my wife Tracy's doll Darcy covergirl. The film also has a great deal to say about the different ways women are dominated by men. Every woman has their own emotional and psychological oppression to deal with inflicted my the men in their life. I feel it is very timely in that respect.
To what extent could either of you identify with your title character, actually - or with any of the other characters for that matter?
Sometimes when you are co-writing, one of you will take the lead on a scene or a character. Darcy to me is a classic heroine who knows there is more to life than what she is being shown but doesn't know how to get it. When you are 15, your life isn't yours. I also really love the character of Ali who is the pimp with a family. He wants to be a better man than he is, but his darkness keeps seeping in. He sometimes finds himself stopping and looking at himself and truly not liking what he sees.
Do talk about your directorial approach to your story at hand!
I was a co-director with Heidi Philipsen on this. She was also the producer and played the mother of Peanut, "Toni". It was rewarding experience co-directing this picture because Heidi and I wanted to show the female and male perspective. I think movies miss out on the opportunity to see with both eyes. If a woman and man come out of a film and have two different experiences based on their lives, then why not have more female/male teams so all the perspectives can be explored.
What was the collaboration between the two of you like, actually? And how did you first meet, even?
Jon: We were sort of friendly rivals in Upstate New York where we live. I had seen Heidi's work (Her Telling Heart) and vice versa (Hobo Hey Seus) and there was a bit of competition. I could tell she was incredibly committed to quality, so it seemed like a good fit. Heidi comes from an impressive academic film background and I just kind of did a ton of micro-budget projects by the seat of my pants. It was a very Ying and Yang collaboration but the bottom line was that we both were huge indy film people.
Heidi: Jon and I are truly like Ying and Yang… funny enough, he's an Aquarius and I'm Pisces, if you want to characterize us via our horoscope personalities. Jon is very much "in the moment", a genius of creating out of thin air. He's not one of those difficult directors at all. He loves everyone and everything about being on set. He loves the authentic and often has a mistrust for "messing" with something, like emotions, because of the fear of them being less than truly real. I could always lean on Jon when in doubt of my take on the male emotion of the film and he would let me know if the actor's performance felt real from the male perspective. Visa versa, he leaned on me in terms of many of the actresses' performances. In contrast to Jon, I'm all about prep, prep, prep on everything — perhaps way beyond what is actually necessary, but you have to remember that I did not write this script and I wanted to make sure that I understood it viscerally on a level that Jon and Tracy did when they wrote it. You can't fake some of the emotions in the story on Darcy… if you do, it ends up very cliché.
Heidi, you also play one of the key characters in Darcy - so what did you draw upon to bring her to life, and how much Heidi Philipsen can we find in Toni?
When coming up with the stuff of Toni, I spent a lot of time researching articles, documentaries and stories about real women who were like Toni — i.e. not just prostitutes with pimps living in motels (there are, unfortunately, many of those), but also women who were victims of domestic violence, abuse and sexual harassment. I also spent quite a bit of time looking into women who had come from well-off financial circumstances with loving families, but who had still ended up as prostitutes… because of drugs, an abusive boyfriend, childhood sexual incest, etc.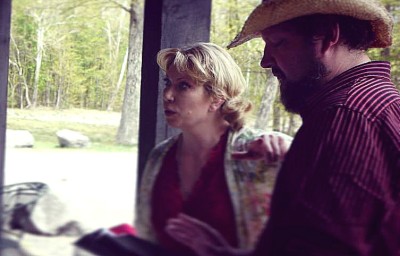 Heidi and Jon on set
In terms of what of Heidi Philipsen you can find in Toni, let's just say that I went through a very dark period in my life in my early twenties, after being raped by someone in college. I'm also a survivor of childhood sexual incest — from a neighborhood friend, as well as from some kids at the babysitters… and by an attempt by an uncle — so I know how one of those experiences when you are young can lead to several for the rest of your life. "Toni" to me, is a woman who seeks a protector and has been so beaten up by life, that she values loyalty and her son more than anything else. Pretend airs and so-called societal graces don't mean anything to her… as she has seen the dark side of people who parade around acting like they are holier-than-thou, but keep secrets at their victims' expense.
What can you tell us about the rest of your cast, and why exactly these people?
Jon: This was the first time that I had ever worked with a casting director. Heidi had a contact in Caroline and it made all the difference. It was Gus Birney's first feature and she has exploded in television as the lead on Spike TV's The Mist. David Thornton was a lead in The Notebook and Paulina Singer has been the star of several network series since we shot the film. Also I cannot say enough about Jonathan Tchaikovsky as Luke. It is an amazing performance that reminds me of early Brando. Throw in the incomparable Bernadette Quigley (Mr Robot) and Lawton Denis and this is the greatest group I have ever had the opportunity to work with.
Heidi: What we were looking for in each an every character actor was something authentic — and real. We didn't care about looks as much as we did the substance behind the question: Could we actually see them as that character? Each and every actor that Caroline Sinclair brought in was amazing… these actors seemed to want their roles and knew how to break through the bullshit of fear for auditioning.
You of course also have to talk about your film's motel location for a bit, and how was it filming there? And how did you find the location in the first place?
Jon: That was all Heidi so I will let her answer that one.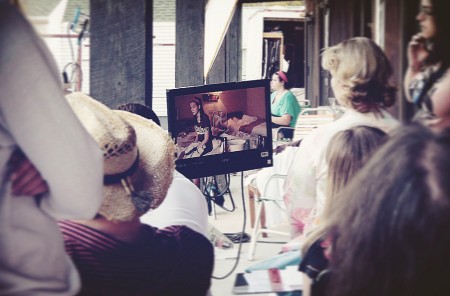 Heidi: I had worked on several features in the Hudson Valley over the period of several years and lived all over — Poughkeepsie, New Paltz, Highland and Rheinbeck. While there, I would drive past all of these motels that were remnants of the 1940s - 1970s hey days of summer destinations for families from NYC and beyond, but, now, had clearly seen better days. I loved that they weren't nondescript hotel chains, but rather had personalities all their own… with pools, tennis courts, dance halls, and cabins. And it was also while working on all of these other features, as production coordinator, mostly, that I saw what made - or killed - a low-budget indie feature. The biggest mistake that first-time producers make when making their first feature? The have too many locations for too little time and money. It ends up being a logistical production nightmare. And so, as I knew that I wouldn't be given millions for my first feature, I put out the word that I was looking for a feature that could all be shot in one place. And then Jon and Tracy delivered Darcy to me. I had been location scouting all summer for the best motel that could fit their script. A fellow actress and local to the area told me about this motel called "Catskill Mountain Lodge," and introduced me to the owners Al and Kathy Guart. It was perfect! Of course, it was a bit too nice and well-kept to totally meet our requirements, but our fantastic production design team, Sally and Nando del Castillo transformed it for the scenes.
A few words about the shoot as such, and the on-set atmosphere?
Heidi: We had an unbelievable crew that I was able to put together, as line producer, with the help of associate producer Heidi Eklund. Tracy Nicole Cring also assisted in pre-production as production coordinator in putting the word out. That's the thing — with so many women in top positions who are used to multitasking, we were able to really put this film together with 1/3 the necessary crew. And then, as soon as I put the mandate out that I wanted to hire women and give them a chance to lead, as opposed to only serve a leader, we had some AMAZING talent come our way.
The biggest "find" was 1st A.D. Carol Mazzoni — who broke our film down from a unaffordable 22 days to 14 — and was one of the best 1st A.D.'s I've ever worked with in my 20-year-career in feature-filmmaking.
Another great department head that I am very proud of finding was Caroline Mariko Stucky. She had her training in Hamburg, Paris and was Japanese-Swiss. Having worked with the Swiss while living abroad in Germany for nearly a decade, I knew that they were unbelievable tacticians in precision and knowing their craft. A cinematographer who also gaffed, I asked her if she would be willing to be our gaffer. After a bit of negotiation (she was nervous after having multiple bad indie experiences in the States), she came on board. I'm proud to say that she never regretted coming on board Darcy. I mandated that Tracy and Caroline prepped the entire shoot to the "T" in advance… and they did. It was unbelievable. There is NO way we would have made those 14 days if it weren't for Tracy as DP and Caroline as gaffer. Very proud and grateful to them both.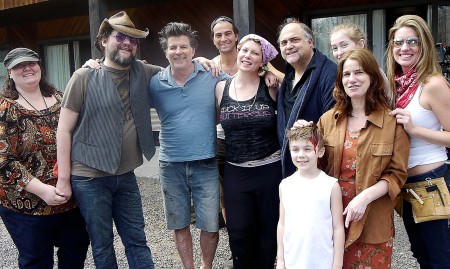 In addition, I have to say that Sally and Nando del Castillo are my heroes. I had first met them both when I was acting in another feature in the Hudson Valley… and Sally had been the art director. I asked her if she would like to take the lead as head of wardrobe and production designer. She and Nando are a married couple and as a team have a business in decoration, renovation and fashion. Sally said "yes" — and she and Nando brought on their own team behind both departments. I never had to worry about costume or set design or props… they did it all with great style and attitude. I'm forever indebted to them.
Lastly, I have to thank camera operator Tom Bracone. Here's a guy who has over thirty years of experience on top television series, films and commercials. In and of his own right, he had more than enough to be our director of photography. Tracy Nicole Cring needed a top-notch camera op who had experience not only with the Red camera, but could also take on the fast-paced shooting schedule and deliver very specific close-ups (that are all in the beginning of the film). Extreme close-ups are one of Tom's specialties. And yet, most men with his experience and position would pass when asked to camera operate for a D.P. with less experience (which, quite frankly, Tracy was less-experienced than Tom). Yet Tom agreed to come on board and support both Tracy and me, as producer, in the making of Darcy. That was no small feat and extremely gracious of him. Tracy was a better leader because of his support… as were we all.
Jon: 14 days living and eating at this motel in the Catskill Mountains. It was a crew of about 35 and they were unbelievable. It was my first AD ever (Carol Mazzoni) too and she was so important to keeping us on the path to successfully finishing on time. It's a total cliché but it was family. Two people I adored were another husband wife team Nando and Sally Castillo who did set dressing and some acting. The greatest attitudes and pristine work.
The $64-question of course, where can Darcy be seen?
It screens March 22nd as the Officially Selected Closing Night Feature within the Socially Relevant Film Fest in Manhattan. We are also fielding distribution offers currently.
Anything you can tell us about audience and critical reception of Darcy yet?
Jon: It's not an easy film. Some fests have been reluctant to screen it. My favorite comment was someone who said that they felt it was film about empathy. That is as good as it gets as far as I am concerned.
Heidi: When audiences see this film, they are compelled to discuss the subject matter, ask questions, share their own experiences and speak up more about what needs to be done to empower girls and women. Enough said. It's a true arthouse film.
Any future projects you'd like to share?

Feeling lucky ?
Want to
search
any of my partnershops yourself
for more, better results ?

The links below
will take you
just there!!!


Jon: I am in pre-production on a sci fi thriller with political overtones and an erotic thriller webseries. I also have three more scripts including a horror one that I am seeking producers for.
Heidi: I'm in development of one feature and currently rewriting two features, self-penned. I'm also nearly finished with my first year of a two-year MBA in Management Program at Eastern Michigan University.
Your/your movie's website, Facebook, whatever else?
Actress Heidi Philipsen on Facebook, EliMeissner (director) on Facebook, Jon Russell Cring on Facebook, darcymovie.com, Twitter/Instagram/Facebook: @darcymovie. The company behind Darcy is Personae Entertainment Pictures: www.personaeentertainmentpictures.com
Thanks for the interview!
Thanks for the opportunity.