Hot Picks

Darcy
This is Nowhere


USA 2017
produced by
Heidi Philipsen, Stephanie Dillon (executive), Niko Meissner (executive), Dale Philipsen (executive), Kathryn J. McDermott (executive), Matthew Mann (executive), Thelma Adams (executive) for Personae Entertainment
directed by Jon Russell Cring, Heidi Philipsen
starring Gus Birney, Johnathan Tchaikovsky, David Thornton, Heidi Philipsen, Bernadette Quigley, Jon David Casey, Paulina Singer, Lawton Denis, Joseph McKenna, Denny Dale Bess, Ray Faiola, Cameron Williams, Nando Del Castillo, Wayne Pyle, Sophie Elise Meissner, Niko Meissner, Teresa Mills, Julia Brennan, Brandon Burke, Marion C. Gwen
written by Jon Russell Cring, Tracy Nichole Cring, music by Brian Gallio, Connor Noetzel, Shane Noetzel

review by
Mike Haberfelner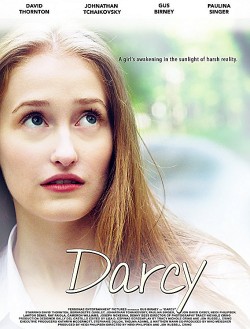 Darcy (Gus Birney) is a cute 15 year old girl who's pretty much like most girls her age, not old enough to properly understand the world of grown-ups, yet feeling certain bodily urges that make her not a child anymore. Thing is, Darcy's growing up in a seedy motel on the edge of town that's shunned by locals as it rents out rooms to ex-cons and houses a resident prostitute (Paulina Singer), so her surroundings might not be the best, also due to the fact that her mother (Bernadette Quigley) cares little for her and treats her like an especially cheap maid.
Unable to make friends at school due to the motel's reputation, Darcy tries to make friends with the guests she sees fit, but usually they're just passing, plus only rarely of more than fleeting interest ... and then comes Luke (Jonathan Tchaikovsky), a good looking and charming man a good ten years older than Darcy - who would listen to her and take her seriously enough. She's soon taken by him, but he keeps her at arm's length ... because he's a convicted pedophile, and he does not want to get into troubles again, especially since he feels drawn to her. But she's not to be gotten rid of that easily ...
Granted, my synopsis of this film might sound a little sensationalistic, what with the mention of pedophiles and prostitutes and all, but the film's actually much more of a touching drama that above all deals with the inner turmoil of a lovely girl who's so torn between her as of yet immature emotions that she's bound to make mistakes - but the whole thing is told without ever getting preachy let alone hammering home a message, it's really more than anything else a snapshot of her emotional landscape - and as that the film works beautifully, thanks to its unexcited script, intentionally relaxed pace, very subtle directorial effort, and of course a strong ensemble cast.
True, a drama like this isn't for everyone, but if you feel even remotely intrigued by above storyline, this one's definitely for you.