Your new movie Stuck in the Middle - in a few words, what is it about?
JOSEPH: Stuck in the Middle is a comedy about a slacker who works in a dead end mailroom job. He accidentally kills himself in a self-gratification experiment gone wrong. He winds up in Purgatory and is assigned to work in the mailroom. There he falls for his boss and with the help of his dysfunctional co-workers must stop an evil mogul from closing Purgatory and sending them to Hell.
Afterlife and purgatory have a rich tradition in religion and literature/film alike - so to what extent do you rely on previous interpretations of the afterlife, and have you done any research on the subject?
JOSEPH: We didnít do any research. I didnít want it to be based on anything that was out there already. Basically my uneducated interpretation is we are in Purgatory, living in some sort of limbo. Things could be better (Heaven) and things can definitely be worse (Hell). So we are just living right there in the middle waiting to see whatís next. Real deep, I know.
(Other) sources of inspiration for Stuck in the Middle? And also, do talk about the writing process between the two of you for a bit!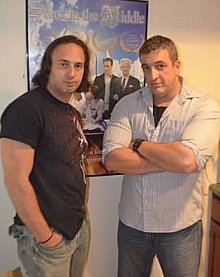 Joseph and Billy Pepitone
JOSEPH: The inspiration behind Stuck in the Middle was my experiences of going to Catholic school for half my life and working in offices the other half. I thought setting it in Purgatory gave us the chance to have no rules that we would have broken anyway. The relationship between Michael (Stephen Fontana) and Brooke (Penelope Lagos) was based on my wife, Christine and me. Basically how does a goofy, below average guy get a beautiful, smart, strong woman? I still donít know how it happened but it was fun to explore in a film.
BILLY: The writing process between Joseph and myself is really a back and forth. Basic premise on paper, then we funnel it back and forth and tweak characters and dialogue till we feel it is a finished product. Checks and balances so to speak.
What can you tell us about the look and feel of your movie? And what does your version of purgatory even look like?
JOSEPH: We shot everything indoors because we wanted Purgatory to have that dull office feel. No freedom of being outdoors. We didnít want any beauty shots that would take away the vibe of impending doom.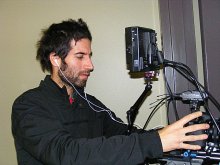 Carlos Duhaime
Do talk about your co-director Carlos Duhaime for a bit, and what was your collaboration like?
JOSEPH: A lot of people contributed to this film, but without Carlos Duhaime, this movie does not get made. I met Carlos by accident. He was filling in for an editor I worked with at my day job. He was so good we wound up working together all the time. We talked about films and his desire to shoot one. I showed him my script and that started the process. He co-directed, shot and edited the film. He had a two-man crew working with him, so the fact that this movie not only got made, but also came out as good as it did is a testament to how talented Carlos is.
With Stuck in the Middle being a comedy - what can you tell us about the movie's comedic approach, and how does it correspond with your personal sense of humour?
JOSEPH: Stuck in the Middle is what my brother, my friends and I find funny. A lot of the lines or situations the characters get into are based on things I did or said with my friends. We exaggerated some of it, but itís stuff that made me laugh at some point in real life so we worked it in. I wasnít worried about who it would offend because we make fun of a lot of different groups.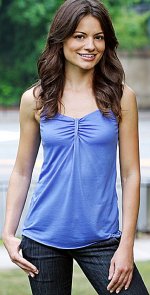 Penelope Lagos
BILLY: A dry, warped sense of humor with no boundaries. Sort of macabre, in a sense.
What can you tell us about your cast, and why exactly these people?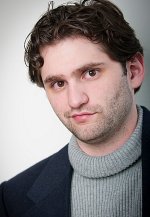 Stephen Fontana
JOSEPH: Our cast was a perfect combination of new and veteran actors that played off of each other. The lead had to be an exaggerated version of myself and Stephen Fontana nailed it as soon as he walked into the audition. We received hundreds of submissions for the lead female role. Penelope Lagos headshot stood out and I knew she was ďBrookeĒ before she even auditioned. Cash Tilton had a good audition but he blew me away when the cameras rolled. We were lucky enough to get the veteran actors through our producer Jeff Quinlan. He worked with Eric Etebari, Jeanette Roxborough, Keith Collins [Keith Collins interview - click here] and Jack Mulcahy on several other projects. They were all amazing and gave the film legitimacy. There isnít a bad performance in this film. The supporting actors like Evonne Walton, Samantha Rivers Cole and Abigail Summa all steal their scenes and even my brother Billy has a great scene with Etebari.
A few words about the shoot as such, and the on-set atmosphere?
JOSEPH: The shoot went surprisingly smooth considering this was our first film. We finished in twelve days. The cast all got along real well and was really patient and professional as we tried to find our way. We had one day where a mic blew and kind of shut us down. Carlos and I struggled to get things back up and running, so Eric Etebari who plays Jesus and has directed several films jumped in. He got things on track and we rolled on from there. So Jesus literally saved the film.
What can you tell us about critical and audience reception of your movie so far?
BILLY: We have gotten tremendous feedback from the film. Weíve had several really positive reviews and during several screenings we had at festivals the audience response was incredible.
Any future projects beyond Stuck in the Middle?
JOSEPH: We have several projects upcoming. We wrote two horror films that star Keith Collins [Keith Collins interview - click here] who was in Stuck in the Middle: The Meat Puppet directed by Joe Valenti and Gravedigger directed by Doug Bollinger are about to hit the festival circuit in the fall. And we just finished a comedy script that takes us back into the afterlife called Jersey Devil. We are talking to investors and hope to start shooting that in the fall. I will probably direct that one depending on timing.
Let's go back to the beginnings of your careers - what got you into filmmaking in the first place, and did you receive any kind of formal training on the subject?
JOSEPH: I have written and directed promos for television networks for many years. I loved having a job where I could be creative. I always wanted to try filmmaking and Stuck in the Middle was the opportunity to do that. I didnít care if that was the only one I ever did, as long as we made it. Luckily we have been able to make a few more and itís been a really rewarding experience.
What can you tell us about your filmwork prior to Stuck in the Middle?
JOSEPH: Not much... there is none. Stuck in the Middle is our introduction into the film world.
You two have also written the novel Soul of a Yankee with one another, right? So you just have to talk about that one, obviously!
BILLY: Soul of a Yankee is a Christmas Carol/It's a Wonderful Life-type story revolving around the life and career of former New York Yankee Joe Pepitone, who happens to be our uncle. He is taken on a ride through his life by "good angel" Lou Gehrig, and tempted by "bad angel" Babe Ruth. It's a fun book with serious overtones and a life lesson to be learned.
How would you describe yourselves as writers and filmmakers?
JOSEPH: I consider us writers first. Stuck in the Middle was a perfect movie for us to make first because it didnít require us to be great directors. There werenít many locations or set ups and the cast just got it and ran with it.
BILLY: The bigger stuff we are writing we will leave in the hands of more capable filmmakers.
Filmmakers, writers, whatever else who inspire you?
JOSEPH: Kevin Smith is my favorite writer. He tells stories that you can relate to and about people that you probably know. And itís just funny. Thatís how I want to write. I think Mel Brooks is the one of the greatest comedic minds ever.
BILLY: Iím really into Christopher Nolan at the moment. He did an incredible job reviving the Batman franchise and he really makes you think when watching his films. I have also rediscovered Ian Fleming.
Your favourite movies?
JOSEPH: Airplane, Chasing Amy, Boogie Nights, and Rocky.
BILLY: The Dark Knight-trilogy, Jaws, Superman (1978), the Rocky-saga (except for 5), Airplane, Young Frankenstein.
... and of course, films you really deplore?

Feeling lucky ?
Want to
search
any of my partnershops yourself
for more, better results ?

The links below
will take you
just there!!!

Find Stuck in the Middle
at the amazons ...

amazon.com

amazon.co.uk

amazon.de
Looking for imports ?
Find Stuck in the Middle here ...
Something naughty ?
(Must be over 18 to go there !)

JOSEPH: All the current big budgeted CGI action movies that have taken over the film world. I was always a big action movie fan, but Iím not seeing anything new. They lost me.
BILLY: Batman and Robin, Superman 4, Jaws 3 and 4, and anything named Harry Potter.
Your/your movie's website, Facebook, whatever else?
Facebook: https://www.facebook.com/pages/Stuck-In-the-Middle-Movie-Fan-Page/141946539200000?ref=br_tf
Twitter: @SITMMovie
Our website: www.diamondjesusproductions.com
Amazon: http://www.amazon.com/exec/obidos/ASIN/B00DWG5GTE
Anything else you're dying to mention and I have merely forgotten to ask?
I think we covered it all.
Thanks for the interview!
Thank you for having us!!